Character: Titus Pecus of EU
Submitted by: Maki2859
Titus Pecus was a roleplay character for french community of Colovia/Gold Coast. It was a bandit pretending to be a priest of Mara. It only lasted a short time since it will have been unmasked by priestesses of Dibella when he threatened a young couple to marry.

The character was deleted on 29/09/2019.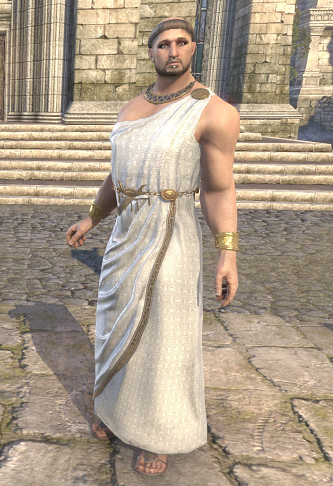 Gear:
| | | | | | | |
| --- | --- | --- | --- | --- | --- | --- |
| Piece | Name | Quality | Source | Prim Dye | Sec Dye | Tert Dye |
| Head | | | | | | |
| Shoulders | | | | | | |
| Chest | Cyrod Gentry's Town Gown | | | | | |
| Hands | | | | | | |
| Waist | | | | | | |
| Legs | | | | | | |
| Feet | | | | | | |
| Weapon | | | | | | |
| Offhand | | | | | | |
Appearance and Companions:
| | |
| --- | --- |
| Slot | Name |
| Hair Style | Breton Tonsure |
| Head Marking | Dark Eyeliner |
| Facial Hair | Poet's Stubble |
| Major Adornment | |
| Minor Adornment | Nose Ring and Earlobe Studs |
| Body Marking | |
| Skin | |
| Personality | Duchess |
| Polymorph | |
| Mount | |
| Non-Combat Pet | |
Other Posts by Maki2859: