Character: Titus Minus of EU
Submitted by: Maki2859
Titus Minus was a roleplay Bosmer character from Skingrad. A member of the entourage of the Naevius house in Colovia who went to look for labor in High Rock. I wanted to use it more in the french community of Colovia/Gold Coast but I finally gave it up after three uses.

The character was deleted on 05/09/2020.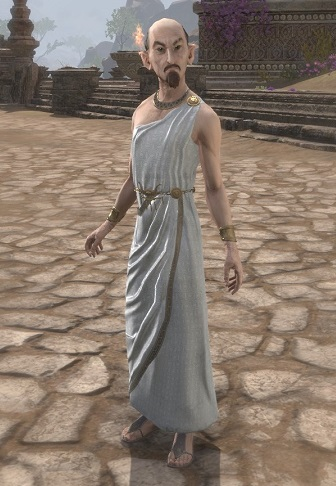 Gear:
| | | | | | | |
| --- | --- | --- | --- | --- | --- | --- |
| Piece | Name | Quality | Source | Prim Dye | Sec Dye | Tert Dye |
| Head | | | | | | |
| Shoulders | | | | | | |
| Chest | Cyrod Gentry's Town Gown | | | | | |
| Hands | | | | | | |
| Waist | | | | | | |
| Legs | | | | | | |
| Feet | | | | | | |
| Weapon | | | | | | |
| Offhand | | | | | | |
Appearance and Companions:
| | |
| --- | --- |
| Slot | Name |
| Hair Style | Balding But Distinguished |
| Head Marking | |
| Facial Hair | The Veteran |
| Major Adornment | |
| Minor Adornment | |
| Body Marking | |
| Skin | |
| Personality | Duchess |
| Polymorph | |
| Mount | |
| Non-Combat Pet | |
Other Posts by Maki2859: