You want privacy? What could be more private than lost and forgotten Nedic ruins in a remote corner of Craglorn's backcountry? Especially recommended for overthrown despots, retired master assassins, and Ministers of Finance exiled for embezzling.
Cost: 13,000 (Unfurnished) / 16,300 (Furnished)
Size: Manor
Style: Redguard
Max # of Furnishings: 350 / 700 (ESO+)
Trophy Collectibles: 40 / 80 (ESO+)
Other Collectibles: 5 / 10 (ESO+)
Max # of Characters: 24
Location: near Buried Sands, Craglorn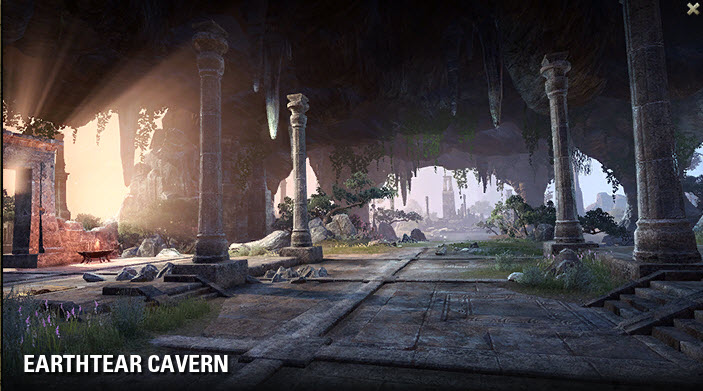 Video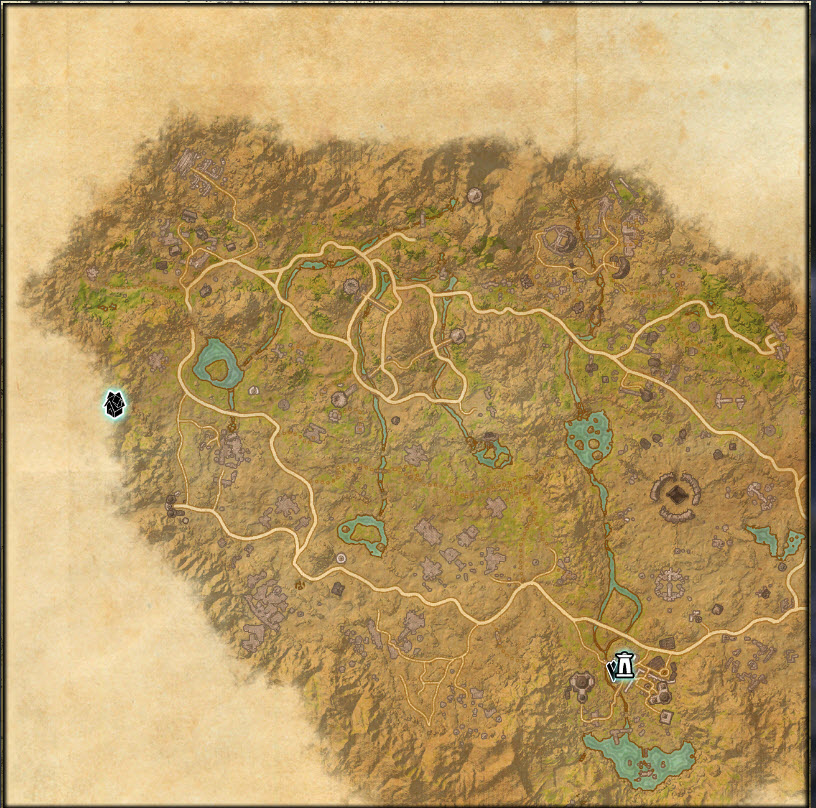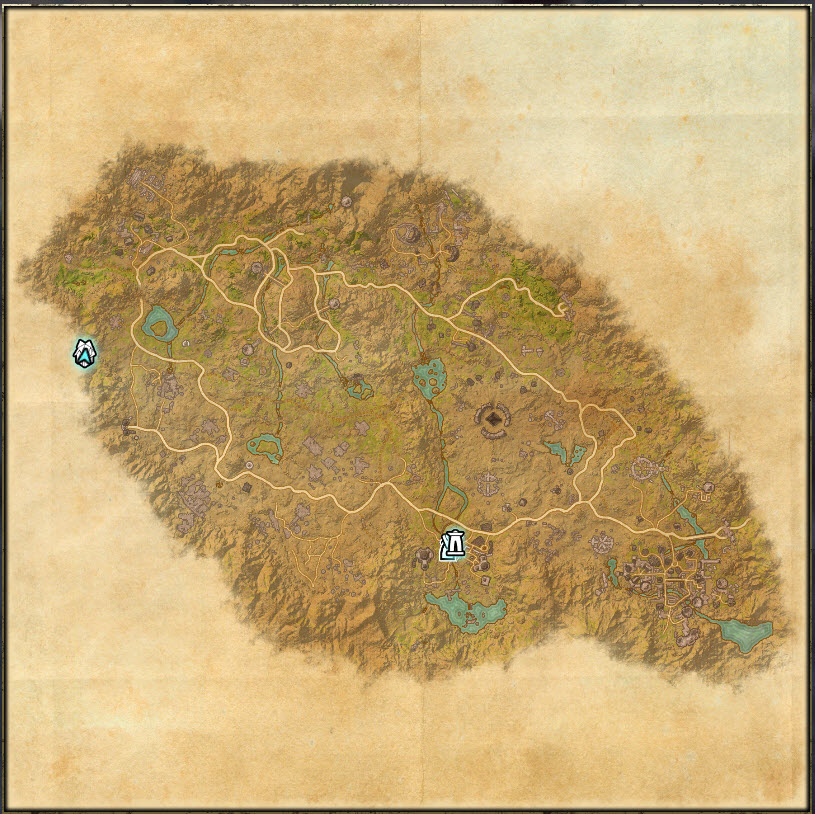 These are the furnishings that come with the Crown Store Furnished version.
Source: ESO Furniture Database maintained by Dominoid
| Item | Quantity | Quality | Craftable | Crowns | Total Crowns |
| --- | --- | --- | --- | --- | --- |
| Total | 275 | | | | 50460 |
| Basket of Apples | 1 | Superior | Yes | 45 | 45 |
| Basket of Apples, Full | 1 | Superior | Yes | 45 | 45 |
| Basket of Gourds | 1 | Superior | Yes | 45 | 45 |
| Book Row, Decorative | 2 | Fine | No | 25 | 50 |
| Book Stack, Decorative | 1 | Fine | No | 25 | 25 |
| Bottle, Liquor | 3 | Epic | Yes | 50 | 150 |
| Common Barrel, Sealed | 13 | Fine | Yes | 45 | 585 |
| Common Basket, Tall | 2 | Fine | Yes | 20 | 40 |
| Common Bowl, Serving | 2 | Fine | Yes | 10 | 20 |
| Common Bucket, Rope | 2 | Fine | Yes | 25 | 50 |
| Common Cargo, Covered | 3 | Fine | Yes | 45 | 135 |
| Redguard Armchair, Cushioned | 5 | Superior | Yes | 130 | 650 |
| Redguard Armchair, Lattice | 10 | Epic | No | 250 | 2500 |
| Redguard Armchair, Slatted | 2 | Fine | Yes | 60 | 120 |
| Redguard Armchair, Starry | 1 | Epic | Yes | 250 | 250 |
| Redguard Bed, Wide Canopy | 1 | Epic | Yes | 480 | 480 |
| Redguard Bench, Arc | 1 | Epic | Yes | 0 | 0 |
| Redguard Bench, Padded | 2 | Epic | Yes | 340 | 680 |
| Redguard Bowl, Gilded | 2 | Epic | Yes | 70 | 140 |
| Redguard Bowl, Hanging Star | 2 | Superior | Yes | 75 | 150 |
| Redguard Brazier, Garish | 1 | Epic | Yes | 330 | 330 |
| Redguard Cabinet, Bar | 2 | Fine | Yes | 130 | 260 |
| Redguard Cabinet, Inlaid | 1 | Superior | Yes | 130 | 130 |
| Redguard Candelabra, Polished | 2 | Epic | Yes | 140 | 280 |
| Redguard Candelabra, Twisted | 2 | Epic | Yes | 140 | 280 |
| Redguard Candlestick, Twisted | 4 | Epic | No | 0 | 0 |
| Redguard Carpet, Dunes | 7 | Superior | Yes | 250 | 1750 |
| Redguard Carpet, Mirage | 10 | Epic | Yes | 480 | 4800 |
| Redguard Carpet, Oasis | 2 | Epic | Yes | 480 | 960 |
| Redguard Cauldron, Clawfoot | 2 | Superior | Yes | 190 | 380 |
| Redguard Chair, Lattice | 2 | Epic | No | 230 | 460 |
| Redguard Chair, Slatted | 4 | Fine | Yes | 55 | 220 |
| Redguard Chalice, Empty | 1 | Epic | Yes | 70 | 70 |
| Redguard Chandelier, Polished | 4 | Epic | Yes | 860 | 3440 |
| Redguard Couch, Padded | 1 | Superior | Yes | 210 | 210 |
| Redguard Couch, Slatted | 2 | Epic | Yes | 400 | 800 |
| Redguard Counter, Cabinet | 8 | Superior | Yes | 250 | 2000 |
| Redguard Cupboard, Lattice | 3 | Superior | Yes | 140 | 420 |
| Redguard Curtain, Desert Rose | 1 | Fine | Yes | 110 | 110 |
| Redguard Curtain, Smoky | 2 | Fine | Yes | 110 | 220 |
| Redguard Decanter, Delicate | 1 | Epic | Yes | 70 | 70 |
| Redguard Desk, Bolted | 3 | Epic | Yes | 480 | 1440 |
| Redguard Divider, Gilded | 2 | Epic | Yes | 240 | 480 |
| Redguard End Table, Oasis | 6 | Epic | Yes | 130 | 780 |
| Redguard Firepit, Stone | 3 | Epic | Yes | 480 | 1440 |
| Redguard Footlocker, Braced | 1 | Superior | Yes | 100 | 100 |
| Redguard Footstool, Starry | 5 | Epic | Yes | 200 | 1000 |
| Redguard Goblet, Empty | 3 | Superior | Yes | 40 | 120 |
| Redguard Hourglass of Desert Sands | 1 | Epic | Yes | 240 | 240 |
| Redguard Jar, Oasis | 1 | Epic | Yes | 140 | 140 |
| Redguard Kabobs, Plate | 1 | Superior | Yes | 40 | 40 |
| Redguard Keg, Hefty | 1 | Superior | Yes | 150 | 150 |
| Redguard Lantern, Caged | 10 | Epic | Yes | 240 | 2400 |
| Redguard Lantern, Caged Stand | 15 | Epic | Yes | 240 | 3600 |
| Redguard Mat, Desert | 1 | Epic | Yes | 480 | 480 |
| Redguard Mat, Sun | 1 | Epic | No | 480 | 480 |
| Redguard Mat, Sunset | 7 | Superior | Yes | 250 | 1750 |
| Redguard Mug, Empty | 3 | Superior | Yes | 40 | 120 |
| Redguard Pillow, Sunset | 3 | Epic | Yes | 35 | 105 |
| Redguard Pot, Capped | 1 | Fine | Yes | 35 | 35 |
| Redguard Pot, Ceramic | 2 | Fine | Yes | 0 | 0 |
| Redguard Pot, Lacquered | 4 | Superior | Yes | 75 | 300 |
| Redguard Pot, Sealed | 1 | Fine | Yes | 35 | 35 |
| Redguard Runner, Oasis | 2 | Epic | Yes | 480 | 960 |
| Redguard Runner, Sun | 1 | Superior | Yes | 250 | 250 |
| Redguard Shelf, Arched | 4 | Superior | Yes | 130 | 520 |
| Redguard Shelf, Bolted | 1 | Epic | Yes | 240 | 240 |
| Redguard Sofa, Desert Flame | 10 | Superior | Yes | 180 | 1800 |
| Redguard Spittoon, Gilded | 1 | Epic | Yes | 140 | 140 |
| Redguard Stool, Padded | 1 | Superior | Yes | 110 | 110 |
| Redguard Stool, Starry | 2 | Epic | Yes | 200 | 400 |
| Redguard Table, Formal | 2 | Epic | Yes | 480 | 960 |
| Redguard Table, Game | 3 | Epic | Yes | 380 | 1140 |
| Redguard Table, Sturdy | 1 | Fine | Yes | 110 | 110 |
| Redguard Tapestry, Oasis | 2 | Epic | Yes | 480 | 960 |
| Redguard Tapestry, Starry | 4 | Epic | Yes | 0 | 0 |
| Redguard Trunk, Bolted | 1 | Superior | Yes | 100 | 100 |
| Redguard Tuffet, Flames | 4 | Superior | Yes | 90 | 360 |
| Redguard Urn, Lacquered | 1 | Fine | Yes | 55 | 55 |
| Redguard Urn, Mural | 1 | Superior | Yes | 130 | 130 |
| Redguard Vanity, Bolted | 1 | Epic | Yes | 240 | 240 |
| Redguard Vase, Baroque | 1 | Epic | Yes | 140 | 140 |
| Redguard Vessel, Lacquered | 3 | Fine | Yes | 35 | 105 |
| Redguard Wardrobe, Braced | 6 | Epic | Yes | 400 | 2400 |
| Redguard Well, Arched | 1 | Superior | Yes | 250 | 250 |
| Redguard Wine Rack, Inlaid | 1 | Superior | Yes | 150 | 150 |
| Rough Bag, Burlap | 1 | Standard | Yes | 10 | 10 |
| Rough Sack, Burlap | 2 | Standard | No | 10 | 20 |
| Sapling, Mountain | 2 | Standard | No | 25 | 50 |
| Saplings, Juniper Cluster | 1 | Standard | No | 0 | 0 |
| Tree, Angled Ash | 10 | Standard | No | 0 | 0 |
| Tree, Sturdy Crabapple | 5 | Epic | No | 25 | 125 |
| Tree, Twisted | 3 | Standard | No | 0 | 0 |
| Vial, Delicate | 3 | Epic | Yes | 50 | 150 |