Character: The Mad Titan of XBox One
Submitted by: AlexTheRed17
As the Nedes openly worshiped the Celestials ever since they settled across Tamriel. However, there is one they fear so greatly that they don't dare speak his name. Widely known as The Mad Titan, the Nedes recognize this great being as one of destruction, and who seeks to cleanse the world of the the weak and insignificant.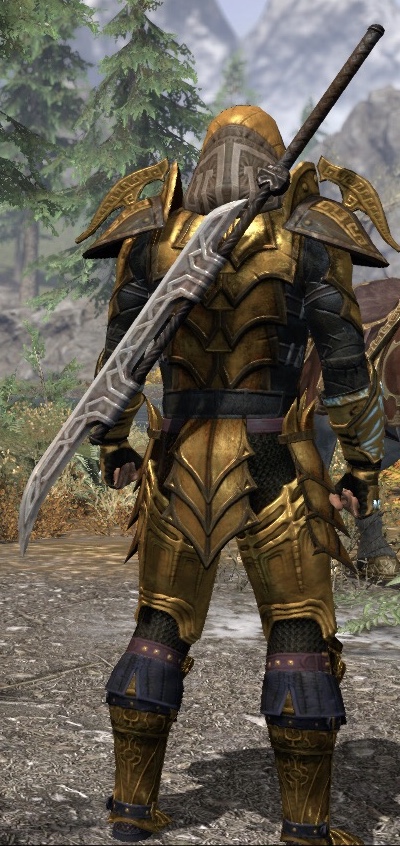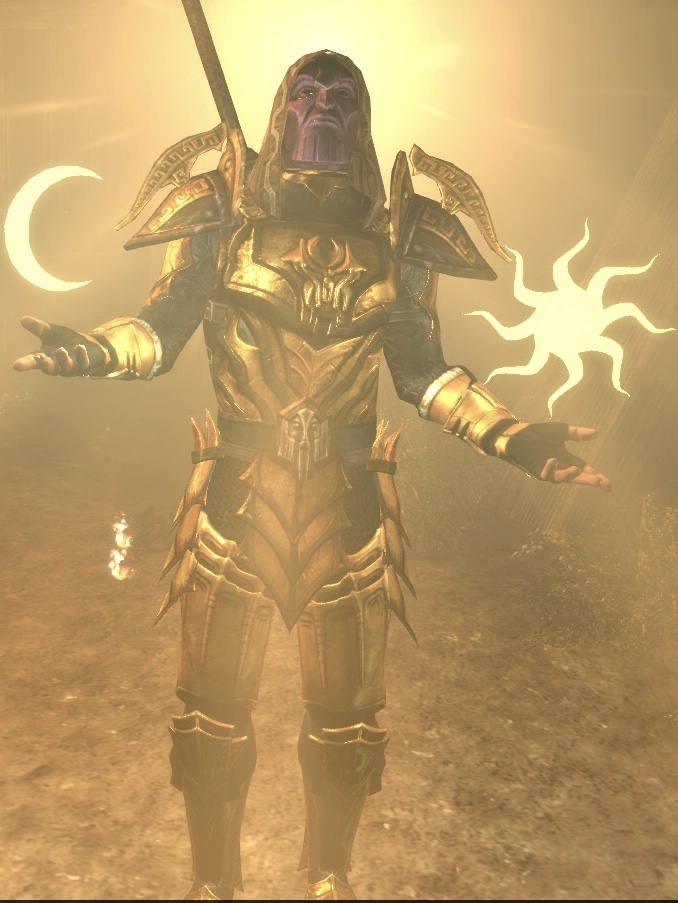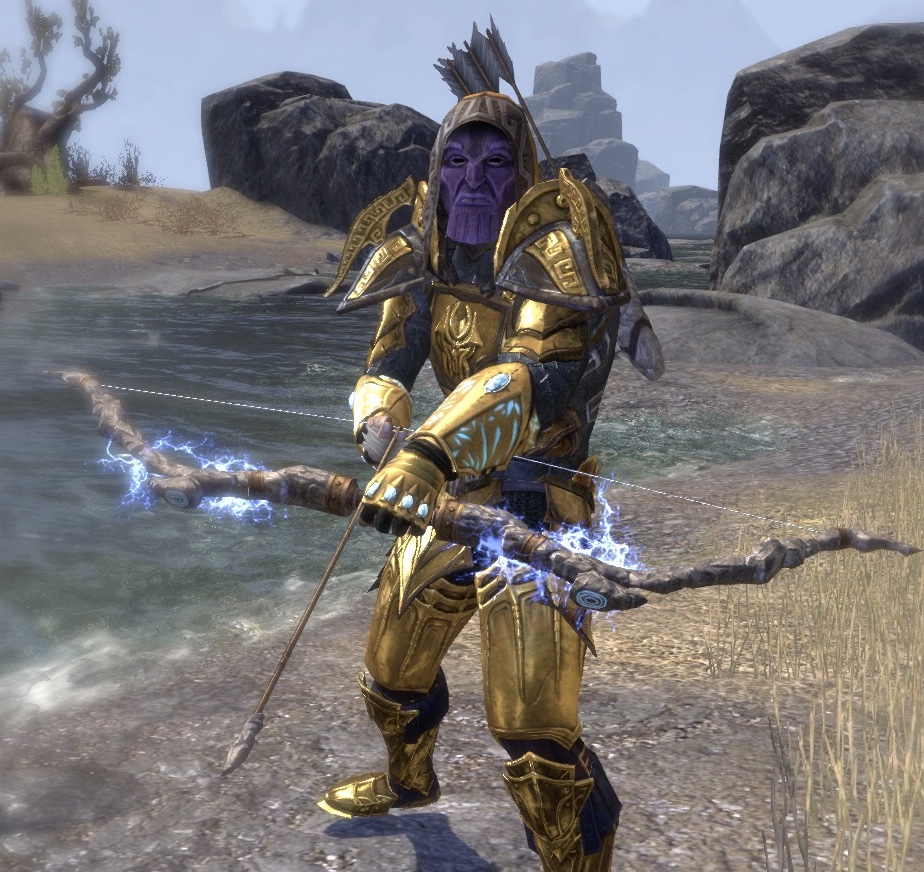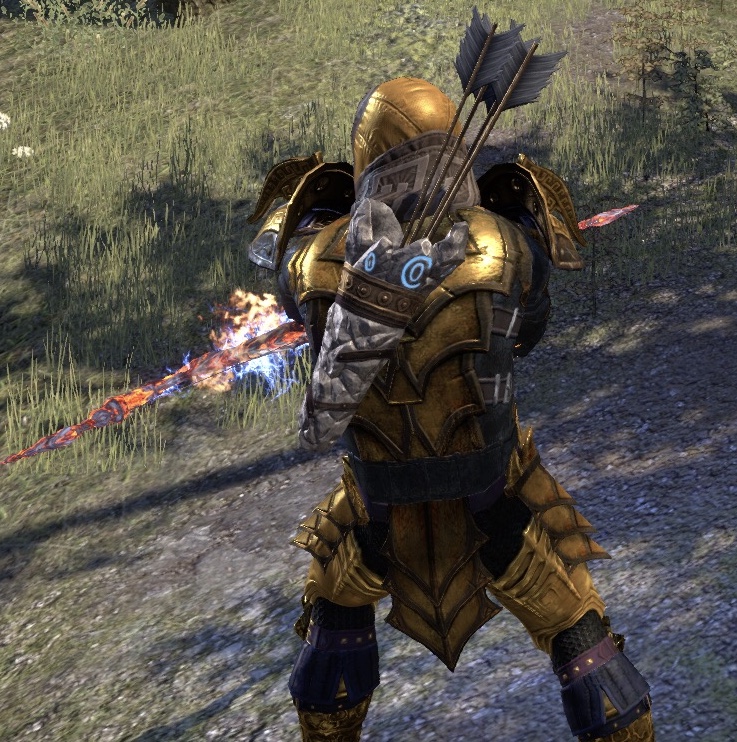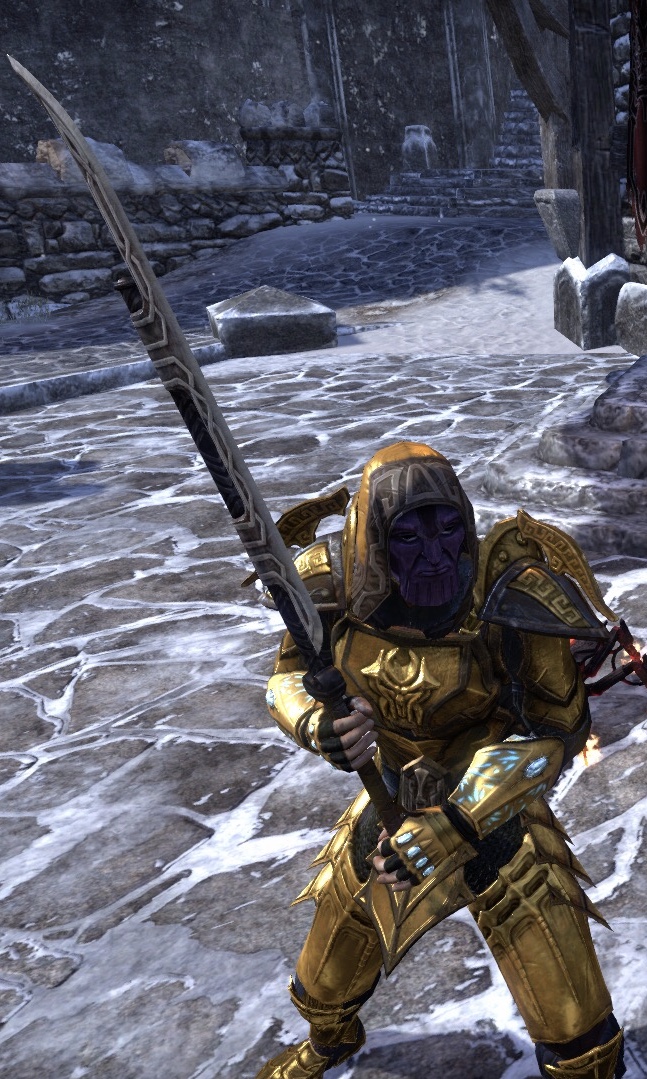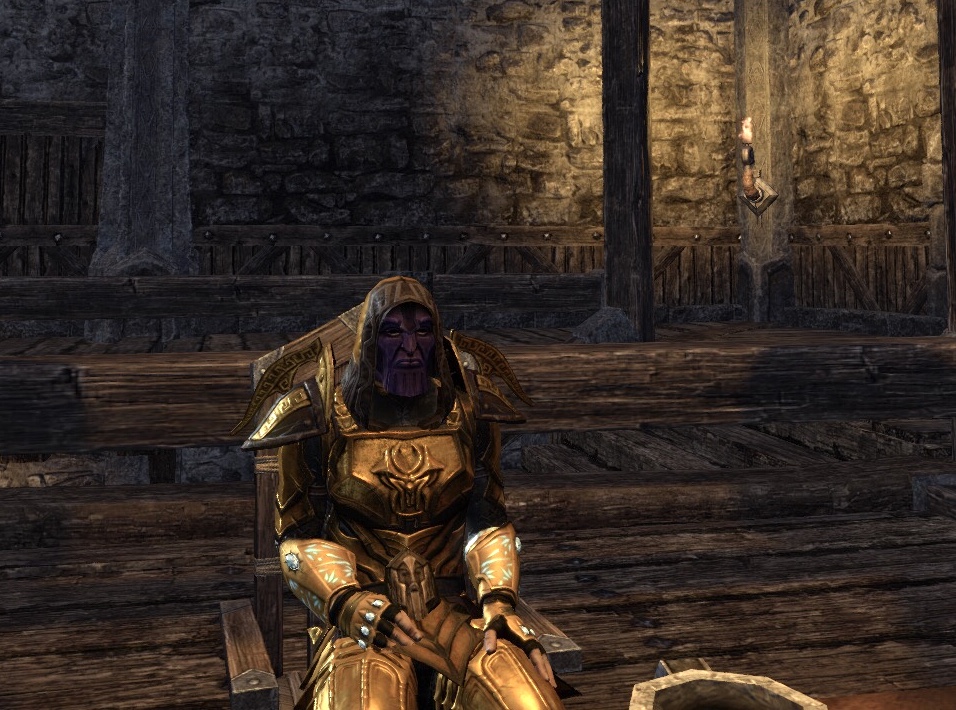 Gear:
| | | | | | | |
| --- | --- | --- | --- | --- | --- | --- |
| Piece | Name | Quality | Source | Prim Dye | Sec Dye | Tert Dye |
| Head | Refabricated Hat | Epic (Purple) | Halls of Fabrication Trial | Divine Gold | Covenant Vanquisher Violet | Telvanni Brown |
| Shoulders | Dwarven Pauldrons | Epic (Purple) | Dwemer Ruins | Divine Gold | Divine Gold | Antique Brass |
| Chest | Daedric Cuirass | Epic (Purple) | Overland | Divine Gold | Antique Brass | Thalmor Black |
| Hands | Psijic Frost Gauntlets | Epic (Purple) | Psijic Vault Crown Crates | Divine Gold | Coldharbour Ash Black | Coldharbour Ash Black |
| Waist | Dwarven Girdle | Epic (Purple) | Dwemer Ruins | Mastic Yellow | Dwarven Bronze | Dwarven Bronze |
| Legs | Worm Cult Greaves | Epic (Purple) | ESO Anniversary Jubilee Gift Boxes | Divine Gold | Coldharbour Ash Black | Shein Violet |
| Feet | Ebony Sabatons | Epic (Purple) | Rolis Hlaalu (Writ Voucher Merchant) | Divine Gold | Epic Violet | Warrior's Steel |
| Weapon | Ancient Orc Greatsword | Epic (Purple) | Old Orsinium Dungeon | Volunteer's Iron | Coldharbour Ash Black | Hunding Gold |
| Offhand | Stormfist Bow | Epic (Purple) | Stormfist Arms Pack (Crown Store) | Nirnroot Gray | Dominion Yellow | Nirncrux Red |
Appearance and Companions:
| | |
| --- | --- |
| Slot | Name |
| Hair Style | |
| Head Marking | |
| Facial Hair | |
| Major Adornment | |
| Minor Adornment | |
| Body Marking | |
| Skin | |
| Personality | Furious |
| Polymorph | |
| Mount | Dwarven War Horse |
| Non-Combat Pet | Infernium Dwarven Spiderling |