Character: Drelan Telvanni (Blackreach Necromage) of XBox One
Submitted by: AlexTheRed17
Despite necromancy being accepted in Telvanni culture, Drelan wanted to expand his research beyond his homeland of Morrowind. After accidentally stumbling into Blackreach, he set up shop to continue his studies in private; soon utilizing a new form of magic by manipulating the fungal growth within the caverns. His studies are seen as revolutionary and are only shared amongst the highest ranks of House Telvanni.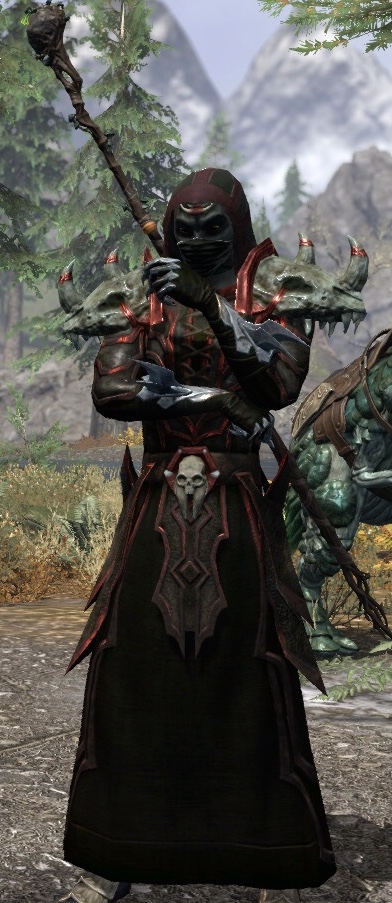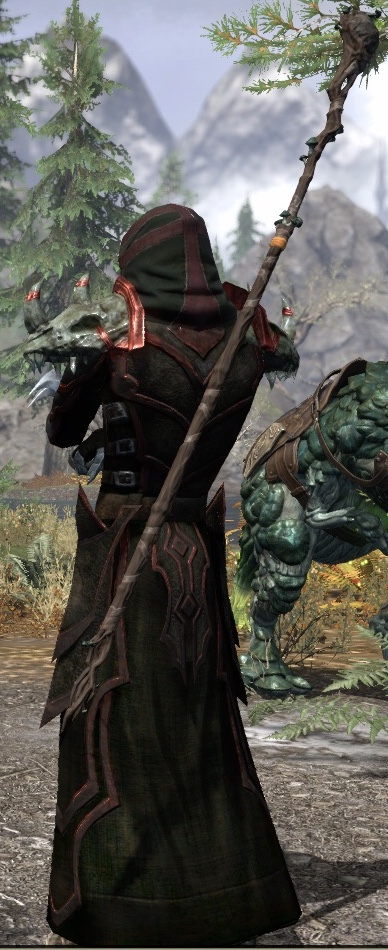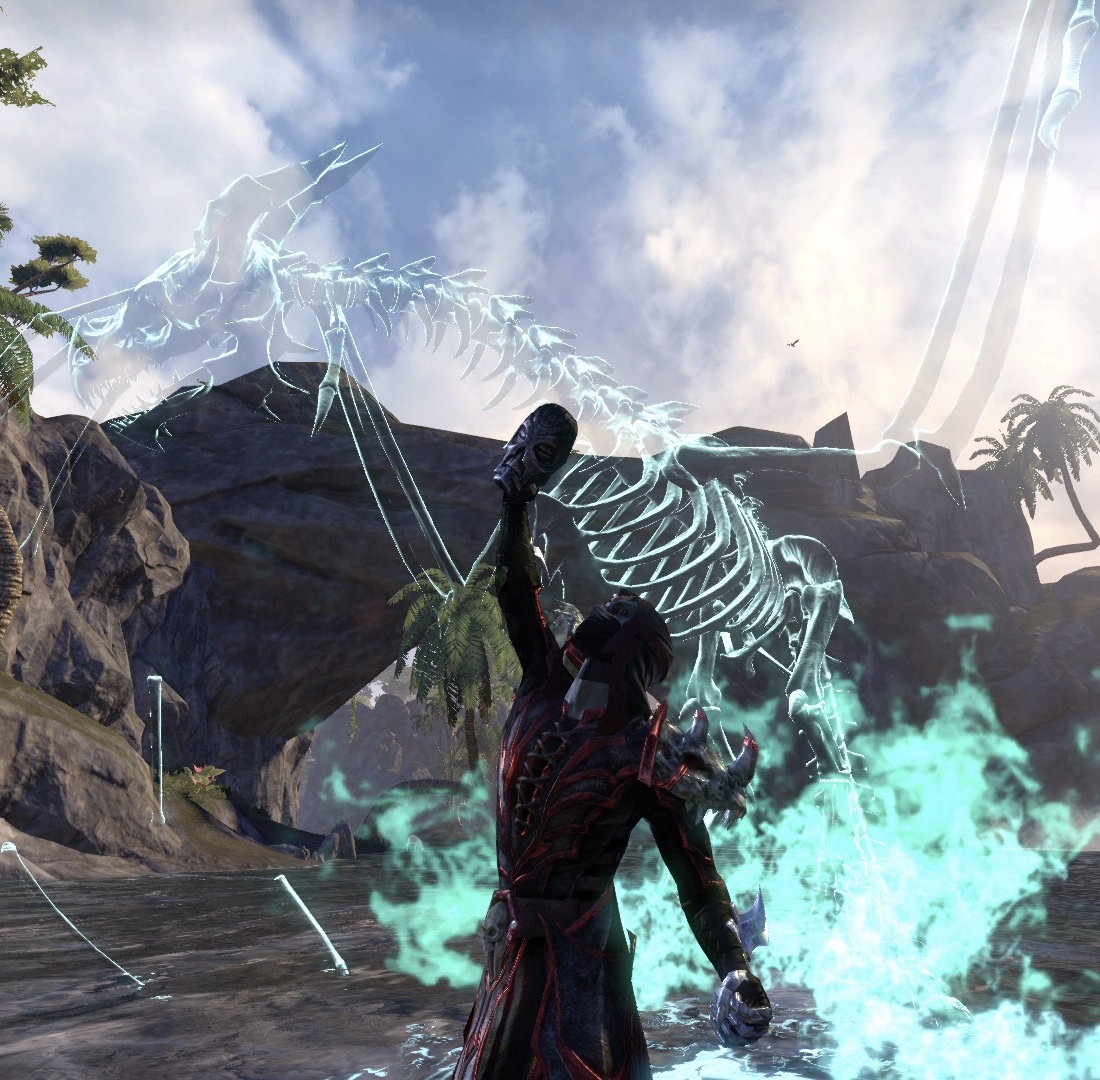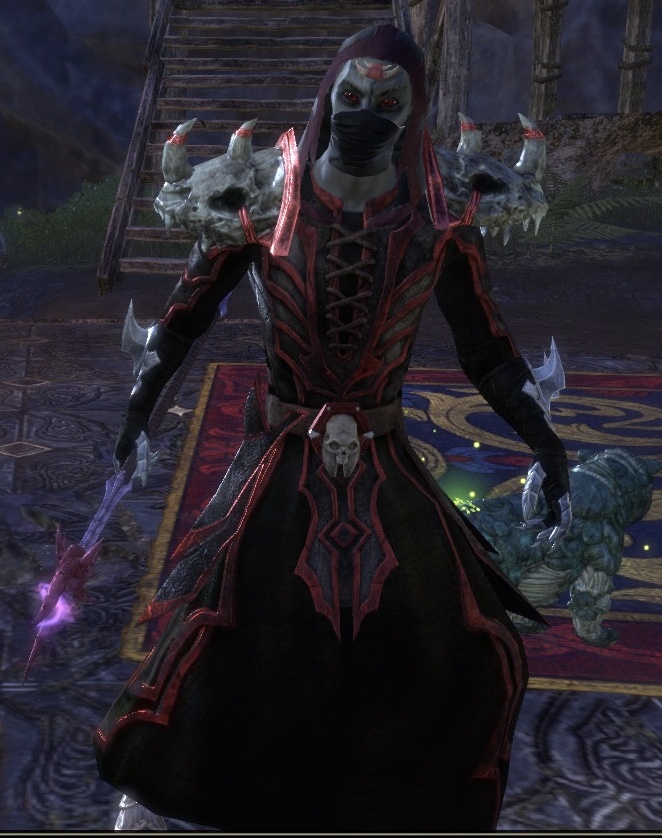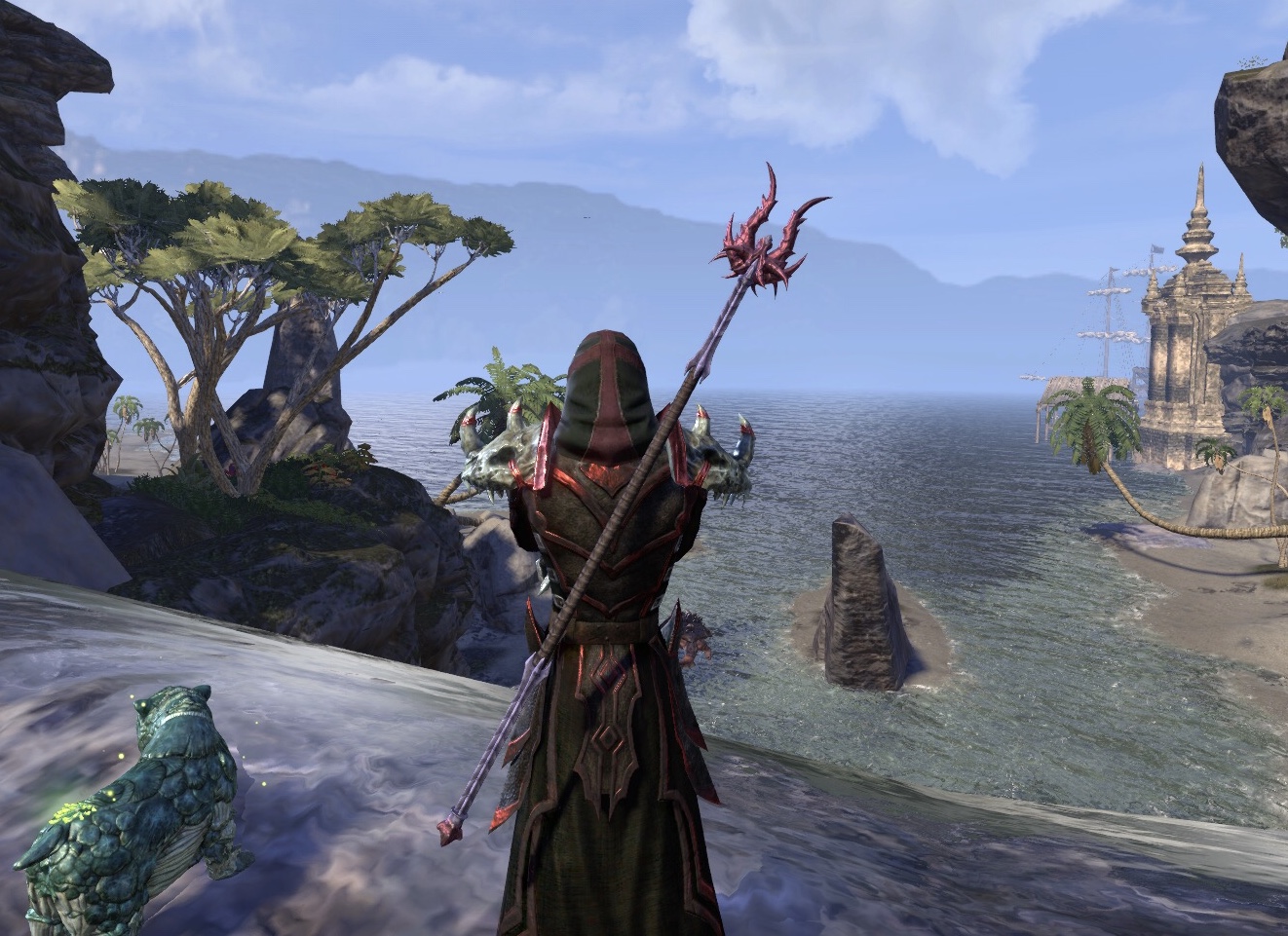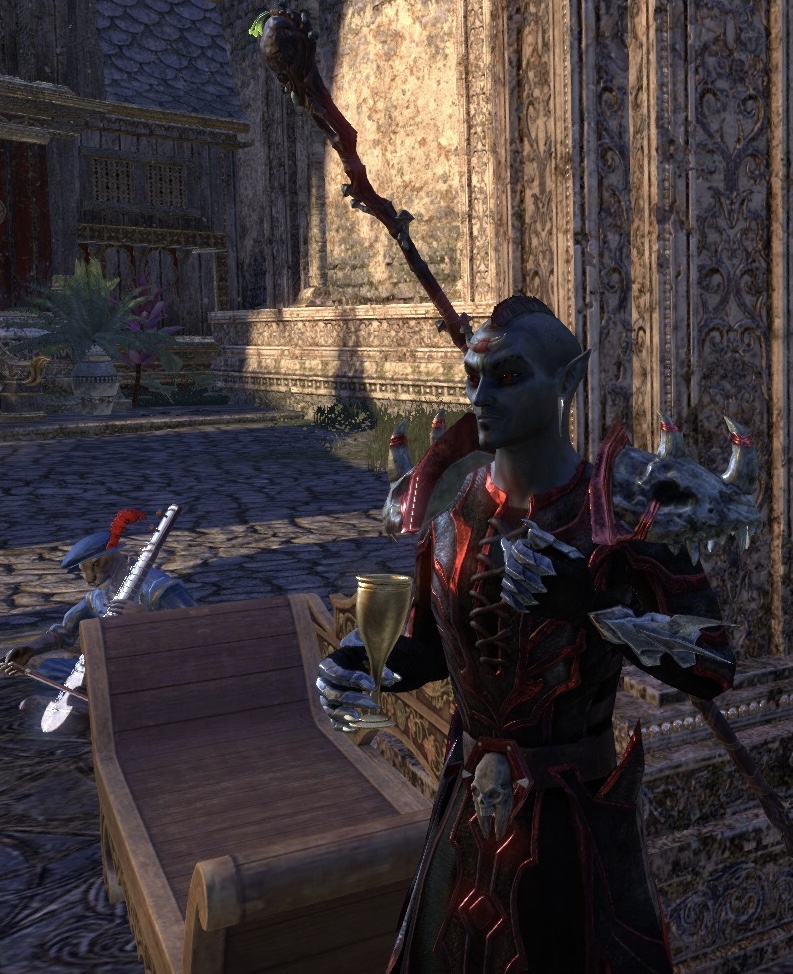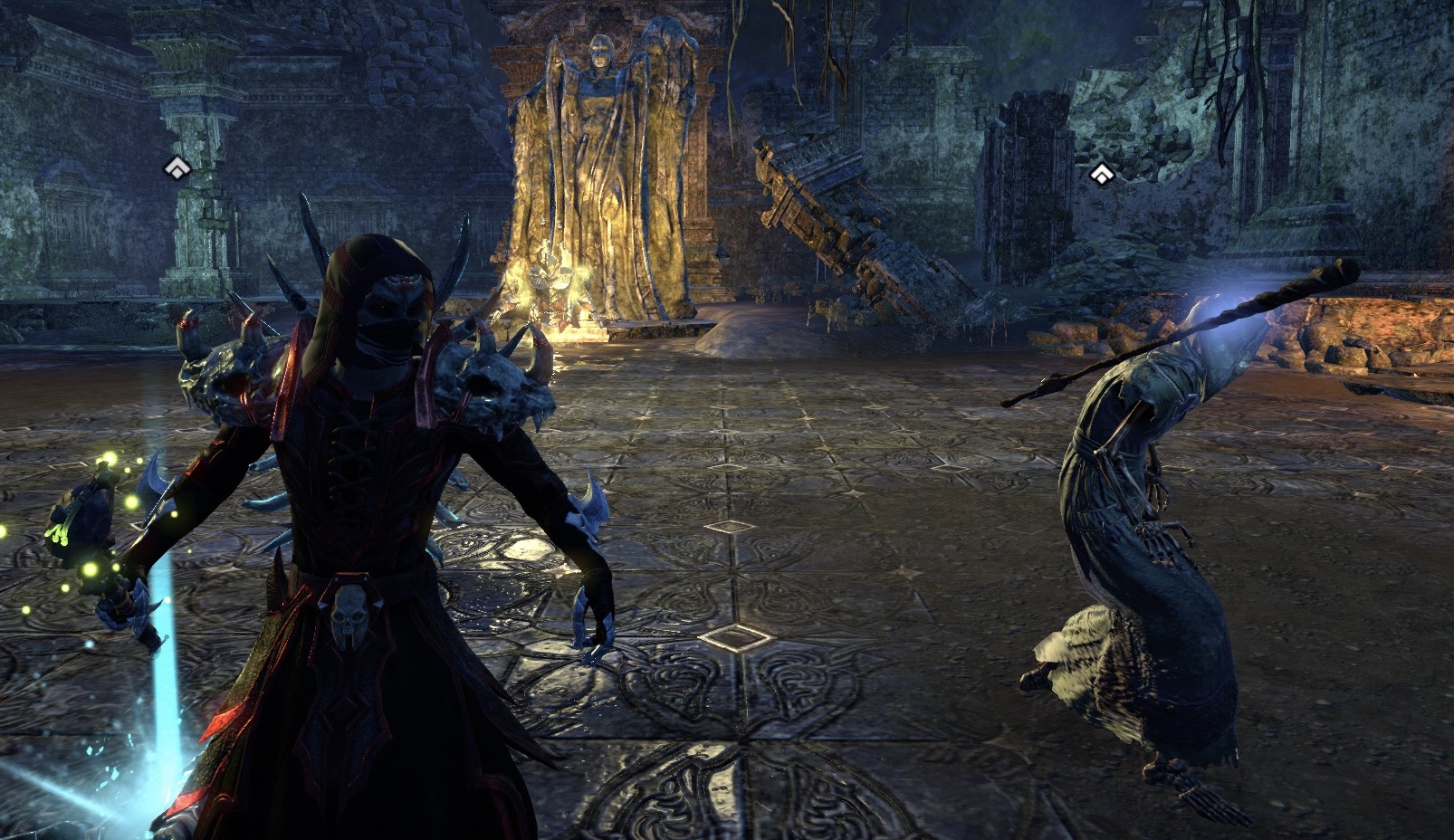 Gear:
| | | | | | | |
| --- | --- | --- | --- | --- | --- | --- |
| Piece | Name | Quality | Source | Prim Dye | Sec Dye | Tert Dye |
| Head | Xivkyn Hat | Epic (Purple) | Imperial City Treasure Vaults | Maormer-Eyes Gray | | Epic Violet |
| Shoulders | Wood Elf Pauldrons 4 | Epic (Purple) | Overland | | Pellitine Coral | Stendarr White |
| Chest | Daedric Robe | Epic (Purple) | Overland | Coldharbour Ash Black | Daedric Red | Coldharbour Ash Black |
| Hands | Xivkyn Bracers | Epic (Purple) | Imperial City Treasure Vaults | Coldharbour Ash Black | Expert Gray | Motif Master Brown |
| Waist | Fang Lair Sash | Epic (Purple) | Fang Lair Dungeon | | Pellitine Coral | Moonstone White |
| Legs | Dark Elf Breeches 1 | Epic (Purple) | Overland | Coldharbour Ash Black | Coldharbour Ash Black | Coldharbour Ash Black |
| Feet | Telvanni Shoes | Epic (Purple) | Vvardenfell Safeboxes | Thalmor Black | Varla White | Warrior's Steel |
| Weapon | Gloomspore Staff | Epic (Purple) | Gloomspore Crown Crates | | Graht-Bark Brown | Anequina Sunrise |
| Offhand | Scourge Harvester Staff | Epic (Purple) | Scourge Harvester Arms Pack (Crown Store) | Clothier Purple | Wayrest Royal Purple | Sigil Orange |
Appearance and Companions:
| | |
| --- | --- |
| Slot | Name |
| Hair Style | Shorthair Center Crest |
| Head Marking | Black Cross With Right Top Bar |
| Facial Hair | |
| Major Adornment | Legendary Dragon Coronal |
| Minor Adornment | Sabre Cat Ear-Fang |
| Body Marking | Chittering Chaurus Body Markings |
| Skin | |
| Personality | Telvanni Magister |
| Polymorph | |
| Mount | Gloomspore Guar |
| Non-Combat Pet | Gloomspore Bear Cub |
Other Posts by AlexTheRed17: