Character: Northern Holds Watcher of XBox
Submitted by: AlexTheRed17
The frozen tundra of Northern Skyrim is an unforgiving terrain with even more unforgiving fauna. To ensure safety to the citizens of the northern holds, the guards frequently employ daring travelers to scout and end any possible dangers in the area. These travelers usually wear armor that blends with the environment whilst keeping them warm. This color scheme has recently been popularized by the cities of Dawnstar and Winterhold.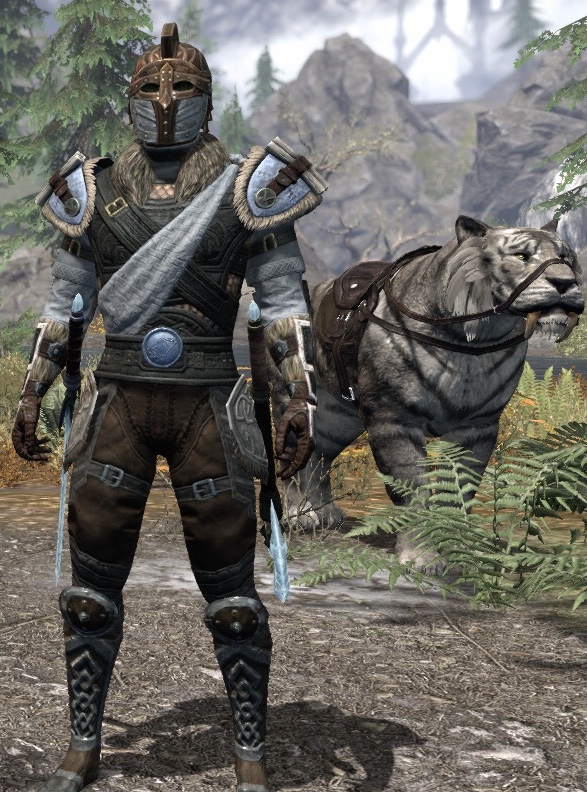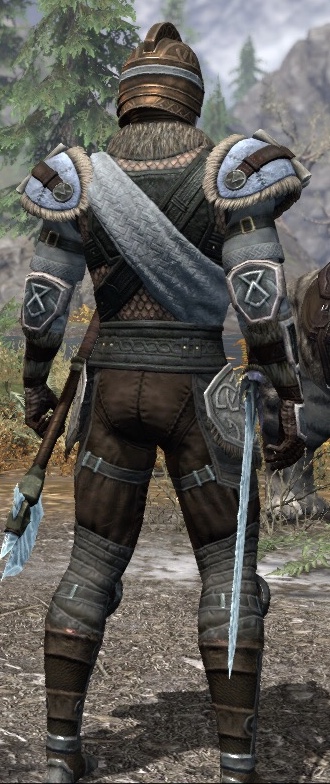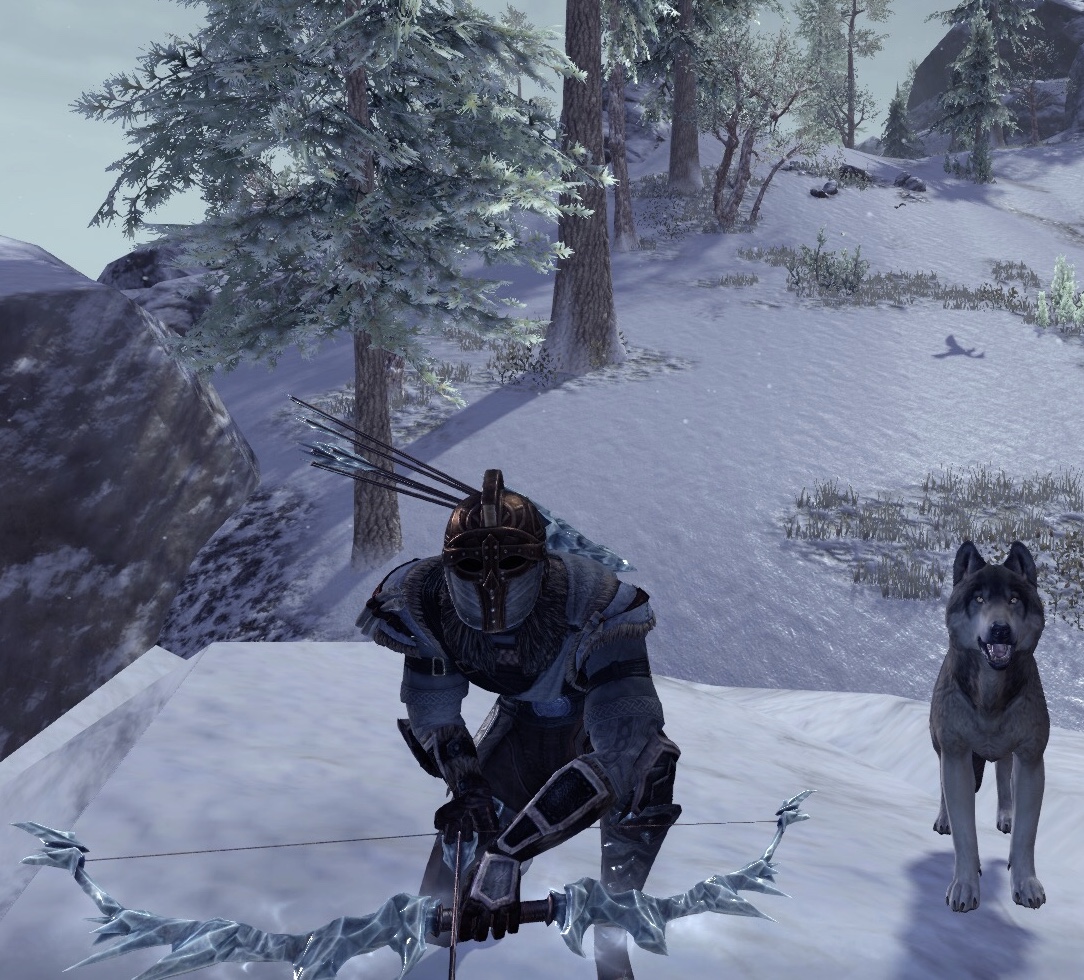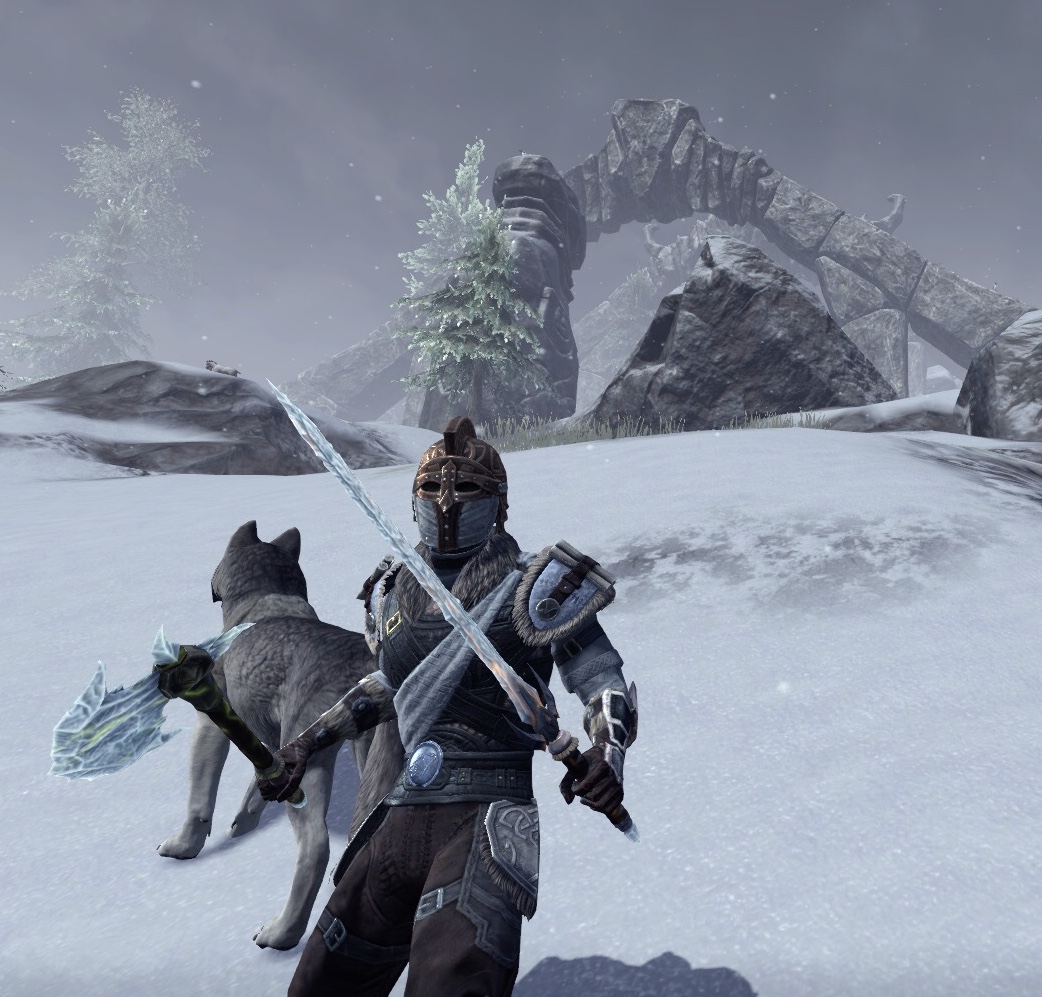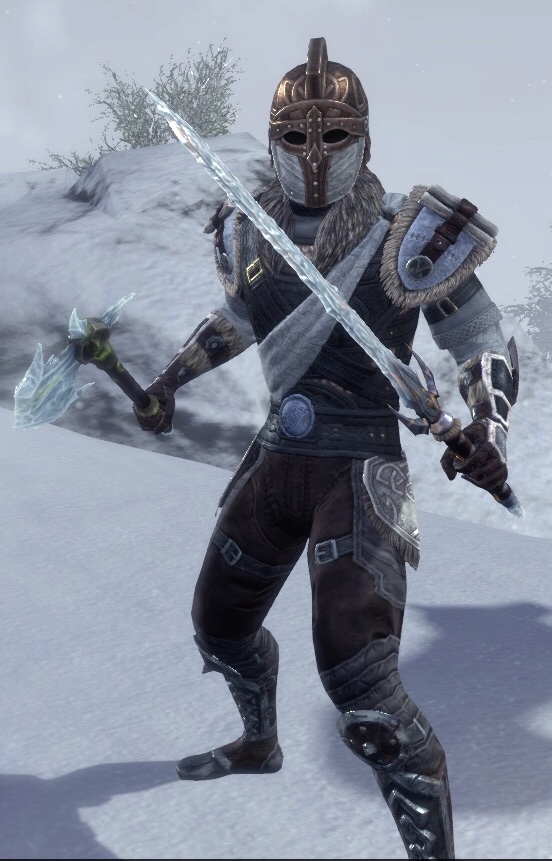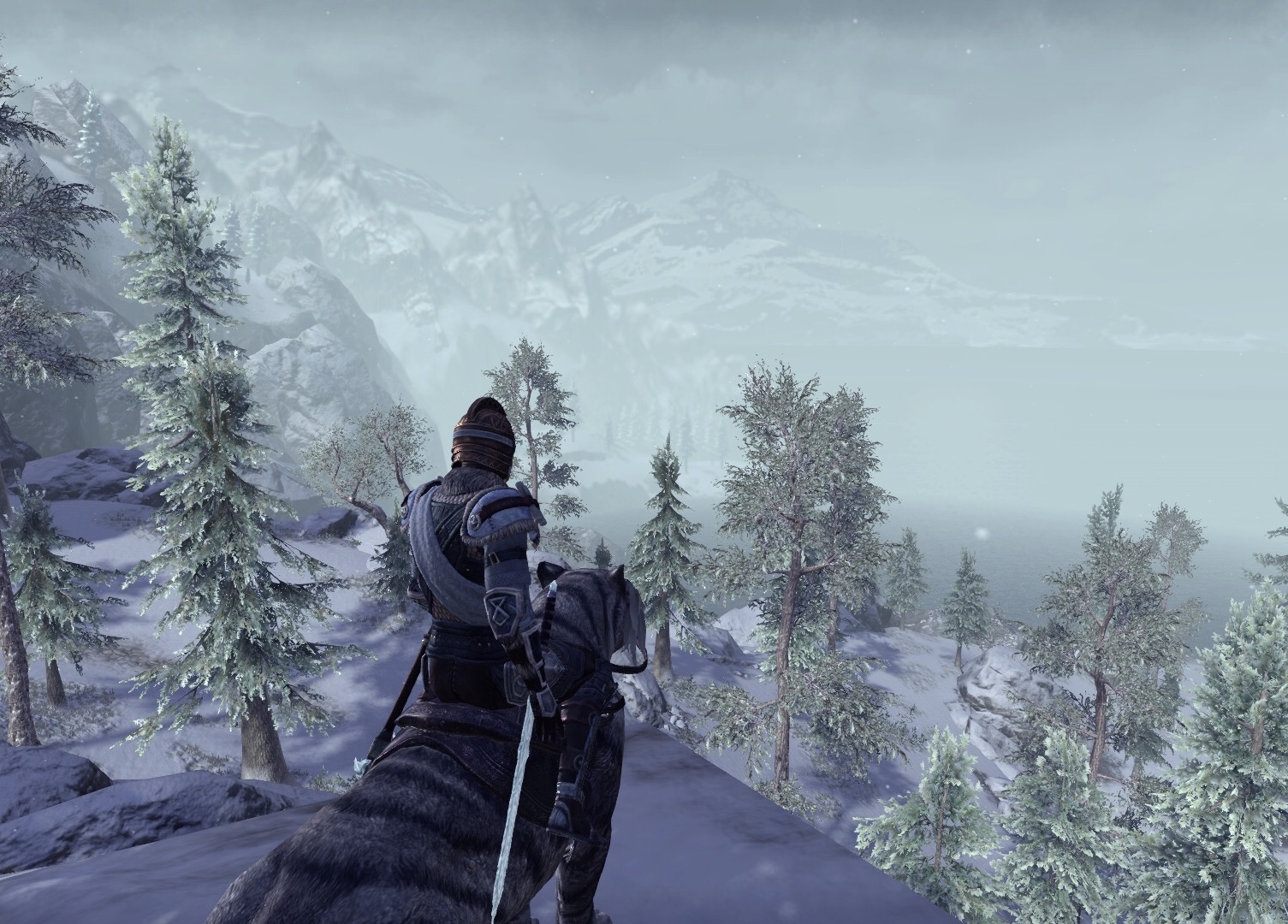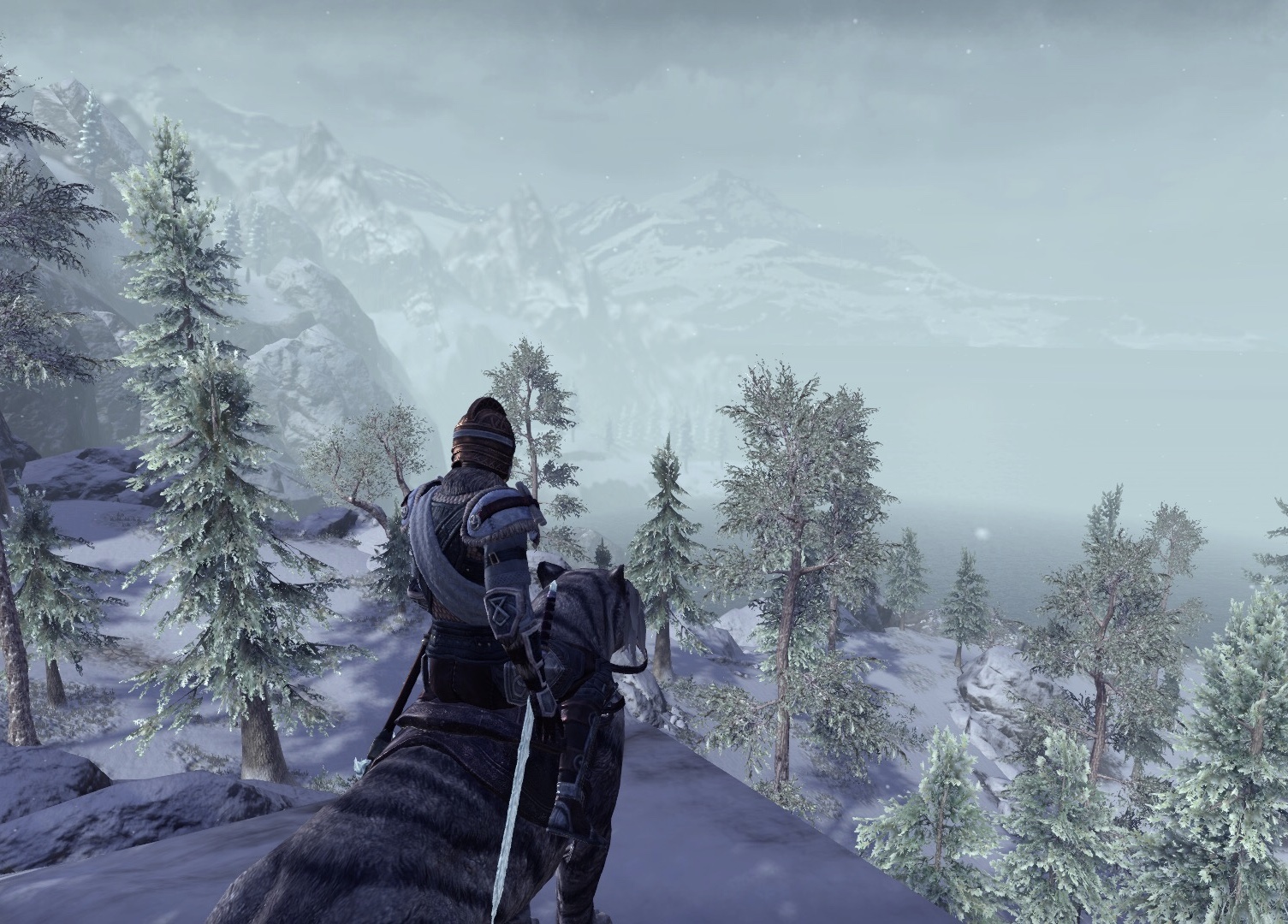 Gear:
| | | | | | | |
| --- | --- | --- | --- | --- | --- | --- |
| Piece | Name | Quality | Source | Prim Dye | Sec Dye | Tert Dye |
| Head | Swordthane Helm | Epic (Purple) | Greymoor Collector's Edition | Graht-Bark Brown | Mort Flesh White | Brewer's Ale Brown |
| Shoulders | Snowhawk Mage Epaulets | Epic (Purple) | Summerset Celebration Coffers | | New Life Cerulean | Rank 10 Materials |
| Chest | Swordthane Jack | Epic (Purple) | Greymoor Collector's Edition | Rank 5 Materials | Expert Gray | Volunteer's Iron |
| Hands | Nord Bracers 4 | Epic (Purple) | Overland | Brewer's Ale Brown | Marble White | Stendarr White |
| Waist | Windhelm Scale Tunic Belt | Epic (Purple) | Completing "The Coven Conundrum" Quest | Shrike Blue | | |
| Legs | Frostcaster Guards | Epic (Purple) | Crown Store | Bandit Brown | Windhelm Steel | Stendarr White |
| Feet | Lyris Titanborn's Sabatons | Epic (Purple) | ESO Anniversary Jubilee Gift Boxes | Windhelm Steel | Rank 10 Materials | Coldharbour Ash Black |
| Weapon | Frostcaster Axe/Frostcaster Sword | Epic (Purple) | Crown Store | Necromancer Blue | Marble White | Rank 4 Materials |
| Offhand | Iceheart Bow | Epic (Purple) | Iceheart Arms Pack (Crown Store) | Adventurer Brown | Provisioner Brown | |
Appearance and Companions:
| | |
| --- | --- |
| Slot | Name |
| Hair Style | |
| Head Marking | |
| Facial Hair | |
| Major Adornment | |
| Minor Adornment | |
| Body Marking | |
| Skin | |
| Personality | |
| Polymorph | |
| Mount | Karthstalker Sabre Cat |
| Non-Combat Pet | Solitude Silver Wolf |
Other Posts by AlexTheRed17: