Character: Alevor Bristleback (Falkreath Liberator) of XBox One
Submitted by: AlexTheRed17
Alevor is a Redguard-Nord hybrid who left his hometown of Falkreath in Skyrim in search of adventure. After returning many years later, he saved his city from the feared Dreadhorn Clan and drove them back into the Reach. This armor is a symbol of freedom in Southwestern Skyrim and has been referred to as the Falkreath Liberator ever since.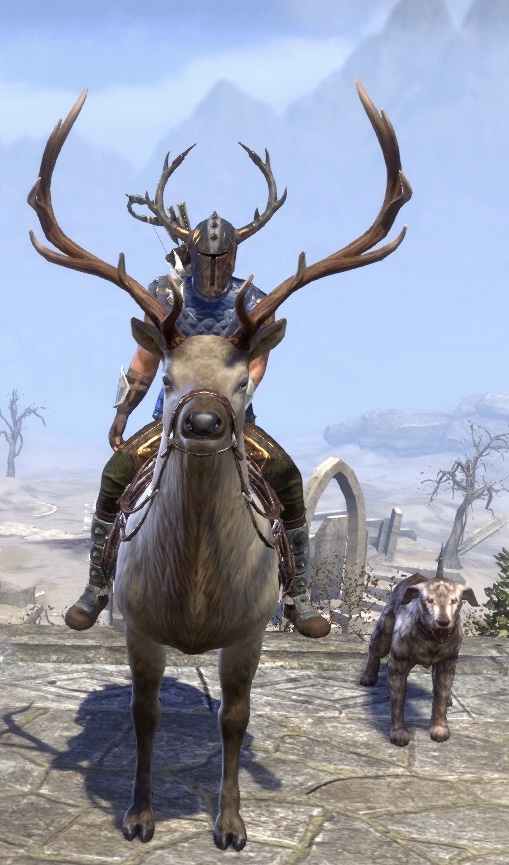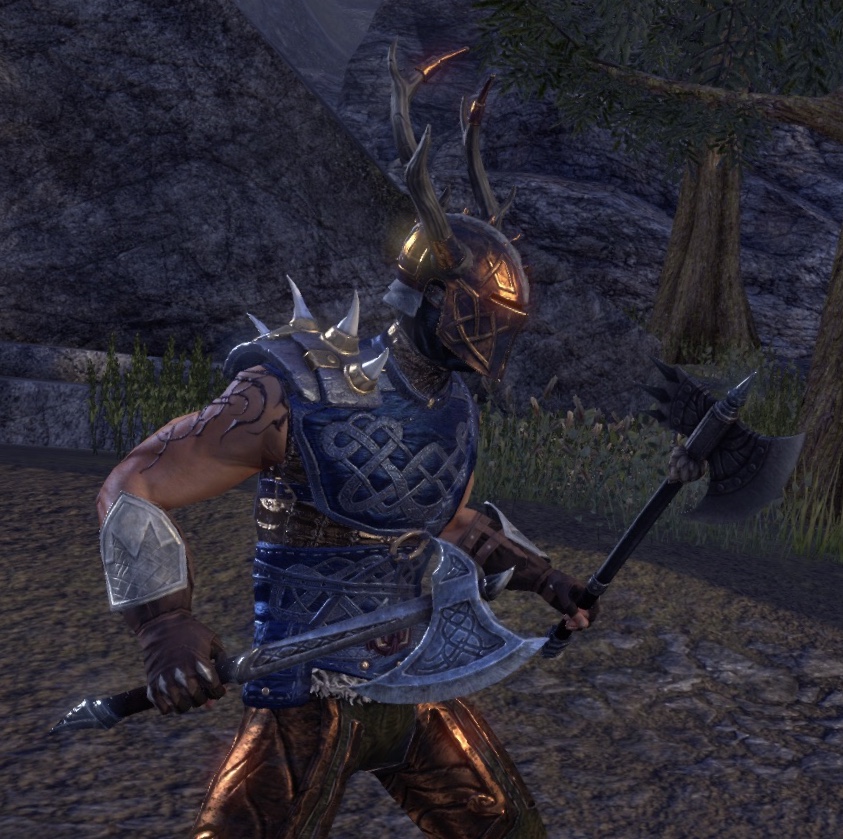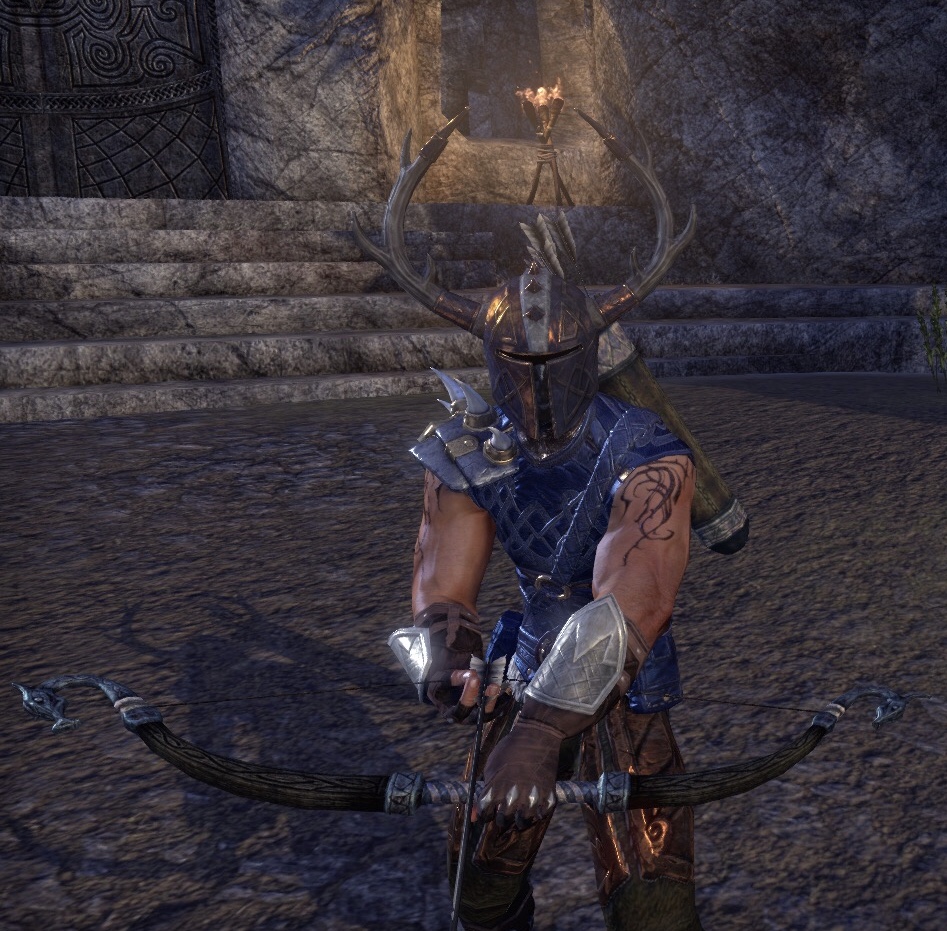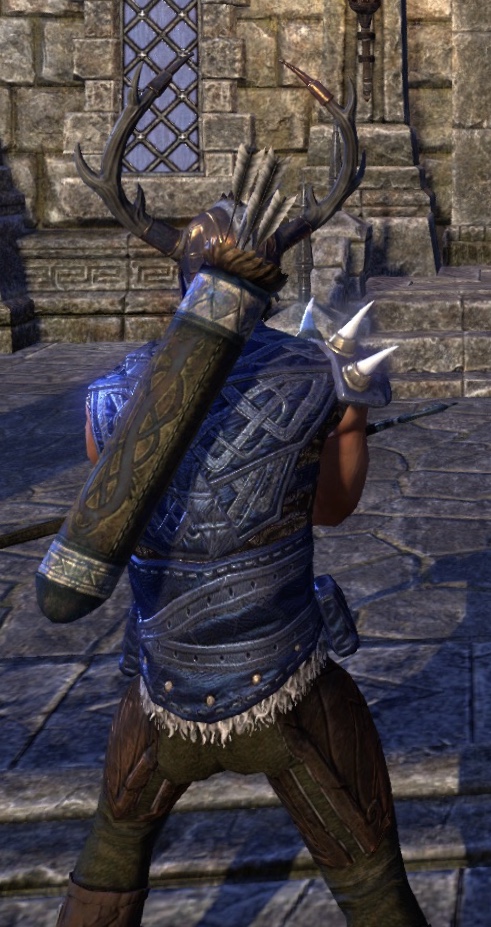 Gear:
| | | | | | | |
| --- | --- | --- | --- | --- | --- | --- |
| Piece | Name | Quality | Source | Prim Dye | Sec Dye | Tert Dye |
| Head | Bloodforge Helm | Epic (Purple) | Bloodroot Forge Dungeon | Atmoran Bronze | Expert Gray | Sergeant's Charcoal |
| Shoulders | Bloodspawn's Shoulder | Epic (Purple) | Spindleclutch II Dungeon | Dolmen Deep Blue | Rank 4 Materials | Julianos White |
| Chest | Bloodforge Jack | Epic (Purple) | Bloodroot Forge Dungeon | Covenant Blue | Motif Master Brown | Hlaalu Gold |
| Hands | Grim Harlequin Gauntlets | Epic (Purple) | Crown Store | Birch White | Heartlands Umber | |
| Waist | Swordthane Belt | Epic (Purple) | Greymoor Collector's Edition | Rank 9 Materials | | |
| Legs | Ancient Elf Greaves | Epic (Purple) | Overland | Colovian Deep Brown | | Corporal's Green |
| Feet | Skinchanger Boots | Epic (Purple) | New Life Festival Boxes | Graht-Bark Brown | Master Gold | Tower White-Gold |
| Weapon | Wood Elf Axe 4 / Skinchanger Axe | Epic (Purple) | Overland / New Life Festival Boxes | Julianos White | Legionary's Lead | Coldharbour Ash Black |
| Offhand | Draugr Bow | Epic (Purple) | Fighters/Mages/Undaunted Guild Dailies | Restorative Gold | Necromancer Blue | Julianos White |
Appearance and Companions:
| | |
| --- | --- |
| Slot | Name |
| Hair Style | Management Material |
| Head Marking | |
| Facial Hair | |
| Major Adornment | |
| Minor Adornment | |
| Body Marking | Twisted Briar Shoulder Tats |
| Skin | |
| Personality | |
| Polymorph | |
| Mount | Great Elk |
| Non-Combat Pet | Windhelm Wolfhound |