10 Million Stories, Crown Store, Event, Home, Mysterious Reward Box, Notable
You probably think only the mad masterminds of vast criminal organizations have their own private tropical islands. Well, think again: you, too, could hvae a hiden hideaway ever-trembling on the verge of volcanic destruction.
Default Name: Topal Bay Island
Cost:

Unfurnished: 15,000 Crowns
Furnished: 18,800 Crowns

Size: Manor
Style: Argonian
Max # of Furnishings: 350 / 700 (ESO+)
Trophy Collectibles: 40 / 80 (ESO+)
Other Collectibles: 5 / 10 (ESO+)
Max # of Characters: 24
Location: Topal Island, Grahtwood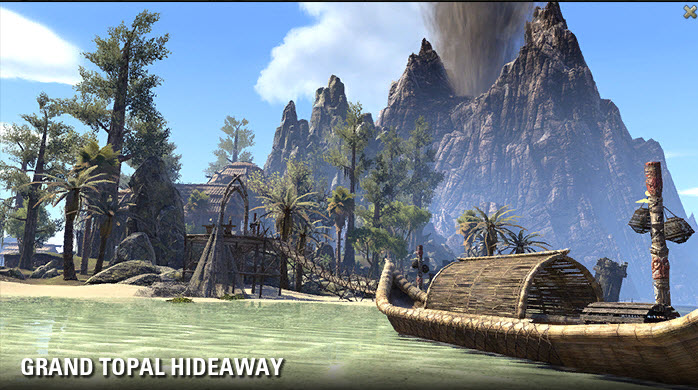 Video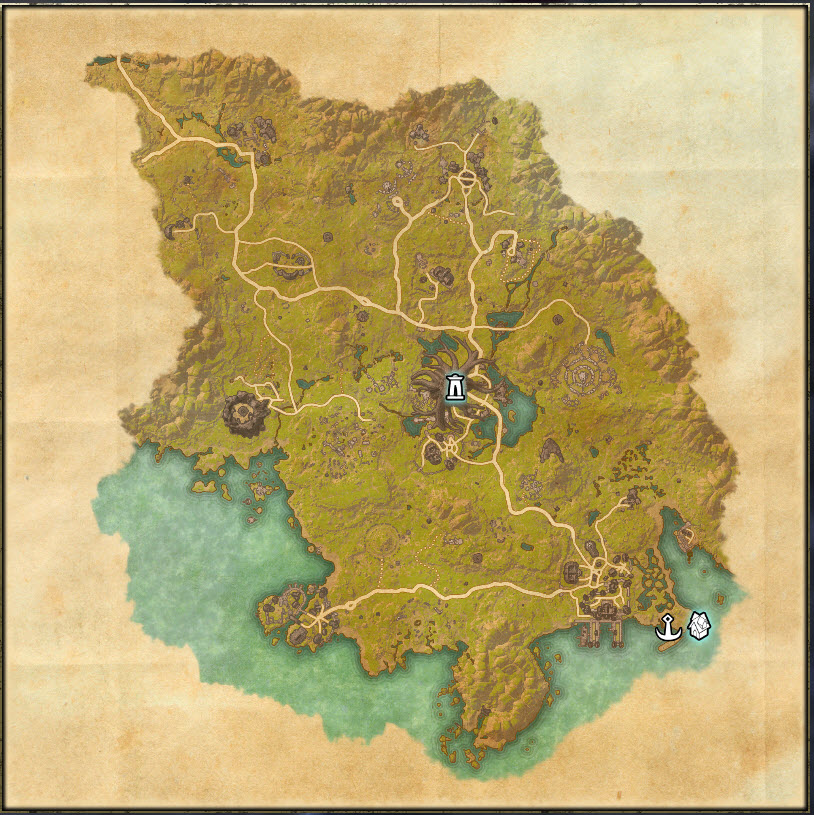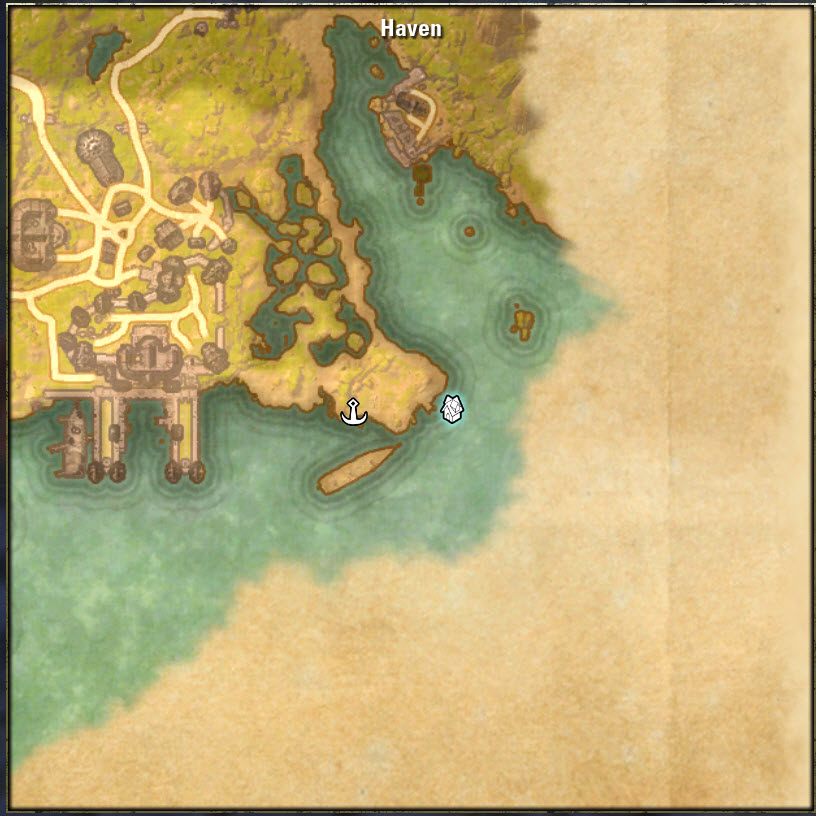 These are the furnishings that come with the Crown Store Furnished version.
Source: ESO Furniture Database maintained by Dominoid
Item
Source
Cost
Category
Sub Category
Quality
Requirements
Ingredients
Station
Plan
Purchase Tab
Crowns
Item
Source
Cost
Category
Sub Category
Quality
Requirements
Ingredients
Station
Plan
Purchase Tab
Crowns
16 Accords of Madness, Vol. VI
Purchase: Mystic
5000 / collection
Library
Literature
Fine
Complete Appropriate Lorebook Collection
No
0
A Gift of Sanctuary
Purchase: Mystic
10000 / collection
Library
Literature
Superior
Complete Appropriate Lorebook Collection
No
0
A Life Barbaric and Brutal
Purchase: Mystic
5000 / collection
Library
Literature
Fine
Complete Appropriate Lorebook Collection
No
0
A Life of Strife and Struggle
Purchase: Mystic
5000 / collection
Library
Literature
Fine
Complete Appropriate Lorebook Collection
No
0
A Looter's Paradise
Purchase: Mystic
5000 / collection
Library
Literature
Fine
Complete Appropriate Lorebook Collection
No
0
A Mother's Nursery Rhyme
Purchase: Mystic
5000 / collection
Library
Literature
Fine
Complete Appropriate Lorebook Collection
No
0
A Nereid Stole My Husband
Purchase: Mystic
5000 / collection
Library
Literature
Fine
Complete Appropriate Lorebook Collection
No
0
A Pocket Guide to Mournhold
Purchase: Mystic
5000 / collection
Library
Literature
Fine
Complete Appropriate Lorebook Collection
No
0
A Shallow Pool
Purchase: Mystic
5000 / collection
Library
Literature
Fine
Complete Appropriate Lorebook Collection
No
0
A Warning to the Aldmeri Dominion
Purchase: Mystic
5000 / collection
Library
Literature
Fine
Complete Appropriate Lorebook Collection
No
0
A Werewolf's Confession
Purchase: Mystic
5000 / collection
Library
Literature
Fine
Complete Appropriate Lorebook Collection
No
0
Abah's Landing Banner
Achievement Furnisher: Abah's Landing
10000
Parlor
Banners
Epic
Achievement: Hew's Bane Grand Adventurer
No
0
Aedra and Daedra
Purchase: Mystic
5000 / collection
Library
Literature
Fine
Complete Appropriate Lorebook Collection
No
0
Alchemist's Sign
Purchase: Alchemist
5000
Parlor
Banners
Epic
Achievement: Master Alchemist
No
0
Alchemy Station
Purchase: Mastercraft Mediator
35WV
Workshop
Alchemy Station
Legendary
No
0
Alik'r Cactus
Conservatory
Plants
Superior
No
0
All About Giants
Purchase: Mystic
5000 / collection
Library
Literature
Fine
Complete Appropriate Lorebook Collection
No
0
An Accounting of the Elder Scrolls
Purchase: Mystic
5000 / collection
Library
Literature
Fine
Complete Appropriate Lorebook Collection
No
0
An Adoring Fan
Achievement Furnisher: Abah's Landing
2500
Miscellaneous
Epic
Achievement: Wedding Crashers
No
0
Ancestors and the Dunmer (Abridged)
Purchase: Mystic
5000 / collection
Library
Literature
Fine
Complete Appropriate Lorebook Collection
No
0
Anchor
Fishing
Workshop
Tools
Epic
No
0
Ancient Cultist Totem
Achievement Furnisher: Riften
5000
Undercroft
Grave Goods
Epic
Achievement: Ysgramor's Prodigy
No
0
Ancient High Elf Statue
Achievement Furnisher: Skywatch
35000
Courtyard
Statues
Legendary
Achievement: Auridon Adventurer
No
0
Ancient Patriarch Banner
Parlor
Banners
Epic
No
0
Ancient Scrolls of the Dwemer I-B
Purchase: Mystic
5000 / collection
Library
Literature
Fine
Complete Appropriate Lorebook Collection
No
0
Ancient Scrolls of the Dwemer II
Purchase: Mystic
5000 / collection
Library
Literature
Fine
Complete Appropriate Lorebook Collection
No
0
Ancient Scrolls of the Dwemer III
Purchase: Mystic
5000 / collection
Library
Literature
Fine
Complete Appropriate Lorebook Collection
No
0
Ancient Scrolls of the Dwemer IV
Purchase: Mystic
5000 / collection
Library
Literature
Fine
Complete Appropriate Lorebook Collection
No
0
Ancient Scrolls of the Dwemer V
Purchase: Mystic
5000 / collection
Library
Literature
Fine
Complete Appropriate Lorebook Collection
No
0
Ancient Scrolls of the Dwemer VI
Purchase: Mystic
5000 / collection
Library
Literature
Fine
Complete Appropriate Lorebook Collection
No
0
Ancient Scrolls of the Dwemer VIII
Purchase: Mystic
5000 / collection
Library
Literature
Fine
Complete Appropriate Lorebook Collection
No
0
Ancient Scrolls of the Dwemer X
Purchase: Mystic
5000 / collection
Library
Literature
Fine
Complete Appropriate Lorebook Collection
No
0
Ancient Scrolls of the Dwemer XI
Purchase: Mystic
5000 / collection
Library
Literature
Fine
Complete Appropriate Lorebook Collection
No
0
Ancient Scrolls of the Dwemer, I-A
Purchase: Mystic
5000 / collection
Library
Literature
Fine
Complete Appropriate Lorebook Collection
No
0
Antecedents of Dwemer Law
Purchase: Mystic
5000 / collection
Library
Literature
Fine
Complete Appropriate Lorebook Collection
No
0
Antler Totem of the Reach
Epic
No
0
Antlers, Wall Mount
Legerdemain, Drops
Gallery
Mounted Decor
Legendary
Potency Improvement 8
Recipe Improvement 6
Woodworking 6
Decorative Wax 11
Mundane Rune 13
Heartwood 11
Nickel 20
Perfect Roe 1
Provisioning
Design
No
0
Apparatus, Alembic
Workshop
Materials
Legendary
No
0
Apparatus, Boiler
Purchase: Mastercraft Mediator
Workshop
Materials
Legendary
Metalworking 10
Potency Improvement 9
Solvent Proficiency 8
Recipe Improvement 6
Regulus 15
Mundane Rune 14
Alchemical Resin 13
Decorative Wax 11
Nickel 20
Tempering Alloy 1
Blacksmithing
Diagram
No
0
Apparatus, Calcinator
Workshop
Materials
Legendary
No
0
Apparatus, Gem Calipers
Purchase: Mastercraft Mediator
Workshop
Materials
Legendary
Metalworking 10
Potency Improvement 10
Solvent Proficiency 8
Recipe Improvement 6
Regulus 15
Mundane Rune 15
Alchemical Resin 13
Decorative Wax 11
Nickel 20
Tempering Alloy 1
Blacksmithing
Diagram
No
0
Apparatus, Retort
Workshop
Materials
Legendary
No
0
Apple, Display
Legerdemain, Drops
Hearth
Produce
Fine
Recipe Improvement 1
Decorative Wax 3
Nickel 5
Apples 2
Flour 20
Provisioning
Design
Yes
50
Arcana Restored
Purchase: Mystic
5000 / collection
Library
Literature
Fine
Complete Appropriate Lorebook Collection
No
0
Arch of the Wild Hunt
Courtyard
Statues
Epic
No
0
Argonian Banner, Half Hands
Legerdemain, Drops
Parlor
Banners
Epic
Tailoring 8
Recipe Improvement 4
Woodworking 4
Bast 12
Decorative Wax 8
Heartwood 8
Flint 15
Elegant Lining 3
Clothing
Pattern
Yes
400
Argonian Banner, Hanging
Legerdemain, Drops
Parlor
Banners
Fine
Tailoring 5
Solvent Proficiency 2
Bast 7
Alchemical Resin 4
Flint 5
Fire Opal 10
Hemming 9
Clothing
Pattern
Yes
50
Argonian Banners, Frilled
Legerdemain, Drops
Parlor
Banners
Epic
Tailoring 8
Recipe Improvement 3
Woodworking 5
Bast 12
Decorative Wax 7
Heartwood 9
Flint 15
Elegant Lining 3
Clothing
Pattern
Yes
400
Argonian Bar, Woven
Legerdemain, Drops
Dining
Counters
Superior
Metalworking 2
Tailoring 5
Woodworking 7
Heartwood 10
Regulus 5
Clean Pelt 8
Flint 10
Turpen 6
Woodworking
Blueprint
Yes
150
Argonian Bark, Painted
Legerdemain, Drops
Undercroft
Sacred Pieces
Epic
Potency Improvement 4
Solvent Proficiency 4
Woodworking 8
Heartwood 12
Mundane Rune 8
Alchemical Resin 8
Flint 15
Ruby 16
Mastic 3
Woodworking
Blueprint
Yes
400
Argonian Basket, Closed
Legerdemain, Drops
Hearth
Cabinetry
Superior
Tailoring 4
Solvent Proficiency 2
Woodworking 2
Clean Pelt 7
Alchemical Resin 5
Heartwood 5
Flint 10
Embroidery 6
Clothing
Pattern
Yes
150
Argonian Basket, Serving
Legerdemain, Drops
Hearth
Cabinetry
Fine
Tailoring 2
Bast 4
Flint 5
Hemming 9
Clothing
Pattern
Yes
50
Argonian Basket, Woven
Legerdemain, Drops
Hearth
Cabinetry
Superior
Tailoring 4
Recipe Improvement 2
Woodworking 2
Bast 7
Decorative Wax 5
Heartwood 5
Flint 10
Embroidery 6
Clothing
Pattern
Yes
150
Argonian Baskets, Double
Legerdemain, Drops
Hearth
Cabinetry
Fine
Tailoring 3
Bast 5
Flint 5
Hemming 9
Clothing
Pattern
Yes
50
Argonian Bed, Woven
Legerdemain, Drops
Suite
Bedding
Superior
Tailoring 5
Recipe Improvement 1
Woodworking 6
Heartwood 9
Bast 8
Decorative Wax 4
Flint 10
Turpen 6
Woodworking
Blueprint
Yes
150
Argonian Bedroll, Woven
#N/A
Suite
Bedding
Epic
Yes
0
Argonian Bench, Woven
Legerdemain, Drops
Dining
Benches
Superior
Metalworking 2
Tailoring 3
Woodworking 5
Heartwood 8
Regulus 5
Bast 6
Flint 10
Turpen 6
Woodworking
Blueprint
Yes
150
Argonian Bin, Woven
Legerdemain, Drops
Hearth
Baskets and Bags
Superior
Tailoring 4
Solvent Proficiency 2
Woodworking 2
Bast 7
Alchemical Resin 5
Heartwood 5
Flint 10
Embroidery 6
Clothing
Pattern
Yes
150
Argonian Bone Chimes
Legerdemain, Drops
Undercroft
Sacred Pieces
Epic
Tailoring 2
Recipe Improvement 6
Woodworking 4
Decorative Wax 10
Bast 6
Heartwood 8
Flint 15
Frost Mirriam 3
Provisioning
Design
Yes
400
Argonian Bookcase, Sturdy
Legerdemain, Drops
Library
Shelves
Superior
Metalworking 3
Tailoring 4
Woodworking 7
Heartwood 10
Regulus 6
Bast 7
Flint 10
Turpen 6
Woodworking
Blueprint
Yes
150
Argonian Bookshelf, Woven
Legerdemain, Drops
Library
Shelves
Superior
Metalworking 3
Tailoring 3
Woodworking 6
Heartwood 9
Regulus 6
Bast 6
Flint 10
Turpen 6
Woodworking
Blueprint
Yes
150
Argonian Bowl, Bordered
Legerdemain, Drops
Hearth
Dishes
Superior
Potency Improvement 6
Recipe Improvement 3
Mundane Rune 9
Decorative Wax 6
Flint 10
Denata 6
Enchanting
Praxis
Yes
150
Argonian Bowl, Ritual
Legerdemain, Drops
Hearth
Dishes
Epic
Metalworking 3
Potency Improvement 7
Solvent Proficiency 4
Mundane Rune 11
Flint 15
Regulus 7
Alchemical Resin 8
Rekuta 3
Enchanting
Praxis
Yes
400
Argonian Bowl, Serving
Legerdemain, Drops
Hearth
Dishes
Superior
Metalworking 4
Potency Improvement 3
Recipe Improvement 1
Regulus 7
Mundane Rune 6
Decorative Wax 4
Flint 10
Dwarven Oil 6
Blacksmithing
Diagram
Yes
150
Argonian Bowl, Wooden
Legerdemain, Drops
Hearth
Dishes
Fine
Woodworking 4
Heartwood 6
Flint 5
Enchanting
Praxis
Yes
50
Argonian Brazier, Mud
Legerdemain, Drops
Lighting
Braziers
Epic
Metalworking 5
Potency Improvement 9
Solvent Proficiency 4
Mundane Rune 13
Regulus 9
Alchemical Resin 8
Flint 15
Rakeipa 18
Rekuta 3
Enchanting
Praxis
Yes
400
Argonian Cage, Bird
Legerdemain, Drops
Hearth
Game
Superior
Potency Improvement 2
Recipe Improvement 3
Woodworking 5
Heartwood 8
Mundane Rune 5
Decorative Wax 6
Flint 10
Turpen 6
Woodworking
Blueprint
Yes
150
Argonian Cage, Rat
Legerdemain, Drops
Hearth
Game
Superior
Potency Improvement 2
Recipe Improvement 2
Woodworking 4
Heartwood 7
Mundane Rune 5
Decorative Wax 5
Flint 10
Turpen 6
Woodworking
Blueprint
Yes
150
Argonian Canopy, Frilled
Legerdemain, Drops
Structures
Tents
Epic
Tailoring 8
Recipe Improvement 4
Woodworking 4
Bast 12
Decorative Wax 8
Heartwood 8
Flint 15
Elegant Lining 3
Clothing
Pattern
Yes
400
Argonian Canopy, Reed
Legerdemain, Drops
Structures
Tents
Fine
Tailoring 2
Woodworking 4
Heartwood 6
Bast 4
Flint 5
Pitch 9
Woodworking
Blueprint
Yes
50
Argonian Canopy, Scaled
Legerdemain, Drops
Structures
Tents
Epic
Tailoring 6
Recipe Improvement 3
Woodworking 3
Bast 10
Decorative Wax 7
Heartwood 7
Flint 15
Elegant Lining 3
Clothing
Pattern
Yes
400
Argonian Canopy, Skull
Legerdemain, Drops
Structures
Tents
Epic
Tailoring 7
Recipe Improvement 3
Woodworking 4
Bast 11
Decorative Wax 7
Heartwood 8
Flint 15
Elegant Lining 3
Clothing
Pattern
Yes
400
Argonian Censer
Legerdemain, Drops
Undercroft
Incense
Epic
Potency Improvement 8
Solvent Proficiency 2
Woodworking 6
Mundane Rune 12
Alchemical Resin 6
Heartwood 10
Flint 15
Rakeipa 16
Rekuta 3
Enchanting
Praxis
Yes
400
Argonian Chair, Rough
Legerdemain, Drops
Dining
Chairs
Fine
Woodworking 3
Heartwood 5
Flint 5
Pitch 9
Woodworking
Blueprint
Yes
50
Argonian Chair, Woven
Legerdemain, Drops
Dining
Chairs
Superior
Metalworking 1
Tailoring 3
Woodworking 4
Heartwood 7
Regulus 4
Bast 6
Flint 10
Turpen 6
Woodworking
Blueprint
Yes
150
Argonian Chest, Carved
Legerdemain, Drops
Suite
Trunks
Epic
Metalworking 6
Potency Improvement 9
Solvent Proficiency 3
Mundane Rune 13
Regulus 10
Alchemical Resin 7
Flint 15
Rekuta 3
Enchanting
Praxis
Yes
400
Argonian Chimney Stack
Legerdemain, Drops
Workshop
Tools
Fine
Woodworking 2
Heartwood 4
Flint 5
Pitch 9
Woodworking
Blueprint
Yes
50
Argonian Counter, Rough
Legerdemain, Drops
Dining
Counters
Fine
Woodworking 2
Heartwood 4
Flint 5
Pitch 9
Woodworking
Blueprint
Yes
50
Argonian Cup, Bordered
Legerdemain, Drops
Hearth
Dishes
Superior
Metalworking 4
Solvent Proficiency 2
Recipe Improvement 2
Regulus 7
Alchemical Resin 5
Decorative Wax 5
Flint 10
Dwarven Oil 6
Blacksmithing
Diagram
Yes
150
Argonian Cup, Short
Legerdemain, Drops
Hearth
Dishes
Fine
Recipe Improvement 2
Decorative Wax 4
Flint 5
Flour 20
Provisioning
Design
Yes
50
Argonian Cup, Tall
Legerdemain, Drops
Hearth
Dishes
Fine
Recipe Improvement 2
Woodworking 4
Heartwood 6
Decorative Wax 4
Flint 5
Pitch 9
Woodworking
Blueprint
Yes
50
Argonian Curtain of Smoke
Legerdemain, Drops
Parlor
Tapestries
Epic
Tailoring 6
Solvent Proficiency 3
Recipe Improvement 3
Bast 10
Alchemical Resin 7
Decorative Wax 7
Flint 15
Sardonyx 12
Elegant Lining 3
Clothing
Pattern
Yes
400
Argonian Curtain of the Nest
Legerdemain, Drops
Parlor
Tapestries
Epic
Tailoring 9
Solvent Proficiency 6
Recipe Improvement 3
Bast 13
Alchemical Resin 10
Decorative Wax 7
Flint 15
Emerald 18
Elegant Lining 3
Clothing
Pattern
Yes
400
Argonian Curtain, Woven
Legerdemain, Drops
Parlor
Tapestries
Superior
Tailoring 5
Recipe Improvement 2
Woodworking 3
Bast 8
Decorative Wax 5
Heartwood 6
Flint 10
Embroidery 6
Clothing
Pattern
Yes
150
Argonian Curtains, Woven
Legerdemain, Drops
Parlor
Tapestries
Superior
Tailoring 4
Potency Improvement 2
Recipe Improvement 2
Clean Pelt 7
Mundane Rune 5
Decorative Wax 5
Flint 10
Embroidery 6
Clothing
Pattern
Yes
150
Argonian Divider, Stretched
Legerdemain, Drops
Suite
Dividers
Epic
Tailoring 5
Solvent Proficiency 4
Woodworking 9
Bast 9
Alchemical Resin 8
Heartwood 13
Flint 15
Sardonyx 18
Elegant Lining 3
Clothing
Pattern
Yes
400
Argonian Dresser, Sturdy
Legerdemain, Drops
Suite
Wardrobes
Superior
Tailoring 3
Solvent Proficiency 2
Woodworking 5
Heartwood 8
Bast 6
Alchemical Resin 5
Flint 10
Turpen 6
Woodworking
Blueprint
Yes
150
Argonian Dried Leaves
Legerdemain, Drops
Hearth
Stockroom
Fine
Woodworking 2
Heartwood 4
Flint 5
Pitch 9
Woodworking
Blueprint
Yes
50
Argonian Drum, Ceremonial
Legerdemain, Drops
Undercroft
Sacred Pieces
Epic
Tailoring 10
Potency Improvement 5
Woodworking 5
Bast 14
Mundane Rune 9
Heartwood 9
Flint 15
Elegant Lining 3
Clothing
Pattern
Yes
400
Argonian Effigy, Coiled Snake
Parlor
Knick-Knacks
Legendary
No
0
Argonian Egg
Achievement Furnisher: Alten Corimont
2500
Miscellaneous
Superior
Achievement: Egg Protector
No
0
Argonian Egg, Mnemic
Undercroft
Sacred Pieces
Legendary
No
0
Argonian Egg, Mnemic Base
Undercroft
Sacred Pieces
Legendary
No
0
Argonian Egg, Rough
Undercroft
Sacred Pieces
Legendary
No
0
Argonian End Table, Woven
Legerdemain, Drops
Parlor
Tea Tables
Superior
Metalworking 2
Tailoring 3
Woodworking 5
Heartwood 6
Flint 5
Jejota 9
Woodworking
Blueprint
Yes
150
Argonian Fish in a Basket
Hearth
Cabinetry
Superior
Yes
150
Argonian Gravestick
Legerdemain, Drops
Undercroft
Sacred Pieces
Epic
Tailoring 4
Potency Improvement 4
Woodworking 8
Heartwood 12
Bast 8
Mundane Rune 8
Flint 15
Mastic 3
Woodworking
Blueprint
No
0
Argonian Hamper, Woven
Legerdemain, Drops
Hearth
Baskets and Bags
Epic
Tailoring 3
Potency Improvement 3
Woodworking 6
Heartwood 10
Bast 7
Mundane Rune 7
Flint 15
Mastic 3
Woodworking
Blueprint
Yes
400
Argonian Jug, Ritual
Legerdemain, Drops
Hearth
Dishes
Epic
Metalworking 4
Potency Improvement 8
Solvent Proficiency 4
Mundane Rune 12
Regulus 8
Alchemical Resin 8
Flint 15
Rekuta 3
Enchanting
Praxis
Yes
400
Argonian Lamp, Mud
Legerdemain, Drops
Lighting
Lamps
Epic
Metalworking 5
Potency Improvement 10
Solvent Proficiency 5
Mundane Rune 14
Regulus 9
Alchemical Resin 9
Flint 15
Rakeipa 20
Rekuta 3
Enchanting
Praxis
Yes
400
Argonian Lamppost
Legerdemain, Drops
Lighting
Lightposts
Superior
Tailoring 5
Potency Improvement 3
Solvent Proficiency 2
Bast 8
Mundane Rune 6
Alchemical Resin 5
Flint 10
Embroidery 6
Clothing
Pattern
Yes
150
Argonian Lanterns, Strand
Legerdemain, Drops
Lighting
Lanterns
Epic
Tailoring 7
Potency Improvement 3
Solvent Proficiency 4
Bast 11
Mundane Rune 7
Alchemical Resin 8
Flint 15
Elegant Lining 3
Clothing
Pattern
Yes
400
Argonian Lanterns, String
Legerdemain, Drops
Lighting
Lanterns
Epic
Tailoring 7
Potency Improvement 3
Solvent Proficiency 4
Bast 11
Mundane Rune 7
Alchemical Resin 8
Flint 15
Rakeipa 14
Elegant Lining 3
Clothing
Pattern
Yes
400
Argonian Lattice, Rough
Legerdemain, Drops
Structures
Building Components
Fine
Metalworking 1
Tailoring 2
Woodworking 4
Heartwood 6
Regulus 3
Bast 4
Flint 5
Pitch 9
Woodworking
Blueprint
Yes
50
Argonian Light, Stick
Legerdemain, Drops
Lighting
Candles
Epic
Tailoring 2
Recipe Improvement 6
Woodworking 4
Decorative Wax 10
Bast 6
Heartwood 8
Flint 15
Frost Mirriam 3
Provisioning
Design
Yes
400
Argonian Lights, Branch
Legerdemain, Drops
Lighting
Candles
Epic
Potency Improvement 2
Recipe Improvement 6
Woodworking 4
Decorative Wax 10
Mundane Rune 6
Heartwood 8
Flint 15
Frost Mirriam 3
Provisioning
Design
Yes
400
Argonian Mat, Reed
Legerdemain, Drops
Suite
Bedding
Fine
Tailoring 2
Bast 4
Flint 5
Hemming 9
Clothing
Pattern
Yes
50
Argonian Mat, Rolled Reed
Legerdemain, Drops
Suite
Bedding
Fine
Tailoring 2
Bast 4
Flint 5
Hemming 9
Clothing
Pattern
Yes
50
Argonian Mat, Tidy Reed
Legerdemain, Drops
Suite
Bedding
Fine
Tailoring 2
Bast 4
Flint 5
Hemming 9
Clothing
Pattern
Yes
50
Argonian Medallion, Stone
Legerdemain, Drops
Gallery
Art
Superior
Metalworking 1
Potency Improvement 6
Solvent Proficiency 2
Mundane Rune 9
Regulus 4
Alchemical Resin 5
Flint 10
Denata 6
Enchanting
Praxis
Yes
150
Argonian Mortar and Pestle, Bone
Legerdemain, Drops
Hearth
Cookware
Epic
Potency Improvement 8
Solvent Proficiency 5
Recipe Improvement 3
Mundane Rune 12
Alchemical Resin 9
Decorative Wax 7
Flint 15
Fire Opal 16
Rekuta 3
Enchanting
Praxis
Yes
400
Argonian Mortar, Bone
Legerdemain, Drops
Hearth
Cookware
Epic
Potency Improvement 7
Solvent Proficiency 4
Recipe Improvement 3
Mundane Rune 11
Alchemical Resin 8
Decorative Wax 7
Flint 15
Fire Opal 14
Rekuta 3
Enchanting
Praxis
Yes
400
Argonian Mug, Tooth
Legerdemain, Drops
Hearth
Dishes
Fine
Potency Improvement 2
Solvent Proficiency 2
Woodworking 4
Heartwood 6
Mundane Rune 4
Alchemical Resin 4
Flint 5
Pitch 9
Woodworking
Blueprint
Yes
50
Argonian Nest
Suite
Bedding
Epic
No
0
Argonian Pan, Frying
Legerdemain, Drops
Hearth
Dishes
Fine
Potency Improvement 2
Mundane Rune 4
Flint 5
Jejota 9
Enchanting
Praxis
Yes
50
Argonian Pedestal, Altar
Legerdemain, Drops
Undercroft
Sacred Pieces
Epic
Metalworking 7
Potency Improvement 9
Solvent Proficiency 2
Mundane Rune 13
Regulus 11
Alchemical Resin 6
Flint 15
Rekuta 3
Enchanting
Praxis
Yes
400
Argonian Pestle, Bone
Legerdemain, Drops
Hearth
Utensils
Epic
Potency Improvement 3
Solvent Proficiency 6
Recipe Improvement 3
Alchemical Resin 10
Mundane Rune 7
Decorative Wax 7
Flint 15
Fire Opal 12
Alchemy
Formula
Yes
400
Argonian Pole, Split
Legerdemain, Drops
Hearth
Stockroom
Fine
Woodworking 5
Heartwood 7
Flint 5
Pitch 9
Woodworking
Blueprint
Yes
50
Argonian Post, Frilled
Legerdemain, Drops
Courtyard
Posts and Pillars
Epic
Tailoring 3
Recipe Improvement 6
Woodworking 3
Decorative Wax 10
Bast 7
Heartwood 7
Flint 15
Frost Mirriam 3
Provisioning
Design
Yes
400
Argonian Post, Rough
Legerdemain, Drops
Courtyard
Posts and Pillars
Fine
Woodworking 4
Heartwood 6
Flint 5
Pitch 9
Woodworking
Blueprint
Yes
50
Argonian Post, Sturdy
Legerdemain, Drops
Courtyard
Posts and Pillars
Fine
Woodworking 5
Heartwood 7
Flint 5
Pitch 9
Woodworking
Blueprint
Yes
50
Argonian Pot, Ritual
Legerdemain, Drops
Undercroft
Sacred Pieces
Epic
Metalworking 4
Tailoring 4
Potency Improvement 8
Mundane Rune 12
Regulus 8
Bast 8
Flint 15
Rekuta 3
Enchanting
Praxis
Yes
400
Argonian Rack, Drying
Legerdemain, Drops
Hearth
Stockroom
Superior
Tailoring 4
Potency Improvement 2
Woodworking 2
Bast 7
Mundane Rune 5
Heartwood 5
Flint 10
Embroidery 6
Clothing
Pattern
Yes
150
Argonian Rack, Sturdy
Legerdemain, Drops
Hearth
Stockroom
Fine
Woodworking 5
Heartwood 7
Flint 5
Pitch 9
Woodworking
Blueprint
Yes
50
Argonian Rack, Woven
Hearth
Stockroom
Epic
Yes
400
Argonian Ramekin, Bordered
Legerdemain, Drops
Hearth
Dishes
Superior
Metalworking 2
Potency Improvement 6
Recipe Improvement 1
Mundane Rune 9
Regulus 5
Decorative Wax 4
Flint 10
Denata 6
Enchanting
Praxis
Yes
150
Argonian Ramekin, Hardened
Legerdemain, Drops
Hearth
Dishes
Fine
Potency Improvement 2
Mundane Rune 4
Flint 5
Jejota 9
Enchanting
Praxis
Yes
50
Argonian Relic, Basin
Legerdemain, Drops
Undercroft
Basins
Epic
Metalworking 5
Potency Improvement 10
Solvent Proficiency 5
Mundane Rune 14
Regulus 9
Alchemical Resin 9
Flint 15
Rekuta 3
Enchanting
Praxis
Yes
400
Argonian Relic, Broken
Undercroft
Sacred Pieces
Legendary
No
0
Argonian Relic, Serpent
Legerdemain, Drops
Undercroft
Sacred Pieces
Epic
Metalworking 4
Potency Improvement 8
Solvent Proficiency 4
Mundane Rune 12
Regulus 8
Alchemical Resin 8
Flint 15
Rekuta 3
Enchanting
Praxis
Yes
400
Argonian Relic, Small Serpent
Legerdemain, Drops
#N/A
Undercroft
Sacred Pieces
Epic
Metalworking 3
Potency Improvement 7
Solvent Proficiency 4
Mundane Rune 11
Regulus 7
Alchemical Resin 8
Flint 15
Rekuta 3
Enchanting
Praxis
No
0
Argonian Scaleskin, Faded
Legerdemain, Drops
Suite
Dividers
Superior
Tailoring 5
Recipe Improvement 2
Clean Pelt 8
Flint 10
Embroidery 6
Decorative Wax 5
Clothing
Pattern
Yes
150
Argonian Scaleskin, Pale
Legerdemain, Drops
Suite
Dividers
Superior
Tailoring 5
Recipe Improvement 2
Bast 8
Flint 10
Embroidery 6
Decorative Wax 5
Clothing
Pattern
Yes
150
Argonian Scaleskin, Striped
Legerdemain, Drops
Suite
Dividers
Superior
Tailoring 4
Bast 7
Flint 10
Fire Opal 8
Embroidery 6
Clothing
Pattern
Yes
150
Argonian Seat of Authority
Legerdemain, Drops
Dining
Chairs
Epic
Tailoring 9
Recipe Improvement 5
Woodworking 4
Bast 13
Decorative Wax 9
Heartwood 8
Flint 15
Ruby 18
Elegant Lining 3
Clothing
Pattern
Yes
400
Argonian Seat of Comfort
Legerdemain, Drops
Dining
Chairs
Epic
Tailoring 8
Solvent Proficiency 4
Recipe Improvement 4
Bast 12
Alchemical Resin 8
Decorative Wax 8
Flint 15
Ruby 16
Elegant Lining 3
Clothing
Pattern
Yes
400
Argonian Seat of Honor
Legerdemain, Drops
Dining
Chairs
Epic
Tailoring 8
Recipe Improvement 4
Woodworking 4
Bast 12
Decorative Wax 8
Heartwood 8
Flint 15
Ruby 16
Elegant Lining 3
Clothing
Pattern
Yes
400
Argonian Shelf, Woven
Legerdemain, Drops
Library
Shelves
Superior
Tailoring 3
Solvent Proficiency 2
Woodworking 5
Heartwood 8
Bast 6
Alchemical Resin 5
Flint 10
Turpen 6
Woodworking
Blueprint
Yes
150
Argonian Shelves, Full
Legerdemain, Drops
Library
Shelves
Fine
Tailoring 4
Bast 6
Flint 5
Hemming 9
Clothing
Pattern
Yes
50
Argonian Shelves, Half
Legerdemain, Drops
Library
Shelves
Fine
Tailoring 3
Bast 5
Flint 5
Hemming 9
Clothing
Pattern
Yes
50
Argonian Skull, Crocodile
Legerdemain, Drops
Undercroft
Symbolic Decor
Epic
Potency Improvement 3
Solvent Proficiency 3
Recipe Improvement 6
Decorative Wax 10
Mundane Rune 7
Alchemical Resin 7
Flint 15
Frost Mirriam 3
Provisioning
Design
Yes
400
Argonian Skull, Lizard
Legerdemain, Drops
Undercroft
Symbolic Decor
Epic
Potency Improvement 3
Solvent Proficiency 3
Recipe Improvement 6
Decorative Wax 10
Mundane Rune 7
Alchemical Resin 7
Flint 15
Frost Mirriam 3
Provisioning
Design
Yes
400
Argonian Snakes in a Basket
Legerdemain, Drops
Hearth
Cabinetry
Superior
Tailoring 3
Solvent Proficiency 1
Woodworking 4
Heartwood 7
Bast 6
Alchemical Resin 4
Flint 10
Turpen 6
Woodworking
Blueprint
Yes
150
Argonian Snakes on a Rope
Legerdemain, Drops
Hearth
Game
Fine
Recipe Improvement 2
Decorative Wax 4
Flint 5
Flour 20
Provisioning
Design
Yes
50
Argonian Stool, Roped
Legerdemain, Drops
Workshop
Stools
Fine
Woodworking 3
Heartwood 5
Flint 5
Pitch 9
Woodworking
Blueprint
Yes
50
Argonian Stool, Woven
Legerdemain, Drops
Workshop
Stools
Superior
Metalworking 2
Tailoring 2
Woodworking 4
Heartwood 7
Regulus 5
Bast 5
Flint 10
Turpen 6
Woodworking
Blueprint
Yes
150
Argonian Table, Formal
Legerdemain, Drops
Dining
Tables
Superior
Metalworking 3
Tailoring 3
Woodworking 6
Heartwood 9
Regulus 6
Bast 6
Flint 10
Turpen 6
Woodworking
Blueprint
Yes
150
Argonian Table, Horn
Legerdemain, Drops
Dining
Tables
Epic
Potency Improvement 4
Recipe Improvement 3
Woodworking 7
Heartwood 11
Flint 15
Mundane Rune 8
Decorative Wax 7
Mastic 3
Woodworking
Blueprint
Yes
400
Argonian Table, Rough
Legerdemain, Drops
Dining
Tables
Fine
Woodworking 4
Heartwood 6
Flint 5
Pitch 9
Woodworking
Blueprint
Yes
50
Argonian Tarp, Sturdy
Legerdemain, Drops
Structures
Tents
Fine
Tailoring 3
Bast 5
Flint 5
Hemming 9
Clothing
Pattern
Yes
50
Argonian Tarp, Woven
Legerdemain, Drops
Structures
Tents
Fine
Tailoring 3
Bast 5
Flint 5
Hemming 9
Clothing
Pattern
Yes
50
Argonian Tent, Reed
Legerdemain, Drops
Structures
Tents
Fine
Tailoring 2
Woodworking 5
Heartwood 7
Bast 4
Flint 5
Pitch 9
Woodworking
Blueprint
Yes
50
Argonian Tile, Inscribed
Legerdemain, Drops
Structures
Blocks
Epic
Metalworking 4
Potency Improvement 8
Solvent Proficiency 4
Mundane Rune 12
Regulus 8
Alchemical Resin 8
Flint 15
Rekuta 3
Enchanting
Praxis
No
0
Argonian Totem of Skulls
Legerdemain, Drops
Undercroft
Symbolic Decor
Epic
Potency Improvement 3
Recipe Improvement 6
Woodworking 3
Decorative Wax 10
Mundane Rune 7
Heartwood 7
Flint 15
Frost Mirriam 3
Provisioning
Design
No
0
Argonian Totem of the Snake
Legerdemain, Drops
Undercroft
Sacred Pieces
Epic
Potency Improvement 2
Recipe Improvement 6
Woodworking 4
Decorative Wax 10
Mundane Rune 6
Heartwood 8
Flint 15
Ruby 12
Frost Mirriam 3
Provisioning
Design
Yes
400
Argonian Totem, Frilled Skull
Legerdemain, Drops
Undercroft
Symbolic Decor
Superior
Potency Improvement 2
Recipe Improvement 4
Woodworking 2
Decorative Wax 7
Mundane Rune 5
Heartwood 5
Flint 10
Bervez Juice 6
Provisioning
Design
Yes
150
Argonian Totem, Painted Skull
Legerdemain, Drops
Undercroft
Symbolic Decor
Superior
Potency Improvement 3
Recipe Improvement 5
Woodworking 2
Decorative Wax 8
Mundane Rune 6
Heartwood 5
Flint 10
Bervez Juice 6
Provisioning
Design
Yes
150
Argonian Tray, Woven
Legerdemain, Drops
Hearth
Baskets and Bags
Superior
Tailoring 4
Potency Improvement 2
Woodworking 2
Bast 7
Mundane Rune 5
Heartwood 5
Flint 10
Embroidery 6
Clothing
Pattern
Yes
150
Argonian Tree of Lights
Legerdemain, Drops
Lighting
Candles
Epic
Potency Improvement 2
Recipe Improvement 6
Woodworking 3
Decorative Wax 10
Mundane Rune 6
Heartwood 7
Flint 15
Frost Mirriam 3
Provisioning
Design
No
0
Argonian Trunk, Painted
Legerdemain, Drops
Suite
Trunks
Epic
Tailoring 5
Solvent Proficiency 4
Woodworking 9
Heartwood 13
Clean Pelt 9
Alchemical Resin 8
Flint 15
Ruby 18
Mastic 3
Woodworking
Blueprint
Yes
400
Argonian Trunk, Sturdy
Legerdemain, Drops
Suite
Trunks
Superior
Metalworking 5
Potency Improvement 3
Woodworking 8
Heartwood 11
Regulus 8
Mundane Rune 6
Flint 10
Turpen 6
Woodworking
Blueprint
Yes
150
Argonian Urn, Clawfoot
Legerdemain, Drops
Undercroft
Urns
Superior
Metalworking 6
Potency Improvement 10
Recipe Improvement 4
Mundane Rune 13
Regulus 9
Decorative Wax 7
Flint 10
Denata 6
Enchanting
Praxis
Yes
150
Argonian Wind Chimes
Legerdemain, Drops
Undercroft
Sacred Pieces
Superior
Tailoring 3
Potency Improvement 3
Recipe Improvement 6
Decorative Wax 9
Bast 6
Mundane Rune 6
Flint 10
Bervez Juice 6
Provisioning
Design
Yes
150
Argonians Among Us
Purchase: Mystic
5000 / collection
Library
Literature
Fine
Complete Appropriate Lorebook Collection
No
0
Arx Corinium: First Seed Report
Purchase: Mystic
5000 / collection
Library
Literature
Fine
Complete Appropriate Lorebook Collection
No
0
Aspects of Lord Hircine
Purchase: Mystic
5000 / collection
Library
Literature
Fine
Complete Appropriate Lorebook Collection
No
0
Atmoran Eagle Totem Medallion
Achievement Furnisher: Dhalmora
3000
Miscellaneous
Superior
Achievement: Hero of Bleakrock
No
0
Atmoran Snake Totem Medallion
Achievement Furnisher: Dhalmora
3000
Miscellaneous
Superior
Achievement: Hero of Bleakrock
No
0
Atmoran Whale Totem Medallion
Achievement Furnisher: Dhalmora
3000
Miscellaneous
Superior
Achievement: Hero of Bleakrock
No
0
Aulus's Captive Audience
Achievement Furnisher: Redfur Trading Post
10000
Undercroft
Torture
Epic
Achievement: Southpoint Savior
No
0
Aurbic Enigma 4: The Elden Tree
Purchase: Mystic
5000 / collection
Library
Literature
Fine
Complete Appropriate Lorebook Collection
No
0
Auridon Coneplants, Cluster
Conservatory
Flowers
Standard
No
0
Auridon Fern, Orange
Conservatory
Ferns
Standard
No
0
Auridon Fern, Squat
Conservatory
Ferns
Standard
No
0
Auridon Fern, Tall
Conservatory
Ferns
Standard
No
0
Auridon Mushrooms, Cluster
Conservatory
Trees
Standard
No
0
Ayleid Cities of Valenwood
Purchase: Mystic
5000 / collection
Library
Literature
Fine
Complete Appropriate Lorebook Collection
No
0
Ayleid Inscriptions Translated
Purchase: Mystic
5000 / collection
Library
Literature
Fine
Complete Appropriate Lorebook Collection
No
0
Ayleid Survivals in Valenwood
Purchase: Mystic
5000 / collection
Library
Literature
Fine
Complete Appropriate Lorebook Collection
No
0
Ayleid Throne
Achievement Furnisher: The Hollow City
50000
Gallery
Thrones
Legendary
Achievement: Light of the Ayleid King
No
0
Ayrenn: The Unforeseen Queen
Purchase: Mystic
5000 / collection
Library
Literature
Fine
Complete Appropriate Lorebook Collection
No
0
Baked Potato, Display
Legerdemain, Drops
Hearth
Meals
Superior
Solvent Proficiency 2
Recipe Improvement 4
Decorative Wax 7
Alchemical Resin 5
Nickel 10
Potato 8
Bervez Juice 6
Provisioning
Design
Yes
150
Banana, Wax
Legerdemain, Drops
Hearth
Produce
Fine
Recipe Improvement 2
Decorative Wax 4
Nickel 5
Bananas 4
Flour 20
Provisioning
Design
Yes
50
Bangkorai, Shield of High Rock
Purchase: Mystic
5000 / collection
Library
Literature
Fine
Complete Appropriate Lorebook Collection
No
0
Banner of Hircine
Parlor
Banners
Legendary
No
0
Banner of Taneth
Achievement Furnisher: Abah's Landing
10000
Parlor
Banners
Epic
Achievement: Loose Ends
No
0
Banner of the Kvatch Guard
Achievement Furnisher: Kvatch
15000
Parlor
Banners
Epic
Achievement: Gold Coast Grand Adventurer
No
0
Banner of the Sanctuary
Parlor
Banners
Legendary
No
0
Banner, Crafting
Parlor
Banners
Superior
Yes
150
Banner, Forceful
Parlor
Banners
Fine
Yes
50
Banner, Forge
Parlor
Banners
Superior
Yes
150
Banner, Jester's Standard
Jester's Festival Reward
Free
Parlor
Banners
Epic
Festival Drop RNG
No
0
Banner, Mighty
Parlor
Banners
Superior
Yes
150
Banner, Tattered Blue
Parlor
Banners
Fine
Yes
50
Banner, Tattered Red
Parlor
Banners
Fine
Yes
50
Banner, War
Parlor
Banners
Superior
Yes
150
Barrel, Blue Dye
Legerdemain, Drops
Workshop
Cargo
Epic
Solvent Proficiency 4
Recipe Improvement 6
Woodworking 2
Decorative Wax 10
Alchemical Resin 8
Heartwood 6
Nickel 15
Turquoise 12
Frost Mirriam 3
Provisioning
Design
No
0
Barrel, Covered Dye
Legerdemain, Drops
Workshop
Cargo
Epic
Solvent Proficiency 4
Recipe Improvement 6
Woodworking 2
Decorative Wax 10
Alchemical Resin 8
Heartwood 6
Nickel 15
Carnelian 12
Frost Mirriam 3
Provisioning
Design
No
0
Barrel, Empty Dye
Legerdemain, Drops
Workshop
Cargo
Epic
Solvent Proficiency 4
Recipe Improvement 6
Woodworking 2
Decorative Wax 10
Alchemical Resin 8
Heartwood 6
Nickel 15
Sardonyx 12
Frost Mirriam 3
Provisioning
Design
No
0
Barrel, Green Dye
Legerdemain, Drops
Workshop
Cargo
Epic
Solvent Proficiency 4
Recipe Improvement 6
Woodworking 2
Decorative Wax 10
Alchemical Resin 8
Heartwood 6
Nickel 15
Chysolite 12
Frost Mirriam 3
Provisioning
Design
No
0
Barrel, Orange Dye
Legerdemain, Drops
Workshop
Cargo
Epic
Solvent Proficiency 4
Recipe Improvement 6
Woodworking 2
Decorative Wax 10
Alchemical Resin 8
Heartwood 6
Nickel 15
Fire Opal 12
Frost Mirriam 3
Provisioning
Design
No
0
Barrel, Pink Dye
Legerdemain, Drops
Workshop
Cargo
Epic
Solvent Proficiency 4
Recipe Improvement 6
Woodworking 2
Decorative Wax 10
Alchemical Resin 8
Heartwood 6
Nickel 15
Garnet 12
Frost Mirriam 3
Provisioning
Design
No
0
Barrel, Yellow Dye
Legerdemain, Drops
Workshop
Cargo
Epic
Solvent Proficiency 4
Recipe Improvement 6
Woodworking 2
Decorative Wax 10
Alchemical Resin 8
Heartwood 6
Nickel 15
Citrine 12
Frost Mirriam 3
Provisioning
Design
No
0
Basin of the Wild Hunt
Undercroft
Basins
Epic
No
0
Basket of Apples
Legerdemain, Drops
Hearth
Cabinetry
Superior
Recipe Improvement 5
Woodworking 3
Decorative Wax 8
Nickel 10
Apples 10
Heartwood 6
Bervez Juice 6
Provisioning
Design
Yes
150
Basket of Apples, Full
Legerdemain, Drops
Hearth
Cabinetry
Superior
Recipe Improvement 5
Woodworking 4
Decorative Wax 8
Nickel 10
Apples 10
Heartwood 7
Bervez Juice 6
Provisioning
Design
Yes
150
Basket of Corn
Legerdemain, Drops
Hearth
Cabinetry
Superior
Tailoring 4
Solvent Proficiency 2
Recipe Improvement 6
Decorative Wax 10
Bast 8
Alchemical Resin 6
Nickel 10
Corn 12
Bervez Juice 6
Provisioning
Design
Yes
150
Basket of Gourds
Legerdemain, Drops
Hearth
Cabinetry
Superior
Recipe Improvement 5
Woodworking 3
Decorative Wax 8
Nickel 10
Yerba Mate 10
Heartwood 6
Bervez Juice 6
Provisioning
Design
Yes
150
Basket of Lettuce
Legerdemain, Drops
Hearth
Cabinetry
Superior
Recipe Improvement 5
Woodworking 3
Decorative Wax 8
Nickel 10
Greens 10
Heartwood 6
Bervez Juice 6
Provisioning
Design
Yes
150
Basket of Skulls
Undercroft
Remains
Legendary
No
0
Basket of Tomatoes
Legerdemain, Drops
Hearth
Cabinetry
Superior
Tailoring 4
Solvent Proficiency 2
Recipe Improvement 6
Decorative Wax 10
Bast 8
Alchemical Resin 6
Nickel 10
Apples 12
Bervez Juice 6
Provisioning
Design
Yes
150
Bat Bloom
Conservatory
Trees
Epic
No
0
Beet String, Display
Legerdemain, Drops
Hearth
Produce
Fine
Recipe Improvement 1
Decorative Wax 3
Nickel 5
Beets 2
Flour 20
Provisioning
Design
Yes
50
Beets, Display
Legerdemain, Drops
Hearth
Produce
Fine
Recipe Improvement 1
Decorative Wax 3
Nickel 5
Beets 2
Flour 20
Provisioning
Design
Yes
50
Before the Ages of Man: Dawn Era
Purchase: Mystic
5000 / collection
Library
Literature
Fine
Complete Appropriate Lorebook Collection
No
0
Before the Ages of Man: Merethic Era
Purchase: Mystic
5000 / collection
Library
Literature
Fine
Complete Appropriate Lorebook Collection
No
0
Blacksmith's Sign
Purchase: Blacksmith
5000
Parlor
Banners
Epic
Achievement: Master Blacksmith
No
0
Blacksmithing Station
Purchase: Mastercraft Mediator
35WV
Workshop
Blacksmithing Station
Legendary
No
0
Blacksmithing Station (Alessia's Bulwark)
Purchase: Mastercraft Mediator
250WV
Workshop
Blacksmithing Station
Legendary
No
0
Blacksmithing Station (Armor Master)
Purchase: Mastercraft Mediator
250WV
Workshop
Blacksmithing Station
Legendary
No
0
Blacksmithing Station (Armor of the Code)
Purchase: Mastercraft Mediator
250WV
Workshop
Blacksmithing Station
Legendary
No
0
Blacksmithing Station (Ashen Grip)
Purchase: Mastercraft Mediator
250WV
Workshop
Blacksmithing Station
Legendary
No
0
Blacksmithing Station (Clever Alchemist)
Purchase: Mastercraft Mediator
250WV
Workshop
Blacksmithing Station
Legendary
No
0
Blacksmithing Station (Death's Wind)
Purchase: Mastercraft Mediator
250WV
Workshop
Blacksmithing Station
Legendary
No
0
Blacksmithing Station (Death's Wind)
Purchase: Mastercraft Mediator
250WV
Workshop
Blacksmithing Station
Epic
No
0
Blacksmithing Station (Eternal Hunt)
Purchase: Mastercraft Mediator
250WV
Workshop
Blacksmithing Station
Legendary
No
0
Blacksmithing Station (Eyes of Mara)
Purchase: Mastercraft Mediator
250WV
Workshop
Blacksmithing Station
Legendary
No
0
Blacksmithing Station (Hist Bark)
Purchase: Mastercraft Mediator
250WV
Workshop
Blacksmithing Station
Legendary
No
0
Blacksmithing Station (Hunding's Rage)
Purchase: Mastercraft Mediator
250WV
Workshop
Blacksmithing Station
Legendary
No
0
Blacksmithing Station (Kagrenac's Hope)
Purchase: Mastercraft Mediator
250WV
Workshop
Blacksmithing Station
Legendary
No
0
Blacksmithing Station (Kvatch Gladiator)
Purchase: Mastercraft Mediator
250WV
Workshop
Blacksmithing Station
Legendary
No
0
Blacksmithing Station (Law of Julianos)
Purchase: Mastercraft Mediator
250WV
Workshop
Blacksmithing Station
Legendary
No
0
Blacksmithing Station (Magnus' Gift)
Purchase: Mastercraft Mediator
250WV
Workshop
Blacksmithing Station
Legendary
No
0
Blacksmithing Station (Morkuldin)
Purchase: Mastercraft Mediator
250WV
Workshop
Blacksmithing Station
Legendary
No
0
Blacksmithing Station (Night Mother's)
Purchase: Mastercraft Mediator
250WV
Workshop
Blacksmithing Station
Legendary
No
0
Blacksmithing Station (Night's Silence)
Purchase: Mastercraft Mediator
250WV
Workshop
Blacksmithing Station
Legendary
No
0
Blacksmithing Station (Noble's Conquest)
Purchase: Mastercraft Mediator
250WV
Workshop
Blacksmithing Station
Legendary
No
0
Blacksmithing Station (Oblivion's Foe)
Purchase: Mastercraft Mediator
250WV
Workshop
Blacksmithing Station
Legendary
No
0
Blacksmithing Station (Orgnum's Scales)
Purchase: Mastercraft Mediator
250WV
Workshop
Blacksmithing Station
Legendary
No
0
Blacksmithing Station (Pelinal's Aptitude)
Purchase: Mastercraft Mediator
250WV
Workshop
Blacksmithing Station
Legendary
No
0
Blacksmithing Station (Redistributor)
Purchase: Mastercraft Mediator
250WV
Workshop
Blacksmithing Station
Legendary
No
0
Blacksmithing Station (Seducer)
Purchase: Mastercraft Mediator
250WV
Workshop
Blacksmithing Station
Legendary
No
0
Blacksmithing Station (Shalidor's Curse)
Purchase: Mastercraft Mediator
250WV
Workshop
Blacksmithing Station
Legendary
No
0
Blacksmithing Station (Song of Lamae)
Purchase: Mastercraft Mediator
250WV
Workshop
Blacksmithing Station
Legendary
No
0
Blacksmithing Station (Spectre's Eye)
Purchase: Mastercraft Mediator
250WV
Workshop
Blacksmithing Station
Legendary
No
0
Blacksmithing Station (Tava's Favor)
Purchase: Mastercraft Mediator
250WV
Workshop
Blacksmithing Station
Legendary
No
0
Blacksmithing Station (Torug's Pact)
Purchase: Mastercraft Mediator
250WV
Workshop
Blacksmithing Station
Legendary
No
0
Blacksmithing Station (Trial by Fire)
Purchase: Mastercraft Mediator
250WV
Workshop
Blacksmithing Station
Legendary
No
0
Blacksmithing Station (Twice-Born Star)
Purchase: Mastercraft Mediator
250WV
Workshop
Blacksmithing Station
Legendary
No
0
Blacksmithing Station (Twilight's Embrace)
Purchase: Mastercraft Mediator
250WV
Workshop
Blacksmithing Station
Legendary
No
0
Blacksmithing Station (Vampire's Kiss)
Purchase: Mastercraft Mediator
250WV
Workshop
Blacksmithing Station
Legendary
No
0
Blacksmithing Station (Varen's Legacy)
Purchase: Mastercraft Mediator
250WV
Workshop
Blacksmithing Station
Legendary
No
0
Blacksmithing Station (Way of the Arena)
Purchase: Mastercraft Mediator
250WV
Workshop
Blacksmithing Station
Legendary
No
0
Blacksmithing Station (Whitestrake's Retribution)
Purchase: Mastercraft Mediator
250WV
Workshop
Blacksmithing Station
Legendary
No
0
Blacksmithing Station (Willow's Path)
Purchase: Mastercraft Mediator
250WV
Workshop
Blacksmithing Station
Legendary
No
0
Blade of Woe, Replica
Achievement Furnisher: Kvatch
25000
Workshop
Tools
Legendary
Achievement: First Blood
No
0
Block and Axe, Chopping
#N/A
Workshop
Tools
Superior
No
0
Block, Carved Stone
Structures
Blocks
Superior
No
0
Block, Wood Cutting
Purchase: Home Goods Furnisher
165
Structures
Blocks
Standard
No
0
Blood Fountain
Achievement Furnisher: Ebonheart
100000
Courtyard
Fountains
Legendary
Achievement: Hearts of Darkness
No
0
Bloodfiends of Rivenspire
Purchase: Mystic
5000 / collection
Library
Literature
Fine
Complete Appropriate Lorebook Collection
No
0
Bloodthorn Vines, Helix
Epic
No
0
Bloodthorn Vines, Large
Epic
No
0
Bloodthorn Vines, Massive
Legendary
No
0
Bloodthorn Vines, Small
Achievement Furnisher: Daggerfall
5000
Conservatory
Vines
Epic
Achievement: Ritual Destruction
No
0
Blue Crystal Cluster
Lighting
Enchanted Lights
Epic
No
0
Blue Crystal Fragments
Lighting
Enchanted Lights
Epic
No
0
Blue Crystal Spire
Lighting
Enchanted Lights
Epic
No
0
Blue Flame Brazier
Lighting
Braziers
Epic
No
0
Blue Flame Candles
Lighting
Candles
Superior
No
0
Body Cage
Undercroft
Torture
Epic
No
0
Boethiah's Proving
Purchase: Mystic
5000 / collection
Library
Literature
Fine
Complete Appropriate Lorebook Collection
No
0
Bone Claw, Dragon
Undercroft
Remains
Legendary
No
0
Bone Claw, Echalette
Undercroft
Remains
Legendary
No
0
Bone Leg of a Giant
Undercroft
Remains
Legendary
No
0
Bone Longbones of a Giant
Undercroft
Remains
Legendary
No
0
Bone Ribs of a Giant
Undercroft
Remains
Legendary
No
0
Bone Torso of a Giant
Undercroft
Remains
Legendary
No
0
Bone, Bear Pelvis
Undercroft
Remains
Legendary
No
0
Bone, Bear Ribs
Undercroft
Remains
Legendary
No
0
Bone, Bear Spine
Undercroft
Remains
Legendary
No
0
Bone, Bear Torso
Undercroft
Remains
Legendary
No
0
Bone, Bear's Left Foreleg
Undercroft
Remains
Legendary
No
0
Bone, Bear's Right Foreleg
Undercroft
Remains
Legendary
No
0
Bone, Bone, Mammoth Rib
Undercroft
Remains
Legendary
No
0
Bone, Dragon Claw
Undercroft
Remains
Legendary
No
0
Bone, Dragon Leg
Undercroft
Remains
Legendary
No
0
Bone, Dragon Pelvis
Undercroft
Remains
Legendary
No
0
Bone, Dragon Ribs
Undercroft
Remains
Legendary
No
0
Bone, Dragon Spine
Undercroft
Remains
Legendary
No
0
Bone, Dragon Wing
Undercroft
Remains
Legendary
No
0
Bone, Dragon Wings
Undercroft
Remains
Legendary
No
0
Bone, Dragon's Partial Ribcage
Undercroft
Remains
Legendary
No
0
Bone, Dragon's Wing
Undercroft
Remains
Legendary
No
0
Bone, Echalette Fragments
Undercroft
Remains
Legendary
No
0
Bone, Echalette Leg
Undercroft
Remains
Legendary
No
0
Bone, Echalette Parts
Undercroft
Remains
Legendary
No
0
Bone, Echalette Pile
Undercroft
Remains
Legendary
No
0
Bone, Echalette Ribcage
Undercroft
Remains
Legendary
No
0
Bone, Echalette Ribs
Undercroft
Remains
Legendary
No
0
Bone, Echalette Spine
Undercroft
Remains
Legendary
No
0
Bone, Forearm
Undercroft
Remains
Legendary
No
0
Bone, Giant Snake Bits
Undercroft
Remains
Legendary
No
0
Bone, Giant Snake Parts
Undercroft
Remains
Legendary
No
0
Bone, Giant Snake Pile
Undercroft
Remains
Legendary
No
0
Bone, Giant Snake Ribs
Undercroft
Remains
Legendary
No
0
Bone, Giant Snake Spine
Undercroft
Remains
Legendary
No
0
Bone, Humerus
Undercroft
Remains
Legendary
No
0
Bone, Left Arm
Undercroft
Remains
Legendary
No
0
Bone, Left Calf
Undercroft
Remains
Legendary
No
0
Bone, Left Femur
Undercroft
Remains
Legendary
No
0
Bone, Left Foot
Undercroft
Remains
Legendary
No
0
Bone, Left Hand
Undercroft
Remains
Legendary
No
0
Bone, Left Leg
Undercroft
Remains
Legendary
No
0
Bone, Mammoth
Undercroft
Remains
Legendary
No
0
Bone, Mammoth Femur
Undercroft
Remains
Legendary
No
0
Bone, Mammoth Piece
Undercroft
Remains
Legendary
No
0
Bone, Mammoth Rib
Undercroft
Remains
Legendary
No
0
Bone, Mammoth Rib Fragments
Undercroft
Remains
Legendary
No
0
Bone, Mammoth Ribs
Undercroft
Remains
Legendary
No
0
Bone, Pelvis
Undercroft
Remains
Legendary
No
0
Bone, Right Arm
Undercroft
Remains
Legendary
No
0
Bone, Right Calf
Undercroft
Remains
Legendary
No
0
Bone, Right Femur
Undercroft
Remains
Legendary
No
0
Bone, Right Foot
Undercroft
Remains
Legendary
No
0
Bone, Right Hand
Undercroft
Remains
Legendary
No
0
Bone, Right Leg
Undercroft
Remains
Legendary
No
0
Bone, Wamasu Arm
Undercroft
Remains
Legendary
No
0
Bone, Wamasu Longbones
Undercroft
Remains
Legendary
No
0
Bone, Wamasu Parts
Undercroft
Remains
Legendary
No
0
Bone, Wamasu Ribcage Section
Undercroft
Remains
Legendary
No
0
Bone, Wamasu Ribs
Undercroft
Remains
Legendary
No
0
Bone, Wamasu Ridge
Undercroft
Remains
Legendary
No
0
Bone, Wamasu Spikes
Undercroft
Remains
Legendary
No
0
Bone, Wamasu Spine
Undercroft
Remains
Legendary
No
0
Bones of a Giant
Undercroft
Remains
Legendary
No
0
Bones, Torso
Undercroft
Remains
Legendary
No
0
Book Row, Decorative
Library
Literature
Fine
Yes
50
Book Row, Long
Library
Literature
Fine
Yes
50
Book Stack, Decorative
Library
Literature
Fine
Yes
50
Book Stack, Tall
#N/A
Library
Literature
Fine
0
Bottle, Beaker
Legerdemain, Drops
Hearth
Dishes
Legendary
Solvent Proficiency 8
Recipe Improvement 6
Woodworking 6
Alchemical Resin 13
Decorative Wax 11
Heartwood 11
Nickel 20
Nightshade 16
Alchemy
Formula
No
0
Bottle, Elixir
Legerdemain, Drops
Hearth
Dishes
Epic
Potency Improvement 4
Solvent Proficiency 7
Recipe Improvement 3
Alchemical Resin 11
Mundane Rune 8
Decorative Wax 7
Nickel 15
Alchemy
Formula
Yes
400
Bottle, Liquor
Legerdemain, Drops
Hearth
Dishes
Epic
Potency Improvement 4
Solvent Proficiency 7
Recipe Improvement 3
Alchemical Resin 11
Mundane Rune 8
Decorative Wax 7
Nickel 15
Alchemy
Formula
Yes
400
Bottle, Poison
Legerdemain, Drops
Hearth
Dishes
Legendary
Potency Improvement 6
Solvent Proficiency 8
Recipe Improvement 6
Woodworking 6
Alchemical Resin 13
Mundane Rune 11
Decorative Wax 11
Heartwood 11
Nickel 20
Nightshade 16
Alchemy
Formula
No
0
Bottle, Poison Elixir
Purchase: Mastercraft Mediator
Hearth
Dishes
Legendary
Potency Improvement 6
Solvent Proficiency 8
Recipe Improvement 6
Woodworking 6
Alchemical Resin 13
Mundane Rune 11
Decorative Wax 11
Heartwood 11
Nickel 20
Nightshade 16
Alchemy
Formula
No
0
Bottle, Wine
Legerdemain, Drops
Hearth
Dishes
Epic
Potency Improvement 2
Solvent Proficiency 7
Recipe Improvement 5
Alchemical Resin 11
Mundane Rune 6
Decorative Wax 9
Nickel 15
Alchemy
Formula
Yes
400
Boulder, Craggy Heap
Purchase: Home Goods Furnisher
#N/A
Conservatory
Boulders and Large Rocks
Standard
Marbruk
No
0
Boulder, Craggy Slab
#N/A
Conservatory
Boulders and Large Rocks
Standard
No
0
Boulder, Flat Grey
Purchase: Home Goods Furnisher
#N/A
Conservatory
Boulders and Large Rocks
Standard
Daggerfall
No
0
Boulder, Flat Lichen
Purchase: Home Goods Furnisher
#N/A
Conservatory
Boulders and Large Rocks
Standard
Daggerfall
No
0
Boulder, Flat Mossy
#N/A
Conservatory
Boulders and Large Rocks
Standard
0
Boulder, Flat Weathered
#N/A
Conservatory
Boulders and Large Rocks
Standard
0
Boulder, Giant Mossy
#N/A
Conservatory
Boulders and Large Rocks
Standard
0
Boulder, Grey Saddle
#N/A
Conservatory
Boulders and Large Rocks
Standard
0
Boulder, Jagged Crag
#N/A
Conservatory
Boulders and Large Rocks
Standard
0
Boulder, Lichen Covered
#N/A
Conservatory
Boulders and Large Rocks
Standard
0
Boulder, Moss Covered
165
Conservatory
Boulders and Large Rocks
Standard
0
Boulder, Mossy Crag
Conservatory
Boulders and Large Rocks
Standard
0
Boulder, Mossy Grey
165
Conservatory
Boulders and Large Rocks
Standard
0
Boulder, Mossy Weathered
165
Conservatory
Boulders and Large Rocks
Standard
0
Boulder, Weathered Flat
#N/A
Conservatory
Boulders and Large Rocks
Standard
0
Bounty Board
Library
Literature
Legendary
No
0
Bounty Sheet: Argonian Male
Library
Literature
Legendary
No
0
Bounty Sheet: Breton Man
Library
Literature
Legendary
No
0
Bounty Sheet: Breton Woman
Library
Literature
Legendary
No
0
Bounty Sheet: Colovian Man
Library
Literature
Legendary
No
0
Bounty Sheet: High Elf Male
Library
Literature
Legendary
No
0
Bounty Sheet: Imperial Man
Library
Literature
Legendary
No
0
Bounty Sheet: Khajiiti Male
Library
Literature
Legendary
No
0
Bounty Sheet: Orc Female
Library
Literature
Legendary
No
0
Bounty Sheet: Orc Male
Library
Literature
Legendary
No
0
Bowl, Serving
Legerdemain, Drops
Hearth
Dishes
Fine
Metalworking 1
Regulus 3
Nickel 5
Honing Stone 9
Blacksmithing
Diagram
Yes
50
Box of Fruit
Legerdemain, Drops
Hearth
Produce
Superior
Solvent Proficiency 3
Recipe Improvement 6
Woodworking 3
Decorative Wax 10
Alchemical Resin 7
Heartwood 7
Nickel 10
Apples 12
Bervez Juice 6
Provisioning
Design
No
0
Box of Grapes
Legerdemain, Drops
Hearth
Produce
Superior
Solvent Proficiency 3
Recipe Improvement 6
Woodworking 3
Decorative Wax 10
Alchemical Resin 7
Heartwood 7
Nickel 10
Yerba Mate 12
Bervez Juice 6
Provisioning
Design
No
0
Box of Oranges
Legerdemain, Drops
Hearth
Produce
Superior
Solvent Proficiency 3
Recipe Improvement 6
Woodworking 3
Decorative Wax 10
Alchemical Resin 7
Heartwood 7
Nickel 10
Pumpkin 12
Bervez Juice 6
Provisioning
Design
No
0
Box of Peaches
Legerdemain, Drops
Hearth
Produce
Superior
Solvent Proficiency 3
Recipe Improvement 6
Woodworking 3
Decorative Wax 10
Alchemical Resin 7
Heartwood 7
Nickel 10
Apples 12
Bervez Juice 6
Provisioning
Design
No
0
Box of Plums
Legerdemain, Drops
Hearth
Produce
Superior
Solvent Proficiency 3
Recipe Improvement 6
Woodworking 3
Decorative Wax 10
Alchemical Resin 7
Heartwood 7
Nickel 10
Apples 12
Bervez Juice 6
Provisioning
Design
Yes
150
Box of Tangerines
Legerdemain, Drops
Hearth
Produce
Superior
Solvent Proficiency 3
Recipe Improvement 6
Woodworking 3
Decorative Wax 10
Alchemical Resin 7
Heartwood 7
Nickel 10
Pumpkin 12
Bervez Juice 6
Provisioning
Design
No
0
Bread Loaves, Round
Legerdemain, Drops
Superior
Potency Improvement 3
Solvent Proficiency 3
Recipe Improvement 6
Decorative Wax 10
Mundane Rune 7
Alchemical Resin 7
Nickel 10
Bervez Juice 6
Provisioning
Design
Yes
150
Bread, Braided
Legerdemain, Drops
Superior
Potency Improvement 3
Solvent Proficiency 3
Recipe Improvement 6
Decorative Wax 10
Mundane Rune 7
Alchemical Resin 7
Nickel 10
Bervez Juice 6
Provisioning
Design
Yes
150
Bread, Hearty Loaves
Legerdemain, Drops
Superior
Potency Improvement 3
Solvent Proficiency 3
Recipe Improvement 6
Decorative Wax 10
Mundane Rune 7
Alchemical Resin 7
Nickel 10
Bervez Juice 6
Provisioning
Design
Yes
150
Bread, Plain
Legerdemain, Drops
Fine
Solvent Proficiency 1
Recipe Improvement 3
Decorative Wax 6
Alchemical Resin 4
Nickel 5
Flour 20
Provisioning
Design
Yes
50
Bread, Round
Legerdemain, Drops
Superior
Potency Improvement 3
Solvent Proficiency 3
Recipe Improvement 6
Decorative Wax 10
Mundane Rune 7
Alchemical Resin 7
Nickel 10
Bervez Juice 6
Provisioning
Design
Yes
150
Bread, Various Loaves
Legerdemain, Drops
Superior
Potency Improvement 3
Solvent Proficiency 3
Recipe Improvement 6
Decorative Wax 10
Mundane Rune 7
Alchemical Resin 7
Nickel 10
Bervez Juice 6
Provisioning
Design
No
0
Breads, Assortment
Legerdemain, Drops
Superior
Potency Improvement 3
Solvent Proficiency 3
Recipe Improvement 6
Decorative Wax 10
Mundane Rune 7
Alchemical Resin 7
Nickel 10
Bervez Juice 6
Provisioning
Design
No
0
Breton Amphora, Ceramic
Legerdemain, Drops
Hearth
Pottery
Fine
Metalworking 2
Potency Improvement 4
Mundane Rune 6
Regulus 4
Molybdenum 5
Jejota 9
Enchanting
Praxis
Yes
50
Breton Amphora, Glazed
Legerdemain, Drops
Hearth
Pottery
Superior
Metalworking 2
Solvent Proficiency 2
Recipe Improvement 4
Decorative Wax 7
Regulus 5
Alchemical Resin 5
Molybdenum 10
Bervez Juice 6
Provisioning
Design
Yes
150
Breton Armchair, Padded
Legerdemain, Drops
Dining
Chairs
Epic
Metalworking 4
Tailoring 4
Woodworking 8
Heartwood 12
Regulus 8
Bast 8
Molybdenum 15
Mastic 3
Woodworking
Blueprint
Yes
400
Breton Armoire, Knotwork
Legerdemain, Drops
Suite
Wardrobes
Epic
Metalworking 5
Solvent Proficiency 4
Woodworking 9
Heartwood 13
Regulus 9
Alchemical Resin 8
Molybdenum 15
Mastic 3
Woodworking
Blueprint
Yes
400
Breton Bed, Bunk
Legerdemain, Drops
Suite
Bedding
Fine
Tailoring 4
Woodworking 2
Bast 6
Heartwood 4
Molybdenum 5
Hemming 9
Clothing
Pattern
Yes
50
Breton Bed, Canopy
Legerdemain, Drops
Suite
Bedding
Epic
Metalworking 2
Tailoring 10
Woodworking 8
Bast 14
Regulus 6
Heartwood 12
Molybdenum 15
Elegant Lining 3
Clothing
Pattern
No
0
Breton Bed, Four-poster
Legerdemain, Drops
Suite
Bedding
Superior
Metalworking 4
Tailoring 10
Woodworking 6
Bast 13
Regulus 7
Heartwood 9
Molybdenum 10
Embroidery 6
Clothing
Pattern
Yes
150
Breton Bed, Full
Legerdemain, Drops
Suite
Bedding
Superior
Metalworking 3
Tailoring 9
Woodworking 6
Bast 12
Regulus 6
Heartwood 9
Molybdenum 10
Embroidery 6
Clothing
Pattern
Yes
150
Breton Bed, Single
Legerdemain, Drops
Suite
Bedding
Fine
Tailoring 5
Woodworking 2
Bast 7
Heartwood 4
Molybdenum 5
Hemming 9
Clothing
Pattern
Yes
50
Breton Bench, Knotwork
Legerdemain, Drops
Dining
Benches
Superior
Metalworking 2
Solvent Proficiency 2
Woodworking 4
Heartwood 7
Regulus 5
Alchemical Resin 5
Molybdenum 10
Turpen 6
Woodworking
Blueprint
Yes
150
Breton Bench, Plain
Legerdemain, Drops
Dining
Benches
Fine
Woodworking 3
Heartwood 5
Molybdenum 5
Pitch 9
Woodworking
Blueprint
Yes
50
Breton Bookcase, Knotwork
Legerdemain, Drops
Library
Shelves
Superior
Metalworking 3
Solvent Proficiency 6
Woodworking 9
Heartwood 12
Regulus 6
Alchemical Resin 9
Molybdenum 10
Turpen 6
Woodworking
Blueprint
Yes
150
Breton Bookcase, Tall
Legerdemain, Drops
Library
Shelves
Fine
Woodworking 5
Heartwood 7
Molybdenum 5
Pitch 9
Woodworking
Blueprint
Yes
50
Breton Cabinet, Knotwork
Legerdemain, Drops
Hearth
Cabinetry
Epic
Metalworking 4
Solvent Proficiency 5
Woodworking 9
Heartwood 13
Regulus 8
Alchemical Resin 9
Molybdenum 15
Mastic 3
Woodworking
Blueprint
Yes
400
Breton Candelabra, Formal
Legerdemain, Drops
Lighting
Candles
Epic
Metalworking 8
Potency Improvement 4
Recipe Improvement 4
Regulus 12
Mundane Rune 8
Decorative Wax 8
Molybdenum 15
Rakeipa 16
Grain Solvent 3
Blacksmithing
Diagram
Yes
400
Breton Carpet, Bordered
Parlor
Rugs and Carpets
Fine
50
Breton Carpet, Bordered
Legerdemain, Drops
Parlor
Rugs and Carpets
Epic
Tailoring 8
Potency Improvement 4
Solvent Proficiency 4
Bast 12
Mundane Rune 8
Alchemical Resin 8
Molybdenum 15
Elegant Lining 3
Clothing
Pattern
Yes
50
Breton Carpet, Dark
Legerdemain, Drops
Parlor
Rugs and Carpets
Superior
Tailoring 5
Solvent Proficiency 3
Woodworking 2
Bast 8
Alchemical Resin 6
Heartwood 5
Molybdenum 10
Embroidery 6
Clothing
Pattern
Yes
150
Breton Carpet, Full
Legerdemain, Drops
Parlor
Rugs and Carpets
Superior
Tailoring 6
Potency Improvement 3
Solvent Proficiency 3
Bast 9
Mundane Rune 6
Alchemical Resin 6
Molybdenum 10
Embroidery 6
Clothing
Pattern
Yes
150
Breton Carpet, Square
Legerdemain, Drops
Parlor
Rugs and Carpets
Fine
Tailoring 4
Bast 6
Molybdenum 5
Hemming 9
Clothing
Pattern
Yes
50
Breton Cart, Covered Closed
Legerdemain, Drops
Courtyard
Carts and Wagons
Epic
Yes
400
Breton Cart, Covered Open
Legerdemain, Drops
Courtyard
Carts and Wagons
Superior
Metalworking 5
Tailoring 5
Woodworking 10
Heartwood 13
Regulus 8
Bast 8
Molybdenum 10
Turpen 6
Woodworking
Blueprint
Yes
150
Breton Cart, Palanquin
Legerdemain, Drops
Courtyard
Carts and Wagons
Epic
Metalworking 4
Tailoring 6
Woodworking 10
Heartwood 14
Regulus 8
Bast 10
Molybdenum 15
Mastic 3
Woodworking
Blueprint
Yes
400
Breton Cart, Wheelbarrow
Legerdemain, Drops
Courtyard
Carts and Wagons
Fine
Metalworking 3
Woodworking 5
Heartwood 7
Regulus 5
Molybdenum 5
Pitch 9
Woodworking
Blueprint
Yes
50
Breton Chair, Padded
Legerdemain, Drops
Dining
Chairs
Epic
Metalworking 4
Tailoring 4
Woodworking 8
Heartwood 12
Regulus 8
Bast 8
Molybdenum 15
Mastic 3
Woodworking
Blueprint
Yes
400
Breton Chair, Rocking
Legerdemain, Drops
Dining
Chairs
Superior
Metalworking 2
Solvent Proficiency 2
Woodworking 4
Heartwood 7
Regulus 5
Alchemical Resin 5
Molybdenum 10
Turpen 6
Woodworking
Blueprint
Yes
150
Breton Chair, Slatted
Legerdemain, Drops
Dining
Chairs
Fine
Woodworking 2
Heartwood 4
Molybdenum 5
Pitch 9
Woodworking
Blueprint
Yes
50
Breton Chair, Windowed
Legerdemain, Drops
Dining
Chairs
Fine
Woodworking 3
Heartwood 5
Molybdenum 5
Pitch 9
Woodworking
Blueprint
Yes
50
Breton Chamberstick, Short
Legerdemain, Drops
Lighting
Candles
Superior
Metalworking 2
Potency Improvement 1
Recipe Improvement 5
Decorative Wax 8
Regulus 5
Mundane Rune 4
Molybdenum 10
Rakeipa 2
Bervez Juice 6
Provisioning
Design
Yes
150
Breton Chamberstick, Tall
Legerdemain, Drops
Lighting
Candles
Superior
Metalworking 2
Potency Improvement 2
Recipe Improvement 6
Decorative Wax 9
Regulus 5
Mundane Rune 5
Molybdenum 10
Bervez Juice 6
Provisioning
Design
Yes
150
Breton Chandelier, Wrought Iron
Legerdemain, Drops
Lighting
Chandeliers
Epic
Metalworking 10
Potency Improvement 4
Recipe Improvement 6
Regulus 14
Mundane Rune 8
Decorative Wax 10
Molybdenum 15
Rakeipa 20
Grain Solvent 3
Blacksmithing
Diagram
No
0
Breton Chest of Drawers
Legerdemain, Drops
Suite
Wardrobes
Superior
Metalworking 4
Solvent Proficiency 2
Woodworking 6
Heartwood 9
Regulus 7
Alchemical Resin 5
Molybdenum 10
Turpen 6
Woodworking
Blueprint
Yes
150
Breton Chest, Knotwork
Legerdemain, Drops
Suite
Trunks
Superior
Metalworking 3
Solvent Proficiency 2
Woodworking 5
Heartwood 8
Regulus 6
Alchemical Resin 5
Molybdenum 10
Turpen 6
Woodworking
Blueprint
Yes
150
Breton Coffer, Knotwork
Legerdemain, Drops
Suite
Trunks
Epic
Metalworking 6
Solvent Proficiency 3
Woodworking 9
Heartwood 13
Regulus 10
Alchemical Resin 7
Molybdenum 15
Mastic 3
Woodworking
Blueprint
Yes
400
Breton Counter, Cabinet
Legerdemain, Drops
Dining
Counters
Epic
Metalworking 5
Solvent Proficiency 4
Woodworking 9
Heartwood 13
Regulus 9
Alchemical Resin 8
Molybdenum 15
Mastic 3
Woodworking
Blueprint
Yes
400
Breton Counter, Corner
Legerdemain, Drops
Dining
Counters
Epic
Metalworking 5
Solvent Proficiency 4
Woodworking 9
Heartwood 13
Regulus 9
Alchemical Resin 8
Molybdenum 15
Mastic 3
Woodworking
Blueprint
Yes
400
Breton Counter, Long Cabinet
Legerdemain, Drops
Dining
Counters
Superior
Metalworking 2
Solvent Proficiency 2
Woodworking 4
Heartwood 7
Regulus 5
Alchemical Resin 5
Molybdenum 10
Turpen 6
Woodworking
Blueprint
Yes
150
Breton Cradle, Infant
Legerdemain, Drops
Suite
Bedding
Epic
Metalworking 3
Tailoring 9
Woodworking 6
Bast 13
Regulus 7
Heartwood 10
Molybdenum 15
Elegant Lining 3
Clothing
Pattern
No
0
Breton Cup, Empty
Hearth
Dishes
Fine
Yes
50
Breton Cup, Full
Hearth
Dishes
Fine
Yes
50
Breton Cupboard, Knotwork
Legerdemain, Drops
Hearth
Cabinetry
Superior
Metalworking 5
Solvent Proficiency 4
Woodworking 8
Heartwood 11
Regulus 8
Alchemical Resin 7
Molybdenum 10
Turpen 6
Woodworking
Blueprint
Yes
150
Breton Curio, Knotwork
Legerdemain, Drops
Hearth
Cabinetry
Epic
Metalworking 4
Solvent Proficiency 5
Woodworking 9
Heartwood 13
Regulus 8
Alchemical Resin 9
Molybdenum 15
Mastic 3
Woodworking
Blueprint
Yes
400
Breton Curtains, Window
Legerdemain, Drops
Parlor
Tapestries
Epic
Tailoring 8
Potency Improvement 4
Solvent Proficiency 4
Bast 12
Mundane Rune 8
Alchemical Resin 8
Molybdenum 15
Elegant Lining 3
Clothing
Pattern
No
0
Breton Desk
Legerdemain, Drops
Library
Desks
Fine
Woodworking 5
Heartwood 7
Molybdenum 5
Pitch 9
Woodworking
Blueprint
Yes
50
Breton Desk, Knotwork
Legerdemain, Drops
Library
Desks
Superior
Metalworking 4
Solvent Proficiency 4
Woodworking 8
Heartwood 11
Regulus 7
Alchemical Resin 7
Molybdenum 10
Turpen 6
Woodworking
Blueprint
Yes
150
Breton Desk, Scholar's
Legerdemain, Drops
Library
Desks
Epic
Metalworking 4
Solvent Proficiency 4
Woodworking 8
Heartwood 12
Regulus 8
Alchemical Resin 8
Molybdenum 15
Mastic 3
Woodworking
Blueprint
Yes
400
Breton Divider, Curved Knotwork
Legerdemain, Drops
Suite
Dividers
Epic
Metalworking 5
Solvent Proficiency 5
Woodworking 10
Heartwood 14
Regulus 9
Alchemical Resin 9
Molybdenum 15
Mastic 3
Woodworking
Blueprint
Yes
400
Breton Divider, Folded Knotwork
Legerdemain, Drops
Suite
Dividers
Epic
Metalworking 5
Solvent Proficiency 4
Woodworking 9
Heartwood 13
Regulus 9
Alchemical Resin 8
Molybdenum 15
Mastic 3
Woodworking
Blueprint
Yes
400
Breton Drapes, Grand
Legerdemain, Drops
Parlor
Tapestries
Epic
Tailoring 9
Potency Improvement 5
Solvent Proficiency 4
Bast 13
Mundane Rune 9
Alchemical Resin 8
Molybdenum 15
Elegant Lining 3
Clothing
Pattern
Yes
400
Breton Dresser, Knotwork
Legerdemain, Drops
Suite
Wardrobes
Epic
Metalworking 5
Solvent Proficiency 4
Woodworking 9
Heartwood 13
Regulus 9
Alchemical Resin 8
Molybdenum 15
Mastic 3
Woodworking
Blueprint
Yes
400
Breton Dresser, Open
Legerdemain, Drops
Suite
Wardrobes
Fine
Woodworking 5
Heartwood 7
Molybdenum 5
Pitch 9
Woodworking
Blueprint
Yes
50
Breton Figure, Stone
Legerdemain, Drops
Courtyard
Statues
Epic
Metalworking 5
Potency Improvement 9
Solvent Proficiency 4
Mundane Rune 13
Regulus 9
Alchemical Resin 8
Molybdenum 15
Rekuta 3
Enchanting
Praxis
No
0
Breton Footlocker, Knotwork
Legerdemain, Drops
Suite
Trunks
Epic
Metalworking 4
Solvent Proficiency 4
Woodworking 8
Heartwood 12
Regulus 8
Alchemical Resin 8
Molybdenum 15
Mastic 3
Woodworking
Blueprint
Yes
400
Breton Forge
Workshop
Tools
Epic
No
0
Breton Forge and Bellows
Workshop
Tools
Epic
No
0
Breton Gravewatcher Statue
Achievement Furnisher: Daggerfall
25000
Courtyard
Statues
Legendary
Achievement: Savior of Glenumbra
No
0
Breton Hutch, Knotwork
Legerdemain, Drops
Hearth
Cabinetry
Superior
Metalworking 4
Solvent Proficiency 4
Woodworking 8
Heartwood 11
Regulus 7
Alchemical Resin 7
Molybdenum 10
Turpen 6
Woodworking
Blueprint
Yes
150
Breton Lamp, Hanging
Legerdemain, Drops
Lighting
Lamps
Epic
Metalworking 8
Potency Improvement 4
Solvent Proficiency 4
Regulus 12
Mundane Rune 8
Alchemical Resin 8
Molybdenum 15
Rakeipa 20
Grain Solvent 3
Blacksmithing
Diagram
Yes
400
Breton Lamp, Oil
Legerdemain, Drops
Lighting
Lamps
Epic
Metalworking 8
Potency Improvement 4
Solvent Proficiency 4
Regulus 12
Mundane Rune 8
Alchemical Resin 8
Molybdenum 15
Grain Solvent 3
Blacksmithing
Diagram
Yes
400
Breton Lantern, Hanging
Legerdemain, Drops
Lighting
Lanterns
Superior
Metalworking 8
Potency Improvement 4
Solvent Proficiency 4
Regulus 11
Mundane Rune 7
Alchemical Resin 7
Molybdenum 10
Rakeipa 16
Dwarven Oil 6
Blacksmithing
Diagram
Yes
150
Breton Lantern, Stationary
Legerdemain, Drops
Lighting
Lanterns
Superior
Metalworking 8
Potency Improvement 4
Solvent Proficiency 4
Regulus 11
Mundane Rune 7
Alchemical Resin 7
Molybdenum 10
Rakeipa 16
Dwarven Oil 6
Blacksmithing
Diagram
Yes
150
Breton Lightpost, Arched
Legerdemain, Drops
Lighting
Lightposts
Superior
Metalworking 6
Potency Improvement 3
Woodworking 3
Regulus 9
Mundane Rune 6
Heartwood 6
Molybdenum 10
Dwarven Oil 6
Blacksmithing
Diagram
Yes
150
Breton Lightpost, Single
Legerdemain, Drops
Lighting
Lightposts
Fine
Solvent Proficiency 2
Woodworking 5
Heartwood 7
Molybdenum 5
Alchemical Resin 4
Pitch 9
Woodworking
Blueprint
Yes
50
Breton Medallion, Lion
Legerdemain, Drops
Gallery
Art
Epic
Metalworking 10
Potency Improvement 5
Solvent Proficiency 5
Regulus 14
Mundane Rune 9
Alchemical Resin 9
Molybdenum 15
Grain Solvent 3
Blacksmithing
Diagram
No
0
Breton Mirror, Knotwork
Legerdemain, Drops
Suite
Mirrors
Epic
Potency Improvement 3
Solvent Proficiency 8
Woodworking 5
Alchemical Resin 12
Mundane Rune 7
Heartwood 9
Molybdenum 15
Alchemy
Formula
Yes
400
Breton Mug, Empty
Hearth
Dishes
Superior
Yes
150
Breton Mug, Full
Hearth
Dishes
Superior
Yes
150
Breton Nightstand, Knotwork
Legerdemain, Drops
Suite
Wardrobes
Epic
Metalworking 4
Solvent Proficiency 4
Woodworking 8
Heartwood 12
Regulus 8
Alchemical Resin 8
Molybdenum 15
Mastic 3
Woodworking
Blueprint
Yes
400
Breton Nightstand, Open
Legerdemain, Drops
Suite
Wardrobes
Fine
Woodworking 4
Heartwood 6
Molybdenum 5
Pitch 9
Woodworking
Blueprint
Yes
50
Breton Pew, Knotwork
Legerdemain, Drops
Dining
Benches
Superior
Metalworking 4
Solvent Proficiency 3
Woodworking 7
Heartwood 10
Regulus 7
Alchemical Resin 6
Molybdenum 10
Turpen 6
Woodworking
Blueprint
Yes
150
Breton Pew, Windowed
Legerdemain, Drops
Dining
Benches
Fine
Woodworking 4
Heartwood 6
Molybdenum 5
Pitch 9
Woodworking
Blueprint
Yes
50
Breton Pitcher, Ceramic
Legerdemain, Drops
Hearth
Dishes
Fine
Recipe Improvement 2
Decorative Wax 4
Molybdenum 5
Flour 20
Provisioning
Design
Yes
50
Breton Pitcher, Clay
Hearth
Dishes
Superior
Yes
150
Breton Pottery, Lid
Legerdemain, Drops
Hearth
Pottery
Superior
Metalworking 2
Potency Improvement 2
Recipe Improvement 4
Decorative Wax 7
Regulus 5
Mundane Rune 5
Molybdenum 10
Bervez Juice 6
Provisioning
Design
Yes
150
Breton Rack, Barrel
Legerdemain, Drops
Hearth
Stockroom
Fine
Woodworking 4
Heartwood 6
Molybdenum 5
Pitch 9
Woodworking
Blueprint
Yes
50
Breton Rack, Wine
Legerdemain, Drops
Hearth
Stockroom
Superior
Metalworking 5
Recipe Improvement 4
Woodworking 8
Heartwood 11
Regulus 8
Decorative Wax 7
Molybdenum 10
Turpen 6
Woodworking
Blueprint
Yes
150
Breton Rug, Bordered
Legerdemain, Drops
Parlor
Rugs and Carpets
Epic
Tailoring 9
Potency Improvement 5
Solvent Proficiency 4
Bast 13
Mundane Rune 9
Alchemical Resin 8
Molybdenum 15
Elegant Lining 3
Clothing
Pattern
Yes
400
Breton Rug, Starburst
Legerdemain, Drops
Parlor
Rugs and Carpets
Superior
Tailoring 6
Potency Improvement 3
Solvent Proficiency 3
Bast 9
Mundane Rune 6
Alchemical Resin 6
Molybdenum 10
Embroidery 6
Clothing
Pattern
Yes
150
Breton Runner, Bordered
Legerdemain, Drops
Parlor
Rugs and Carpets
Epic
Tailoring 10
Potency Improvement 5
Solvent Proficiency 5
Bast 14
Mundane Rune 9
Alchemical Resin 9
Molybdenum 15
Elegant Lining 3
Clothing
Pattern
Yes
400
Breton Sconce, Floor
Legerdemain, Drops
Lighting
Sconces
Epic
Metalworking 8
Potency Improvement 4
Solvent Proficiency 4
Regulus 12
Alchemical Resin 8
Mundane Rune 8
Molybdenum 15
Rakeipa 16
Grain Solvent 3
Blacksmithing
Diagram
Yes
400
Breton Sconce, Grand
Legerdemain, Drops
Lighting
Sconces
Epic
Metalworking 8
Tailoring 4
Recipe Improvement 4
Regulus 12
Bast 8
Decorative Wax 8
Molybdenum 15
Grain Solvent 3
Blacksmithing
Diagram
Yes
400
Breton Sconce, Sturdy Torch
Legerdemain, Drops
Lighting
Sconces
Fine
Metalworking 4
Potency Improvement 2
Solvent Proficiency 2
Regulus 6
Mundane Rune 4
Alchemical Resin 4
Molybdenum 5
Rakeipa 8
Honing Stone 9
Blacksmithing
Diagram
Yes
50
Breton Sconce, Torch
Legerdemain, Drops
Lighting
Sconces
Fine
Metalworking 3
Potency Improvement 1
Regulus 5
Molybdenum 5
Mundane Rune 3
Rakeipa 8
Honing Stone 9
Blacksmithing
Diagram
Yes
50
Breton Sconce, Wall
Legerdemain, Drops
Lighting
Sconces
Epic
Metalworking 8
Potency Improvement 4
Recipe Improvement 4
Regulus 12
Mundane Rune 8
Decorative Wax 8
Molybdenum 15
Rakeipa 16
Grain Solvent 3
Blacksmithing
Diagram
Yes
400
Breton Shelf, Barrel Rack
Legerdemain, Drops
Hearth
Stockroom
Superior
Yes
150
Breton Shelf, Long
Legerdemain, Drops
Library
Shelves
Fine
Woodworking 2
Heartwood 4
Molybdenum 5
Pitch 9
Woodworking
Blueprint
Yes
50
Breton Shelf, Scrolled
Legerdemain, Drops
Library
Shelves
Superior
Metalworking 2
Solvent Proficiency 2
Woodworking 4
Heartwood 7
Regulus 5
Alchemical Resin 5
Molybdenum 10
Turpen 6
Woodworking
Blueprint
Yes
150
Breton Shelves, Double
Legerdemain, Drops
Library
Shelves
Fine
Woodworking 4
Heartwood 6
Molybdenum 5
Pitch 9
Woodworking
Blueprint
Yes
50
Breton Sideboard, Knotwork
Legerdemain, Drops
Hearth
Cabinetry
Epic
Metalworking 5
Solvent Proficiency 4
Woodworking 9
Heartwood 13
Regulus 9
Alchemical Resin 8
Molybdenum 15
Mastic 3
Woodworking
Blueprint
Yes
400
Breton Stall, Merchant
Legerdemain, Drops
Structures
Tents
Fine
Woodworking 4
Heartwood 6
Molybdenum 5
Pitch 9
Woodworking
Blueprint
Yes
50
Breton Stall, Vending
Legerdemain, Drops
Structures
Tents
Superior
Metalworking 8
Solvent Proficiency 2
Woodworking 10
Heartwood 13
Regulus 11
Alchemical Resin 5
Molybdenum 10
Turpen 6
Woodworking
Blueprint
Yes
150
Breton Statue, Fighters Guild
Courtyard
Statues
Legendary
No
0
Breton Stool, Padded
Legerdemain, Drops
Workshop
Stools
Epic
Metalworking 4
Tailoring 4
Woodworking 8
Heartwood 12
Regulus 8
Bast 8
Molybdenum 15
Mastic 3
Woodworking
Blueprint
Yes
400
Breton Stool, Plain
Legerdemain, Drops
Workshop
Stools
Superior
Metalworking 3
Solvent Proficiency 2
Woodworking 5
Heartwood 8
Regulus 6
Alchemical Resin 5
Molybdenum 10
Turpen 6
Woodworking
Blueprint
Yes
150
Breton Street Post, Plain
Legerdemain, Drops
Courtyard
Posts and Pillars
Fine
Potency Improvement 3
Woodworking 5
Heartwood 7
Mundane Rune 5
Molybdenum 5
Pitch 9
Woodworking
Blueprint
Yes
50
Breton Street Post, Stone
Legerdemain, Drops
Courtyard
Posts and Pillars
Fine
Potency Improvement 4
Woodworking 5
Heartwood 7
Mundane Rune 6
Molybdenum 5
Pitch 9
Woodworking
Blueprint
Yes
50
Breton Streetlight, Arched Stone
Legerdemain, Drops
Lighting
Lightposts
Superior
Metalworking 7
Potency Improvement 4
Woodworking 3
Regulus 10
Mundane Rune 7
Heartwood 6
Molybdenum 10
Rakeipa 16
Dwarven Oil 6
Blacksmithing
Diagram
Yes
150
Breton Streetlight, Full
Legerdemain, Drops
Lighting
Lightposts
Epic
Metalworking 10
Potency Improvement 5
Woodworking 5
Regulus 14
Mundane Rune 9
Heartwood 9
Molybdenum 15
Grain Solvent 3
Blacksmithing
Diagram
Yes
400
Breton Streetlight, Full Stone
Legerdemain, Drops
Lighting
Lightposts
Epic
Metalworking 9
Potency Improvement 4
Woodworking 5
Regulus 13
Mundane Rune 8
Heartwood 9
Molybdenum 15
Grain Solvent 3
Blacksmithing
Diagram
Yes
400
Breton Streetlight, Paired
Legerdemain, Drops
Lighting
Lightposts
Superior
Metalworking 7
Potency Improvement 2
Woodworking 5
Regulus 10
Mundane Rune 5
Heartwood 8
Molybdenum 10
Dwarven Oil 6
Blacksmithing
Diagram
Yes
150
Breton Streetlight, Paired Stone
Legerdemain, Drops
Lighting
Lightposts
Superior
Metalworking 10
Potency Improvement 5
Woodworking 5
Regulus 13
Mundane Rune 8
Heartwood 8
Molybdenum 10
Rakeipa 16
Dwarven Oil 6
Blacksmithing
Diagram
Yes
150
Breton Table, Dining
Legerdemain, Drops
Dining
Tables
Fine
Woodworking 3
Heartwood 5
Molybdenum 5
Pitch 9
Woodworking
Blueprint
Yes
50
Breton Table, Formal
Legerdemain, Drops
Dining
Tables
Epic
Metalworking 5
Solvent Proficiency 4
Woodworking 9
Heartwood 13
Regulus 9
Alchemical Resin 8
Molybdenum 15
Mastic 3
Woodworking
Blueprint
Yes
400
Breton Table, Kitchen
Legerdemain, Drops
Dining
Tables
Fine
Woodworking 3
Heartwood 5
Molybdenum 5
Pitch 9
Woodworking
Blueprint
Yes
50
Breton Table, Round
Legerdemain, Drops
Dining
Tables
Superior
Metalworking 2
Solvent Proficiency 4
Woodworking 6
Heartwood 9
Regulus 5
Alchemical Resin 7
Molybdenum 10
Turpen 6
Woodworking
Blueprint
Yes
150
Breton Table, Square
Legerdemain, Drops
Dining
Tables
Superior
Metalworking 3
Solvent Proficiency 2
Woodworking 5
Heartwood 8
Regulus 6
Alchemical Resin 5
Molybdenum 10
Turpen 6
Woodworking
Blueprint
Yes
150
Breton Tablecloth, Blue
Legerdemain, Drops
Miscellaneous
Epic
Tailoring 9
Potency Improvement 4
Solvent Proficiency 4
Bast 13
Mundane Rune 8
Alchemical Resin 8
Molybdenum 15
Elegant Lining 3
Clothing
Pattern
No
0
Breton Tablecloth, Striped
Legerdemain, Drops
Miscellaneous
Epic
Tailoring 8
Potency Improvement 4
Solvent Proficiency 4
Bast 12
Mundane Rune 8
Alchemical Resin 8
Molybdenum 15
Elegant Lining 3
Clothing
Pattern
Yes
400
Breton Tankard, Empty
Hearth
Dishes
Superior
Yes
150
Breton Tankard, Full
Hearth
Dishes
Superior
Yes
150
Breton Tapestry, Boughs
Legerdemain, Drops
Parlor
Tapestries
Epic
Metalworking 4
Tailoring 10
Solvent Proficiency 6
Bast 14
Regulus 8
Alchemical Resin 10
Molybdenum 15
Elegant Lining 3
Clothing
Pattern
Yes
400
Breton Tapestry, Vines
Legerdemain, Drops
Parlor
Tapestries
Epic
Tailoring 9
Potency Improvement 5
Solvent Proficiency 4
Bast 13
Mundane Rune 9
Alchemical Resin 8
Molybdenum 15
Rakeipa 16
Elegant Lining 3
Clothing
Pattern
No
0
Breton Throne
Legerdemain, Drops
Gallery
Thrones
Legendary
Metalworking 4
Tailoring 8
Potency Improvement 8
Woodworking 10
Heartwood 15
Mundane Rune 13
Bast 13
Regulus 9
Molybdenum 20
Mastic 1
Woodworking
Blueprint
No
0
Breton Trestle, Formal
Legerdemain, Drops
Dining
Tables
Epic
Metalworking 4
Solvent Proficiency 4
Woodworking 8
Heartwood 12
Regulus 8
Alchemical Resin 8
Molybdenum 15
Mastic 3
Woodworking
Blueprint
Yes
400
Breton Trestle, Sturdy
Legerdemain, Drops
Dining
Tables
Fine
Woodworking 4
Heartwood 6
Molybdenum 5
Pitch 9
Woodworking
Blueprint
Yes
50
Breton Urn Lid, Striated
Legerdemain, Drops
Undercroft
Urns
Epic
Metalworking 7
Potency Improvement 4
Recipe Improvement 3
Decorative Wax 7
Regulus 11
Mundane Rune 8
Molybdenum 15
Grain Solvent 3
Blacksmithing
Diagram
Yes
400
Breton Urn, Glazed
Legerdemain, Drops
Hearth
Pottery
Superior
Metalworking 2
Potency Improvement 2
Recipe Improvement 4
Decorative Wax 7
Regulus 5
Mundane Rune 5
Molybdenum 10
Bervez Juice 6
Provisioning
Design
Yes
150
Breton Urn, Striated
Legerdemain, Drops
Hearth
Pottery
Epic
Metalworking 3
Potency Improvement 7
Solvent Proficiency 4
Mundane Rune 11
Regulus 7
Alchemical Resin 8
Molybdenum 15
Rakeipa 16
Rekuta 3
Enchanting
Praxis
Yes
400
Breton Vase, Ceramic
Legerdemain, Drops
Parlor
Vases
Fine
Metalworking 2
Recipe Improvement 3
Decorative Wax 5
Regulus 4
Molybdenum 5
Flour 20
Provisioning
Design
Yes
50
Breton Vase, Delicate
Legerdemain, Drops
Parlor
Vases
Epic
Metalworking 4
Potency Improvement 8
Solvent Proficiency 4
Mundane Rune 12
Regulus 8
Alchemical Resin 8
Molybdenum 15
Rekuta 3
Enchanting
Praxis
Yes
400
Breton Vase, Glazed
Legerdemain, Drops
Parlor
Vases
Superior
Metalworking 2
Solvent Proficiency 2
Recipe Improvement 4
Decorative Wax 7
Regulus 5
Alchemical Resin 5
Molybdenum 10
Bervez Juice 6
Provisioning
Design
Yes
150
Broken Chain
Purchase: Hall Steward
50000
Miscellaneous
Legendary
Achievement: Anchors Away
No
0
Brotherhood Banner, Large
Shadowy Supplier
Parlor
Banners
Epic
No
0
Brotherhood Candelabra, Floor
Shadowy Supplier
Lighting
Candles
Epic
No
0
Brotherhood Candelabra, Table
Shadowy Supplier
Lighting
Candles
Superior
No
0
Brotherhood Ledger Stand
Shadowy Supplier
Library
Supplies
Superior
No
0
Brotherhood Plaque, Wolf
Shadowy Supplier
Undercroft
Symbolic Decor
Epic
No
0
Brotherhood Poison Vial
Achievement Furnisher: Kvatch
2500
Miscellaneous
Superior
Achievement: Assassin
No
0
Brotherhood Stained Glass Window
Shadowy Supplier
Undercroft
Symbolic Decor
Legendary
No
0
Brotherhood Tapestry
Shadowy Supplier
Parlor
Tapestries
Epic
No
0
Buckthorn
Conservatory
Trees
Superior
No
0
Burning Vestige, Vol. I
Purchase: Mystic
5000 / collection
Library
Literature
Fine
Complete Appropriate Lorebook Collection
No
0
Bush, Dense Forest
Conservatory
Trees
Standard
Yes
10
Bush, Desert Scrub
Purchase: Home Goods Furnisher
165
Conservatory
Trees
Standard
Evermore
No
0
Bush, Flowering Scrub
Purchase: Home Goods Furnisher
607
Conservatory
Shrubs
Fine
Belkarth
Yes
50
Bush, Green Forest
Conservatory
Shrubs
Standard
Yes
10
Bush, Mountain Scrub
Purchase: Home Goods Furnisher
165
Conservatory
Plants
Standard
Rawl'kha
Yes
10
Bush, Red Berry
Conservatory
Trees
Fine
Yes
50
Bush, Vibrant Barberry
Purchase: Home Goods Furnisher
607
Conservatory
Plants
Fine
Mournhold
No
0
Cabinet, Poisonmaker's
Legerdemain, Drops
Hearth
Cabinetry
Legendary
Potency Improvement 6
Solvent Proficiency 6
Recipe Improvement 6
Woodworking 10
Heartwood 15
Mundane Rune 11
Alchemical Resin 11
Decorative Wax 11
Nickel 20
Rosin 1
Woodworking
Blueprint
No
0
Cactus, Columnar
Conservatory
Plants
Fine
No
0
Cactus, Desert Vine
Purchase: Home Goods Furnisher
1529
Conservatory
Plants
Superior
Evermore
No
0
Cactus, Golden Barrel
Conservatory
Plants
Fine
No
0
Cactus, Golden Bulbs
Conservatory
Plants
Fine
No
0
Cactus, Lemon Bulbs
Conservatory
Plants
Fine
No
0
Cactus, Stocky Columnar
Conservatory
Plants
Fine
No
0
Cage, Covered
Legerdemain, Drops
Undercroft
Torture
Epic
Metalworking 10
Potency Improvement 5
Solvent Proficiency 5
Regulus 14
Mundane Rune 9
Alchemical Resin 9
Nickel 15
Grain Solvent 3
Blacksmithing
Diagram
Yes
400
Cage, Wild Animal
Legerdemain, Drops
Undercroft
Torture
Epic
Metalworking 10
Potency Improvement 3
Woodworking 7
Regulus 14
Mundane Rune 7
Heartwood 11
Nickel 15
Grain Solvent 3
Blacksmithing
Diagram
Yes
400
Cake Slice, Anniversary
Legendary
No
0
Cake, Anniversary
Legendary
No
0
Candle Set, Ritual
Legerdemain, Drops
Lighting
Candles
Superior
Potency Improvement 2
Solvent Proficiency 4
Recipe Improvement 6
Decorative Wax 10
Mundane Rune 6
Alchemical Resin 8
Nickel 10
Rakeipa 12
Bervez Juice 6
Provisioning
Design
Yes
150
Candle, Group
Legerdemain, Drops
Lighting
Candles
Superior
Potency Improvement 2
Solvent Proficiency 2
Recipe Improvement 4
Decorative Wax 7
Mundane Rune 5
Alchemical Resin 5
Nickel 10
Rakeipa 8
Bervez Juice 6
Provisioning
Design
Yes
150
Candles of Silence
Lighting
Candles
Superior
No
0
Candles, Lasting
Legerdemain, Drops
Lighting
Candles
Epic
Potency Improvement 2
Solvent Proficiency 2
Recipe Improvement 4
Decorative Wax 7
Mundane Rune 5
Alchemical Resin 5
Nickel 15
Frost Mirriam 3
Provisioning
Design
Yes
400
Carpet of the Desert , Faded
Parlor
Rugs and Carpets
Epic
Yes
400
Carpet of the Desert Flame, Faded
Parlor
Rugs and Carpets
Epic
Yes
400
Carpet of the Desert Flame, Faded
Parlor
Rugs and Carpets
Epic
400
Carpet of the Mirage, Faded
Parlor
Rugs and Carpets
Epic
Yes
400
Carpet of the Oasis, Faded
Parlor
Rugs and Carpets
Epic
Yes
400
Carpet of the Sanctuary, Shredded
Parlor
Rugs and Carpets
Legendary
No
0
Carpet of the Sanctuary, Torn
Parlor
Rugs and Carpets
Legendary
No
0
Carpet of the Sanctuary, Worn
Parlor
Rugs and Carpets
Legendary
No
0
Carpet of the Sanctuary, Wrinkled
Parlor
Rugs and Carpets
Legendary
No
0
Carpet of the Sun, Faded Summer
Parlor
Rugs and Carpets
Epic
Yes
400
Carpet Roll, Colorful
Parlor
Rugs and Carpets
Superior
No
0
Carpet Roll, Desert
Parlor
Rugs and Carpets
Superior
No
0
Carpet Roll, Floral
Parlor
Rugs and Carpets
Superior
No
0
Carpet Roll, Oasis
Parlor
Rugs and Carpets
Superior
No
0
Carpet Roll, Sunrise
Parlor
Rugs and Carpets
Superior
No
0
Carpet Roll, Sunset
Parlor
Rugs and Carpets
Superior
No
0
Carrots, Wax
Legerdemain, Drops
Hearth
Produce
Fine
Recipe Improvement 1
Decorative Wax 3
Nickel 5
Carrots 2
Flour 20
Provisioning
Design
Yes
50
Cart, Sided
Legerdemain, Drops
Courtyard
Carts and Wagons
Superior
Woodworking 6
Heartwood 9
Nickel 10
Turpen 6
Woodworking
Blueprint
Yes
150
Case of Vials
Purchase: Mastercraft Mediator
Workshop
Materials
Legendary
Metalworking 8
Potency Improvement 8
Solvent Proficiency 8
Woodworking 8
Alchemical Resin 13
Regulus 13
Mundane Rune 13
Heartwood 13
Nickel 20
Nightshade 16
Alchemy
Formula
No
0
Cask, Blue Dye
Legerdemain, Drops
Workshop
Materials
Epic
Solvent Proficiency 4
Recipe Improvement 6
Woodworking 2
Decorative Wax 10
Alchemical Resin 8
Heartwood 6
Nickel 15
Turquoise 12
Frost Mirriam 3
Provisioning
Design
No
0
Cask, Green Dye
Legerdemain, Drops
Workshop
Materials
Epic
Solvent Proficiency 4
Recipe Improvement 6
Woodworking 2
Decorative Wax 10
Alchemical Resin 8
Heartwood 6
Nickel 15
Chysolite 12
Frost Mirriam 3
Provisioning
Design
No
0
Cask, Orange Dye
Legerdemain, Drops
Workshop
Materials
Epic
Solvent Proficiency 4
Recipe Improvement 6
Woodworking 2
Decorative Wax 10
Alchemical Resin 8
Heartwood 6
Nickel 15
Fire Opal 12
Frost Mirriam 3
Provisioning
Design
No
0
Cask, Pink Dye
Legerdemain, Drops
Workshop
Materials
Epic
Solvent Proficiency 4
Recipe Improvement 6
Woodworking 2
Decorative Wax 10
Alchemical Resin 8
Heartwood 6
Nickel 15
Garnet 12
Frost Mirriam 3
Provisioning
Design
No
0
Cask, Yellow Dye
Legerdemain, Drops
Workshop
Materials
Epic
Solvent Proficiency 4
Recipe Improvement 6
Woodworking 2
Decorative Wax 10
Alchemical Resin 8
Heartwood 6
Nickel 15
Citrine 12
Frost Mirriam 3
Provisioning
Design
No
0
Cat Statue
Epic
No
0
Cauldron of Soup
Legerdemain, Drops
Hearth
Cookware
Superior
Metalworking 4
Recipe Improvement 5
Regulus 7
Nickel 10 guts^p 10
Decorative Wax 8
Dwarven Oil 6
Blacksmithing
Diagram
Yes
150
Cauldron of Stew
Legerdemain, Drops
Hearth
Cookware
Superior
Metalworking 4
Recipe Improvement 5
Regulus 7
Nickel 10 guts^p 10
Decorative Wax 8
Dwarven Oil 6
Blacksmithing
Diagram
Yes
150
Cauldron, Covered
Legerdemain, Drops
Hearth
Cookware
Superior
Metalworking 6
Recipe Improvement 3
Regulus 9
Nickel 10
Decorative Wax 6
Dwarven Oil 6
Blacksmithing
Diagram
Yes
150
Ceremonial Redguard Vessel
Achievement Furnisher: Evermore
4000
Undercroft
Sacred Pieces
Superior
Achievement: High King Emeric's Savior
No
0
Chair, Carved
Legerdemain, Drops
Dining
Chairs
Superior
Metalworking 2
Potency Improvement 2
Woodworking 5
Heartwood 8
Regulus 5
Mundane Rune 5
Nickel 10
Turpen 6
Woodworking
Blueprint
Yes
150
Chaotic Creatia: The Azure Plasm
Purchase: Mystic
5000 / collection
Library
Literature
Fine
Complete Appropriate Lorebook Collection
No
0
Cheese Cutter
Purchase: Mystic
5000
Workshop
Tools
Epic
Achievement: The Madness Isn't Catching
No
0
Cheese Wedge
Legerdemain, Drops
Hearth
Meats and Cheeses
Superior
Solvent Proficiency 1
Recipe Improvement 3
Decorative Wax 6
Alchemical Resin 4
Nickel 10
Cheese 6
Bervez Juice 6
Provisioning
Design
Yes
150
Cheeses of Tamriel
Library
Literature
Fine
Yes
50
Chef's Cleaver
Purchase: Chef
2500
Workshop
Tools
Superior
Achievement: Recipe Compendium
No
0
Chicken Dinner, Display
Legerdemain, Drops
Hearth
Meals
Fine
Solvent Proficiency 1
Recipe Improvement 3
Decorative Wax 5
Alchemical Resin 3
Nickel 5
Poultry 6
Flour 20
Provisioning
Design
Yes
50
Chicken Meal, Display
Legerdemain, Drops
Hearth
Meals
Fine
Solvent Proficiency 1
Recipe Improvement 3
Decorative Wax 5
Alchemical Resin 3
Nickel 5
Poultry 6
Flour 20
Provisioning
Design
Yes
50
Circus of Cheerful Slaughter
Purchase: Mystic
10000 / collection
Library
Literature
Superior
Complete Appropriate Lorebook Collection
No
0
Civility and Etiquette V. 5: Undead
Purchase: Mystic
5000 / collection
Library
Literature
Fine
Complete Appropriate Lorebook Collection
No
0
Civility and Etiquette: Wood Orcs I
Purchase: Mystic
5000 / collection
Library
Literature
Fine
Complete Appropriate Lorebook Collection
No
0
Clannfear Head
Purchase: Hall Steward
10000
Undercroft
Grave Goods
Epic
Achievement: Fighters Guild Veteran
No
0
Clans of the Reach: A Guide
Purchase: Mystic
5000 / collection
Library
Literature
Fine
Complete Appropriate Lorebook Collection
No
0
Cleaver, Butcher's
Legerdemain, Drops
Hearth
Utensils
Superior
Metalworking 5
Woodworking 3
Regulus 8
Heartwood 6
Nickel 10
Dwarven Oil 6
Blacksmithing
Diagram
No
0
Clothier's Sign
Purchase: Clothier
5000
Parlor
Banners
Epic
Achievement: Master Clothier
No
0
Clothier's Wheel
Epic
No
0
Clothing Station
Purchase: Mastercraft Mediator
35WV
Workshop
Clothier Station
Legendary
No
0
Clothing Station (Alessia's Bulwark)
Purchase: Mastercraft Mediator
250WV
Workshop
Clothier Station
Legendary
No
0
Clothing Station (Armor Master)
Purchase: Mastercraft Mediator
250WV
Workshop
Clothier Station
Legendary
No
0
Clothing Station (Armor of the Code)
Purchase: Mastercraft Mediator
250WV
Workshop
Clothier Station
Legendary
No
0
Clothing Station (Ashen Grip)
Purchase: Mastercraft Mediator
250WV
Workshop
Clothier Station
Legendary
No
0
Clothing Station (Clever Alchemist)
Purchase: Mastercraft Mediator
250WV
Workshop
Clothier Station
Legendary
No
0
Clothing Station (Death's Wind)
Purchase: Mastercraft Mediator
250WV
Workshop
Clothier Station
Legendary
No
0
Clothing Station (Eternal Hunt)
Purchase: Mastercraft Mediator
250WV
Workshop
Clothier Station
Legendary
No
0
Clothing Station (Eyes of Mara)
Purchase: Mastercraft Mediator
250WV
Workshop
Clothier Station
Legendary
No
0
Clothing Station (Hist Bark)
Purchase: Mastercraft Mediator
250WV
Workshop
Clothier Station
Legendary
No
0
Clothing Station (Hunding's Rage)
Purchase: Mastercraft Mediator
250WV
Workshop
Clothier Station
Legendary
No
0
Clothing Station (Kagrenac's Hope)
Purchase: Mastercraft Mediator
250WV
Workshop
Clothier Station
Legendary
No
0
Clothing Station (Kvatch Gladiator)
Purchase: Mastercraft Mediator
250WV
Workshop
Clothier Station
Legendary
No
0
Clothing Station (Law of Julianos)
Purchase: Mastercraft Mediator
250WV
Workshop
Clothier Station
Legendary
No
0
Clothing Station (Magnus' Gift)
Purchase: Mastercraft Mediator
250WV
Workshop
Clothier Station
Legendary
No
0
Clothing Station (Morkuldin)
Purchase: Mastercraft Mediator
250WV
Workshop
Clothier Station
Legendary
No
0
Clothing Station (Night Mother's)
Purchase: Mastercraft Mediator
250WV
Workshop
Clothier Station
Legendary
No
0
Clothing Station (Night's Silence)
Purchase: Mastercraft Mediator
250WV
Workshop
Clothier Station
Legendary
No
0
Clothing Station (Noble's Conquest)
Purchase: Mastercraft Mediator
250WV
Workshop
Clothier Station
Legendary
No
0
Clothing Station (Oblivion's Foe)
Purchase: Mastercraft Mediator
250WV
Workshop
Clothier Station
Legendary
No
0
Clothing Station (Orgnum's Scales)
Purchase: Mastercraft Mediator
250WV
Workshop
Clothier Station
Legendary
No
0
Clothing Station (Pelinal's Aptitude)
Purchase: Mastercraft Mediator
250WV
Workshop
Clothier Station
Legendary
No
0
Clothing Station (Redistributor)
Purchase: Mastercraft Mediator
250WV
Workshop
Clothier Station
Legendary
No
0
Clothing Station (Seducer)
Purchase: Mastercraft Mediator
250WV
Workshop
Clothier Station
Legendary
No
0
Clothing Station (Shalidor's Curse)
Purchase: Mastercraft Mediator
250WV
Workshop
Clothier Station
Legendary
No
0
Clothing Station (Song of Lamae)
Purchase: Mastercraft Mediator
250WV
Workshop
Clothier Station
Legendary
No
0
Clothing Station (Spectre's Eye)
Purchase: Mastercraft Mediator
250WV
Workshop
Clothier Station
Legendary
No
0
Clothing Station (Tava's Favor)
Purchase: Mastercraft Mediator
250WV
Workshop
Clothier Station
Legendary
No
0
Clothing Station (Torug's Pact)
Purchase: Mastercraft Mediator
250WV
Workshop
Clothier Station
Legendary
No
0
Clothing Station (Trial by Fire)
Purchase: Mastercraft Mediator
250WV
Workshop
Clothier Station
Legendary
No
0
Clothing Station (Twice-Born Star)
Purchase: Mastercraft Mediator
250WV
Workshop
Clothier Station
Legendary
No
0
Clothing Station (Twilight's Embrace)
Purchase: Mastercraft Mediator
250WV
Workshop
Clothier Station
Legendary
No
0
Clothing Station (Vampire's Kiss)
Purchase: Mastercraft Mediator
250WV
Workshop
Clothier Station
Legendary
No
0
Clothing Station (Varen's Legacy)
Purchase: Mastercraft Mediator
250WV
Workshop
Clothier Station
Legendary
No
0
Clothing Station (Way of the Arena)
Purchase: Mastercraft Mediator
250WV
Workshop
Clothier Station
Legendary
No
0
Clothing Station (Whitestrake's Retribution)
Purchase: Mastercraft Mediator
250WV
Workshop
Clothier Station
Legendary
No
0
Clothing Station (Willow's Path)
Purchase: Mastercraft Mediator
250WV
Workshop
Clothier Station
Legendary
No
0
Coffin, Case
Legerdemain, Drops
Undercroft
Grave Goods
Epic
Metalworking 2
Solvent Proficiency 2
Woodworking 6
Heartwood 9
Regulus 5
Alchemical Resin 5
Nickel 15
Mastic 3
Woodworking
Blueprint
Yes
400
Coffin, Lid
Legerdemain, Drops
Undercroft
Grave Goods
Epic
Metalworking 2
Solvent Proficiency 2
Woodworking 6
Heartwood 9
Regulus 5
Alchemical Resin 5
Nickel 15
Mastic 3
Woodworking
Blueprint
Yes
400
Cohort Briefing: Arenthia
Purchase: Mystic
5000 / collection
Library
Literature
Fine
Complete Appropriate Lorebook Collection
No
0
Coins, Display
Miscellaneous
Legendary
No
0
Coldharbour Chandelier
Achievement Furnisher: The Hollow City
25000
Lighting
Chandeliers
Legendary
Achievement: Planemeld Sunderer
No
0
Coldharbour Urn
Achievement Furnisher: Alliance Capitals
5000
Undercroft
Urns
Epic
Achievement: Soul Shriven in Coldharbour
No
0
Collected Wanted Poster
Rarely found in treasure chests???
Gallery
Paintings
Epic
No
0
Colovian Projection Crystal
Achievement Furnisher: Rawl'kha
5000
Lighting
Enchanted Lights
Epic
Achievement: Clanmother Inaugurator
No
0
Common Arms of Valenwood
Purchase: Mystic
5000 / collection
Library
Literature
Fine
Complete Appropriate Lorebook Collection
No
0
Common Barrel, Dry
Legerdemain, Drops
Workshop
Cargo
Fine
Metalworking 1
Woodworking 3
Heartwood 5
Regulus 3
Nickel 5
Pitch 9
Woodworking
Blueprint
Yes
50
Common Barrel, Sealed
Legerdemain, Drops
Workshop
Cargo
Fine
Woodworking 3
Heartwood 5
Nickel 5
Pitch 9
Woodworking
Blueprint
Yes
50
Common Basket, Closed
Legerdemain, Drops
Hearth
Cabinetry
Fine
Tailoring 3
Bast 5
Nickel 5
Hemming 9
Clothing
Pattern
Yes
50
Common Basket, Lid
Legerdemain, Drops
Hearth
Cabinetry
Fine
Tailoring 1
Bast 3
Nickel 5
Hemming 9
Clothing
Pattern
Yes
50
Common Basket, Open
Legerdemain, Drops
Hearth
Cabinetry
Fine
Tailoring 1
Bast 3
Nickel 5
Hemming 9
Clothing
Pattern
Yes
50
Common Basket, Tall
Legerdemain, Drops
Hearth
Cabinetry
Fine
Tailoring 4
Bast 6
Nickel 5
Hemming 9
Clothing
Pattern
Yes
50
Common Bookrest, Practical
Legerdemain, Drops
Library
Shelves
Fine
Potency Improvement 1
Mundane Rune 3
Nickel 5
Jejota 9
Enchanting
Praxis
Yes
50
Common Bowl of Soup, Display
Legerdemain, Drops
Hearth
Meals
Fine
Recipe Improvement 1
Decorative Wax 3
Nickel 5
Saltrice 2
Flour 20
Provisioning
Design
Yes
50
Common Bowl of Stew, Display
Legerdemain, Drops
Hearth
Meals
Fine
Recipe Improvement 1
Decorative Wax 3
Nickel 5
Potato 2
Flour 20
Provisioning
Design
Yes
50
Common Bowl, Serving
Legerdemain, Drops
Hearth
Dishes
Fine
Yes
50
Common Bucket, Basic
Legerdemain, Drops
Hearth
Laundry
Fine
Woodworking 2
Heartwood 4
Nickel 5
Pitch 9
Woodworking
Blueprint
Yes
50
Common Bucket, Rope
Legerdemain, Drops
Hearth
Laundry
Fine
Woodworking 2
Heartwood 4
Nickel 5
Pitch 9
Woodworking
Blueprint
Yes
50
Common Cage, Hunting
Legerdemain, Drops
Workshop
Tools
Fine
Metalworking 3
Woodworking 1
Regulus 5
Heartwood 3
Nickel 5
Honing Stone 9
Blacksmithing
Diagram
Yes
50
Common Campfire, Outdoor
Legerdemain, Drops
Lighting
Fires
Fine
Potency Improvement 2
Woodworking 3
Heartwood 5
Mundane Rune 4
Nickel 5
Rakeipa 6
Pitch 9
Woodworking
Blueprint
Yes
50
Common Candle, Lasting
Legerdemain, Drops
Lighting
Candles
Fine
Potency Improvement 1
Recipe Improvement 1
Decorative Wax 3
Nickel 5
Rakeipa 2
Mundane Rune 2
Flour 20
Provisioning
Design
Yes
50
Common Candle, Set
Legerdemain, Drops
Lighting
Candles
Fine
Recipe Improvement 2
Decorative Wax 4
Nickel 5
Flour 20
Provisioning
Design
Yes
50
Common Candles, Pair
Legerdemain, Drops
Lighting
Candles
Fine
Recipe Improvement 1
Decorative Wax 3
Nickel 5
Flour 20
Provisioning
Design
Yes
50
Common Cargo Crate, Dry
Legerdemain, Drops
Workshop
Cargo
Fine
Metalworking 1
Woodworking 3
Heartwood 5
Regulus 3
Nickel 5
Pitch 9
Woodworking
Blueprint
Yes
50
Common Cargo, Covered
Legerdemain, Drops
Workshop
Cargo
Fine
Woodworking 3
Heartwood 5
Nickel 5
Pitch 9
Woodworking
Blueprint
Yes
50
Common Cargo, Reinforced
Legerdemain, Drops
Workshop
Cargo
Fine
Metalworking 1
Woodworking 3
Heartwood 5
Regulus 3
Nickel 5
Pitch 9
Woodworking
Blueprint
Yes
50
Common Cargo, Sealed
Legerdemain, Drops
Workshop
Cargo
Fine
Metalworking 1
Woodworking 3
Heartwood 5
Regulus 3
Nickel 5
Pitch 9
Woodworking
Blueprint
Yes
50
Common Cleaver, Cooking
Legerdemain, Drops
Hearth
Utensils
Fine
Metalworking 1
Regulus 3
Nickel 5
Honing Stone 9
Blacksmithing
Diagram
Yes
50
Common Cloak on a Hook
Miscellaneous
Fine
Yes
50
Common Counter, Merchant
Legerdemain, Drops
Dining
Counters
Fine
Woodworking 5
Heartwood 7
Nickel 5
Pitch 9
Woodworking
Blueprint
Yes
50
Common Crate, Sealed
Legerdemain, Drops
Workshop
Cargo
Fine
Woodworking 4
Heartwood 6
Nickel 5
Pitch 9
Woodworking
Blueprint
Yes
50
Common Firepit, Outdoor
Legerdemain, Drops
Lighting
Fires
Fine
Potency Improvement 2
Woodworking 4
Heartwood 6
Mundane Rune 4
Nickel 5
Rakeipa 8
Pitch 9
Woodworking
Blueprint
Yes
50
Common Firepit, Piled
Legerdemain, Drops
Lighting
Fires
Fine
Potency Improvement 2
Woodworking 3
Heartwood 5
Mundane Rune 4
Nickel 5
Rakeipa 6
Pitch 9
Woodworking
Blueprint
Yes
50
Common Inkwell, Practical
Legerdemain, Drops
Library
Supplies
Fine
Metalworking 1
Regulus 3
Nickel 5
Honing Stone 9
Blacksmithing
Diagram
Yes
50
Common Lantern, Hanging
Legerdemain, Drops
Lighting
Lanterns
Fine
Metalworking 1
Potency Improvement 1
Regulus 3
Nickel 5
Rakeipa 2
Mundane Rune 2
Honing Stone 9
Blacksmithing
Diagram
Yes
50
Common Lantern, Stationary
Legerdemain, Drops
Lighting
Lanterns
Fine
Metalworking 1
Regulus 3
Nickel 5
Honing Stone 9
Blacksmithing
Diagram
Yes
50
Common Pack, Backpack
Legerdemain, Drops
Hearth
Baskets and Bags
Fine
Tailoring 1
Bast 3
Nickel 5
Hemming 9
Clothing
Pattern
Yes
50
Common Pack, Satchel
Legerdemain, Drops
Hearth
Baskets and Bags
Fine
Tailoring 1
Bast 3
Nickel 5
Hemming 9
Clothing
Pattern
Yes
50
Common Plate, Setting
Legerdemain, Drops
Hearth
Dishes
Fine
Metalworking 1
Regulus 3
Nickel 5
Honing Stone 9
Blacksmithing
Diagram
Yes
50
Common Plate, Simple
Legerdemain, Drops
Hearth
Dishes
Fine
Metalworking 1
Regulus 3
Nickel 5
Honing Stone 9
Blacksmithing
Diagram
Yes
50
Common Platter, Serving
Legerdemain, Drops
Hearth
Dishes
Fine
Metalworking 2
Regulus 4
Nickel 5
Honing Stone 9
Blacksmithing
Diagram
Yes
50
Common Post, Flag Pole
Legerdemain, Drops
Parlor
Tapestries
Fine
Metalworking 2
Regulus 4
Nickel 5
Honing Stone 9
Blacksmithing
Diagram
Yes
50
Common Post, Sign Holder
Legerdemain, Drops
Courtyard
Posts and Pillars
Fine
Metalworking 3
Regulus 5
Nickel 5
Honing Stone 9
Blacksmithing
Diagram
Yes
50
Common Pot, Cooking
Legerdemain, Drops
Workshop
Cooking Stations
Fine
Metalworking 1
Recipe Improvement 1
Regulus 3
Decorative Wax 3
Nickel 5
Honing Stone 9
Blacksmithing
Diagram
Yes
50
Common Quill, Feather
Legerdemain, Drops
Library
Supplies
Fine
Solvent Proficiency 3
Recipe Improvement 1
Alchemical Resin 5
Decorative Wax 3
Nickel 5
Poultry 6
Alchemy
Formula
Yes
50
Common Skillet, Practical
Legerdemain, Drops
Hearth
Dishes
Fine
Metalworking 1
Regulus 3
Nickel 5
Honing Stone 9
Blacksmithing
Diagram
Yes
50
Common Soul Gem, Empty
Miscellaneous
Superior
No
0
Common Stewpot, Hanging
Legerdemain, Drops
Hearth
Meals
Fine
Metalworking 2
Recipe Improvement 3
Decorative Wax 5
Regulus 4
Nickel 5
Flour 20
Provisioning
Design
Yes
50
Common Table, Slanted
Legerdemain, Drops
Dining
Tables
Fine
Woodworking 1
Heartwood 2
Nickel 5
Pitch 9
Woodworking
Blueprint
Yes
50
Common Torch, Holder
Lighting
Sconces
Fine
Yes
50
Common Trap, Hunting
Legerdemain, Drops
Workshop
Tools
Fine
Metalworking 3
Woodworking 1
Regulus 5
Heartwood 3
Nickel 5
Honing Stone 9
Blacksmithing
Diagram
Yes
50
Common Trough, Filled
Legerdemain, Drops
Workshop
Tools
Fine
Woodworking 1
Heartwood 3
Nickel 5
Pitch 9
Woodworking
Blueprint
Yes
50
Common Washtub, Empty
Legerdemain, Drops
Hearth
Laundry
Fine
Woodworking 2
Heartwood 4
Nickel 5
Pitch 9
Woodworking
Blueprint
Yes
50
Common Wheelbarrow, Barrel
Legerdemain, Drops
Workshop
Cargo
Fine
Woodworking 5
Heartwood 7
Nickel 5
Pitch 9
Woodworking
Blueprint
Yes
50
Common Wheelbarrow, Flat
Legerdemain, Drops
Courtyard
Carts and Wagons
Fine
Woodworking 4
Heartwood 6
Nickel 5
Pitch 9
Woodworking
Blueprint
Yes
50
Common Wheelbarrow, Sided
Legerdemain, Drops
Courtyard
Carts and Wagons
Fine
Woodworking 5
Heartwood 7
Nickel 5
Pitch 9
Woodworking
Blueprint
Yes
50
Coney Carcass, Hanging
Legerdemain, Drops
Gallery
Display
Legendary
Tailoring 6
Potency Improvement 6
Solvent Proficiency 6
Recipe Improvement 6
Decorative Wax 11
Bast 11
Mundane Rune 11
Alchemical Resin 11
Nickel 20
Perfect Roe 1
Provisioning
Design
No
0
Constellation Tile: The Ritual
Achievement Furnisher: Shornhelm
10000
Miscellaneous
Epic
Achievement: Curse Breaker
No
0
Constellation Tile: The Shadow
Achievement Furnisher: Shornhelm
10000
Miscellaneous
Epic
Achievement: Curse Breaker
No
0
Constellation Tile: The Tower
Achievement Furnisher: Shornhelm
10000
Miscellaneous
Epic
Achievement: Curse Breaker
No
0
Coral, Antler Shrub
Fishing
Conservatory
Aquatic
Legendary
No
0
Coral, Antler Tree
Fishing
Conservatory
Aquatic
Legendary
No
0
Coral, Crown
Fishing
Conservatory
Aquatic
Legendary
No
0
Coral, Sun
Fishing
Conservatory
Aquatic
Legendary
No
0
Covenant Camp Banner
Achievement Furnisher: Cyrodiil
1,000AP and 607g
Gallery
Honors and Awards
Fine
Alliance Rank "Legionary"
No
0
Covenant Hero Shield
Achievement Furnisher: Cyrodiil
10000
Parlor
Banners
Epic
Achievement: Hero of the Daggerfall Covenant
No
0
Covenant Keep Pennant
Achievement Furnisher: Cyrodiil
8,000AP
Gallery
Honors and Awards
Superior
Alliance Rank "Grand Warlord"
No
0
Covenant Pennant, Small
Achievement Furnisher: Cyrodiil
200AP and 607g
Gallery
Honors and Awards
Fine
Alliance Rank "Volunteer"
No
0
Covenant Wall Banner, Large
Achievement Furnisher: Cyrodiil
3,000AP
Gallery
Honors and Awards
Superior
Alliance Rank "Veteran"
No
0
Covenant Wall Banner, Medium
Achievement Furnisher: Cyrodiil
600AP and 607g
Gallery
Honors and Awards
Fine
Alliance Rank "Tyro"
No
0
Covenant Wall Banner, Small
Achievement Furnisher: Cyrodiil
400AP and 607g
Gallery
Honors and Awards
Fine
Alliance Rank "Recruit"
No
0
Cowering Statue
Achievement Furnisher: The Hollow City
10000
Courtyard
Statues
Epic
Achievement: Radiant Champion
No
0
Craglorn Ash Tree
Conservatory
Trees
Standard
No
0
Craglorn Brazier
Achievement Furnisher: Belkarth
5000
Lighting
Braziers
Epic
Achievement: Anomalous Scholar
No
0
Craglorn Brazier, Ornate
Lighting
Braziers
Epic
No
0
Craglorn Chair, Serpent
Dining
Chairs
Superior
No
0
Craglorn Coffer, Ornate
Suite
Trunks
Epic
No
0
Craglorn Orb
Epic
No
0
Craglorn Sconce
Achievement Furnisher: Belkarth
5000
Lighting
Sconces
Epic
Achievement: Anka-Ra Consecrationist
No
0
Craglorn Skull, Carved
Undercroft
Symbolic Decor
Legendary
No
0
Craglorn Sword Sconce
Lighting
Sconces
Epic
No
0
Craglorn Tapestry
Achievement Furnisher: Belkarth
35000
Parlor
Tapestries
Legendary
Achievement: Serpents and Secrets
No
0
Craglorn Urn, Standing
Undercroft
Urns
Epic
No
0
Cranium of a Giant
Undercroft
Remains
Legendary
No
0
Cranium, Bear
Undercroft
Remains
Legendary
No
0
Cranium, Behemoth
Undercroft
Remains
Legendary
No
0
Cranium, Broken Dragon
Undercroft
Remains
Legendary
No
0
Cranium, Dragon
Undercroft
Remains
Legendary
No
0
Cranium, Echalette
Undercroft
Remains
Legendary
No
0
Cranium, Giant Snake
Undercroft
Remains
Legendary
No
0
Cranium, Human
Undercroft
Remains
Legendary
No
0
Cranium, Lion
Undercroft
Remains
Legendary
No
0
Cranium, Ogre
Undercroft
Remains
Legendary
No
0
Cranium, Troll
Undercroft
Remains
Legendary
No
0
Cranium, Wamasu
Undercroft
Remains
Legendary
No
0
Crimes of the Daggerfall Covenant
Purchase: Mystic
5000 / collection
Library
Literature
Fine
Complete Appropriate Lorebook Collection
No
0
Crimson-Stained Bowl
Achievement Furnisher: Shornhelm
2500
Undercroft
Grave Goods
Superior
Achievement: Sword of Ravenwatch
No
0
Crow and Raven: Three Short Fables
Purchase: Mystic
5000 / collection
Library
Literature
Fine
Complete Appropriate Lorebook Collection
No
0
Cured Meat
Legerdemain, Drops
Hearth
Meats and Cheeses
Superior
Recipe Improvement 6
Decorative Wax 10
Nickel 10
Red Meat 12
Bervez Juice 6
Provisioning
Design
Yes
150
Cured Meat Chunk
Legerdemain, Drops
Hearth
Meats and Cheeses
Superior
Recipe Improvement 6
Decorative Wax 10
Nickel 10
Red Meat 12
Bervez Juice 6
Provisioning
Design
Yes
150
Cured Meat Chunks
Legerdemain, Drops
Hearth
Meats and Cheeses
Superior
Recipe Improvement 6
Decorative Wax 10
Nickel 10
Red Meat 12
Bervez Juice 6
Provisioning
Design
Yes
150
Cured Meat Hock
Legerdemain, Drops
Hearth
Meats and Cheeses
Superior
Recipe Improvement 6
Decorative Wax 10
Nickel 10
Red Meat 12
Bervez Juice 6
Provisioning
Design
Yes
150
Cured Meat Pile
Legerdemain, Drops
Hearth
Meats and Cheeses
Superior
Recipe Improvement 6
Decorative Wax 10
Nickel 10
Red Meat 12
Bervez Juice 6
Provisioning
Design
Yes
150
Cured Meat Shank
Legerdemain, Drops
Hearth
Meats and Cheeses
Superior
Potency Improvement 2
Solvent Proficiency 3
Recipe Improvement 5
Decorative Wax 9
Mundane Rune 6
Alchemical Resin 7
Nickel 10
Bervez Juice 6
Provisioning
Design
Yes
150
Cured Meats
Legerdemain, Drops
Hearth
Meats and Cheeses
Superior
Recipe Improvement 6
Decorative Wax 10
Nickel 10
Red Meat 12
Bervez Juice 6
Provisioning
Design
Yes
150
Cushion, Faded Blue
Suite
Pillows
Superior
Yes
150
Cushion, Faded Red
Suite
Pillows
Superior
Yes
150
Cushion, Faded Yellow
Suite
Pillows
Superior
Yes
150
Daedric Arena Tiles
Epic
No
0
Daedric Armchair
Dining
Chairs
Epic
No
0
Daedric Brazier, Tabletop
Lighting
Braziers
Superior
No
0
Daedric Candelabra, Floor Stand
Lighting
Candles
Epic
No
0
Daedric Chest
Purchase: Hall Steward
10000
Suite
Trunks
Epic
Achievement: No Given Ground
No
0
Daedric Coffin
Undercroft
Grave Goods
Epic
No
0
Daedric Coffin, Lid
Undercroft
Grave Goods
Epic
No
0
Daedric Light Pillar
Undercroft
Torture
Legendary
No
0
Daedric Pedestal
Epic
No
0
Daedric Pike, Clannfear Head
Undercroft
Grave Goods
Epic
No
0
Daedric Pike, Daedroth Head
Undercroft
Grave Goods
Epic
No
0
Daedric Sconce
Achievement Furnisher: Ebonheart
5000
Lighting
Sconces
Epic
Achievement: Sadal's Overthrower
No
0
Daedric Table
Dining
Tables
Epic
No
0
Daedric Table, Immense
Dining
Tables
Legendary
No
0
Daedric Throne
Gallery
Thrones
Epic
No
0
Daedroth Head
Purchase: Hall Steward
10000
Undercroft
Grave Goods
Epic
Achievement: Gneral Executioner
No
0
Damaged Knight of St. Pelin Statue
Achievement Furnisher: Evermore
5000
Courtyard
Statues
Epic
Achievement: Bangkorai Garrison Liberator
No
0
Dark Anchor Pinion
Purchase: Hall Steward
100000
Miscellaneous
Legendary
No
0
Dark Brotherhood Banner
Achievement Furnisher: Kvatch
10000
Parlor
Banners
Epic
Achievement: Dark Investigator
No
0
Dark Elf Armchair, Angled
Legerdemain, Drops
Dining
Chairs
Fine
Woodworking 3
Heartwood 5
Obsidian 5
Pitch 9
Woodworking
Blueprint
Yes
50
Dark Elf Ash Garden
Undercroft
Sacred Pieces
Legendary
No
0
Dark Elf Banner, Post
Legerdemain, Drops
Parlor
Banners
Fine
Woodworking 5
Heartwood 7
Obsidian 5
Pitch 9
Woodworking
Blueprint
Yes
50
Dark Elf Basin, Ringed
Legerdemain, Drops
Undercroft
Basins
Fine
Metalworking 4
Potency Improvement 2
Regulus 6
Mundane Rune 4
Obsidian 5
Honing Stone 9
Blacksmithing
Diagram
Yes
50
Dark Elf Bed of Coals
#N/A
Lighting
Fires
Fine
0
Dark Elf Bed, Canopy
Legerdemain, Drops
Suite
Bedding
Epic
Metalworking 5
Tailoring 5
Woodworking 10
Heartwood 14
Regulus 9
Bast 9
Obsidian 15
Mastic 3
Woodworking
Blueprint
Yes
400
Dark Elf Bed, Full
Legerdemain, Drops
Suite
Bedding
Superior
Metalworking 4
Tailoring 10
Woodworking 6
Bast 13
Regulus 7
Heartwood 9
Obsidian 10
Embroidery 6
Clothing
Pattern
Yes
150
Dark Elf Bed, Single
Legerdemain, Drops
Suite
Bedding
Fine
Tailoring 5
Woodworking 2
Bast 7
Heartwood 4
Obsidian 5
Hemming 9
Clothing
Pattern
Yes
50
Dark Elf Bookcase, Sectioned
Legerdemain, Drops
Library
Shelves
Superior
Metalworking 4
Solvent Proficiency 2
Woodworking 6
Heartwood 9
Regulus 7
Alchemical Resin 5
Obsidian 10
Turpen 6
Woodworking
Blueprint
Yes
150
Dark Elf Candelabra, Angled
Legerdemain, Drops
Lighting
Candles
Epic
Metalworking 8
Potency Improvement 4
Recipe Improvement 4
Regulus 12
Mundane Rune 8
Decorative Wax 8
Obsidian 15
Rakeipa 16
Grain Solvent 3
Blacksmithing
Diagram
Yes
400
Dark Elf Candle, Claw Base
Legerdemain, Drops
Lighting
Candles
Fine
Metalworking 2
Potency Improvement 1
Regulus 4
Obsidian 5
Rakeipa 4
Mundane Rune 3
Honing Stone 9
Blacksmithing
Diagram
Yes
50
Dark Elf Candle, Votive Tray
Legerdemain, Drops
Lighting
Candles
Epic
Metalworking 8
Potency Improvement 4
Recipe Improvement 4
Regulus 12
Mundane Rune 8
Decorative Wax 8
Obsidian 15
Rakeipa 16
Grain Solvent 3
Blacksmithing
Diagram
Yes
400
Dark Elf Caravan, Cargo
Legerdemain, Drops
Courtyard
Carts and Wagons
Superior
Metalworking 5
Tailoring 5
Woodworking 10
Heartwood 13
Regulus 8
Bast 8
Obsidian 10
Turpen 6
Woodworking
Blueprint
Yes
150
Dark Elf Carpet, Ashen
Legerdemain, Drops
Parlor
Rugs and Carpets
Superior
Tailoring 8
Potency Improvement 4
Solvent Proficiency 4
Bast 11
Mundane Rune 7
Alchemical Resin 7
Obsidian 10
Embroidery 6
Clothing
Pattern
Yes
150
Dark Elf Carpet, Fungal
Legerdemain, Drops
Parlor
Rugs and Carpets
Superior
Tailoring 5
Potency Improvement 3
Solvent Proficiency 2
Bast 8
Mundane Rune 6
Alchemical Resin 5
Obsidian 10
Embroidery 6
Clothing
Pattern
Yes
150
Dark Elf Carpet, Mossy
Legerdemain, Drops
Parlor
Rugs and Carpets
Superior
Tailoring 6
Potency Improvement 3
Solvent Proficiency 3
Bast 9
Mundane Rune 6
Alchemical Resin 6
Obsidian 10
Embroidery 6
Clothing
Pattern
Yes
150
Dark Elf Carpet, Mottled
Legerdemain, Drops
Parlor
Rugs and Carpets
Fine
Tailoring 4
Solvent Proficiency 2
Bast 6
Alchemical Resin 4
Obsidian 5
Hemming 9
Clothing
Pattern
Yes
50
Dark Elf Carpet, Patterned
Legerdemain, Drops
Parlor
Rugs and Carpets
Fine
Tailoring 3
Bast 5
Obsidian 5
Hemming 9
Clothing
Pattern
Yes
50
Dark Elf Cart, Merchant
Legerdemain, Drops
Courtyard
Carts and Wagons
Fine
Woodworking 5
Heartwood 7
Obsidian 5
Pitch 9
Woodworking
Blueprint
Yes
50
Dark Elf Cauldron, Banded
Legerdemain, Drops
Hearth
Cookware
Superior
Metalworking 6
Recipe Improvement 3
Regulus 9
Decorative Wax 6
Obsidian 10
Dwarven Oil 6
Blacksmithing
Diagram
Yes
150
Dark Elf Cauldron, Ringed
Legerdemain, Drops
Hearth
Cookware
Epic
Yes
400
Dark Elf Censer, Hanging
Legerdemain, Drops
Undercroft
Incense
Epic
Metalworking 8
Potency Improvement 4
Solvent Proficiency 4
Regulus 12
Mundane Rune 8
Alchemical Resin 8
Obsidian 15
Grain Solvent 3
Blacksmithing
Diagram
Yes
400
Dark Elf Chair, Angled
Legerdemain, Drops
Dining
Chairs
Fine
Metalworking 2
Tailoring 3
Woodworking 5
Heartwood 8
Regulus 5
Bast 6
Obsidian 5
Turpen 6
Woodworking
Blueprint
Yes
150
Dark Elf Chest of Drawers
Legerdemain, Drops
Suite
Wardrobes
Fine
Metalworking 2
Solvent Proficiency 1
Woodworking 4
Heartwood 6
Regulus 4
Alchemical Resin 3
Obsidian 5
Pitch 9
Woodworking
Blueprint
Yes
50
Dark Elf Column Lantern
Lighting
Lightposts
Fine
No
0
Dark Elf Counter, Bar
Legerdemain, Drops
Dining
Counters
Superior
Metalworking 4
Solvent Proficiency 3
Woodworking 7
Heartwood 10
Regulus 7
Alchemical Resin 6
Obsidian 10
Turpen 6
Woodworking
Blueprint
Yes
150
Dark Elf Counter, Block
Legerdemain, Drops
Dining
Counters
Epic
Metalworking 5
Solvent Proficiency 4
Woodworking 9
Heartwood 13
Regulus 9
Alchemical Resin 8
Obsidian 15
Mastic 3
Woodworking
Blueprint
Yes
400
Dark Elf Counter, Corner
Legerdemain, Drops
Dining
Counters
Epic
Metalworking 5
Solvent Proficiency 4
Woodworking 8
Heartwood 12
Regulus 9
Alchemical Resin 8
Obsidian 15
Mastic 3
Woodworking
Blueprint
Yes
400
Dark Elf Cruet, Glass
Legerdemain, Drops
Hearth
Dishes
Superior
Potency Improvement 3
Solvent Proficiency 6
Recipe Improvement 3
Alchemical Resin 9
Mundane Rune 6
Decorative Wax 6
Obsidian 10
Alchemy
Formula
Yes
150
Dark Elf Decanter, Glass
Legerdemain, Drops
Hearth
Dishes
Superior
Potency Improvement 3
Solvent Proficiency 6
Recipe Improvement 3
Alchemical Resin 9
Mundane Rune 6
Decorative Wax 6
Obsidian 10
Alchemy
Formula
Yes
150
Dark Elf Desk, Angled
Legerdemain, Drops
Library
Desks
Superior
Metalworking 5
Solvent Proficiency 3
Woodworking 8
Heartwood 11
Regulus 8
Alchemical Resin 6
Obsidian 10
Turpen 6
Woodworking
Blueprint
Yes
150
Dark Elf Divider, Folded
Legerdemain, Drops
Suite
Dividers
Epic
Metalworking 4
Solvent Proficiency 5
Woodworking 9
Heartwood 13
Regulus 8
Alchemical Resin 9
Obsidian 15
Mastic 3
Woodworking
Blueprint
Yes
400
Dark Elf Dresser, Angled
Legerdemain, Drops
Suite
Wardrobes
Superior
Woodworking 7
Heartwood 10
Obsidian 10
Turpen 6
Woodworking
Blueprint
Yes
150
Dark Elf End Table, Angled
Legerdemain, Drops
Dining
Tables
Superior
Metalworking 4
Solvent Proficiency 4
Woodworking 8
Heartwood 11
Regulus 7
Alchemical Resin 7
Obsidian 10
Turpen 6
Woodworking
Blueprint
Yes
150
Dark Elf Flags, Hanging
Legerdemain, Drops
Parlor
Banners
Superior
Tailoring 6
Potency Improvement 3
Solvent Proficiency 3
Bast 9
Mundane Rune 6
Alchemical Resin 6
Obsidian 10
Embroidery 6
Clothing
Pattern
Yes
150
Dark Elf Hook, Wall
Legerdemain, Drops
Gallery
Art
Superior
Metalworking 8
Potency Improvement 4
Woodworking 4
Regulus 11
Mundane Rune 7
Heartwood 7
Obsidian 10
Dwarven Oil 6
Blacksmithing
Diagram
Yes
150
Dark Elf Kettle Cooker
Legerdemain, Drops
Hearth
Stockroom
Epic
Metalworking 9
Potency Improvement 4
Recipe Improvement 5
Regulus 13
Mundane Rune 8
Decorative Wax 9
Obsidian 15
Grain Solvent 3
Blacksmithing
Diagram
Yes
400
Dark Elf Lantern, Ashen
Legerdemain, Drops
Lighting
Lanterns
Superior
Metalworking 8
Potency Improvement 4
Solvent Proficiency 4
Regulus 11
Mundane Rune 7
Alchemical Resin 7
Obsidian 10
Rakeipa 16
Dwarven Oil 6
Blacksmithing
Diagram
Yes
150
Dark Elf Lantern, Caged
Legerdemain, Drops
Lighting
Lanterns
Epic
Metalworking 5
Potency Improvement 2
Recipe Improvement 3
Regulus 9
Mundane Rune 6
Decorative Wax 7
Obsidian 15
Rakeipa 10
Grain Solvent 3
Blacksmithing
Diagram
Yes
400
Dark Elf Lantern, Hanging
Legerdemain, Drops
Lighting
Lanterns
Epic
Metalworking 5
Potency Improvement 2
Recipe Improvement 3
Regulus 9
Mundane Rune 6
Decorative Wax 7
Obsidian 15
Rakeipa 10
Grain Solvent 3
Blacksmithing
Diagram
Yes
400
Dark Elf Lantern, Oil
Legerdemain, Drops
Lighting
Lanterns
Fine
Potency Improvement 1
Solvent Proficiency 3
Alchemical Resin 5
Obsidian 5
Rakeipa 6
Mundane Rune 3
Alchemy
Formula
Yes
50
Dark Elf Lightpost, Capped
Lighting
Lightposts
Superior
No
0
Dark Elf Lightpost, Full
Lighting
Lightposts
Superior
No
0
Dark Elf Lightpost, Single
Lighting
Lightposts
Fine
No
0
Dark Elf Medallion, Tribunal
Legerdemain, Drops
Gallery
Art
Epic
Metalworking 10
Potency Improvement 5
Solvent Proficiency 5
Regulus 14
Mundane Rune 9
Alchemical Resin 9
Obsidian 15
Grain Solvent 3
Blacksmithing
Diagram
Yes
400
Dark Elf Nightstand, Angled
Legerdemain, Drops
Suite
Wardrobes
Epic
Metalworking 4
Solvent Proficiency 4
Woodworking 8
Heartwood 12
Regulus 8
Alchemical Resin 8
Obsidian 15
Mastic 3
Woodworking
Blueprint
Yes
400
Dark Elf Pillow, Body
Legerdemain, Drops
Suite
Pillows
Superior
Tailoring 5
Solvent Proficiency 2
Recipe Improvement 3
Bast 8
Alchemical Resin 5
Decorative Wax 6
Obsidian 10
Embroidery 6
Clothing
Pattern
Yes
150
Dark Elf Pillow, Cushion
Legerdemain, Drops
Suite
Pillows
Epic
Tailoring 8
Potency Improvement 4
Solvent Proficiency 4
Bast 12
Mundane Rune 8
Alchemical Resin 8
Obsidian 15
Elegant Lining 3
Clothing
Pattern
Yes
400
Dark Elf Pillow, Roll
Legerdemain, Drops
Suite
Pillows
Epic
Tailoring 8
Potency Improvement 4
Solvent Proficiency 4
Bast 12
Mundane Rune 8
Alchemical Resin 8
Obsidian 15
Elegant Lining 3
Clothing
Pattern
Yes
400
Dark Elf Pot, Banded
Legerdemain, Drops
Hearth
Pottery
Superior
Metalworking 8
Potency Improvement 4
Solvent Proficiency 4
Regulus 11
Mundane Rune 7
Alchemical Resin 7
Obsidian 10
Dwarven Oil 6
Blacksmithing
Diagram
Yes
150
Dark Elf Pot, Scaled
Legerdemain, Drops
Hearth
Pottery
Superior
Metalworking 3
Regulus 6
Obsidian 10
Dwarven Oil 6
Blacksmithing
Diagram
Yes
150
Dark Elf Rack, Barrel
Legerdemain, Drops
Hearth
Stockroom
Fine
Woodworking 5
Heartwood 7
Obsidian 5
Pitch 9
Woodworking
Blueprint
Yes
50
Dark Elf Rug, Fungal
Legerdemain, Drops
Parlor
Rugs and Carpets
Epic
Tailoring 6
Potency Improvement 3
Solvent Proficiency 3
Bast 10
Mundane Rune 7
Alchemical Resin 7
Obsidian 15
Elegant Lining 3
Clothing
Pattern
Yes
400
Dark Elf Rug, Mossy
Legerdemain, Drops
Parlor
Rugs and Carpets
Epic
Tailoring 9
Potency Improvement 4
Solvent Proficiency 5
Bast 13
Mundane Rune 8
Alchemical Resin 9
Obsidian 15
Elegant Lining 3
Clothing
Pattern
Yes
400
Dark Elf Rug, Striated
Legerdemain, Drops
Parlor
Rugs and Carpets
Epic
Tailoring 9
Potency Improvement 5
Solvent Proficiency 4
Bast 13
Mundane Rune 9
Alchemical Resin 8
Obsidian 15
Elegant Lining 3
Clothing
Pattern
Yes
400
Dark Elf Runner, Bordered
Legerdemain, Drops
Parlor
Rugs and Carpets
Fine
Tailoring 2
Bast 4
Obsidian 5
Hemming 9
Clothing
Pattern
Yes
50
Dark Elf Shelf, Barrel
Legerdemain, Drops
Library
Shelves
Superior
Metalworking 5
Solvent Proficiency 2
Woodworking 7
Heartwood 10
Regulus 8
Alchemical Resin 5
Obsidian 10
Turpen 6
Woodworking
Blueprint
Yes
150
Dark Elf Shelf, Wall
Legerdemain, Drops
Library
Shelves
Fine
Metalworking 2
Solvent Proficiency 2
Woodworking 4
Heartwood 6
Regulus 4
Alchemical Resin 4
Obsidian 5
Pitch 9
Woodworking
Blueprint
Yes
50
Dark Elf Sofa, Angled
Legerdemain, Drops
Parlor
Sofas and Couches
Epic
Metalworking 4
Tailoring 5
Woodworking 9
Heartwood 13
Regulus 8
Bast 9
Obsidian 15
Mastic 3
Woodworking
Blueprint
Yes
400
Dark Elf Stool, Angled
Legerdemain, Drops
Workshop
Stools
Superior
Metalworking 2
Tailoring 4
Woodworking 6
Heartwood 9
Regulus 5
Bast 7
Obsidian 10
Turpen 6
Woodworking
Blueprint
Yes
150
Dark Elf Streetlamp, Stone
Legerdemain, Drops
Lighting
Lightposts
Superior
Metalworking 6
Potency Improvement 3
Woodworking 3
Regulus 9
Mundane Rune 6
Heartwood 6
Obsidian 10
Rakeipa 12
Dwarven Oil 6
Blacksmithing
Diagram
Yes
150
Dark Elf Streetlamps, Stone
Legerdemain, Drops
Lighting
Lightposts
Superior
Metalworking 8
Potency Improvement 4
Woodworking 4
Regulus 11
Mundane Rune 7
Heartwood 7
Obsidian 10
Rakeipa 16
Dwarven Oil 6
Blacksmithing
Diagram
Yes
150
Dark Elf Streetpost, Stone
Legerdemain, Drops
Courtyard
Posts and Pillars
Fine
Woodworking 7
Heartwood 9
Obsidian 5
Pitch 9
Woodworking
Blueprint
Yes
50
Dark Elf Table, Formal
Legerdemain, Drops
Dining
Tables
Fine
Woodworking 4
Heartwood 6
Obsidian 5
Pitch 9
Woodworking
Blueprint
Yes
50
Dark Elf Table, Tea
Legerdemain, Drops
Parlor
Tea Tables
Epic
Metalworking 5
Solvent Proficiency 2
Woodworking 8
Heartwood 12
Regulus 9
Alchemical Resin 6
Obsidian 15
Mastic 3
Woodworking
Blueprint
Yes
400
Dark Elf Tapestry, Emblazoned
Legerdemain, Drops
Parlor
Tapestries
Fine
Tailoring 5
Solvent Proficiency 2
Bast 7
Alchemical Resin 4
Obsidian 5
Hemming 9
Clothing
Pattern
Yes
50
Dark Elf Thurible, Caged
Legerdemain, Drops
Undercroft
Incense
Epic
Metalworking 5
Solvent Proficiency 3
Recipe Improvement 2
Regulus 9
Alchemical Resin 7
Decorative Wax 6
Obsidian 15
Grain Solvent 3
Blacksmithing
Diagram
Yes
400
Dark Elf Trestle, Scaled
Legerdemain, Drops
Dining
Tables
Superior
Metalworking 3
Solvent Proficiency 3
Woodworking 6
Heartwood 9
Regulus 6
Alchemical Resin 6
Obsidian 10
Turpen 6
Woodworking
Blueprint
Yes
150
Dark Elf Trunk, Buckled
Legerdemain, Drops
Suite
Trunks
Epic
Metalworking 4
Tailoring 4
Woodworking 8
Heartwood 12
Regulus 8
Bast 8
Obsidian 15
Mastic 3
Woodworking
Blueprint
Yes
400
Dark Elf Urn, Banded
Legerdemain, Drops
Hearth
Pottery
Fine
Metalworking 3
Regulus 5
Obsidian 5
Honing Stone 9
Blacksmithing
Diagram
Yes
50
Dark Elf Wagon, Merchant
Legerdemain, Drops
Courtyard
Carts and Wagons
Superior
Metalworking 3
Solvent Proficiency 6
Woodworking 9
Heartwood 12
Regulus 6
Alchemical Resin 9
Obsidian 10
Turpen 6
Woodworking
Blueprint
Yes
150
Dark Elf Wardrobe, Angled
Legerdemain, Drops
Suite
Wardrobes
Epic
Metalworking 5
Potency Improvement 4
Woodworking 9
Heartwood 13
Regulus 9
Mundane Rune 8
Obsidian 15
Mastic 3
Woodworking
Blueprint
Yes
400
Dark Elf Wardrobe, Scaled
Legerdemain, Drops
Suite
Wardrobes
Superior
Metalworking 4
Solvent Proficiency 4
Woodworking 8
Heartwood 11
Regulus 7
Alchemical Resin 7
Obsidian 10
Turpen 6
Woodworking
Blueprint
Yes
150
Dark Elf Wine Rack, Sturdy
Legerdemain, Drops
Hearth
Stockroom
Superior
Woodworking 4
Heartwood 7
Obsidian 10
Turpen 6
Woodworking
Blueprint
Yes
150
Dark Ledger
Achievement Furnisher: Kvatch
50000
Library
Literature
Legendary
Requires Thirtieth Contract
No
0
Dark Ruins
Purchase: Mystic
5000 / collection
Library
Literature
Fine
Complete Appropriate Lorebook Collection
No
0
Darkest Darkness
Purchase: Mystic
5000 / collection
Library
Literature
Fine
Complete Appropriate Lorebook Collection
No
0
Deadric Vase, Spiked
Parlor
Vases
Superior
No
0
Death Marker
Purchase: Outlaw Refuge Merchant
5000
Undercroft
Grave Goods
Epic
Achievement: Serial Killer
No
0
Decommissioned Covenant Flaming Oil
Gallery
Honors and Awards
Epic
No
0
Decommissioned Pact Flaming Oil
Gallery
Honors and Awards
Epic
No
0
Decorative Safebox
Purchase: Outlaw Refuge Merchant
5000
Suite
Trunks
Epic
Achievement: Safebox Cracker
No
0
Decorative Skyshard
Achievement Furnisher: Alliance Capitals
25000
Miscellaneous
Legendary
Achievement: Tamriel Skyshard Hunter
No
0
Decorative Thieves Trove
Purchase: Outlaw Refuge Merchant
5000
Suite
Trunks
Epic
Achievement: Leave No Stash Behind
No
0
Decorative Treasure Chest
Achievement Furnisher: Alliance Capitals
10000
Suite
Trunks
Epic
Achievement: Treasure Chest hunter
No
0
Decoy Elder Scroll
Achievement Furnisher: Cyrodiil
200,000AP
Gallery
Honors and Awards
Legendary
Alliance Rank "Grand Overlord"
No
0
Deer Antlers on Plaque
Gallery
Mounted Decor
Superior
Yes
150
Deer Antlers, Mounted
Legerdemain, Drops
Gallery
Mounted Decor
Legendary
Metalworking 6
Potency Improvement 6
Recipe Improvement 6
Woodworking 6
Decorative Wax 11
Regulus 11
Mundane Rune 11
Heartwood 11
Nickel 20
Perfect Roe 1
Provisioning
Design
Yes
400
Deer Carcass, Hanging
Legerdemain, Drops
Gallery
Display
Legendary
Tailoring 6
Potency Improvement 6
Solvent Proficiency 6
Recipe Improvement 6
Decorative Wax 11
Bast 11
Mundane Rune 11
Alchemical Resin 11
Nickel 20
Perfect Roe 1
Provisioning
Design
No
0
Deer Head, Mounted
Gallery
Mounted Decor
Legendary
No
0
Defaced Covenant Flag
Achievement Furnisher: Cyrodiil
2,000AP
Gallery
Honors and Awards
Superior
Alliance Rank "Legate"
No
0
Defaced Dominion Flag
Achievement Furnisher: Cyrodiil
2,000AP
Gallery
Honors and Awards
Superior
Alliance Rank "Legate"
No
0
Defaced Pact Flag
Achievement Furnisher: Cyrodiil
2,000AP
Gallery
Honors and Awards
Superior
Alliance Rank "Legate"
No
0
Depleted Sigil Stone
Achievement Furnisher: Alliance Capitals
5000
Miscellaneous
Epic
Achievement: The Valle of Blades
No
0
Desk, Engraved
Legerdemain, Drops
Library
Desks
Superior
Metalworking 2
Potency Improvement 5
Solvent Proficiency 2
Woodworking 8
Heartwood 12
Regulus 6
Mundane Rune 9
Alchemical Resin 6
Nickel 10
Turpen 6
Woodworking
Blueprint
Yes
150
Dire Legends of the Doomcrag
Purchase: Mystic
5000 / collection
Library
Literature
Fine
Complete Appropriate Lorebook Collection
No
0
Disconnected Transitus Shrine
Achievement Furnisher: Cyrodiil
100,000AP
Gallery
Honors and Awards
Legendary
Alliance Rank "Overlord"
No
0
Display Craft Bag
Achievement Furnisher: Alliance Capitals
5000
Workshop
Tools
Epic
Active ESO Plus membership
No
0
Distracting Harpy Egg
Achievement Furnisher: Abah's Landing
1500
Miscellaneous
Superior
Achievement: What Price, Freedom?
No
0
Dock Rope Wheel
Workshop
Tools
Superior
No
0
Dock Winch
Workshop
Tools
Superior
No
0
Dominion Camp Banner
Achievement Furnisher: Cyrodiil
1,000AP and 607g
Gallery
Honors and Awards
Fine
Alliance Rank "Legionary"
No
0
Dominion Hero Shield
Achievement Furnisher: Cyrodiil
10000
Parlor
Banners
Epic
Achievement: Hero of the Aldmeri Dominion
No
0
Dominion Keep Pennant
Achievement Furnisher: Cyrodiil
8,000AP
Gallery
Honors and Awards
Superior
Alliance Rank "Grand Warlord"
No
0
Dominion Pennant, Small
Achievement Furnisher: Cyrodiil
200AP and 607g
Gallery
Honors and Awards
Fine
Alliance Rank "Volunteer"
No
0
Dominion Wall Banner, Large
Achievement Furnisher: Cyrodiil
3,000AP
Gallery
Honors and Awards
Superior
Alliance Rank "Veteran"
No
0
Dominion Wall Banner, Medium
Achievement Furnisher: Cyrodiil
600AP and 607g
Gallery
Honors and Awards
Fine
Alliance Rank "Tyro"
No
0
Dominion Wall Banner, Small
Achievement Furnisher: Cyrodiil
400AP and 607g
Gallery
Honors and Awards
Fine
Alliance Rank "Recruit"
No
0
Dragon Prayer Tile
Epic
No
0
Dragon Priest Mask
Undercroft
Sacred Pieces
Legendary
No
0
Dragon Priest Mask, Bronze
Undercroft
Sacred Pieces
Legendary
No
0
Dragon Priest Mask, Corundum
Undercroft
Sacred Pieces
Legendary
No
0
Dragon Priest Mask, Ebony
Undercroft
Sacred Pieces
Legendary
No
0
Dragon Priest Mask, Iron
Undercroft
Sacred Pieces
Legendary
No
0
Dragon Priest Mask, Steel
Undercroft
Sacred Pieces
Legendary
No
0
Dragon Priest Mask, Wooden
Undercroft
Sacred Pieces
Legendary
No
0
Dragon Shrine Altar
Achievement Furnisher: Fort Amol
20000
Structures
Blocks
Epic
Achievement: Skal-King's Salvation
No
0
Dreamwalkers
Purchase: Mystic
5000 / collection
Library
Literature
Fine
Complete Appropriate Lorebook Collection
No
0
Drumstick
Legerdemain, Drops
Hearth
Meats and Cheeses
Superior
Recipe Improvement 5
Decorative Wax 8
Nickel 10
Poultry 10
Bervez Juice 6
Provisioning
Design
No
0
Dueling Banner
Achievement Furnisher: Cyrodiil
10000
Parlor
Banners
Epic
Achievement: Master Duelist
No
0
Durzog Head, Wall Mount
Legerdemain, Drops
Gallery
Mounted Decor
Legendary
Tailoring 6
Solvent Proficiency 6
Recipe Improvement 6
Woodworking 6
Decorative Wax 11
Clean Pelt 11
Alchemical Resin 11
Heartwood 11
Nickel 20
Perfect Roe 1
Provisioning
Design
No
0
Dust's Shadow
Purchase: Mystic
5000 / collection
Library
Literature
Fine
Complete Appropriate Lorebook Collection
No
0
Dwarven Automatons
Purchase: Mystic
5000 / collection
Library
Literature
Fine
Complete Appropriate Lorebook Collection
No
0
Dwemer Dungeons: What I Know
Purchase: Mystic
5000 / collection
Library
Literature
Fine
Complete Appropriate Lorebook Collection
No
0
Dwemer Inquiries Volume I
Purchase: Mystic
5000 / collection
Library
Literature
Fine
Complete Appropriate Lorebook Collection
No
0
Dwemer Inquiries Volume II
Purchase: Mystic
5000 / collection
Library
Literature
Fine
Complete Appropriate Lorebook Collection
No
0
Dwemer Inquiries Volume III
Purchase: Mystic
5000 / collection
Library
Literature
Fine
Complete Appropriate Lorebook Collection
No
0
Dye Station
Purchase: Mastercraft Mediator
35WV
Workshop
Dye Stations
Legendary
No
0
Earthforge Hammer
Epic
No
0
Ebony Blade History
Purchase: Mystic
5000 / collection
Library
Literature
Fine
Complete Appropriate Lorebook Collection
No
0
Echatere Horns, Wall Mount
Legerdemain, Drops
Gallery
Mounted Decor
Legendary
Tailoring 6
Solvent Proficiency 6
Recipe Improvement 6
Woodworking 6
Decorative Wax 11
Clean Pelt 11
Alchemical Resin 11
Heartwood 11
Nickel 20
Perfect Roe 1
Provisioning
Design
No
0
Echatere, Wall Mount
Legerdemain, Drops
Gallery
Mounted Decor
Legendary
Tailoring 6
Solvent Proficiency 6
Recipe Improvement 6
Woodworking 6
Decorative Wax 11
Clean Pelt 11
Alchemical Resin 11
Heartwood 11
Nickel 20
Perfect Roe 1
Provisioning
Design
No
0
Elk Head, Wall Mount
Legerdemain, Drops
Gallery
Mounted Decor
Legendary
Tailoring 6
Solvent Proficiency 6
Recipe Improvement 6
Woodworking 6
Decorative Wax 11
Clean Pelt 11
Alchemical Resin 11
Heartwood 11
Nickel 20
Perfect Roe 1
Provisioning
Design
No
0
Elven Eyes, Elven Spies
Purchase: Mystic
5000 / collection
Library
Literature
Fine
Complete Appropriate Lorebook Collection
No
0
Enchanter's Sign
Purchase: Enchanter
5000
Parlor
Banners
Epic
Achievement: Master Enchamnter
No
0
Enchanting Gem
Purchase: Enchanter
5000
Miscellaneous
Epic
Achievement: Ruby Potency
No
0
Enchanting Station
Purchase: Mastercraft Mediator
35WV
Workshop
Enchanting Station
Legendary
No
0
Eulogy for Emperor Varen
Purchase: Mystic
5000 / collection
Library
Literature
Fine
Complete Appropriate Lorebook Collection
No
0
Evermore Mourning Banner
Achievement Furnisher: Evermore
4000
Parlor
Banners
Superior
Achievement: Evermore Defender
No
0
Exegesis of Merid-Nunda
Purchase: Mystic
5000 / collection
Library
Literature
Fine
Complete Appropriate Lorebook Collection
No
0
Faded Fence Banner
Purchase: Outlaw Refuge Merchant
10000
Parlor
Banners
Epic
Achievement: Black Market Mogul
No
0
Fair Argonian Maiden
Purchase: Mystic
5000 / collection
Library
Literature
Fine
Complete Appropriate Lorebook Collection
No
0
Fan Bush
Conservatory
Plants
Superior
No
0
Fan, Hand Fan
Parlor
Knick-Knacks
Legendary
No
0
Fang of the Sea Vipers
Purchase: Mystic
5000 / collection
Library
Literature
Fine
Complete Appropriate Lorebook Collection
No
0
Fern Cluster, Healthy
#N/A
Conservatory
Ferns
Standard
0
Fern Fronds, Healthy Green
Purchase: Home Goods Furnisher
90
Conservatory
Ferns
Standard
Vulkwasten
Yes
10
Fern Fronds, Sunburnt
Purchase: Home Goods Furnisher
90
Conservatory
Ferns
Standard
Vulkwasten
Yes
10
Fern Plant, Green Curly
Purchase: Home Goods Furnisher
90
Conservatory
Ferns
Standard
Vulkwasten, Daggerfall
Yes
10
Fern Plant, Hardy
Purchase: Home Goods Furnisher
90
Conservatory
Ferns
Standard
Rawl'kha
Yes
10
Fern Plant, Healthy Green
Purchase: Home Goods Furnisher
90
Conservatory
Ferns
Standard
Mournhold
Yes
10
Fern Plant, Sturdy Mature
Purchase: Home Goods Furnisher
90
Conservatory
Ferns
Standard
Vulkwasten
Yes
10
Fern Plant, Sturdy Towering
Purchase: Home Goods Furnisher
90
Conservatory
Ferns
Standard
Rawl'kha
Yes
10
Fern Plant, Vibrant
Purchase: Home Goods Furnisher
90
Conservatory
Ferns
Standard
Marbruk
Yes
10
Fern, Budding Forest
Purchase: Home Goods Furnisher
90
Conservatory
Ferns
Standard
Vulkwasten
Yes
10
Fern, Dead
Purchase: Home Goods Furnisher
90
Conservatory
Ferns
Standard
Riften
Yes
10
Fern, Fragile
Purchase: Home Goods Furnisher
90
Conservatory
Ferns
Standard
Rawl'kha
Yes
10
Fern, Healthy Green
Purchase: Home Goods Furnisher
90
Conservatory
Ferns
Standard
Marbruk
Yes
10
Fern, Hearty Autumn
Conservatory
Ferns
Fine
Yes
50
Fern, Low Red
Purchase: Home Goods Furnisher
90
Conservatory
Ferns
Standard
Vulkwasten
Yes
10
Fern, Lush
Purchase: Home Goods Furnisher
90
Conservatory
Ferns
Standard
Marbruk
Yes
10
Fern, Withering
Purchase: Home Goods Furnisher
90
Conservatory
Ferns
Standard
Rawl'kha
Yes
10
Fern, Young Healthy
Purchase: Home Goods Furnisher
90
Conservatory
Ferns
Standard
Marbruk
Yes
10
Fern, Young Sunburnt
Purchase: Home Goods Furnisher
90
Conservatory
Ferns
Standard
Rawl'kha
Yes
10
Fighters Curtains
Epic
No
0
Fighters Guild Banner
Purchase: Hall Steward
10000
Parlor
Banners
Epic
Achievemnet: Fighters Guild Veteran
No
0
Fighters Pike
Epic
No
0
Fighters Sign
Epic
No
0
Fighters Tapestry
Parlor
Tapestries
Epic
No
0
Firelogs, Ashen
Lighting
Fires
Fine
Yes
50
Firelogs, Charred
Lighting
Fires
Fine
Yes
50
Firelogs, Flaming
Lighting
Fires
Fine
Yes
50
Fires of the Wilderking
Achievement Furnisher: Marbruk
4000
Lighting
Braziers
Superior
Achievement: Court Ranger
No
0
Fish, Bass
Fishing
Hearth
Meats and Cheeses
Epic
Yes
400
Fish, Large
Fishing
Hearth
Meats and Cheeses
Superior
Potency Improvement 3
Solvent Proficiency 4
Recipe Improvement 6
Decorative Wax 10
Mundane Rune 7
Alchemical Resin 8
Nickel 10
Fish 12
Bervez Juice 6
Provisioning
Design
Yes
150
Fish, Medium
Fishing
Hearth
Meats and Cheeses
Superior
Potency Improvement 3
Solvent Proficiency 3
Recipe Improvement 5
Decorative Wax 9
Mundane Rune 7
Alchemical Resin 7
Nickel 10
Fish 10
Bervez Juice 6
Provisioning
Design
Yes
150
Fish, Salmon
Fishing
Hearth
Meats and Cheeses
Epic
Yes
400
Fish, Small
Fishing
Hearth
Meats and Cheeses
Superior
Potency Improvement 2
Solvent Proficiency 3
Recipe Improvement 4
Decorative Wax 8
Mundane Rune 6
Alchemical Resin 7
Nickel 10
Fish 8
Bervez Juice 6
Provisioning
Design
Yes
150
Fish, Trout
Fishing
Hearth
Meats and Cheeses
Epic
Yes
400
Fisher's Catch of the Day Rack
Hearth
Stockroom
Epic
No
0
Fishing Pole Rack
Hearth
Stockroom
Superior
No
0
Fishing Spear
Epic
No
0
Fishing Vessel
Achievement Furnisher: Alliance Capitals
25000
Miscellaneous
Legendary
Achievement: Master Fisher
No
0
Flesh to Cut from Bone
Purchase: Mystic
5000 / collection
Library
Literature
Fine
Complete Appropriate Lorebook Collection
No
0
Flower Patch, Violets
Conservatory
Trees
Superior
Yes
150
Flower, Grandmother Hibiscus
Purchase: Home Goods Furnisher
300
Conservatory
Trees
Superior
Yes
150
Flower, Healthy Hibiscus
Purchase: Home Goods Furnisher
270
Conservatory
Plants
Fine
Shornhelm
Yes
50
Flower, Red Honeysuckle
Conservatory
Plants
Fine
Yes
50
Flower, Stout Hibiscus
Purchase: Home Goods Furnisher
270
Conservatory
Plants
Fine
Shornhelm
Yes
50
Flowers, Golden Prairie
Conservatory
Trees
Superior
Yes
150
Flowers, Healthy Goldenrod
Purchase: Home Goods Furnisher
270
Conservatory
Plants
Fine
Belkarth
Yes
50
Flowers, Violet Prairie
Conservatory
Plants
Superior
Yes
150
Footstool, Block
#N/A
Workshop
Stools
Fine
0
Founding of the Spirit Wardens
Purchase: Mystic
5000 / collection
Library
Literature
Fine
Complete Appropriate Lorebook Collection
No
0
Fragmentae Abyssum Hermaeus Morus
Purchase: Mystic
5000 / collection
Library
Literature
Fine
Complete Appropriate Lorebook Collection
No
0
Freedom's Price
Purchase: Mystic
5000 / collection
Library
Literature
Fine
Complete Appropriate Lorebook Collection
No
0
Frontier, Conquest
Purchase: Mystic
5000 / collection
Library
Literature
Fine
Complete Appropriate Lorebook Collection
No
0
Full Moons Tile
Achievement Furnisher: Rawl'kha
5000
Undercroft
Sacred Pieces
Epic
Achievement: reaper's March Adventurer
No
0
Funeral Garden
Epic
No
0
Fur Throne
Achievement Furnisher: Orsinium
25000
Gallery
Thrones
Legendary
Achievement: Wrothgar Adventurer
No
0
Fur, Bear
Legerdemain, Drops
Gallery
Display
Superior
Tailoring 6
Solvent Proficiency 3
Bast 9
Alchemical Resin 6
Nickel 10
Embroidery 6
Clothing
Pattern
No
0
Furs, Hanging
Legerdemain, Drops
Gallery
Display
Superior
Tailoring 5
Recipe Improvement 2
Bast 8
Decorative Wax 5
Nickel 10
Embroidery 6
Clothing
Pattern
No
0
Furs, Wolf
Legerdemain, Drops
Gallery
Display
Superior
Tailoring 5
Solvent Proficiency 2
Bast 8
Alchemical Resin 5
Nickel 10
Embroidery 6
Clothing
Pattern
No
0
Galerion the Mystic
Purchase: Mystic
5000 / collection
Library
Literature
Fine
Complete Appropriate Lorebook Collection
No
0
Gallows
Undercroft
Torture
Epic
No
0
Gaming Die
Parlor
Knick-Knacks
Epic
Yes
400
Gargoyle Statue
Achievement Furnisher: Shornhelm
50000
Courtyard
Statues
Legendary
Achievement: Hero fo House Tamrith
No
0
Garlic String, Display
Legerdemain, Drops
Hearth
Produce
Fine
Recipe Improvement 2
Decorative Wax 4
Nickel 5 Garlic 4
Flour 20
Provisioning
Design
Yes
50
Geese, Hanging
Legerdemain, Drops
Gallery
Display
Legendary
Tailoring 6
Potency Improvement 6
Solvent Proficiency 6
Recipe Improvement 6
Decorative Wax 11
Bast 11
Mundane Rune 11
Alchemical Resin 11
Nickel 20
Perfect Roe 1
Provisioning
Design
No
0
Gem Pile, Costume
Conservatory
Trees
Epic
No
0
Gems, Costume
Conservatory
Trees
Epic
No
0
Gibbet, Single
Legerdemain, Drops
Undercroft
Torture
Epic
Metalworking 3
Tailoring 2
Woodworking 7
Heartwood 11
Regulus 7
Bast 6
Nickel 15
Mastic 3
Woodworking
Blueprint
Yes
400
Gifts of the Nereids
Purchase: Mystic
5000 / collection
Library
Literature
Fine
Complete Appropriate Lorebook Collection
No
0
Glenmoril Wyrd Stone
Achievement Furnisher: Evermore
4000
Undercroft
Sacred Pieces
Superior
Achievement: Bangkorai Adventurer
No
0
Glow Bush, Purple
Conservatory
Plants
Epic
No
0
Goblet, Wine
Legerdemain, Drops
Hearth
Dishes
Superior
Metalworking 3
Solvent Proficiency 3
Recipe Improvement 6
Decorative Wax 10
Regulus 7
Alchemical Resin 7
Nickel 10
Bervez Juice 6
Provisioning
Design
Yes
150
Gods and Worship in Tamriel
Purchase: Mystic
5000 / collection
Library
Literature
Fine
Complete Appropriate Lorebook Collection
No
0
Gold Coast Estate Keg
Achievement Furnisher: Kvatch
50000
Hearth
Stockroom
Legendary
Achievement: Dark Initiate
No
0
Goose, Hanging
Legerdemain, Drops
Gallery
Display
Legendary
Tailoring 6
Potency Improvement 6
Solvent Proficiency 6
Recipe Improvement 6
Decorative Wax 11
Bast 11
Mundane Rune 11
Alchemical Resin 11
Nickel 20
Perfect Roe 1
Provisioning
Design
No
0
Grand Soul Gem
Epic
No
0
Grapes, Wax
Legerdemain, Drops
Hearth
Produce
Fine
Recipe Improvement 1
Decorative Wax 3
Nickel 5
Jazbay Grapes 2
Flour 20
Provisioning
Design
Yes
50
Grass, Drying Bamboo Shoots
Conservatory
Trees
Standard
Yes
10
Grass, Tall Bamboo Shoots
Conservatory
Trees
Standard
Yes
10
Grass, Twin Bamboo Shoots
Conservatory
Trees
Standard
Yes
10
Grass, Young Bamboo Shoots
Conservatory
Trees
Standard
Yes
10
Grave Watcher
Epic
No
0
Great Harbingers of the Companions
Purchase: Mystic
5000 / collection
Library
Literature
Fine
Complete Appropriate Lorebook Collection
No
0
Great Soul Gem
Epic
No
0
Green Lady, My Lady
Purchase: Mystic
5000 / collection
Library
Literature
Fine
Complete Appropriate Lorebook Collection
No
0
Grilling Rack
Legerdemain, Drops
Hearth
Meats and Cheeses
Superior
Metalworking 7
Potency Improvement 3
Recipe Improvement 4
Regulus 11
Mundane Rune 7
Decorative Wax 8
Nickel 10
Red Meat 14
Dwarven Oil 6
Blacksmithing
Diagram
Yes
150
Grinding Wheel
Epic
No
0
Guard Lamppost
Lighting
Lightposts
Epic
No
0
Guardian Mane
Achievement Furnisher: Redfur Trading Post
15000
Courtyard
Statues
Epic
Achievement: Hero of Falinesti
No
0
Guide to the Daggerfall Covenant
Purchase: Mystic
5000 / collection
Library
Literature
Fine
Complete Appropriate Lorebook Collection
No
0
Guide to the Ebonheart Pact
Purchase: Mystic
5000 / collection
Library
Literature
Fine
Complete Appropriate Lorebook Collection
No
0
Guild Memo on Soul Trapping
Purchase: Mystic
5000 / collection
Library
Literature
Fine
Complete Appropriate Lorebook Collection
No
0
Guylaine's Dwemer Architecture
Purchase: Mystic
5000 / collection
Library
Literature
Fine
Complete Appropriate Lorebook Collection
No
0
Hagraven Totem
Achievement Furnisher: Daggerfall
5000
Undercroft
Sacred Pieces
Epic
Achievement: Glenumbra Adventurer
No
0
Haj Mota Head, Wall Mount
Legerdemain, Drops
Gallery
Mounted Decor
Legendary
Solvent Proficiency 8
Recipe Improvement 6
Woodworking 10
Decorative Wax 11
Alchemical Resin 13
Heartwood 15
Nickel 20
Perfect Roe 1
Provisioning
Design
No
0
Haj Mota Shell, Wall Mount
Legerdemain, Drops
Gallery
Mounted Decor
Legendary
Solvent Proficiency 8
Recipe Improvement 6
Woodworking 10
Decorative Wax 11
Alchemical Resin 13
Heartwood 15
Nickel 20
Perfect Roe 1
Provisioning
Design
No
0
Ham, Display
Legerdemain, Drops
Hearth
Meats and Cheeses
Superior
Recipe Improvement 4
Decorative Wax 7
Nickel 10
White Meat 8
Bervez Juice 6
Provisioning
Design
Yes
150
Handfast
Achievement Furnisher: Vulkwasten
25000
Undercroft
Sacred Pieces
Legendary
Achievement: Malabal Tor Adventurer
No
0
Handfast Pedestal
Achievement Furnisher: Vulkwasten
5000
Undercroft
Sacred Pieces
Epic
Achievement: Matchmaker
No
0
Hanging Hourglass
Achievement Furnisher: Kvatch
15000
Miscellaneous
Epic
Achievement: Wrath of Sithis
No
0
Hanging Map of Tamriel
Achievement Furnisher: Alliance Capitals
10000
Miscellaneous
Epic
Achievement: Tamriel Trailblazer
No
0
Hanging Wedding Lantern
Achievement Furnisher: Abah's Landing
3000
Lighting
Lanterns
Superior
Achievement: Wedding Crashers
No
0
Harbor Floats
Workshop
Tools
Epic
No
0
Harvester's Critter Trap
Purchase: Clothier
5000
Workshop
Tools
Epic
Achievement: Grand Master Crafting Harvester
No
0
Harvester's Garden Shrub
Purchase: Clothier
10000
Conservatory
Plants
Epic
Achievement: Grand Master Crafting Harvester
No
0
Harvester's Herbs
Purchase: Alchemist
1000
Miscellaneous
Superior
Achievement: Grand Master Crafting Harvester
No
0
Harvester's Ore
Purchase: Blacksmith
1000
Miscellaneous
Superior
Achievement: Grand Master Crafting Harvester
No
0
Harvester's Woodpile
Purchase: Woodworker
1000
Miscellaneous
Superior
Achievement: Grand Master Crafting Harvester
No
0
Hearty Bread
Legerdemain, Drops
Superior
Solvent Proficiency 1
Recipe Improvement 3
Decorative Wax 6
Alchemical Resin 4
Nickel 10
Bervez Juice 6
Provisioning
Design
Yes
150
Hectahame Arboretum Relic
Achievement Furnisher: Marbruk
10000
Undercroft
Grave Goods
Epic
Achievement: Valenwood Protector
No
0
Hedge, Dense High Wall
Conservatory
Shrubs
Superior
Yes
150
Hedge, Dense Low Arc
Conservatory
Shrubs
Superior
Yes
150
Hedge, Dense Low Wall
Purchase: Home Goods Furnisher
1529
Conservatory
Shrubs
Superior
Yes
150
Hedge, Green Short
Purchase: Home Goods Furnisher
300
Conservatory
Trees
Superior
Skywatch
Yes
150
href="Hedge, Large Horseshoe
Purchase: Home Goods Furnisher
300
Conservatory
Trees
Superior
Skywatch
Yes
150
Hedge, Small Horseshoe
Purchase: Home Goods Furnisher
300
Conservatory
Trees
Superior
Skywatch
Yes
150
Hedge, Solid Arc
Conservatory
Trees
Superior
No
0
Hedge, Tall Green
Purchase: Home Goods Furnisher
300
Conservatory
Trees
Superior
Skywatch
Yes
150
Hedge, Wall Arc
Conservatory
Trees
Superior
No
0
Heirloom Case, Tools
Workshop
Materials
Legendary
No
0
Heirloom PvP Aldmeri Banner
Gallery
Honors and Awards
Legendary
No
0
Heirloom PvP Aldmeri Flag
Gallery
Honors and Awards
Legendary
No
0
Heirloom PvP Aldmeri Penant
Gallery
Honors and Awards
Legendary
No
0
Heirloom PvP Aldmeri Siege Head
Gallery
Honors and Awards
Legendary
No
0
Heirloom PvP Aldmeri Sign
Gallery
Honors and Awards
Legendary
No
0
Heirloom PvP Aldmeri Standard
Gallery
Honors and Awards
Legendary
No
0
Heirloom PvP Aldmeri Tapestry
Gallery
Honors and Awards
Legendary
No
0
Heirloom PvP Daggerfall Banner
Gallery
Honors and Awards
Legendary
No
0
Heirloom PvP Daggerfall Flag
Gallery
Honors and Awards
Legendary
No
0
Heirloom PvP Daggerfall Penant
Gallery
Honors and Awards
Legendary
No
0
Heirloom PvP Daggerfall Siege Head
Gallery
Honors and Awards
Legendary
No
0
Heirloom PvP Daggerfall Sign
Gallery
Honors and Awards
Legendary
No
0
Heirloom PvP Daggerfall Standard
Gallery
Honors and Awards
Legendary
No
0
Heirloom PvP Daggerfall Tapestry
Gallery
Honors and Awards
Legendary
No
0
Heirloom PvP Ebonheart Banner
Gallery
Honors and Awards
Legendary
No
0
Heirloom PvP Ebonheart Flag
Gallery
Honors and Awards
Legendary
No
0
Heirloom PvP Ebonheart Penant
Gallery
Honors and Awards
Legendary
No
0
Heirloom PvP Ebonheart Siege Head
Gallery
Honors and Awards
Legendary
No
0
Heirloom PvP Ebonheart Sign
Gallery
Honors and Awards
Legendary
No
0
Heirloom PvP Ebonheart Standard
Gallery
Honors and Awards
Legendary
No
0
Heirloom PvP Ebonheart Tapestry
Gallery
Honors and Awards
Legendary
No
0
Heirloom PvP Imperial Banner
Gallery
Honors and Awards
Legendary
No
0
Heirloom PvP Imperial Tapestry
Gallery
Honors and Awards
Legendary
No
0
Heirloom PvP Outlaw Tapestry
Gallery
Honors and Awards
Legendary
No
0
Heirloom PvP Wormcult Banner
Gallery
Honors and Awards
Legendary
No
0
Heirloom PvP Wormcult Tapestry
Gallery
Honors and Awards
Legendary
No
0
Heirloom Scroll, Open Side
Library
Literature
Legendary
No
0
Heirloom Scroll, Opened
Library
Literature
Legendary
No
0
Heirloom Scroll, Tightly Rolled
Library
Literature
Legendary
No
0
Heirloom Scroll, Unraveled
Library
Literature
Legendary
No
0
Heirloom Scroll, Unused
Library
Literature
Legendary
No
0
Heron Statue
Epic
No
0
Hew's Bane Bed, Royal
Suite
Bedding
Epic
No
0
Hew's Bane Candlestick
Lighting
Candles
Superior
No
0
Hew's Bane Lantern
Lighting
Lanterns
Epic
No
0
Hew's Bane Merchant's Basket
Hearth
Baskets and Bags
Superior
No
0
Hew's Bane Rug
Parlor
Rugs and Carpets
Epic
No
0
Hew's Bane Well
Courtyard
Wells
Epic
No
0
Hiding Place
Achievement Furnisher: Abah's Landing
1000
Hearth
Baskets and Bags
Superior
Achievement: Always Travel Separately
No
0
High Elf Armoire, Winged
Legerdemain, Drops
Suite
Wardrobes
Epic
Metalworking 4
Solvent Proficiency 3
Woodworking 7
Heartwood 11
Regulus 8
Alchemical Resin 7
Adamantite 15
Mastic 3
Woodworking
Blueprint
Yes
400
High Elf Banner, Gilded
Legerdemain, Drops
Parlor
Banners
Epic
Tailoring 8
Potency Improvement 4
Recipe Improvement 4
Bast 12
Mundane Rune 8
Decorative Wax 8
Adamantite 15
Sapphire 16
Elegant Lining 3
Clothing
Pattern
No
0
High Elf Bar, Overhanging
Legerdemain, Drops
Dining
Counters
Superior
Metalworking 2
Potency Improvement 2
Woodworking 4
Heartwood 7
Regulus 5
Mundane Rune 5
Adamantite 10
Turpen 6
Woodworking
Blueprint
Yes
150
High Elf Basin, Gilded
Legerdemain, Drops
Undercroft
Basins
Fine
Metalworking 4
Potency Improvement 2
Solvent Proficiency 1
Regulus 6
Mundane Rune 4
Alchemical Resin 3
Adamantite 5
Honing Stone 9
Blacksmithing
Diagram
Yes
50
High Elf Basin, Standing
Legerdemain, Drops
Undercroft
Basins
Epic
Metalworking 8
Potency Improvement 5
Solvent Proficiency 3
Regulus 12
Mundane Rune 9
Alchemical Resin 7
Adamantite 15
Grain Solvent 3
Blacksmithing
Diagram
Yes
400
High Elf Basin, Winged
Legerdemain, Drops
Undercroft
Basins
Superior
Metalworking 8
Potency Improvement 4
Solvent Proficiency 4
Regulus 11
Mundane Rune 7
Alchemical Resin 7
Adamantite 10
Dwarven Oil 6
Blacksmithing
Diagram
Yes
150
High Elf Bed, Bunk
Legerdemain, Drops
Suite
Bedding
Fine
Tailoring 1
Woodworking 4
Heartwood 6
Bast 3
Adamantite 5
Pitch 9
Woodworking
Blueprint
Yes
50
High Elf Bed, Single
Legerdemain, Drops
Suite
Bedding
Fine
Tailoring 1
Woodworking 3
Heartwood 5
Bast 3
Adamantite 5
Pitch 9
Woodworking
Blueprint
Yes
50
High Elf Bed, Verdant
Legerdemain, Drops
Suite
Bedding
Superior
Metalworking 3
Tailoring 2
Woodworking 6
Heartwood 9
Regulus 6
Bast 5
Adamantite 10
Turpen 6
Woodworking
Blueprint
Yes
150
High Elf Bed, Winged
Legerdemain, Drops
Suite
Bedding
Superior
Metalworking 3
Tailoring 2
Woodworking 7
Heartwood 10
Regulus 6
Bast 5
Adamantite 10
Turpen 6
Woodworking
Blueprint
Yes
150
High Elf Bed, Winged Double
Legerdemain, Drops
Suite
Bedding
Epic
Metalworking 4
Tailoring 5
Woodworking 9
Heartwood 13
Regulus 8
Bast 9
Adamantite 15
Mastic 3
Woodworking
Blueprint
No
0
High Elf Bench, Covered
Legerdemain, Drops
Dining
Benches
Epic
Tailoring 7
Recipe Improvement 3
Woodworking 4
Bast 11
Decorative Wax 7
Heartwood 8
Adamantite 15
Elegant Lining 3
Clothing
Pattern
Yes
400
High Elf Bench, Curved
Legerdemain, Drops
Dining
Benches
Fine
Woodworking 2
Heartwood 4
Adamantite 5
Pitch 9
Woodworking
Blueprint
Yes
50
High Elf Bookcase, Verdant
Legerdemain, Drops
Library
Shelves
Superior
Metalworking 3
Potency Improvement 3
Woodworking 7
Heartwood 10
Regulus 6
Mundane Rune 6
Adamantite 10
Turpen 6
Woodworking
Blueprint
Yes
150
High Elf Bookcase, Winged
Legerdemain, Drops
Library
Shelves
Epic
Metalworking 5
Potency Improvement 3
Woodworking 8
Heartwood 12
Regulus 9
Mundane Rune 7
Adamantite 15
Mastic 3
Woodworking
Blueprint
Yes
400
High Elf Bookshelf, Verdant
Legerdemain, Drops
Library
Shelves
Fine
Potency Improvement 3
Woodworking 2
Mundane Rune 5
Heartwood 4
Adamantite 5
Jejota 9
Enchanting
Praxis
Yes
50
High Elf Bookshelf, Winged
Legerdemain, Drops
Library
Shelves
Epic
Metalworking 3
Potency Improvement 5
Woodworking 8
Heartwood 12
Regulus 7
Mundane Rune 9
Adamantite 15
Mastic 3
Woodworking
Blueprint
Yes
400
High Elf Bottle, Winged
Legerdemain, Drops
Hearth
Dishes
Superior
Metalworking 3
Solvent Proficiency 7
Recipe Improvement 4
Alchemical Resin 10
Regulus 6
Decorative Wax 7
Adamantite 10
Alchemy
Formula
Yes
150
High Elf Bowl, Serving
Legerdemain, Drops
Hearth
Dishes
Epic
Metalworking 7
Potency Improvement 4
Recipe Improvement 3
Regulus 11
Mundane Rune 8
Decorative Wax 7
Adamantite 15
Grain Solvent 3
Blacksmithing
Diagram
Yes
400
High Elf Brazier, Winged
Legerdemain, Drops
Lighting
Braziers
Epic
Metalworking 9
Potency Improvement 5
Woodworking 4
Regulus 13
Mundane Rune 9
Heartwood 8
Adamantite 15
Rakeipa 18
Grain Solvent 3
Blacksmithing
Diagram
Yes
400
High Elf Cabinet, Corner
Legerdemain, Drops
Hearth
Cabinetry
Epic
Metalworking 4
Recipe Improvement 3
Woodworking 7
Heartwood 11
Regulus 8
Decorative Wax 7
Adamantite 15
Mastic 3
Woodworking
Blueprint
Yes
400
High Elf Candelabra, Winged
Legerdemain, Drops
Lighting
Candles
Epic
Metalworking 8
Potency Improvement 4
Solvent Proficiency 4
Regulus 12
Mundane Rune 8
Alchemical Resin 8
Adamantite 15
Rakeipa 16
Grain Solvent 3
Blacksmithing
Diagram
No
0
High Elf Candle, Winged
Legerdemain, Drops
Lighting
Candles
Epic
Metalworking 7
Potency Improvement 4
Solvent Proficiency 3
Regulus 11
Mundane Rune 8
Alchemical Resin 7
Adamantite 15
Grain Solvent 3
Blacksmithing
Diagram
Yes
400
High Elf Candleholder, Sturdy
Legerdemain, Drops
Lighting
Candles
Fine
Metalworking 2
Regulus 4
Adamantite 5
Honing Stone 9
Blacksmithing
Diagram
Yes
50
High Elf Carafe, Gilded
Legerdemain, Drops
Hearth
Dishes
Superior
Metalworking 5
Potency Improvement 2
Solvent Proficiency 2
Regulus 8
Mundane Rune 5
Alchemical Resin 5
Adamantite 10
Dwarven Oil 6
Blacksmithing
Diagram
Yes
150
High Elf Carpet, Eagle
Legerdemain, Drops
Parlor
Rugs and Carpets
Epic
Tailoring 7
Solvent Proficiency 3
Recipe Improvement 4
Bast 11
Alchemical Resin 7
Decorative Wax 8
Adamantite 15
Elegant Lining 3
Clothing
Pattern
Yes
400
High Elf Carpet, Rustic
Legerdemain, Drops
Parlor
Rugs and Carpets
Fine
Tailoring 3
Bast 5
Adamantite 5
Hemming 9
Clothing
Pattern
Yes
50
High Elf Carpet, Tree-Themed
Legerdemain, Drops
Parlor
Rugs and Carpets
Superior
Tailoring 6
Solvent Proficiency 2
Recipe Improvement 3
Bast 9
Alchemical Resin 5
Decorative Wax 6
Adamantite 10
Ruby 12
Embroidery 6
Clothing
Pattern
Yes
150
High Elf Carpet, Water-Themed
Legerdemain, Drops
Parlor
Rugs and Carpets
Superior
Tailoring 6
Potency Improvement 2
Recipe Improvement 3
Bast 9
Mundane Rune 5
Decorative Wax 6
Adamantite 10
Sapphire 12
Embroidery 6
Clothing
Pattern
Yes
150
High Elf Chair, Regal Verdant
Legerdemain, Drops
Dining
Chairs
Epic
Metalworking 3
Tailoring 3
Woodworking 7
Heartwood 11
Regulus 7
Bast 7
Adamantite 15
Mastic 3
Woodworking
Blueprint
Yes
400
High Elf Chair, Regal Winged
Legerdemain, Drops
Dining
Chairs
Epic
Metalworking 5
Tailoring 3
Woodworking 8
Heartwood 12
Regulus 9
Bast 7
Adamantite 15
Mastic 3
Woodworking
Blueprint
Yes
400
High Elf Chair, Verdant
Legerdemain, Drops
Dining
Chairs
Superior
Woodworking 5
Heartwood 8
Adamantite 10
Turpen 6
Woodworking
Blueprint
Yes
150
High Elf Chair, Winged
Legerdemain, Drops
Dining
Chairs
Superior
Metalworking 4
Potency Improvement 3
Woodworking 7
Heartwood 10
Regulus 7
Mundane Rune 6
Adamantite 10
Turpen 6
Woodworking
Blueprint
Yes
150
High Elf Chandelier, Winged
Legerdemain, Drops
Lighting
Chandeliers
Epic
Metalworking 9
Potency Improvement 5
Solvent Proficiency 4
Regulus 13
Mundane Rune 9
Alchemical Resin 8
Adamantite 15
Rakeipa 18
Grain Solvent 3
Blacksmithing
Diagram
No
0
High Elf Chest of Drawers
Legerdemain, Drops
Suite
Wardrobes
Superior
Metalworking 2
Potency Improvement 1
Recipe Improvement 1
Woodworking 5
Heartwood 8
Regulus 5
Mundane Rune 4
Decorative Wax 4
Adamantite 10
Turpen 6
Woodworking
Blueprint
Yes
150
High Elf Counter, Block
Legerdemain, Drops
Dining
Counters
Epic
Metalworking 4
Recipe Improvement 3
Woodworking 7
Heartwood 11
Regulus 8
Decorative Wax 7
Adamantite 15
Mastic 3
Woodworking
Blueprint
Yes
400
High Elf Counter, Long Cabinet
Legerdemain, Drops
#N/A
Dining
Counters
Fine
Woodworking 4
Heartwood 6
Adamantite 5
Pitch 9
Woodworking
Blueprint
No
0
High Elf Crest, Winged
Legerdemain, Drops
Gallery
Art
Epic
Metalworking 9
Potency Improvement 6
Recipe Improvement 3
Regulus 13
Mundane Rune 10
Decorative Wax 7
Adamantite 15
Grain Solvent 3
Blacksmithing
Diagram
No
0
High Elf Cup, Gilded
Legerdemain, Drops
Hearth
Dishes
Fine
Metalworking 3
Regulus 5
Adamantite 5
Honing Stone 9
Blacksmithing
Diagram
Yes
50
High Elf Decanter, Glass
Legerdemain, Drops
Hearth
Dishes
Epic
Metalworking 4
Potency Improvement 3
Solvent Proficiency 7
Alchemical Resin 11
Regulus 8
Mundane Rune 7
Adamantite 15
Alchemy
Formula
Yes
400
High Elf Desk, Regal Winged
Legerdemain, Drops
Library
Desks
Epic
Metalworking 3
Potency Improvement 8
Woodworking 5
Mundane Rune 12
Regulus 7
Heartwood 9
Adamantite 15
Rekuta 3
Enchanting
Praxis
Yes
400
High Elf Desk, Sturdy
Legerdemain, Drops
Library
Desks
Fine
Woodworking 3
Heartwood 5
Adamantite 5
Pitch 9
Woodworking
Blueprint
Yes
50
High Elf Desk, Verdant
Legerdemain, Drops
Library
Desks
Superior
Metalworking 1
Potency Improvement 7
Woodworking 4
Mundane Rune 10
Regulus 4
Heartwood 7
Adamantite 10
Denata 6
Enchanting
Praxis
Yes
150
High Elf Divider, Carved
Legerdemain, Drops
Suite
Dividers
Epic
Metalworking 3
Tailoring 7
Woodworking 4
Bast 11
Regulus 7
Heartwood 8
Adamantite 15
Elegant Lining 3
Clothing
Pattern
Yes
400
High Elf Divider, Delicate
Legerdemain, Drops
Suite
Dividers
Epic
Metalworking 7
Tailoring 4
Woodworking 3
Regulus 11
Bast 8
Heartwood 7
Adamantite 15
Grain Solvent 3
Blacksmithing
Diagram
No
0
High Elf Dresser, Corner
Legerdemain, Drops
Suite
Wardrobes
Epic
Metalworking 3
Potency Improvement 7
Woodworking 4
Mundane Rune 11
Regulus 7
Heartwood 8
Adamantite 15
Rekuta 3
Enchanting
Praxis
Yes
400
High Elf Dresser, Sturdy
Legerdemain, Drops
Suite
Wardrobes
Fine
Woodworking 4
Heartwood 6
Adamantite 5
Pitch 9
Woodworking
Blueprint
Yes
50
High Elf Dresser, Verdant
Legerdemain, Drops
Suite
Wardrobes
Superior
Metalworking 2
Potency Improvement 5
Woodworking 2
Mundane Rune 8
Regulus 5
Heartwood 5
Adamantite 10
Denata 6
Enchanting
Praxis
Yes
150
High Elf Dresser, Winged
Legerdemain, Drops
Suite
Wardrobes
Epic
Metalworking 4
Potency Improvement 8
Woodworking 4
Mundane Rune 12
Regulus 8
Heartwood 8
Adamantite 15
Rekuta 3
Enchanting
Praxis
Yes
400
High Elf End Table, Sturdy
Legerdemain, Drops
Dining
Tables
Fine
Woodworking 2
Heartwood 4
Adamantite 5
Pitch 9
Woodworking
Blueprint
Yes
50
High Elf End Table, Verdant
Legerdemain, Drops
Dining
Tables
Superior
Metalworking 2
Potency Improvement 4
Woodworking 2
Mundane Rune 7
Regulus 5
Heartwood 5
Adamantite 10
Denata 6
Enchanting
Praxis
Yes
150
High Elf End Table, Winged
Legerdemain, Drops
Dining
Tables
Epic
Metalworking 3
Potency Improvement 7
Woodworking 4
Mundane Rune 11
Regulus 7
Heartwood 8
Adamantite 15
Rekuta 3
Enchanting
Praxis
Yes
400
High Elf Flask, Gilded
Legerdemain, Drops
Hearth
Dishes
Fine
Metalworking 3
Regulus 5
Adamantite 5
Honing Stone 9
Blacksmithing
Diagram
Yes
50
High Elf Flute, Wine
Legerdemain, Drops
Hearth
Drinkware
Superior
Metalworking 4
Solvent Proficiency 2
Recipe Improvement 2
Regulus 7
Alchemical Resin 5
Decorative Wax 5
Adamantite 10
Dwarven Oil 6
Blacksmithing
Diagram
Yes
150
High Elf Goblet, Glass
Legerdemain, Drops
Hearth
Dishes
Epic
Metalworking 4
Solvent Proficiency 7
Recipe Improvement 3
Alchemical Resin 11
Regulus 8
Decorative Wax 7
Adamantite 15
Alchemy
Formula
Yes
400
High Elf Goblet, Winged
Legerdemain, Drops
Hearth
Dishes
Epic
Metalworking 7
Solvent Proficiency 3
Recipe Improvement 4
Regulus 11
Alchemical Resin 7
Decorative Wax 8
Adamantite 15
Grain Solvent 3
Blacksmithing
Diagram
Yes
400
High Elf Lamp, Oil
Legerdemain, Drops
Lighting
Lamps
Superior
Metalworking 3
Solvent Proficiency 1
Regulus 6
Alchemical Resin 4
Adamantite 10
Dwarven Oil 6
Blacksmithing
Diagram
Yes
150
High Elf Lamppost, Spiked
Legerdemain, Drops
Lighting
Lightposts
Superior
Metalworking 3
Potency Improvement 6
Solvent Proficiency 3
Mundane Rune 9
Regulus 6
Alchemical Resin 6
Adamantite 10
Rakeipa 12
Denata 6
Enchanting
Praxis
Yes
150
High Elf Lamppost, Stone
Legerdemain, Drops
Lighting
Lightposts
Epic
Metalworking 7
Potency Improvement 9
Woodworking 2
Mundane Rune 13
Regulus 11
Heartwood 6
Adamantite 15
Rakeipa 18
Rekuta 3
Enchanting
Praxis
Yes
400
High Elf Medal, Winged
Legerdemain, Drops
Gallery
Art
Epic
Unknwon 8
Potency Improvement 4
Recipe Improvement 4
Regulus 12
Mundane Rune 8
Decorative Wax 8
Adamantite 15
Sapphire 16
Grain Solvent 3
Blacksmithing
Diagram
No
0
High Elf Medallion, Winged
Gallery
Art
Legendary
No
0
High Elf Plate, Dinner
Legerdemain, Drops
Hearth
Dishes
Fine
Metalworking 3
Regulus 5
Adamantite 5
Honing Stone 9
Blacksmithing
Diagram
Yes
50
High Elf Platter, Gilded
Legerdemain, Drops
Hearth
Dishes
Superior
Metalworking 5
Solvent Proficiency 2
Recipe Improvement 3
Regulus 8
Alchemical Resin 5
Decorative Wax 6
Adamantite 10
Dwarven Oil 6
Blacksmithing
Diagram
Yes
150
High Elf Platter, Winged
Legerdemain, Drops
Hearth
Dishes
Epic
Metalworking 7
Potency Improvement 3
Recipe Improvement 4
Regulus 11
Mundane Rune 7
Decorative Wax 8
Adamantite 15
Grain Solvent 3
Blacksmithing
Diagram
Yes
400
High Elf Pot, Hanging
Legerdemain, Drops
Hearth
Pottery
Epic
Metalworking 8
Potency Improvement 4
Solvent Proficiency 4
Regulus 12
Mundane Rune 8
Alchemical Resin 8
Adamantite 15
Grain Solvent 3
Blacksmithing
Diagram
Yes
400
High Elf Sconce, Winged
Legerdemain, Drops
Lighting
Sconces
Epic
Unknwon 8
Potency Improvement 4
Recipe Improvement 4
Regulus 12
Mundane Rune 8
Decorative Wax 8
Adamantite 15
Sapphire 16
Grain Solvent 3
Blacksmithing
Diagram
No
0
High Elf Shelf, Long
Legerdemain, Drops
Library
Shelves
Fine
Woodworking 2
Heartwood 4
Adamantite 5
Pitch 9
Woodworking
Blueprint
Yes
50
High Elf Shelf, Short
Legerdemain, Drops
Library
Shelves
Fine
Woodworking 2
Heartwood 4
Adamantite 5
Pitch 9
Woodworking
Blueprint
Yes
50
High Elf Statue, Base
Courtyard
Statues
Epic
No
0
High Elf Stool, Covered
Legerdemain, Drops
Workshop
Stools
Epic
Metalworking 2
Tailoring 3
Woodworking 5
Heartwood 9
Regulus 6
Bast 7
Adamantite 15
Mastic 3
Woodworking
Blueprint
Yes
400
High Elf Stool, Curved
Legerdemain, Drops
Workshop
Stools
Fine
Woodworking 2
Heartwood 4
Adamantite 5
Pitch 9
Woodworking
Blueprint
Yes
50
High Elf Streetlight, Stone
Legerdemain, Drops
Courtyard
Posts and Pillars
Epic
Metalworking 7
Potency Improvement 9
Solvent Proficiency 2
Mundane Rune 13
Regulus 11
Alchemical Resin 6
Adamantite 15
Rakeipa 18
Rekuta 3
Enchanting
Praxis
Yes
400
High Elf Table, Sturdy Formal
Legerdemain, Drops
Dining
Tables
Fine
Woodworking 2
Heartwood 4
Adamantite 5
Pitch 9
Woodworking
Blueprint
Yes
50
High Elf Table, Sturdy Kitchen
Legerdemain, Drops
Dining
Tables
Fine
Woodworking 4
Heartwood 6
Adamantite 5
Pitch 9
Woodworking
Blueprint
Yes
50
High Elf Table, Tea
Legerdemain, Drops
Dining
Tables
Epic
Metalworking 4
Potency Improvement 9
Woodworking 5
Mundane Rune 13
Regulus 8
Heartwood 9
Adamantite 15
Rekuta 3
Enchanting
Praxis
No
0
High Elf Table, Verdant Formal
Legerdemain, Drops
Dining
Tables
Superior
Metalworking 2
Potency Improvement 5
Woodworking 3
Mundane Rune 8
Regulus 5
Heartwood 6
Adamantite 10
Denata 6
Enchanting
Praxis
Yes
150
High Elf Table, Verdant Kitchen
Legerdemain, Drops
Dining
Tables
Superior
Metalworking 1
Potency Improvement 6
Woodworking 3
Mundane Rune 9
Regulus 4
Heartwood 6
Adamantite 10
Denata 6
Enchanting
Praxis
Yes
150
High Elf Table, Winged Formal
Legerdemain, Drops
Dining
Tables
Epic
Metalworking 3
Potency Improvement 7
Woodworking 4
Mundane Rune 11
Regulus 7
Heartwood 8
Adamantite 15
Rekuta 3
Enchanting
Praxis
Yes
400
High Elf Table, Winged Kitchen
Legerdemain, Drops
Dining
Tables
Epic
Metalworking 3
Potency Improvement 7
Woodworking 4
Mundane Rune 11
Regulus 7
Heartwood 8
Adamantite 15
Rekuta 3
Enchanting
Praxis
Yes
400
High Elf Tapestry, Eagle
Legerdemain, Drops
Parlor
Tapestries
Epic
Tailoring 8
Potency Improvement 4
Recipe Improvement 4
Bast 12
Mundane Rune 8
Decorative Wax 8
Adamantite 15
Elegant Lining 3
Clothing
Pattern
Yes
400
High Elf Tapestry, Gilded
Parlor
Tapestries
Epic
No
0
High Elf Tapestry, Rustic
Legerdemain, Drops
Parlor
Tapestries
Fine
Tailoring 3
Bast 5
Adamantite 5
Hemming 9
Clothing
Pattern
Yes
50
High Elf Tapestry, Tree-Themed
Legerdemain, Drops
Parlor
Tapestries
Superior
Tailoring 7
Recipe Improvement 4
Bast 10
Decorative Wax 7
Adamantite 10
Ruby 14
Embroidery 6
Clothing
Pattern
Yes
150
High Elf Tapestry, Water-Themed
Legerdemain, Drops
Parlor
Tapestries
Superior
Tailoring 7
Potency Improvement 3
Recipe Improvement 3
Bast 10
Mundane Rune 6
Decorative Wax 6
Adamantite 10
Sapphire 14
Embroidery 6
Clothing
Pattern
Yes
150
High Elf Throne
Achievement Furnisher: Skywatch
25000
Gallery
Thrones
Legendary
Metalworking 8
Tailoring 8
Potency Improvement 10
Solvent Proficiency 4
Mundane Rune 15
Regulus 13
Bast 13
Alchemical Resin 9
Adamantite 20
Kuta 1
Enchanting
Praxis
No
0
High Elf Trestle, Sturdy
Legerdemain, Drops
Dining
Tables
Fine
Woodworking 2
Heartwood 4
Adamantite 5
Pitch 9
Woodworking
Blueprint
Yes
50
High Elf Trestle, Verdant
Legerdemain, Drops
Dining
Tables
Superior
Metalworking 2
Potency Improvement 6
Woodworking 3
Mundane Rune 9
Regulus 5
Heartwood 6
Adamantite 10
Denata 6
Enchanting
Praxis
Yes
150
High Elf Trestle, Winged
Legerdemain, Drops
Dining
Tables
Epic
Metalworking 4
Potency Improvement 8
Woodworking 4
Mundane Rune 12
Regulus 8
Heartwood 8
Adamantite 15
Rekuta 3
Enchanting
Praxis
Yes
400
High Elf Trunk, Jeweled
Legerdemain, Drops
Suite
Trunks
Epic
Metalworking 8
Potency Improvement 4
Woodworking 4
Regulus 12
Mundane Rune 8
Heartwood 8
Adamantite 15
Sapphire 16
Grain Solvent 3
Blacksmithing
Diagram
Yes
400
High Elf Trunk, Winged
Legerdemain, Drops
Suite
Trunks
Superior
Metalworking 4
Potency Improvement 2
Woodworking 6
Heartwood 9
Regulus 7
Mundane Rune 5
Adamantite 10
Turpen 6
Woodworking
Blueprint
Yes
150
High Elf Vase, Gilded
Legerdemain, Drops
Parlor
Vases
Superior
Metalworking 5
Potency Improvement 2
Recipe Improvement 2
Regulus 8
Mundane Rune 5
Decorative Wax 5
Adamantite 10
Dwarven Oil 6
Blacksmithing
Diagram
No
150
High Elf Vase, Winged
Legerdemain, Drops
Parlor
Vases
Epic
Metalworking 3
Potency Improvement 4
Solvent Proficiency 7
Alchemical Resin 11
Regulus 7
Mundane Rune 8
Adamantite 15
Alchemy
Formula
Yes
400
High Elf Wagon, Covered
Legerdemain, Drops
Courtyard
Carts and Wagons
Epic
Metalworking 2
Tailoring 7
Woodworking 9
Heartwood 13
Regulus 6
Bast 11
Adamantite 15
Mastic 3
Woodworking
Blueprint
Yes
400
High Elf Wagon, Sturdy
Legerdemain, Drops
Courtyard
Carts and Wagons
Superior
Metalworking 3
Solvent Proficiency 2
Woodworking 6
Heartwood 9
Regulus 6
Alchemical Resin 5
Adamantite 10
Turpen 6
Woodworking
Blueprint
Yes
150
High Elf Wine Rack, Folding
Legerdemain, Drops
Hearth
Stockroom
Superior
Metalworking 3
Solvent Proficiency 4
Woodworking 7
Heartwood 10
Regulus 6
Alchemical Resin 7
Adamantite 10
Turpen 6
Woodworking
Blueprint
Yes
150
Hist Bloom
Epic
No
0
Hist Blossom
Epic
No
0
Hist Bud
Epic
No
0
History of the Fighters Guild Pt. 1
Purchase: Mystic
5000 / collection
Library
Literature
Fine
Complete Appropriate Lorebook Collection
No
0
History of the Fighters Guild Pt. 2
Purchase: Mystic
5000 / collection
Library
Literature
Fine
Complete Appropriate Lorebook Collection
No
0
Holding Cell
Undercroft
Torture
Epic
No
0
Hope of Rivenspire
Achievement Furnisher: Shornhelm
5000
Lighting
Lightposts
Epic
Achievement: Hero of House Dorell
No
0
Horn, Carved
Legerdemain, Drops
Parlor
Knick-Knacks
Superior
Potency Improvement 2
Woodworking 5
Heartwood 8
Mundane Rune 5
Nickel 10
Turpen 6
Woodworking
Blueprint
No
0
Horn, Display
Gallery
Display
Legendary
No
0
Horn, Display, Cracked
Legerdemain, Drops
Gallery
Display
Legendary
Metalworking 10
Potency Improvement 10
Solvent Proficiency 8
Recipe Improvement 6
Regulus 15
Mundane Rune 15
Alchemical Resin 13
Decorative Wax 11
Nickel 20
Tempering Alloy 1
Blacksmithing
Diagram
No
0
Horn, Display, Huge
Legerdemain, Drops
Gallery
Display
Legendary
Metalworking 10
Potency Improvement 10
Solvent Proficiency 8
Recipe Improvement 6
Regulus 15
Mundane Rune 15
Alchemical Resin 13
Decorative Wax 11
Nickel 20
Tempering Alloy 1
Blacksmithing
Diagram
No
0
Horn, Ritual
Legerdemain, Drops
Parlor
Knick-Knacks
Epic
Potency Improvement 4
Solvent Proficiency 2
Recipe Improvement 2
Woodworking 8
Heartwood 12
Mundane Rune 8
Alchemical Resin 6
Decorative Wax 6
Nickel 15
Mastic 3
Woodworking
Blueprint
Yes
400
Horse-Folk of Silverhoof
Purchase: Mystic
5000 / collection
Library
Literature
Fine
Complete Appropriate Lorebook Collection
No
0
Hourglass Rug
Achievement Furnisher: Kvatch
10000
Parlor
Rugs and Carpets
Epic
Achievement: Sermonizer Subduer
No
0
Hourglass, Common
Legerdemain, Drops
Parlor
Knick-Knacks
Epic
Metalworking 7
Solvent Proficiency 5
Recipe Improvement 2
Regulus 11
Nickel 15
Alchemical Resin 9
Decorative Wax 6
Grain Solvent 3
Blacksmithing
Diagram
Yes
400
House Ravenwatch Proclamation
Purchase: Mystic
5000 / collection
Library
Literature
Fine
Complete Appropriate Lorebook Collection
No
0
House Tamrith: A Recent History
Purchase: Mystic
5000 / collection
Library
Literature
Fine
Complete Appropriate Lorebook Collection
No
0
House Tharn of Nibenay
Purchase: Mystic
5000 / collection
Library
Literature
Fine
Complete Appropriate Lorebook Collection
No
0
How the Kwama Lost His Shoes
Purchase: Mystic
10000 / collection
Library
Literature
Superior
Complete Appropriate Lorebook Collection
No
0
I was Summoned by a Mortal
Purchase: Mystic
5000 / collection
Library
Literature
Fine
Complete Appropriate Lorebook Collection
No
0
Imperial Altar of the Bay
Undercroft
Sacred Pieces
Epic
Yes
400
Imperial Armchair, Scrollwork
Dining
Chairs
Epic
Yes
400
Imperial Banner
Achievement Furnisher: Imperial City
15,000TV
Parlor
Banners
Epic
Achievement: Imperial Sewers Pathfinder
No
0
Imperial Banner, Akatosh
#N/A
Parlor
Banners
Fine
No
0
Imperial Banner, Dibella
Parlor
Banners
Epic
400
Imperial Banner, Kyne
#N/A
Parlor
Banners
Fine
No
0
Imperial Banner, Stendarr
#N/A
Parlor
Banners
Fine
No
0
Imperial Bar, Cabinet
Dining
Counters
Epic
Yes
400
Imperial Basin, Heavy
Undercroft
Basins
Superior
Yes
150
Imperial Basin, Stone
Undercroft
Basins
Fine
Yes
50
Imperial Bed, Bunk
Suite
Bedding
Fine
Yes
50
Imperial Bed, Canopy
Suite
Bedding
Epic
Yes
400
Imperial Bed, Double
Suite
Bedding
Superior
Yes
150
Imperial Bed, Four-Poster
Suite
Bedding
Superior
Yes
150
Imperial Bed, Single
Suite
Bedding
Fine
Yes
50
Imperial Bench, Fitted
Dining
Benches
Superior
Yes
150
Imperial Bench, Scrollwork
Dining
Benches
Epic
Yes
400
Imperial Bookcase, Scrollwork
Library
Shelves
Superior
Yes
150
Imperial Bookcase, Swirled
Library
Shelves
Fine
Yes
50
Imperial Brazier, Caged Sconce
Lighting
Braziers
Epic
Yes
400
Imperial Brazier, Firepot
Lighting
Braziers
Superior
Yes
150
Imperial Brazier, Spiked
Lighting
Braziers
Fine
Yes
50
Imperial Cabinet, Scrollwork
Hearth
Cabinetry
Epic
Yes
400
Imperial Carpet, Akatosh
Parlor
Rugs and Carpets
Fine
Yes
50
Imperial Carpet, Dibella
Parlor
Rugs and Carpets
Epic
Yes
400
Imperial Carpet, Kyne
Parlor
Rugs and Carpets
Epic
Yes
400
Imperial Carpet, Stendarr
#N/A
Parlor
Rugs and Carpets
Fine
No
0
Imperial Carpet, Dibella
#N/A
Parlor
Rugs and Carpets
Fine
No
0
Imperial Cauldron, Pitch-Filled
#N/A
Undercroft
Torture
Superior
No
0
Imperial Chair, Rocking
Dining
Chairs
Superior
Yes
150
Imperial Chair, Scrollwork
Dining
Chairs
Epic
Yes
400
Imperial Chair, Slatted
Dining
Chairs
Fine
Yes
50
Imperial Chair, Windowed
Dining
Chairs
Superior
Yes
150
Imperial Chest of Drawers
Suite
Wardrobes
Superior
Yes
150
Imperial Chest, Chest
Suite
Trunks
Superior
Yes
150
Imperial Coffer, Scrollwork
Suite
Trunks
Epic
Yes
400
Imperial Counter, Corner
Dining
Counters
Epic
Yes
400
Imperial Counter, Long Cabinet
#N/A
Dining
Counters
Superior
No
0
Imperial Cradle, Scrollwork
Suite
Bedding
Epic
Yes
400
Imperial Cupboard, Scrollwork
Hearth
Cabinetry
Superior
Yes
150
Imperial Curio, Scrollwork
Hearth
Cabinetry
Epic
Yes
400
Imperial Desk, Desk
Library
Desks
Fine
Yes
50
Imperial Desk, Scrollwork
Library
Desks
Epic
Yes
400
Imperial Desk, Swirled
Library
Desks
Superior
Yes
150
Imperial Divider, Curved
Suite
Dividers
Epic
Yes
400
Imperial Divider, Folding
Suite
Dividers
Epic
Yes
400
Imperial Dresser, Open
Suite
Wardrobes
Fine
Yes
50
Imperial Dresser, Scrollwork
Suite
Wardrobes
Epic
Yes
400
Imperial Dresser, Short
Suite
Wardrobes
Fine
Yes
50
Imperial Footlocker, Scrollwork
Suite
Trunks
Epic
Yes
400
Imperial Forge, Covered
Workshop
Blacksmithing Station
Epic
No
0
Imperial Fountain of the Bay
Courtyard
Fountains
Epic
Yes
400
Imperial Hutch, Scrollwork
#N/A
Hearth
Cabinetry
Superior
0
Imperial Lantern, Imperial City
Lighting
Lanterns
Epic
Yes
400
Imperial Lantern, Wall
Lighting
Lanterns
Fine
Yes
50
Imperial Lightpost, Full
Lighting
Lightposts
Epic
Yes
400
Imperial Lightpost, Pair
Lighting
Lightposts
Superior
Yes
150
Imperial Lightpost, Single
Lighting
Lightposts
Superior
Yes
150
Imperial Lightpost, Stone
#N/A
Lighting
Lightposts
Fine
0
Imperial Medallion, Imperial
Gallery
Art
Epic
Yes
400
Imperial Mirror, Standing
Suite
Mirrors
Epic
Yes
400
Imperial Nightstand, Scrollwork
Suite
Wardrobes
Epic
Yes
400
Imperial Pedestal, Chiseled
Undercroft
Sacred Pieces
Epic
Yes
400
Imperial Pedestal, Stone
Undercroft
Sacred Pieces
Fine
Yes
50
Imperial Pew, Scrollwork
Dining
Benches
Epic
Yes
400
Imperial Pew, Windowed
Dining
Benches
Superior
Yes
150
Imperial Pillar, Chipped
Courtyard
Posts and Pillars
Epic
Yes
400
Imperial Pillar, Straight
Courtyard
Posts and Pillars
Epic
Yes
400
Imperial Rack, Cask
Hearth
Stockroom
Fine
Yes
50
Imperial Rug, Akatosh
Parlor
Rugs and Carpets
Superior
Yes
150
Imperial Rug, Dibella
Parlor
Rugs and Carpets
Epic
Yes
400
Imperial Rug, Kynareth
Parlor
Rugs and Carpets
Superior
Yes
150
Imperial Rug, Stars
Parlor
Rugs and Carpets
Superior
Yes
150
Imperial Rug, Stendarr
Parlor
Rugs and Carpets
Superior
Yes
150
Imperial Shelf, Barrel
Library
Shelves
Superior
Yes
150
Imperial Shelf, Wall
Library
Shelves
Fine
Yes
50
Imperial Shrine of the Bay
Undercroft
Sacred Pieces
Epic
Yes
400
Imperial Sideboard, Scrollwork
Hearth
Cabinetry
Epic
Yes
400
Imperial Statue, Emperor
Courtyard
Statues
Epic
Yes
400
Imperial Statue, Knight
Courtyard
Statues
Epic
Yes
400
Imperial Statue, Monolith
Courtyard
Statues
Superior
Yes
150
Imperial Statue, Obelisk
Courtyard
Statues
Superior
Yes
150
Imperial Statue, Warrior
Courtyard
Statues
Epic
Yes
400
Imperial Stool, Padded
Workshop
Stools
Epic
Yes
400
Imperial Stool, Sturdy
Workshop
Stools
Fine
Yes
50
Imperial Streetlight, Imperial City
Lighting
Lightposts
Epic
Yes
400
Imperial Table, Common
Dining
Tables
Fine
Yes
50
Imperial Table, Dining
Dining
Tables
Superior
Yes
150
Imperial Table, Family
Dining
Tables
Fine
Yes
50
Imperial Table, Formal
Dining
Tables
Epic
Yes
400
Imperial Table, Game
Dining
Tables
Superior
Yes
150
Imperial Table, Kitchen
Dining
Tables
Superior
Yes
150
Imperial Tapestry, Akatosh
Parlor
Tapestries
Superior
Yes
150
Imperial Tapestry, Dibella
Parlor
Tapestries
Epic
Yes
400
Imperial Tapestry, Kynareth
Parlor
Tapestries
Superior
Yes
150
Imperial Tapestry, Stars
Parlor
Tapestries
Epic
Yes
400
Imperial Tapestry, Stendarr
Parlor
Tapestries
Superior
Yes
150
Imperial Tent, Commander's
Structures
Tents
Epic
Yes
400
Imperial Throne of the Bay
Gallery
Thrones
Legendary
Yes
400
Imperial Trestle, Scrollwork
Dining
Tables
Epic
Yes
400
Imperial Trestle, Sturdy
Dining
Tables
Superior
Yes
150
Imperial Wardrobe, Scrollwork
Suite
Wardrobes
Epic
Yes
400
Imperial Wayshrine of the Bay
Undercroft
Sacred Pieces
Epic
Yes
400
Imperial Well, Arched
Courtyard
Wells
Superior
Yes
150
Imperial Well, Covered
Courtyard
Wells
Epic
Yes
400
Imperial Well, Grated
Courtyard
Wells
Fine
Yes
50
Imperial Wine Rack, Scrollwork
Hearth
Stockroom
Epic
Yes
400
In the Company of Wood Orcs
Purchase: Mystic
5000 / collection
Library
Literature
Fine
Complete Appropriate Lorebook Collection
No
0
Instrument, Drum
Parlor
Instruments
Legendary
No
0
Instrument, Flutes
Parlor
Instruments
Legendary
No
0
Instrument, Harp
Parlor
Instruments
Legendary
No
0
Instrument, Lute
Legerdemain, Drops
Parlor
Instruments
Legendary
Metalworking 6
Solvent Proficiency 6
Recipe Improvement 6
Woodworking 9
Heartwood 14
Regulus 11
Alchemical Resin 11
Decorative Wax 11
Nickel 20
Rosin 1
Woodworking
Blueprint
No
0
Instrument, Tambourine
Parlor
Instruments
Legendary
No
0
Instrument, Tanbur
Parlor
Instruments
Legendary
No
0
Instrument, Zither
Parlor
Instruments
Legendary
No
0
Invocation of Azura
Purchase: Mystic
5000 / collection
Library
Literature
Fine
Complete Appropriate Lorebook Collection
No
0
Iron Cross
Undercroft
Torture
Epic
No
0
Iron Cross, Large
Undercroft
Torture
Epic
No
0
Iron Maiden, Chained
Undercroft
Torture
Epic
No
0
Iron Wheel Banner
Achievement Furnisher: Abah's Landing
15000
Parlor
Banners
Epic
Achievement: Iron Wheel Infiltration
No
0
Jar of Green Dye
Achievement Furnisher: Abah's Landing
500
Workshop
Dye Stations
Superior
Achievement: Never, Ever Steal from the Guild
No
0
Jar, Blue Dye
Legerdemain, Drops
Workshop
Materials
Epic
Potency Improvement 2
Solvent Proficiency 4
Recipe Improvement 6
Decorative Wax 10
Mundane Rune 6
Alchemical Resin 8
Nickel 15
Turquoise 12
Frost Mirriam 3
Provisioning
Design
No
0
Jar, Covered Dye
Legerdemain, Drops
Workshop
Materials
Epic
Potency Improvement 2
Solvent Proficiency 4
Recipe Improvement 6
Decorative Wax 10
Mundane Rune 6
Alchemical Resin 8
Nickel 15
Carnelian 12
Frost Mirriam 3
Provisioning
Design
No
0
Jar, Gilded Canopic
Undercroft
Urns
Epic
Yes
400
Jar, Orange Dye
Legerdemain, Drops
Workshop
Materials
Epic
Potency Improvement 2
Solvent Proficiency 4
Recipe Improvement 6
Decorative Wax 10
Mundane Rune 6
Alchemical Resin 8
Nickel 15
Fire Opal 12
Frost Mirriam 3
Provisioning
Design
No
0
Jar, Pink Dye
Legerdemain, Drops
Workshop
Materials
Epic
Potency Improvement 2
Solvent Proficiency 4
Recipe Improvement 6
Decorative Wax 10
Mundane Rune 6
Alchemical Resin 8
Nickel 15
Garnet 12
Frost Mirriam 3
Provisioning
Design
No
0
Jar, Yellow Dye
Legerdemain, Drops
Workshop
Materials
Epic
Potency Improvement 2
Solvent Proficiency 4
Recipe Improvement 6
Decorative Wax 10
Mundane Rune 6
Alchemical Resin 8
Nickel 15
Citrine 12
Frost Mirriam 3
Provisioning
Design
No
0
Jaw, Human
Undercroft
Remains
Legendary
No
0
Jaw, Lion
Undercroft
Remains
Legendary
No
0
Jaw, Troll
Undercroft
Remains
Legendary
No
0
Jorunn the Skald-King
Purchase: Mystic
5000 / collection
Library
Literature
Fine
Complete Appropriate Lorebook Collection
No
0
Josef the Intolerant
Purchase: Mystic
5000 / collection
Library
Literature
Fine
Complete Appropriate Lorebook Collection
No
0
Keg
Legerdemain, Drops
Hearth
Stockroom
Superior
Metalworking 2
Woodworking 4
Heartwood 7
Regulus 5
Nickel 10
Turpen 6
Woodworking
Blueprint
Yes
150
Kelp, Green Pile
Conservatory
Plants
Fine
Yes
50
Kelp, Lush Pile
Conservatory
Plants
Fine
Yes
50
Kelp, Small Pile
Conservatory
Plants
Fine
Yes
50
Kennel, Locked
Legerdemain, Drops
Undercroft
Torture
Superior
Metalworking 10
Potency Improvement 5
Solvent Proficiency 5
Regulus 13
Mundane Rune 8
Alchemical Resin 8
Nickel 10
Dwarven Oil 6
Blacksmithing
Diagram
Yes
150
Key, Large
Parlor
Knick-Knacks
Legendary
No
0
Key, Medium
Parlor
Knick-Knacks
Legendary
No
0
Khajiit Banner, Claw
Legerdemain, Drops
Parlor
Banners
Fine
Tailoring 4
Bast 6
Moonstone 5
Citrine 8
Hemming 9
Clothing
Pattern
Yes
50
Khajiit Banner, Crescents
Legerdemain, Drops
Parlor
Banners
Fine
Tailoring 4
Bast 6
Moonstone 5
Citrine 8
Hemming 9
Clothing
Pattern
Yes
50
Khajiit Banner, Hooked
Legerdemain, Drops
Parlor
Banners
Superior
Metalworking 2
Tailoring 4
Solvent Proficiency 2
Bast 7
Regulus 5
Alchemical Resin 5
Moonstone 10
Embroidery 6
Clothing
Pattern
Yes
150
Khajiit Banner, Moons
Legerdemain, Drops
Parlor
Banners
Fine
Tailoring 4
Bast 6
Moonstone 5
Citrine 8
Hemming 9
Clothing
Pattern
Yes
50
Khajiit Barstool, Clawfoot
Legerdemain, Drops
Workshop
Stools
Superior
Metalworking 8
Tailoring 5
Solvent Proficiency 4
Regulus 11
Bast 8
Alchemical Resin 7
Moonstone 10
Dwarven Oil 6
Blacksmithing
Diagram
Yes
150
Khajiit Barstool, Padded
Legerdemain, Drops
Workshop
Stools
Superior
Metalworking 4
Tailoring 4
Woodworking 8
Heartwood 11
Regulus 7
Bast 7
Moonstone 10
Turpen 6
Woodworking
Blueprint
Yes
150
Khajiit Basin, Claw
Legerdemain, Drops
Undercroft
Basins
Superior
Metalworking 9
Potency Improvement 5
Woodworking 4
Regulus 12
Mundane Rune 8
Heartwood 7
Moonstone 10
Dwarven Oil 6
Blacksmithing
Diagram
Yes
150
Khajiit Bed, Canopy
Legerdemain, Drops
Suite
Bedding
Epic
Metalworking 4
Tailoring 6
Woodworking 10
Heartwood 14
Regulus 8
Bast 10
Moonstone 15
Mastic 3
Woodworking
Blueprint
Yes
400
Khajiit Bed, Faded
Legerdemain, Drops
Suite
Bedding
Superior
Metalworking 3
Tailoring 8
Woodworking 5
Bast 11
Regulus 6
Heartwood 8
Moonstone 10
Embroidery 6
Clothing
Pattern
Yes
150
Khajiit Bed, Fur
Legerdemain, Drops
Suite
Bedding
Fine
Tailoring 5
Recipe Improvement 2
Clean Pelt 7
Decorative Wax 4
Moonstone 5
Hemming 9
Clothing
Pattern
Yes
50
Khajiit Bedding, Padded
Legerdemain, Drops
Suite
Bedding
Fine
Tailoring 5
Recipe Improvement 2
Bast 7
Decorative Wax 4
Moonstone 5
Hemming 9
Clothing
Pattern
Yes
50
Khajiit Bench, Padded
Legerdemain, Drops
Dining
Benches
Superior
Tailoring 5
Woodworking 3
Bast 8
Heartwood 6
Moonstone 10
Embroidery 6
Clothing
Pattern
Yes
150
Khajiit Bookcase, Arched
Legerdemain, Drops
Library
Shelves
Epic
Metalworking 4
Solvent Proficiency 4
Woodworking 8
Heartwood 12
Regulus 8
Alchemical Resin 8
Moonstone 15
Mastic 3
Woodworking
Blueprint
Yes
400
Khajiit Bookshelf, Arched
Legerdemain, Drops
Library
Shelves
Superior
Woodworking 7
Heartwood 10
Moonstone 10
Turpen 6
Woodworking
Blueprint
Yes
150
Khajiit Bottle, Amber
Legerdemain, Drops
Hearth
Dishes
Fine
Recipe Improvement 2
Decorative Wax 4
Moonstone 5
Flour 20
Provisioning
Design
Yes
50
Khajiit Brazier, Claw
Legerdemain, Drops
Lighting
Braziers
Superior
Metalworking 9
Potency Improvement 5
Solvent Proficiency 4
Regulus 12
Mundane Rune 8
Alchemical Resin 7
Moonstone 10
Rakeipa 18
Dwarven Oil 6
Blacksmithing
Diagram
Yes
150
Khajiit Brazier, Enchanted
Legerdemain, Drops
Workshop
Enchanting Station
Epic
Metalworking 6
Potency Improvement 9
Solvent Proficiency 3
Mundane Rune 13
Regulus 10
Alchemical Resin 7
Moonstone 15
Rekuta 3
Enchanting
Praxis
No
0
Khajiit Brazier, Hanging
Legerdemain, Drops
Lighting
Chandeliers
Epic
Metalworking 8
Potency Improvement 4
Recipe Improvement 4
Regulus 12
Mundane Rune 8
Decorative Wax 8
Moonstone 15
Rakeipa 16
Grain Solvent 3
Blacksmithing
Diagram
Yes
400
Khajiit Candle-Filled Lamp
Legerdemain, Drops
Lighting
Lamps
Epic
Metalworking 8
Potency Improvement 4
Recipe Improvement 4
Regulus 12
Mundane Rune 8
Decorative Wax 8
Moonstone 15
Rakeipa 16
Grain Solvent 3
Blacksmithing
Diagram
No
0
Khajiit Candle, Clawfoot
Legerdemain, Drops
Lighting
Candles
Superior
Metalworking 6
Potency Improvement 3
Regulus 9
Moonstone 10
Rakeipa 4
Mundane Rune 6
Dwarven Oil 6
Blacksmithing
Diagram
Yes
150
Khajiit Candles, Clawfoot
Legerdemain, Drops
Lighting
Candles
Epic
Metalworking 8
Potency Improvement 4
Recipe Improvement 4
Regulus 12
Mundane Rune 8
Decorative Wax 8
Moonstone 15
Rakeipa 16
Grain Solvent 3
Blacksmithing
Diagram
Yes
400
Khajiit Carafe, Amber
Legerdemain, Drops
Hearth
Pottery
Superior
Potency Improvement 2
Solvent Proficiency 1
Recipe Improvement 3
Decorative Wax 6
Mundane Rune 5
Alchemical Resin 4
Moonstone 10
Bervez Juice 6
Provisioning
Design
Yes
150
Khajiit Carpet, Crescent Moons
Legerdemain, Drops
Parlor
Rugs and Carpets
Fine
Tailoring 4
Solvent Proficiency 1
Bast 6
Alchemical Resin 3
Moonstone 5
Hemming 9
Clothing
Pattern
Yes
50
Khajiit Carpet, Sun
Legerdemain, Drops
Parlor
Rugs and Carpets
Superior
Tailoring 5
Potency Improvement 2
Solvent Proficiency 3
Bast 8
Mundane Rune 5
Alchemical Resin 6
Moonstone 10
Citrine 10
Embroidery 6
Clothing
Pattern
Yes
150
Khajiit Column, Spiked
Purchase: Home Goods Furnisher
30
Courtyard
Posts and Pillars
Superior
Rawl'kha
Yes
150
Khajiit Couch, Padded
Legerdemain, Drops
Parlor
Sofas and Couches
Epic
Tailoring 8
Solvent Proficiency 4
Woodworking 4
Bast 12
Alchemical Resin 8
Heartwood 8
Moonstone 15
Elegant Lining 3
Clothing
Pattern
Yes
400
Khajiit Counter, Long Cabinet
Legerdemain, Drops
Dining
Counters
Epic
Metalworking 5
Solvent Proficiency 4
Woodworking 9
Heartwood 12
Regulus 8
Alchemical Resin 7
Moonstone 10
Turpen 6
Woodworking
Blueprint
Yes
400
Khajiit Counter, Faded
Legerdemain, Drops
#N/A
Dining
Counters
Superior
Metalworking 4
Solvent Proficiency 3
Woodworking 7
Heartwood 11
Regulus 8
Alchemical Resin 7
Moonstone 15
Mastic 3
Woodworking
Blueprint
No
0
Khajiit Curtains, Moons
Legerdemain, Drops
Parlor
Tapestries
Superior
Tailoring 7
Solvent Proficiency 3
Woodworking 4
Bast 10
Alchemical Resin 6
Heartwood 7
Moonstone 10
Citrine 14
Embroidery 6
Clothing
Pattern
Yes
150
Khajiit Cushion, Long
Legerdemain, Drops
Suite
Pillows
Superior
Tailoring 6
Solvent Proficiency 3
Recipe Improvement 3
Bast 9
Alchemical Resin 6
Decorative Wax 6
Moonstone 10
Embroidery 6
Clothing
Pattern
Yes
150
Khajiit Cushion, Single
Legerdemain, Drops
Suite
Pillows
Superior
Tailoring 8
Potency Improvement 4
Solvent Proficiency 4
Bast 11
Mundane Rune 7
Alchemical Resin 7
Moonstone 10
Embroidery 6
Clothing
Pattern
Yes
150
Khajiit Decanter, Amber
Legerdemain, Drops
Hearth
Pottery
Superior
Potency Improvement 2
Solvent Proficiency 1
Recipe Improvement 3
Decorative Wax 6
Mundane Rune 5
Alchemical Resin 4
Moonstone 10
Bervez Juice 6
Provisioning
Design
Yes
150
Khajiit Desk, Faded
Legerdemain, Drops
Library
Desks
Fine
Metalworking 1
Solvent Proficiency 2
Woodworking 5
Heartwood 7
Regulus 3
Alchemical Resin 4
Moonstone 5
Pitch 9
Woodworking
Blueprint
Yes
50
Khajiit Divider, Folding
Legerdemain, Drops
Suite
Dividers
Epic
Metalworking 4
Tailoring 9
Woodworking 5
Bast 13
Regulus 8
Heartwood 9
Moonstone 15
Elegant Lining 3
Clothing
Pattern
Yes
400
Khajiit Drapes, Grand
Legerdemain, Drops
Parlor
Tapestries
Epic
Metalworking 4
Tailoring 9
Woodworking 5
Bast 13
Regulus 8
Heartwood 9
Moonstone 15
Elegant Lining 3
Clothing
Pattern
Yes
400
Khajiit Drapes, Tattered
Legerdemain, Drops
Parlor
Tapestries
Fine
Metalworking 1
Tailoring 5
Woodworking 2
Bast 7
Regulus 3
Heartwood 4
Moonstone 5
Hemming 9
Clothing
Pattern
Yes
50
Khajiit Dresser, Faded
Legerdemain, Drops
Library
Desks
Fine
Woodworking 5
Heartwood 7
Moonstone 5
Pitch 9
Woodworking
Blueprint
Yes
50
Khajiit End Table, Faded
Legerdemain, Drops
Dining
Tables
Fine
Woodworking 3
Heartwood 5
Moonstone 5
Pitch 9
Woodworking
Blueprint
Yes
50
Khajiit Firepit, Brick
Legerdemain, Drops
Lighting
Fires
Fine
Potency Improvement 4
Mundane Rune 6
Moonstone 5
Rakeipa 8
Jejota 9
Enchanting
Praxis
Yes
50
Khajiit Flask, Amber
Legerdemain, Drops
Hearth
Dishes
Fine
Recipe Improvement 2
Decorative Wax 4
Moonstone 5
Flour 20
Provisioning
Design
Yes
50
Khajiit Footlocker, Arched
Legerdemain, Drops
Suite
Trunks
Epic
Metalworking 9
Potency Improvement 4
Woodworking 5
Regulus 13
Mundane Rune 8
Heartwood 9
Moonstone 15
Grain Solvent 3
Blacksmithing
Diagram
Yes
400
Khajiit Frame, Arched
Legerdemain, Drops
Courtyard
Posts and Pillars
Fine
Woodworking 4
Heartwood 6
Moonstone 5
Pitch 9
Woodworking
Blueprint
Yes
50
Khajiit Jug, Amber
Legerdemain, Drops
Hearth
Dishes
Superior
Potency Improvement 1
Solvent Proficiency 2
Recipe Improvement 3
Decorative Wax 6
Mundane Rune 4
Alchemical Resin 5
Moonstone 10
Bervez Juice 6
Provisioning
Design
Yes
150
Khajiit Lantern, Hanging
Legerdemain, Drops
Lighting
Lanterns
Superior
Metalworking 4
Potency Improvement 2
Solvent Proficiency 2
Regulus 7
Mundane Rune 5
Alchemical Resin 5
Moonstone 10
Rakeipa 8
Dwarven Oil 6
Blacksmithing
Diagram
Yes
150
Khajiit Loft, Reed
Legerdemain, Drops
Structures
Tents
Fine
Tailoring 5
Woodworking 2
Bast 7
Heartwood 4
Moonstone 5
Hemming 9
Clothing
Pattern
Yes
50
Khajiit Nightstand, Gilded
Legerdemain, Drops
Suite
Wardrobes
Superior
Metalworking 3
Solvent Proficiency 2
Woodworking 5
Heartwood 8
Regulus 6
Alchemical Resin 5
Moonstone 10
Turpen 6
Woodworking
Blueprint
Yes
150
Khajiit Pillow, Crescents
Legerdemain, Drops
Suite
Pillows
Epic
Tailoring 8
Potency Improvement 4
Solvent Proficiency 4
Bast 12
Mundane Rune 8
Alchemical Resin 8
Moonstone 15
Elegant Lining 3
Clothing
Pattern
Yes
400
< ahref="http://eso.mmo-fashion.com/khajiit-pillow-roll/">Khajiit Pillow, Roll
Legerdemain, Drops
Suite
Pillows
Epic
Tailoring 8
Potency Improvement 4
Solvent Proficiency 4
Bast 12
Mundane Rune 8
Alchemical Resin 8
Moonstone 15
Elegant Lining 3
Clothing
Pattern
Yes
400
Khajiit Pitcher, Amber
Legerdemain, Drops
Hearth
Dishes
Superior
Potency Improvement 2
Solvent Proficiency 1
Recipe Improvement 3
Decorative Wax 6
Mundane Rune 5
Alchemical Resin 4
Moonstone 10
Bervez Juice 6
Provisioning
Design
Yes
150
Khajiit Rug, Moons
Legerdemain, Drops
Parlor
Rugs and Carpets
Epic
Tailoring 8
Potency Improvement 4
Solvent Proficiency 4
Bast 12
Mundane Rune 8
Alchemical Resin 8
Moonstone 15
Elegant Lining 3
Clothing
Pattern
Yes
400
Khajiit Rug, Sun
Legerdemain, Drops
Parlor
Rugs and Carpets
Epic
Tailoring 8
Potency Improvement 4
Solvent Proficiency 4
Bast 12
Mundane Rune 8
Alchemical Resin 8
Moonstone 15
Elegant Lining 3
Clothing
Pattern
Yes
400
Khajiit Sconce, Spiked
Legerdemain, Drops
Lighting
Sconces
Epic
Metalworking 8
Potency Improvement 4
Recipe Improvement 4
Regulus 12
Mundane Rune 8
Decorative Wax 8
Moonstone 15
Rakeipa 16
Grain Solvent 3
Blacksmithing
Diagram
Yes
400
Khajiit Signpost, Fortified
Legerdemain, Drops
Courtyard
Posts and Pillars
Fine
Metalworking 1
Woodworking 4
Heartwood 6
Regulus 3
Moonstone 5
Pitch 9
Woodworking
Blueprint
Yes
50
Khajiit Skooma Bubbler
Legerdemain, Drops
Parlor
Knick-Knacks
Epic
Metalworking 3
Potency Improvement 2
Recipe Improvement 5
Decorative Wax 9
Regulus 7
Mundane Rune 6
Moonstone 15
Frost Mirriam 3
Provisioning
Design
Yes
400
Khajiit Sofa, Padded
Legerdemain, Drops
Parlor
Sofas and Couches
Epic
Metalworking 4
Tailoring 10
Woodworking 6
Bast 14
Regulus 8
Heartwood 10
Moonstone 15
Elegant Lining 3
Clothing
Pattern
Yes
400
Khajiit Statue, Guardian
Legerdemain, Drops
Courtyard
Statues
Legendary
Metalworking 8
Potency Improvement 10
Solvent Proficiency 8
Mundane Rune 15
Regulus 13
Alchemical Resin 13
Moonstone 20
Kuta 1
Enchanting
Praxis
No
0
Khajiit Stool, Crescent
Legerdemain, Drops
Workshop
Stools
Fine
Tailoring 3
Bast 5
Moonstone 5
Hemming 9
Clothing
Pattern
Yes
50
Khajiit Table, Formal
Legerdemain, Drops
Dining
Tables
Superior
Woodworking 6
Heartwood 9
Moonstone 10
Turpen 6
Woodworking
Blueprint
Yes
150
Khajiit Table, Round
Legerdemain, Drops
Dining
Tables
Epic
Metalworking 4
Potency Improvement 3
Woodworking 7
Heartwood 11
Moonstone 15
Regulus 8
Mundane Rune 7
Mastic 3
Woodworking
Blueprint
Yes
400
Khajiit Tent, Mercantile
Legerdemain, Drops
Structures
Tents
Superior
Tailoring 4
Woodworking 8
Heartwood 11
Bast 7
Moonstone 10
Turpen 6
Woodworking
Blueprint
Yes
150
Khajiit Tent, Storage
Legerdemain, Drops
Structures
Tents
Superior
Metalworking 4
Tailoring 5
Woodworking 9
Heartwood 12
Regulus 7
Bast 8
Moonstone 10
Turpen 6
Woodworking
Blueprint
Yes
150
Khajiit Tent, Vacation
Legerdemain, Drops
Structures
Tents
Epic
Metalworking 5
Tailoring 5
Woodworking 10
Heartwood 14
Regulus 9
Bast 9
Moonstone 15
Mastic 3
Woodworking
Blueprint
Yes
400
Khajiit Tile, Full Moons
Undercroft
Sacred Pieces
Legendary
No
0
Khajiit Tile, New Moons
Undercroft
Sacred Pieces
Legendary
No
0
Khajiit Tile, Waning Moons
Undercroft
Sacred Pieces
Legendary
No
0
Khajiit Tile, Waxing Moons
Undercroft
Sacred Pieces
Legendary
No
0
Khajiit Trunk, Arched
Legerdemain, Drops
Suite
Trunks
Superior
Metalworking 4
Solvent Proficiency 3
Woodworking 7
Heartwood 10
Regulus 7
Alchemical Resin 6
Moonstone 10
Turpen 6
Woodworking
Blueprint
Yes
150
Khajiit Urn, Amber
Legerdemain, Drops
Undercroft
Urns
Epic
Metalworking 2
Potency Improvement 2
Recipe Improvement 4
Decorative Wax 8
Regulus 6
Mundane Rune 6
Moonstone 15
Frost Mirriam 3
Provisioning
Design
Yes
400
Khajiit Vase, Amber
Legerdemain, Drops
Parlor
Vases
Fine
Recipe Improvement 2
Decorative Wax 4
Moonstone 5
Flour 20
Provisioning
Design
Yes
50
Khajiit Vessel, Amber
Legerdemain, Drops
Hearth
Dishes
Epic
Metalworking 2
Potency Improvement 2
Recipe Improvement 4
Decorative Wax 8
Regulus 6
Mundane Rune 6
Moonstone 15
Frost Mirriam 3
Provisioning
Design
Yes
400
Khajiit Vial, Amber
Legerdemain, Drops
Hearth
Dishes
Epic
Metalworking 2
Potency Improvement 2
Recipe Improvement 4
Decorative Wax 8
Regulus 6
Mundane Rune 6
Moonstone 15
Frost Mirriam 3
Provisioning
Design
Yes
400
Khajiit Wagon, Reed
Legerdemain, Drops
Courtyard
Carts and Wagons
Superior
Metalworking 5
Tailoring 5
Woodworking 10
Heartwood 13
Regulus 8
Bast 8
Moonstone 10
Turpen 6
Woodworking
Blueprint
Yes
150
Khajiit Wardrobe, Arched
Legerdemain, Drops
Suite
Wardrobes
Epic
Tailoring 4
Potency Improvement 4
Woodworking 8
Heartwood 12
Bast 8
Mundane Rune 8
Moonstone 15
Mastic 3
Woodworking
Blueprint
Yes
400
Khajiiti Shrine Guardian Statue
Achievement Furnisher: Rawl'kha
20000
Courtyard
Statues
Epic
Achievement: Two Moons Pathwalker
No
0
Kinlord Rilis and the Mages Guild
Purchase: Mystic
5000 / collection
Library
Literature
Fine
Complete Appropriate Lorebook Collection
No
0
Kneeling Ansei Statue
Achievement Furnisher: Kozanset
15000
Courtyard
Statues
Epic
Achievement: Ash'abah Hero
No
0
Knife, Carving
Legerdemain, Drops
Hearth
Utensils
Fine
Metalworking 1
Regulus 4
Nickel 5
Honing Stone 9
Blacksmithing
Diagram
Yes
50
Knights of the Flame Banner
Achievement Furnisher: Wayrest
10000
Parlor
Banners
Epic
Achievement: Dreamslayer
No
0
Kwama Mining for Fun and Profit
Purchase: Mystic
5000 / collection
Library
Literature
Fine
Complete Appropriate Lorebook Collection
No
0
Lacquered Kwama Egg
Achievement Furnisher: Ebonheart
1000
Miscellaneous
Superior
Achievement: Stonefalls Adventurer
No
0
Lantern of Anguish
Achievement Furnisher: Alliance Capitals
5000
Lighting
Lanterns
Epic
Achievement: The halls of Torment
No
0
Lantern, Dim
Legerdemain, Drops
Lighting
Lanterns
Superior
Metalworking 6
Potency Improvement 3
Solvent Proficiency 3
Regulus 9
Alchemical Resin 6
Mundane Rune 6
Nickel 10
Rakeipa 12
Dwarven Oil 6
Blacksmithing
Diagram
Yes
150
Lantern, Hanging
Legerdemain, Drops
Lighting
Lanterns
Superior
Metalworking 7
Potency Improvement 2
Solvent Proficiency 3
Regulus 10
Mundane Rune 5
Alchemical Resin 6
Nickel 10
Rakeipa 14
Dwarven Oil 6
Blacksmithing
Diagram
Yes
150
Lantern, Ship Captain's
Lighting
Lanterns
Legendary
No
0
Large Covered Well
Achievement Furnisher: Abah's Landing
15000
Courtyard
Wells
Epic
Achievement: A Life Deferred
No
0
Legend of the Ghost Snake
Purchase: Mystic
5000 / collection
Library
Literature
Fine
Complete Appropriate Lorebook Collection
No
0
Lesser Soul Gem, Empty
Miscellaneous
Superior
No
0
Letter, Personal
Library
Literature
Fine
Yes
50
Lettuce, Display
Legerdemain, Drops
Hearth
Produce
Fine
Recipe Improvement 1
Decorative Wax 3
Nickel 5
Greens 2
Flour 20
Provisioning
Design
Yes
50
Life in the Eagle's Shadow
Purchase: Mystic
5000 / collection
Library
Literature
Fine
Complete Appropriate Lorebook Collection
No
0
Light and Shadow
Lighting
Candles
Epic
No
0
Light of Meridia
Achievement Furnisher: The Hollow City
10000
Lighting
Enchanted Lights
Epic
Achievement: Meridia's Lightbearer
No
0
Liminal Bridges
Purchase: Mystic
5000 / collection
Library
Literature
Fine
Complete Appropriate Lorebook Collection
No
0
Litany of Blood
Achievement Furnisher: Kvatch
25000
Library
Literature
Legendary
Achievement: New-Blade
No
0
Litter-Mates of Darkness
Purchase: Mystic
5000 / collection
Library
Literature
Fine
Complete Appropriate Lorebook Collection
No
0
Living with Lycanthropy
Purchase: Mystic
5000 / collection
Library
Literature
Fine
Complete Appropriate Lorebook Collection
No
0
Lob's Challenge Horn
Achievement Furnisher: Fort Amol
1000
Miscellaneous
Superior
Achievement: Giant-Friend
No
0
Lob's Display Horn
Epic
No
0
Maddening Knowledge
Epic
No
0
Mages Guild Banner
Purchase: Mystic
10000
Parlor
Banners
Epic
Achievement: Arch-Mage
No
0
Mages Sign
Epic
No
0
Mages Tapestry
Epic
No
0
Magic from the Sky
Purchase: Mystic
5000 / collection
Library
Literature
Fine
Complete Appropriate Lorebook Collection
No
0
Mantikora Head, Wall Mount
Legerdemain, Drops
Gallery
Mounted Decor
Legendary
Solvent Proficiency 8
Recipe Improvement 6
Woodworking 10
Decorative Wax 11
Alchemical Resin 13
Heartwood 15
Nickel 20
Perfect Roe 1
Provisioning
Design
No
0
Mantikora Horns, Wall Mount
Legerdemain, Drops
Gallery
Mounted Decor
Legendary
Potency Improvement 8
Recipe Improvement 6
Woodworking 10
Decorative Wax 11
Mundane Rune 13
Heartwood 15
Nickel 20
Perfect Roe 1
Provisioning
Design
No
0
Manual of Spellcraft
Purchase: Mystic
5000 / collection
Library
Literature
Fine
Complete Appropriate Lorebook Collection
No
0
Maormer Totem
Achievement Furnisher: Mistral
10000
Courtyard
Statues
Epic
Achievements: Maormer's Bane
No
0
Map of Alik'r Desert, Hanging
Library
Supplies
Epic
No
0
Map of Alik'r Desert, Scroll
Library
Supplies
Epic
No
0
Map of Auridon, Hanging
Library
Supplies
Epic
No
0
Map of Auridon, Scroll
Library
Supplies
Epic
No
0
Map of Bangkorai, Hanging
Library
Supplies
Epic
No
0
Map of Bangkorai, Scroll
Library
Supplies
Epic
No
0
Map of Deshaan, Hanging
Library
Supplies
Epic
No
0
Map of Deshaan, Scroll
Library
Supplies
Epic
No
0
Map of Eastmarch, Hanging
Library
Supplies
Epic
No
0
Map of Eastmarch, Scroll
Library
Supplies
Epic
No
0
Map of Glenumbra, Hanging
Library
Supplies
Epic
No
0
Map of Glenumbra, Scroll
Library
Supplies
Epic
No
0
Map of Grahtwood, Hanging
Library
Supplies
Epic
No
0
Map of Grahtwood, Scroll
Library
Supplies
Epic
No
0
Map of Greenshade, Hanging
Library
Supplies
Epic
No
0
Map of Greenshade, Scroll
Library
Supplies
Epic
No
0
Map of Malabal Tor, Hanging
Library
Supplies
Epic
No
0
Map of Malabal Tor, Scroll
Library
Supplies
Epic
No
0
Map of Reaper's March, Hanging
Library
Supplies
Epic
No
0
Map of Reaper's March, Scroll
Library
Supplies
Epic
No
0
Map of Rivenspire, Hanging
Library
Supplies
Epic
No
0
Map of Rivenspire, Scroll
Library
Supplies
Epic
No
0
Map of Shadowfen, Hanging
Library
Supplies
Epic
No
0
Map of Shadowfen, Scroll
Library
Supplies
Epic
No
0
Map of Stonefalls, Hanging
Library
Supplies
Epic
No
0
Map of Stonefalls, Scroll
Library
Supplies
Epic
No
0
Map of Stormhaven, Hanging
Library
Supplies
Epic
No
0
Map of Stormhaven, Scroll
Library
Supplies
Epic
No
0
Map of Tamriel, Hanging
Library
Supplies
Epic
No
0
Map of Tamriel, Scroll
Library
Supplies
Epic
No
0
Map of The Rift, Hanging
Library
Supplies
Epic
No
0
Map of The Rift, Scroll
Library
Supplies
Epic
No
0
Map of Wrothgar, Hanging
Library
Supplies
Epic
No
0
Map of Wrothgar, Scroll
Library
Supplies
Epic
No
0
Mass Tombstone
Purchase: Outlaw Refuge Merchant
10000
Undercroft
Grave Goods
Epic
Achievement: Mass Murderer
No
0
Master Zoaraym's Tale, Part 1
Purchase: Mystic
5000 / collection
Library
Literature
Fine
Complete Appropriate Lorebook Collection
No
0
Master Zoaraym's Tale, Part 2
Purchase: Mystic
5000 / collection
Library
Literature
Fine
Complete Appropriate Lorebook Collection
No
0
Mat of Meditation, Faded
Parlor
Rugs and Carpets
Epic
Yes
400
Mat of the Oasis, Faded
Parlor
Rugs and Carpets
Epic
Yes
400
Mat of the Sunrise, Faded
Parlor
Rugs and Carpets
Epic
Yes
400
Mat of the Sunset, Faded
Parlor
Rugs and Carpets
Epic
Yes
400
Mehrunes Dagon Brazier
Achievement Furnisher: Skywatch
10000
Lighting
Braziers
Epic
Achivement: Sunder the Third Veil
No
0
Mimic Hist Tree
Achievement Furnisher: Alten Corimont
20000
Conservatory
Trees
Epic
Achievement: Egg and Root
No
0
Minecart, Empty
Legerdemain, Drops
Courtyard
Carts and Wagons
Fine
Woodworking 5
Heartwood 8
Nickel 5
Pitch 9
Woodworking
Blueprint
Yes
50
Minecart, Push
Legerdemain, Drops
Courtyard
Carts and Wagons
Fine
Woodworking 5
Heartwood 8
Nickel 5
Pitch 9
Woodworking
Blueprint
Yes
50
Modern Heretics
Purchase: Mystic
5000 / collection
Library
Literature
Fine
Complete Appropriate Lorebook Collection
No
0
Molag Bal Banner
Achievement Furnisher: The Hollow City
20000
Parlor
Banners
Epic
Achievement: Coldharbour Adventurer
No
0
Molag Bal Brazier
Achievement Furnisher: Imperial City
20,000TV
Lighting
Braziers
Legendary
Achievement: The Sublime Protector
No
0
Molag Bal's Home Banner
Parlor
Banners
Epic
No
0
Monomyth: \"Shezarr's Song\"
Purchase: Mystic
5000 / collection
Library
Literature
Fine
Complete Appropriate Lorebook Collection
No
0
Monomyth: Dragon God & Missing God
Purchase: Mystic
5000 / collection
Library
Literature
Fine
Complete Appropriate Lorebook Collection
No
0
Monomyth: Lorkhan and Satakal
Purchase: Mystic
5000 / collection
Library
Literature
Fine
Complete Appropriate Lorebook Collection
No
0
Monomyth: The Heart of the World
Purchase: Mystic
5000 / collection
Library
Literature
Fine
Complete Appropriate Lorebook Collection
No
0
Monomyth: The Myth of Aurbis
Purchase: Mystic
5000 / collection
Library
Literature
Fine
Complete Appropriate Lorebook Collection
No
0
Moon-Sugar for Glossy Fur? Yes!
Purchase: Mystic
5000 / collection
Library
Literature
Fine
Complete Appropriate Lorebook Collection
No
0
Moonmont Lunar Altar
Achievement Furnisher: Rawl'kha
15000
Structures
Blocks
Epic
Achievement: Dark Mane Incarcerator
No
0
Mortar and Pestle
Purchase: Mastercraft Mediator
Hearth
Utensils
Legendary
Metalworking 8
Potency Improvement 10
Recipe Improvement 6
Mundane Rune 15
Regulus 13
Decorative Wax 11
Nickel 20
Perfect Roe 1
Provisioning
Design
No
0
Mortar with Reagents
Hearth
Utensils
Legendary
No
0
Motalion Necropolis Report
Purchase: Mystic
5000 / collection
Library
Literature
Fine
Complete Appropriate Lorebook Collection
No
0
Mottos of the Dunmeri Great Houses
Purchase: Mystic
5000 / collection
Library
Literature
Fine
Complete Appropriate Lorebook Collection
No
0
Mountain of Loot
Purchase: Outlaw Refuge Merchant
10000
Miscellaneous
Epic
Achievement: Black Market Mogul
No
0
Murky Palm Tree
Conservatory
Trees
Standard
No
0
Mushroom, Brown Gilled
Purchase: Home Goods Furnisher
90
Conservatory
Trees
Standard
Vulkwasten
Yes
10
Mushroom, Huge Chanterelle
Purchase: Home Goods Furnisher
270
Conservatory
Trees
Fine
Mournhold
Yes
50
Mushrooms, Auridon Group
Conservatory
Trees
Standard
No
0
Mushrooms, Bruising Webcap
Purchase: Home Goods Furnisher
270
Conservatory
Plants
Fine
Vulkwasten
Yes
50
Mushrooms, Poison Pax Cluster
Purchase: Home Goods Furnisher
90
Conservatory
Plants
Standard
Vulkwasten
Yes
10
Mushrooms, Poison Pax Group
Purchase: Home Goods Furnisher
90
Conservatory
Plants
Standard
Vulkwasten
Yes
10
Mushrooms, Tall Chanterelle
Purchase: Home Goods Furnisher
270
Conservatory
Trees
Fine
Mournhold
Yes
50
Myths of Sheogorath, Vol. 1
Purchase: Mystic
5000 / collection
Library
Literature
Fine
Complete Appropriate Lorebook Collection
No
0
Myths of Sheogorath, Vol. 2
Purchase: Mystic
5000 / collection
Library
Literature
Fine
Complete Appropriate Lorebook Collection
No
0
New Moons Tile
Achievement Furnisher: Rawl'kha
5000
Undercroft
Sacred Pieces
Epic
Achievement: reaper's March Adventurer
No
0
Nincrux Grinding Stone
Epic
No
0
Nine Commands of the Eight Divines
Purchase: Mystic
5000 / collection
Library
Literature
Fine
Complete Appropriate Lorebook Collection
No
0
Nirncrux Bowl
Achievement Furnisher: Belkarth
4000
Miscellaneous
Superior
Achievement: Nirncrux Inspector
No
0
Noble Pocket Lint
Purchase: Outlaw Refuge Merchant
1000
Miscellaneous
Superior
Achievement: Sneak Thief Extraordinaire
No
0
Noble Standing Cauldron
Hearth
Cookware
Epic
No
0
Noble Station, Blacksmithing
Workshop
Blacksmithing Station
Epic
No
0
Noble Station, Clothier
Workshop
Clothier Station
Epic
No
0
Noble Station, Smithing
Workshop
Blacksmithing Station
Epic
No
0
Noble Station, Woodworker
Workshop
Woodworking Station
Epic
No
0
Noble's Chalice
Hearth
Dishes
Epic
Yes
400
Noble's Chalice of Wine
Hearth
Dishes
Epic
No
0
Nord Amphora, Glazed
Legerdemain, Drops
Hearth
Pottery
Superior
Potency Improvement 2
Recipe Improvement 4
Woodworking 2
Decorative Wax 7
Mundane Rune 5
Heartwood 5
Corundum 10
Bervez Juice 6
Provisioning
Design
Yes
150
Nord Ark, Ancient
Undercroft
Sacred Pieces
Legendary
No
0
Nord Armoire, Lattice
Legerdemain, Drops
Suite
Wardrobes
Superior
Metalworking 2
Potency Improvement 2
Woodworking 6
Heartwood 9
Regulus 5
Mundane Rune 5
Corundum 10
Turpen 6
Woodworking
Blueprint
Yes
150
Nord Banner, Knotwork
Legerdemain, Drops
Parlor
Banners
Epic
Tailoring 8
Potency Improvement 4
Solvent Proficiency 4
Bast 12
Mundane Rune 8
Alchemical Resin 8
Corundum 15
Elegant Lining 3
Clothing
Pattern
No
0
Nord Bed, Canopy
Legerdemain, Drops
Suite
Bedding
Epic
Tailoring 6
Potency Improvement 3
Woodworking 9
Heartwood 13
Bast 10
Mundane Rune 7
Corundum 15
Mastic 3
Woodworking
Blueprint
No
0
Nord Bed, Single
Legerdemain, Drops
Suite
Bedding
Fine
Tailoring 2
Woodworking 5
Heartwood 7
Bast 4
Corundum 5
Pitch 9
Woodworking
Blueprint
Yes
50
Nord Bed, Sleigh
Legerdemain, Drops
Suite
Bedding
Superior
Metalworking 3
Tailoring 3
Woodworking 6
Heartwood 9
Regulus 6
Bast 6
Corundum 10
Turpen 6
Woodworking
Blueprint
Yes
150
Nord Bellows, Fireplace
Workshop
Tools
Legendary
No
0
Nord Bench, Braced
Legerdemain, Drops
Dining
Benches
Fine
Woodworking 3
Heartwood 5
Corundum 5
Pitch 9
Woodworking
Blueprint
Yes
50
Nord Bench, Plank
Legerdemain, Drops
Dining
Benches
Superior
Solvent Proficiency 2
Woodworking 5
Heartwood 8
Alchemical Resin 5
Corundum 10
Turpen 6
Woodworking
Blueprint
Yes
150
Nord Bookcase, Alcove
Legerdemain, Drops
Library
Shelves
Epic
Metalworking 2
Potency Improvement 4
Woodworking 6
Heartwood 10
Regulus 6
Mundane Rune 8
Corundum 15
Mastic 3
Woodworking
Blueprint
Yes
400
Nord Bookshelf, Alcove
Legerdemain, Drops
Library
Shelves
Superior
Potency Improvement 3
Solvent Proficiency 2
Woodworking 7
Heartwood 10
Mundane Rune 6
Alchemical Resin 5
Corundum 10
Turpen 6
Woodworking
Blueprint
Yes
150
Nord Brazier, Hanging
Legerdemain, Drops
Lighting
Chandeliers
Epic
Metalworking 8
Potency Improvement 4
Solvent Proficiency 4
Regulus 12
Mundane Rune 8
Alchemical Resin 8
Corundum 15
Rakeipa 16
Grain Solvent 3
Blacksmithing
Diagram
Yes
400
Nord Candle, Antler
Legerdemain, Drops
Lighting
Candles
Epic
Metalworking 6
Potency Improvement 2
Recipe Improvement 2
Regulus 10
Mundane Rune 6
Decorative Wax 6
Corundum 15
Grain Solvent 3
Blacksmithing
Diagram
Yes
400
Nord Candle, Tealight
Legerdemain, Drops
Lighting
Candles
Fine
Metalworking 5
Potency Improvement 2
Recipe Improvement 2
Regulus 7
Mundane Rune 4
Decorative Wax 4
Corundum 5
Honing Stone 9
Blacksmithing
Diagram
Yes
50
Nord Candleholder, Cup
Legerdemain, Drops
Lighting
Candles
Fine
Metalworking 5
Potency Improvement 2
Recipe Improvement 2
Regulus 7
Mundane Rune 4
Decorative Wax 4
Corundum 5
Honing Stone 9
Blacksmithing
Diagram
Yes
50
Nord Cart, Cargo
Legerdemain, Drops
Courtyard
Carts and Wagons
Superior
Metalworking 3
Woodworking 6
Heartwood 9
Regulus 6
Corundum 10
Turpen 6
Woodworking
Blueprint
Yes
150
Nord Cart, Covered
Legerdemain, Drops
Courtyard
Carts and Wagons
Epic
Metalworking 3
Tailoring 4
Woodworking 7
Heartwood 11
Regulus 7
Bast 8
Corundum 15
Mastic 3
Woodworking
Blueprint
Yes
400
Nord Cart, Hay
Legerdemain, Drops
Courtyard
Carts and Wagons
Fine
Recipe Improvement 1
Woodworking 4
Heartwood 6
Decorative Wax 3
Corundum 5
Pitch 9
Woodworking
Blueprint
Yes
50
Nord Cauldron, Glazed
Legerdemain, Drops
Hearth
Cookware
Superior
Metalworking 2
Potency Improvement 2
Recipe Improvement 4
Decorative Wax 7
Regulus 5
Mundane Rune 5
Corundum 10
Bervez Juice 6
Provisioning
Design
Yes
150
Nord Chair, Braced
Legerdemain, Drops
Dining
Chairs
Superior
Woodworking 5
Heartwood 8
Corundum 10
Turpen 6
Woodworking
Blueprint
Yes
150
Nord Chair, Lattice
Legerdemain, Drops
Dining
Chairs
Epic
Potency Improvement 3
Solvent Proficiency 4
Woodworking 7
Heartwood 11
Mundane Rune 7
Alchemical Resin 8
Corundum 15
Mastic 3
Woodworking
Blueprint
Yes
400
Nord Chandelier, Antler
Legerdemain, Drops
Lighting
Chandeliers
Epic
Metalworking 8
Potency Improvement 6
Recipe Improvement 2
Regulus 12
Mundane Rune 10
Decorative Wax 6
Corundum 15
Grain Solvent 3
Blacksmithing
Diagram
No
0
Nord Chest, Latched
Legerdemain, Drops
Suite
Wardrobes
Epic
Metalworking 9
Potency Improvement 5
Woodworking 4
Regulus 13
Mundane Rune 9
Heartwood 8
Corundum 15
Grain Solvent 3
Blacksmithing
Diagram
Yes
400
Nord Counter, Cabinet
Legerdemain, Drops
Dining
Counters
Epic
Metalworking 3
Solvent Proficiency 3
Woodworking 6
Heartwood 10
Regulus 7
Alchemical Resin 7
Corundum 15
Mastic 3
Woodworking
Blueprint
Yes
400
Nord Counter, Corner
Legerdemain, Drops
Dining
Counters
Epic
Metalworking 3
Solvent Proficiency 3
Woodworking 6
Heartwood 10
Regulus 7
Alchemical Resin 7
Corundum 15
Mastic 3
Woodworking
Blueprint
Yes
400
Nord Counter, Long
Legerdemain, Drops
Dining
Counters
Superior
Solvent Proficiency 2
Recipe Improvement 2
Woodworking 5
Heartwood 8
Alchemical Resin 5
Decorative Wax 5
Corundum 10
Turpen 6
Woodworking
Blueprint
Yes
150
Nord Crockpot, Carrot Soup
Legerdemain, Drops
Hearth
Meals
Superior
Metalworking 2
Recipe Improvement 4
Woodworking 2
Decorative Wax 7
Regulus 5
Heartwood 5
Corundum 10
Bervez Juice 6
Provisioning
Design
Yes
150
Nord Crockpot, Covered
Legerdemain, Drops
Hearth
Dishes
Superior
Metalworking 6
Recipe Improvement 3
Woodworking 3
Regulus 9
Decorative Wax 6
Heartwood 6
Corundum 10
Dwarven Oil 6
Blacksmithing
Diagram
Yes
150
Nord Desk, Tied
Legerdemain, Drops
Library
Desks
Epic
Potency Improvement 4
Solvent Proficiency 4
Woodworking 8
Heartwood 12
Mundane Rune 8
Alchemical Resin 8
Corundum 15
Mastic 3
Woodworking
Blueprint
Yes
400
Nord Divider, Folding
Legerdemain, Drops
Suite
Dividers
Epic
Metalworking 3
Solvent Proficiency 4
Woodworking 7
Heartwood 11
Regulus 7
Alchemical Resin 8
Corundum 15
Mastic 3
Woodworking
Blueprint
Yes
400
Nord Dresser, Braced
Legerdemain, Drops
Suite
Wardrobes
Superior
Metalworking 3
Solvent Proficiency 2
Woodworking 5
Heartwood 8
Regulus 6
Alchemical Resin 5
Corundum 10
Turpen 6
Woodworking
Blueprint
Yes
150
Nord Dresser, Rough
Legerdemain, Drops
Suite
Wardrobes
Fine
Metalworking 1
Woodworking 4
Heartwood 6
Regulus 3
Corundum 5
Pitch 9
Woodworking
Blueprint
Yes
50
Nord Drinking Horn, Display
Legerdemain, Drops
Hearth
Dishes
Epic
Tailoring 6
Potency Improvement 6
Solvent Proficiency 6
Recipe Improvement 6
Decorative Wax 11
Bast 11
Mundane Rune 11
Alchemical Resin 11
Corundum 15
Frost Mirriam 3
Provisioning
Design
Yes
400
Nord Drinking Horn, Empty
Legerdemain, Drops
Hearth
Dishes
Superior
Metalworking 3
Woodworking 6
Heartwood 9
Corundum 10
Regulus 6
Turpen 6
Woodworking
Blueprint
Yes
150
Nord Footlocker, Braced
Legerdemain, Drops
Suite
Wardrobes
Superior
Metalworking 2
Solvent Proficiency 3
Woodworking 6
Heartwood 9
Regulus 5
Alchemical Resin 6
Corundum 10
Turpen 6
Woodworking
Blueprint
Yes
150
Nord Gravemarker
Epic
No
0
Nord Hutch, Rough
Legerdemain, Drops
Hearth
Cabinetry
Fine
Metalworking 1
Woodworking 3
Heartwood 5
Regulus 3
Corundum 5
Pitch 9
Woodworking
Blueprint
Yes
50
Nord Lamppost, Stone
Legerdemain, Drops
Lighting
Lightposts
Epic
Metalworking 7
Solvent Proficiency 2
Woodworking 5
Regulus 11
Alchemical Resin 6
Heartwood 9
Corundum 15
Grain Solvent 3
Blacksmithing
Diagram
Yes
400
Nord Lantern, Cage
Legerdemain, Drops
Lighting
Lanterns
Fine
Metalworking 4
Recipe Improvement 1
Regulus 6
Decorative Wax 3
Corundum 5
Honing Stone 9
Blacksmithing
Diagram
Yes
50
Nord Lantern, Hanging
Legerdemain, Drops
Lighting
Lanterns
Superior
Metalworking 7
Potency Improvement 3
Recipe Improvement 2
Regulus 10
Mundane Rune 6
Decorative Wax 5
Corundum 10
Dwarven Oil 6
Blacksmithing
Diagram
Yes
150
Nord Nightstand, Braced
Legerdemain, Drops
Suite
Wardrobes
Epic
Metalworking 4
Recipe Improvement 3
Woodworking 7
Heartwood 11
Regulus 8
Decorative Wax 7
Corundum 15
Mastic 3
Woodworking
Blueprint
Yes
400
Nord Nightstand, Rough
Legerdemain, Drops
Suite
Wardrobes
Fine
Woodworking 4
Heartwood 6
Corundum 5
Pitch 9
Woodworking
Blueprint
Yes
50
Nord Pot, Ceramic
Legerdemain, Drops
Hearth
Pottery
Fine
Recipe Improvement 3
Decorative Wax 5
Corundum 5
Flour 20
Provisioning
Design
Yes
50
Nord Pot, Chunky Stew
Legerdemain, Drops
Hearth
Cookware
Superior
Potency Improvement 3
Recipe Improvement 4
Decorative Wax 7
Mundane Rune 6
Corundum 10
Bervez Juice 6
Provisioning
Design
Yes
150
Nord Pot, Covered
Legerdemain, Drops
Hearth
Dishes
Fine
Metalworking 5
Recipe Improvement 2
Regulus 7
Decorative Wax 4
Corundum 5
Honing Stone 9
Blacksmithing
Diagram
Yes
50
Nord Pot, Stew
Legerdemain, Drops
Hearth
Dishes
Fine
Metalworking 3
Recipe Improvement 4
Decorative Wax 6
Regulus 5
Corundum 5
Flour 20
Provisioning
Design
Yes
50
Nord Rack, Wine
Legerdemain, Drops
Hearth
Stockroom
Superior
Solvent Proficiency 4
Recipe Improvement 3
Woodworking 7
Heartwood 10
Alchemical Resin 7
Decorative Wax 6
Corundum 10
Turpen 6
Woodworking
Blueprint
Yes
150
Nord Rug, Bearskin
Legerdemain, Drops
Parlor
Rugs and Carpets
Epic
Tailoring 8
Solvent Proficiency 3
Recipe Improvement 5
Clean Pelt 12
Alchemical Resin 7
Decorative Wax 9
Corundum 15
Elegant Lining 3
Clothing
Pattern
No
0
Nord Shelf, Braced
Legerdemain, Drops
Library
Shelves
Fine
Woodworking 3
Heartwood 5
Corundum 5
Pitch 9
Woodworking
Blueprint
Yes
50
Nord Shelf, Wall
Legerdemain, Drops
Library
Shelves
Fine
Woodworking 3
Heartwood 5
Corundum 5
Pitch 9
Woodworking
Blueprint
Yes
50
Nord Stool, Braced
Legerdemain, Drops
Workshop
Stools
Superior
Recipe Improvement 2
Woodworking 4
Heartwood 7
Decorative Wax 5
Corundum 10
Turpen 6
Woodworking
Blueprint
Yes
150
Nord Stool, Rough
Legerdemain, Drops
Workshop
Stools
Fine
Woodworking 2
Heartwood 4
Corundum 5
Pitch 9
Woodworking
Blueprint
Yes
50
Nord Streetlamps, Stone
Legerdemain, Drops
Lighting
Lightposts
Epic
Metalworking 8
Solvent Proficiency 2
Woodworking 5
Regulus 12
Alchemical Resin 6
Heartwood 9
Corundum 15
Grain Solvent 3
Blacksmithing
Diagram
Yes
400
Nord Table, Braced
Legerdemain, Drops
Dining
Tables
Superior
Solvent Proficiency 2
Woodworking 4
Heartwood 7
Alchemical Resin 5
Corundum 10
Turpen 6
Woodworking
Blueprint
Yes
150
Nord Table, Dining
Legerdemain, Drops
Dining
Tables
Superior
Tailoring 2
Woodworking 5
Heartwood 8
Bast 5
Corundum 10
Turpen 6
Woodworking
Blueprint
Yes
150
Nord Table, Formal
Legerdemain, Drops
Dining
Tables
Epic
Potency Improvement 4
Recipe Improvement 3
Woodworking 7
Heartwood 11
Mundane Rune 8
Decorative Wax 7
Corundum 15
Mastic 3
Woodworking
Blueprint
Yes
400
Nord Table, Game
Legerdemain, Drops
Dining
Tables
Epic
Solvent Proficiency 4
Recipe Improvement 3
Woodworking 7
Heartwood 11
Alchemical Resin 8
Decorative Wax 7
Corundum 15
Mastic 3
Woodworking
Blueprint
Yes
400
Nord Table, Great
Legerdemain, Drops
Dining
Tables
Epic
Solvent Proficiency 3
Recipe Improvement 3
Woodworking 6
Heartwood 10
Alchemical Resin 7
Decorative Wax 7
Corundum 15
Mastic 3
Woodworking
Blueprint
Yes
400
Nord Table, Kitchen
Legerdemain, Drops
Dining
Tables
Fine
Woodworking 3
Heartwood 5
Corundum 5
Pitch 9
Woodworking
Blueprint
Yes
50
Nord Table, Round
Legerdemain, Drops
Dining
Tables
Superior
Tailoring 2
Recipe Improvement 2
Woodworking 5
Heartwood 8
Bast 5
Decorative Wax 5
Corundum 10
Turpen 6
Woodworking
Blueprint
Yes
150
Nord Tapestry, Dragon
Legerdemain, Drops
Parlor
Tapestries
Superior
Tailoring 6
Potency Improvement 3
Bast 9
Mundane Rune 6
Corundum 10
Embroidery 6
Clothing
Pattern
Yes
150
Nord Tapestry, Ship
Legerdemain, Drops
Parlor
Tapestries
Epic
Tailoring 8
Potency Improvement 3
Recipe Improvement 5
Bast 12
Mundane Rune 7
Decorative Wax 9
Corundum 15
Elegant Lining 3
Clothing
Pattern
No
0
Nord Torch, Triple
Legerdemain, Drops
Lighting
Lightposts
Fine
Solvent Proficiency 1
Woodworking 3
Heartwood 5
Alchemical Resin 3
Corundum 5
Pitch 9
Woodworking
Blueprint
Yes
50
Nord Trestle, Braced
Legerdemain, Drops
Dining
Tables
Superior
Solvent Proficiency 2
Woodworking 4
Heartwood 7
Alchemical Resin 5
Corundum 10
Turpen 6
Woodworking
Blueprint
Yes
150
Nord Trestle, Tied
Legerdemain, Drops
Dining
Tables
Epic
Potency Improvement 5
Recipe Improvement 3
Woodworking 8
Heartwood 12
Mundane Rune 9
Decorative Wax 7
Corundum 15
Mastic 3
Woodworking
Blueprint
Yes
400
Nord Trunk, Buckled
Legerdemain, Drops
Suite
Trunks
Epic
Metalworking 5
Potency Improvement 3
Woodworking 8
Heartwood 12
Regulus 9
Mundane Rune 7
Corundum 15
Mastic 3
Woodworking
Blueprint
Yes
400
Nord Trunk, Faded
Legerdemain, Drops
Suite
Trunks
Superior
Metalworking 2
Potency Improvement 2
Woodworking 6
Heartwood 9
Regulus 5
Mundane Rune 5
Corundum 10
Turpen 6
Woodworking
Blueprint
Yes
150
Nord Trunk, Heavy
Legerdemain, Drops
Suite
Trunks
Fine
Woodworking 5
Heartwood 7
Corundum 5
Pitch 9
Woodworking
Blueprint
Yes
50
Nord Urn, Braided
Legerdemain, Drops
Hearth
Pottery
Epic
Metalworking 2
Potency Improvement 4
Recipe Improvement 6
Decorative Wax 10
Regulus 6
Mundane Rune 8
Corundum 15
Frost Mirriam 3
Provisioning
Design
Yes
400
Nord Urn, Ceramic
Legerdemain, Drops
Hearth
Pottery
Fine
Recipe Improvement 2
Decorative Wax 4
Corundum 5
Flour 20
Provisioning
Design
Yes
50
Nord Vase, Bent
Legerdemain, Drops
Parlor
Vases
Superior
Potency Improvement 3
Recipe Improvement 4
Decorative Wax 7
Mundane Rune 6
Corundum 10
Bervez Juice 6
Provisioning
Design
Yes
150
Nords of Skyrim
Purchase: Mystic
5000 / collection
Library
Literature
Fine
Complete Appropriate Lorebook Collection
No
0
Northpoint: An Assessment
Purchase: Mystic
5000 / collection
Library
Literature
Fine
Complete Appropriate Lorebook Collection
No
0
Noxiphilic Sanguivoria
Purchase: Mystic
5000 / collection
Library
Literature
Fine
Complete Appropriate Lorebook Collection
No
0
Oath of a Dishonored Clan
Purchase: Mystic
5000 / collection
Library
Literature
Fine
Complete Appropriate Lorebook Collection
No
0
Oblivion Stone
Achievement Furnisher: Alten Corimont
5000
Miscellaneous
Epic
Achievement: Skin-Stealer Destroyer
No
0
Observatory Banner
Achievement Furnisher: Belkarth
25000
Parlor
Banners
Legendary
Achievement: Delestrial Investigator
No
0
Ocean Antler Coral
Fishing
Conservatory
Aquatic
Epic
No
0
Ode to the Tundrastriders
Purchase: Mystic
5000 / collection
Library
Literature
Fine
Complete Appropriate Lorebook Collection
No
0
On Oblivion
Purchase: Mystic
5000 / collection
Library
Literature
Fine
Complete Appropriate Lorebook Collection
No
0
On Stepping Lightly
Purchase: Mystic
5000 / collection
Library
Literature
Fine
Complete Appropriate Lorebook Collection
No
0
On the Detachment of the Sheath
Purchase: Mystic
5000 / collection
Library
Literature
Fine
Complete Appropriate Lorebook Collection
No
0
On the Knahaten Flu
Purchase: Mystic
5000 / collection
Library
Literature
Fine
Complete Appropriate Lorebook Collection
No
0
On the Nature of Coldharbour
Purchase: Mystic
5000 / collection
Library
Literature
Fine
Complete Appropriate Lorebook Collection
No
0
Once
Purchase: Mystic
5000 / collection
Library
Literature
Fine
Complete Appropriate Lorebook Collection
No
0
Opulent Dowry Chest
Achievement Furnisher: Abah's Landing
50000
Suite
Trunks
Legendary
Achievement: Broken Wheel
No
0
Opusculus Lamae Bal ta Mezzamortie
Purchase: Mystic
5000 / collection
Library
Literature
Fine
Complete Appropriate Lorebook Collection
No
0
Oranges, Bunch
Legerdemain, Drops
Hearth
Produce
Superior
Solvent Proficiency 3
Recipe Improvement 5
Decorative Wax 8
Nickel 10
Pumpkin 10
Alchemical Resin 6
Bervez Juice 6
Provisioning
Design
Yes
150
Orc Adventuring Backpack
Achievement Furnisher: Orsinium
500
Hearth
Baskets and Bags
Superior
Achievement: Wrothgar Explorer
No
0
Orc Prayer Tile
Epic
No
0
Orcish Armchair, Peaked
Legerdemain, Drops
Dining
Chairs
Superior
Metalworking 3
Woodworking 6
Heartwood 9
Regulus 6
Manganese 10
Turpen 6
Woodworking
Blueprint
Yes
150
Orcish Armoire, Peaked
Legerdemain, Drops
Suite
Wardrobes
Epic
Metalworking 4
Potency Improvement 3
Woodworking 7
Heartwood 11
Regulus 8
Mundane Rune 7
Manganese 15
Mastic 3
Woodworking
Blueprint
Yes
400
Orcish Backpack
Legerdemain, Drops
Hearth
Baskets and Bags
Epic
Metalworking 2
Tailoring 7
Woodworking 5
Clean Pelt 11
Regulus 6
Heartwood 9
Manganese 15
Elegant Lining 3
Clothing
Pattern
Yes
400
Orcish Banner, Faded
Legerdemain, Drops
Parlor
Banners
Fine
Tailoring 3
Woodworking 1
Clean Pelt 5
Heartwood 3
Manganese 5
Hemming 9
Clothing
Pattern
Yes
50
Orcish Banner, Hammer Fist
Legerdemain, Drops
Parlor
Banners
Superior
Metalworking 2
Tailoring 8
Bast 11
Regulus 5
Manganese 10
Embroidery 6
Clothing
Pattern
Yes
150
Orcish Banner, Worn
Legerdemain, Drops
Parlor
Banners
Fine
Tailoring 4
Woodworking 2
Clean Pelt 6
Heartwood 4
Manganese 5
Hemming 9
Clothing
Pattern
Yes
50
Orcish Bar, Block
Legerdemain, Drops
Dining
Counters
Fine
Woodworking 3
Heartwood 5
Manganese 5
Pitch 9
Woodworking
Blueprint
Yes
50
Orcish Bar, Branded
Legerdemain, Drops
Dining
Counters
Superior
Woodworking 4
Heartwood 7
Manganese 10
Turpen 6
Woodworking
Blueprint
Yes
150
Orcish Bar, Side
Legerdemain, Drops
Dining
Counters
Fine
Metalworking 2
Potency Improvement 1
Woodworking 5
Heartwood 7
Regulus 4
Mundane Rune 3
Manganese 5
Pitch 9
Woodworking
Blueprint
Yes
50
Orcish Battle Totem
Achievement Furnisher: Orsinium
7500
Undercroft
Sacred Pieces
Epic
Achievement: Wrothgar Pathfinder
No
0
Orcish Bed, Peaked
Legerdemain, Drops
Suite
Bedding
Epic
Metalworking 2
Tailoring 4
Potency Improvement 2
Woodworking 8
Heartwood 12
Regulus 6
Clean Pelt 8
Mundane Rune 6
Manganese 15
Mastic 3
Woodworking
Blueprint
Yes
400
Orcish Bedding, Fur
Legerdemain, Drops
Suite
Bedding
Fine
Tailoring 4
Clean Pelt 6
Manganese 5
Hemming 9
Clothing
Pattern
Yes
50
Orcish Bedding, Peaked
Legerdemain, Drops
Suite
Bedding
Superior
Metalworking 2
Tailoring 3
Woodworking 7
Heartwood 10
Regulus 5
Clean Pelt 6
Manganese 10
Turpen 6
Woodworking
Blueprint
Yes
150
Orcish Bedding, Stone
Legerdemain, Drops
Suite
Bedding
Fine
Tailoring 2
Potency Improvement 5
Mundane Rune 7
Clean Pelt 4
Manganese 5
Jejota 9
Enchanting
Praxis
Yes
50
Orcish Bench, Cabled
Legerdemain, Drops
Dining
Benches
Fine
Woodworking 5
Heartwood 7
Manganese 5
Pitch 9
Woodworking
Blueprint
Yes
50
Orcish Bookcase, Peaked
Legerdemain, Drops
Library
Shelves
Epic
Metalworking 3
Potency Improvement 4
Woodworking 7
Heartwood 11
Regulus 7
Mundane Rune 8
Manganese 15
Mastic 3
Woodworking
Blueprint
Yes
400
Orcish Bookshelf, Engraved
Legerdemain, Drops
Library
Shelves
Superior
Potency Improvement 4
Woodworking 1
Mundane Rune 7
Heartwood 4
Manganese 10
Denata 6
Enchanting
Praxis
Yes
150
Orcish Bookshelf, Peaked
Legerdemain, Drops
Library
Shelves
Epic
Potency Improvement 3
Woodworking 7
Heartwood 11
Mundane Rune 7
Manganese 15
Mastic 3
Woodworking
Blueprint
Yes
400
Orcish Bowl, Buffed
Legerdemain, Drops
Hearth
Dishes
Epic
Solvent Proficiency 3
Recipe Improvement 4
Decorative Wax 8
Alchemical Resin 7
Manganese 15
Frost Mirriam 3
Provisioning
Design
Yes
400
Orcish Bowl, Rugged
Legerdemain, Drops
Hearth
Dishes
Fine
Metalworking 2
Recipe Improvement 4
Decorative Wax 6
Regulus 4
Manganese 5
Flour 20
Provisioning
Design
Yes
50
Orcish Bowl, Stone
Legerdemain, Drops
Hearth
Dishes
Superior
Metalworking 3
Potency Improvement 7
Regulus 6
Manganese 10
Mundane Rune 10
Dwarven Oil 6
Blacksmithing
Diagram
Yes
150
Orcish Brazier, Bordered
Legerdemain, Drops
Lighting
Braziers
Epic
Metalworking 7
Potency Improvement 4
Solvent Proficiency 3
Regulus 11
Mundane Rune 8
Alchemical Resin 7
Manganese 15
Grain Solvent 3
Blacksmithing
Diagram
Yes
400
Orcish Brazier, Floor
Legerdemain, Drops
Lighting
Braziers
Epic
Metalworking 6
Potency Improvement 4
Solvent Proficiency 2
Regulus 10
Mundane Rune 8
Alchemical Resin 6
Manganese 15
Grain Solvent 3
Blacksmithing
Diagram
Yes
400
Orcish Brazier, Hanging
Legerdemain, Drops
Lighting
Chandeliers
Epic
Metalworking 8
Potency Improvement 4
Solvent Proficiency 4
Regulus 12
Mundane Rune 8
Alchemical Resin 8
Manganese 15
Grain Solvent 3
Blacksmithing
Diagram
Yes
400
Orcish Brazier, Pedestal
Legerdemain, Drops
Lighting
Braziers
Superior
Metalworking 7
Potency Improvement 5
Recipe Improvement 2
Regulus 10
Mundane Rune 8
Decorative Wax 5
Manganese 10
Dwarven Oil 6
Blacksmithing
Diagram
Yes
150
Orcish Brazier, Pillar
Legerdemain, Drops
Lighting
Braziers
Epic
Metalworking 4
Potency Improvement 4
Solvent Proficiency 8
Alchemical Resin 12
Regulus 8
Mundane Rune 8
Manganese 15
Alchemy
Formula
No
0
Orcish Brazier, Smoldering
Legerdemain, Drops
Lighting
Braziers
Fine
Potency Improvement 3
Woodworking 1
Mundane Rune 5
Heartwood 3
Manganese 5
Rakeipa 6
Jejota 9
Enchanting
Praxis
Yes
50
Orcish Brazier, Tabletop
Legerdemain, Drops
Lighting
Braziers
Epic
Metalworking 8
Potency Improvement 6
Solvent Proficiency 2
Regulus 12
Mundane Rune 10
Alchemical Resin 6
Manganese 15
Grain Solvent 3
Blacksmithing
Diagram
Yes
400
Orcish Bucket, Cistern
Legerdemain, Drops
Hearth
Laundry
Superior
Woodworking 3
Heartwood 6
Manganese 10
Turpen 6
Woodworking
Blueprint
Yes
150
Orcish Bunkbed, Leather
Legerdemain, Drops
Suite
Bedding
Superior
Tailoring 3
Woodworking 6
Heartwood 9
Clean Pelt 6
Manganese 10
Turpen 6
Woodworking
Blueprint
Yes
150
Orcish Cabinet, Bedside
Legerdemain, Drops
Suite
Trunks
Epic
Potency Improvement 6
Woodworking 4
Mundane Rune 10
Heartwood 8
Manganese 15
Rekuta 3
Enchanting
Praxis
Yes
400
Orcish Cabinet, Branded
Legerdemain, Drops
Hearth
Cabinetry
Superior
Metalworking 4
Potency Improvement 2
Woodworking 6
Heartwood 9
Regulus 7
Mundane Rune 5
Manganese 10
Turpen 6
Woodworking
Blueprint
Yes
150
Orcish Cabinet, Engraved
Legerdemain, Drops
Hearth
Cabinetry
Epic
Metalworking 2
Potency Improvement 4
Woodworking 6
Heartwood 10
Regulus 6
Mundane Rune 8
Manganese 15
Mastic 3
Woodworking
Blueprint
Yes
400
Orcish Candle Sconce, Horn
Legerdemain, Drops
Lighting
Candles
Epic
Metalworking 2
Potency Improvement 3
Recipe Improvement 6
Decorative Wax 10
Regulus 6
Mundane Rune 7
Manganese 15
Rakeipa 12
Frost Mirriam 3
Provisioning
Design
Yes
400
Orcish Candle, Offering
Lighting
Candles
Legendary
No
0
Orcish Candleholder, Horn
Legerdemain, Drops
Lighting
Candles
Epic
Potency Improvement 2
Recipe Improvement 5
Woodworking 7
Heartwood 11
Mundane Rune 6
Decorative Wax 9
Manganese 15
Mastic 3
Woodworking
Blueprint
Yes
400
Orcish Candlestick, Horn
Legerdemain, Drops
Lighting
Candles
Epic
Potency Improvement 3
Recipe Improvement 5
Woodworking 8
Heartwood 12
Mundane Rune 7
Decorative Wax 9
Manganese 15
Mastic 3
Woodworking
Blueprint
Yes
400
Orcish Canister, Rugged
Legerdemain, Drops
Hearth
Pottery
Fine
Recipe Improvement 4
Decorative Wax 6
Manganese 5
Flour 20
Provisioning
Design
Yes
50
Orcish Canopy, Shingled
Legerdemain, Drops
Structures
Tents
Superior
Tailoring 9
Solvent Proficiency 4
Woodworking 5
Clean Pelt 12
Alchemical Resin 7
Heartwood 8
Manganese 10
Embroidery 6
Clothing
Pattern
Yes
150
Orcish Capsule, Sealed
Legerdemain, Drops
Hearth
Pottery
Epic
Metalworking 2
Potency Improvement 3
Recipe Improvement 5
Decorative Wax 9
Regulus 6
Mundane Rune 7
Manganese 15
Frost Mirriam 3
Provisioning
Design
Yes
400
Orcish Carpet, Blood
Parlor
Rugs and Carpets
Superior
No
0
Orcish Carpet, Fringed
Legerdemain, Drops
Parlor
Rugs and Carpets
Fine
Tailoring 5
Potency Improvement 3
Clean Pelt 7
Mundane Rune 5
Manganese 5
Hemming 9
Clothing
Pattern
Yes
50
Orcish Cask, Rugged
Legerdemain, Drops
Hearth
Pottery
Fine
Recipe Improvement 5
Decorative Wax 7
Manganese 5
Flour 20
Provisioning
Design
Yes
50
Orcish Cauldron, Sealed
Legerdemain, Drops
Undercroft
Urns
Epic
Metalworking 7
Potency Improvement 3
Regulus 11
Mundane Rune 7
Manganese 15
Grain Solvent 3
Blacksmithing
Diagram
Yes
400
Orcish Chair, Peaked
Dining
Chairs
Superior
150
Orcish Chair, Peaked
Legerdemain, Drops
Dining
Chairs
Epic
Metalworking 1
Woodworking 5
Heartwood 8
Regulus 4
Manganese 10
Turpen 6
Woodworking
Blueprint
Yes
150
Orcish Chandelier, Practical
Legerdemain, Drops
Lighting
Chandeliers
Superior
Metalworking 7
Solvent Proficiency 4
Recipe Improvement 3
Regulus 10
Alchemical Resin 7
Decorative Wax 6
Manganese 10
Dwarven Oil 6
Blacksmithing
Diagram
Yes
150
Orcish Chandelier, Spiked
Legerdemain, Drops
Lighting
Chandeliers
Epic
Metalworking 8
Potency Improvement 5
Recipe Improvement 3
Regulus 12
Mundane Rune 9
Decorative Wax 7
Manganese 15
Grain Solvent 3
Blacksmithing
Diagram
No
0
Orcish Chest, Buckled
Legerdemain, Drops
Suite
Trunks
Epic
Metalworking 6
Potency Improvement 4
Woodworking 2
Regulus 10
Mundane Rune 8
Heartwood 6
Manganese 15
Grain Solvent 3
Blacksmithing
Diagram
Yes
400
Orcish Coffer, Bolted
Legerdemain, Drops
Suite
Trunks
Epic
Metalworking 4
Potency Improvement 3
Woodworking 7
Heartwood 11
Regulus 8
Mundane Rune 7
Manganese 15
Mastic 3
Woodworking
Blueprint
Yes
400
Orcish Counter, Block
Legerdemain, Drops
Dining
Counters
Fine
Metalworking 1
Potency Improvement 3
Woodworking 5
Heartwood 7
Regulus 3
Mundane Rune 5
Manganese 5
Pitch 9
Woodworking
Blueprint
Yes
50
Orcish Counter, Branded
Legerdemain, Drops
Dining
Counters
Superior
Metalworking 2
Woodworking 5
Heartwood 8
Regulus 5
Manganese 10
Turpen 6
Woodworking
Blueprint
Yes
150
Orcish Counter, Corner
Legerdemain, Drops
Dining
Counters
Epic
Metalworking 2
Potency Improvement 4
Woodworking 6
Heartwood 10
Regulus 6
Mundane Rune 8
Manganese 15
Mastic 3
Woodworking
Blueprint
Yes
400
Orcish Counter, Stall
Legerdemain, Drops
Dining
Counters
Fine
Metalworking 1
Potency Improvement 2
Woodworking 5
Heartwood 7
Regulus 3
Mundane Rune 4
Manganese 5
Pitch 9
Woodworking
Blueprint
Yes
50
Orcish Cradle, Peaked
Legerdemain, Drops
Suite
Bedding
Epic
Metalworking 3
Tailoring 3
Woodworking 6
Heartwood 10
Regulus 7
Clean Pelt 7
Manganese 15
Mastic 3
Woodworking
Blueprint
No
0
Orcish Cupboards, Peaked
Legerdemain, Drops
Hearth
Cabinetry
Epic
Metalworking 3
Potency Improvement 2
Woodworking 7
Heartwood 11
Regulus 7
Mundane Rune 6
Manganese 15
Mastic 3
Woodworking
Blueprint
Yes
400
Orcish Curtain, Folding
Legerdemain, Drops
Suite
Dividers
Superior
Metalworking 2
Tailoring 6
Woodworking 2
Clean Pelt 9
Regulus 5
Heartwood 5
Manganese 10
Embroidery 6
Clothing
Pattern
Yes
150
Legerdemain, Drops
Suite
Dividers
Superior
Metalworking 2
Potency Improvement 3
Woodworking 5
Heartwood 8
Regulus 5
Mundane Rune 6
Manganese 10
Turpen 6
Woodworking
Blueprint
Yes
150
Orcish Desk with Furs
Legerdemain, Drops
Library
Desks
Legendary
Tailoring 8
Potency Improvement 10
Woodworking 8
Mundane Rune 15
Clean Pelt 13
Heartwood 13
Manganese 20
Kuta 1
Enchanting
Praxis
No
0
Orcish Desk, Engraved
Legerdemain, Drops
Library
Desks
Superior
Metalworking 1
Potency Improvement 5
Woodworking 1
Mundane Rune 8
Regulus 4
Heartwood 4
Manganese 10
Denata 6
Enchanting
Praxis
Yes
150
Orcish Divider, Curved
Legerdemain, Drops
Suite
Dividers
Epic
Metalworking 4
Potency Improvement 8
Woodworking 4
Heartwood 8
Regulus 8
Mundane Rune 12
Manganese 15
Mastic 3
Woodworking
Blueprint
Yes
400
Orcish Divider, Folded
Legerdemain, Drops
Suite
Dividers
Epic
Metalworking 4
Potency Improvement 3
Woodworking 7
Heartwood 11
Regulus 8
Mundane Rune 7
Manganese 15
Mastic 3
Woodworking
Blueprint
Yes
400
Orcish Dresser, Engraved
Legerdemain, Drops
Suite
Wardrobes
Epic
Metalworking 2
Potency Improvement 7
Woodworking 3
Mundane Rune 11
Regulus 6
Heartwood 7
Manganese 15
Rekuta 3
Enchanting
Praxis
Yes
400
Orcish Dresser, Open
Legerdemain, Drops
Suite
Wardrobes
Superior
Potency Improvement 5
Woodworking 2
Mundane Rune 8
Heartwood 5
Manganese 10
Denata 6
Enchanting
Praxis
Yes
150
Orcish Effigy, Bear
Legerdemain, Drops
Parlor
Knick-Knacks
Legendary
Metalworking 8
Potency Improvement 10
Solvent Proficiency 8
Mundane Rune 15
Regulus 13
Alchemical Resin 13
Manganese 20
Kuta 1
Enchanting
Praxis
No
0
Orcish Effigy, Mammoth
Legerdemain, Drops
Parlor
Knick-Knacks
Legendary
Metalworking 8
Potency Improvement 10
Solvent Proficiency 8
Mundane Rune 15
Regulus 13
Alchemical Resin 13
Manganese 20
Kuta 1
Enchanting
Praxis
No
0
Orcish Figure, Stone
Courtyard
Statues
Legendary
No
0
Orcish Figurine, Strength
Legerdemain, Drops
Courtyard
Statues
Epic
Metalworking 4
Potency Improvement 8
Solvent Proficiency 4
Mundane Rune 12
Regulus 8
Alchemical Resin 8
Manganese 15
Rekuta 3
Enchanting
Praxis
No
0
Orcish Footlocker, Buckled
Legerdemain, Drops
Suite
Trunks
Superior
Metalworking 7
Woodworking 4
Regulus 10
Heartwood 7
Manganese 10
Dwarven Oil 6
Blacksmithing
Diagram
Yes
150
Orcish Funeral Pyre
Undercroft
Grave Goods
Legendary
No
0
Orcish Goblet, Stone
Legerdemain, Drops
Hearth
Dishes
Superior
Metalworking 2
Recipe Improvement 4
Decorative Wax 7
Regulus 5
Manganese 10
Bervez Juice 6
Provisioning
Design
Yes
150
Orcish Grand Table with Furs
Purchase: Mastercraft Mediator
Dining
Tables
Legendary
Tailoring 10
Potency Improvement 10
Woodworking 8
Mundane Rune 15
Clean Pelt 15
Heartwood 13
Manganese 20
Kuta 1
Enchanting
Praxis
No
0
Orcish Head, Stone
Courtyard
Statues
Legendary
No
0
Orcish Hutch, Engraved
Legerdemain, Drops
Hearth
Cabinetry
Epic
Potency Improvement 5
Woodworking 3
Mundane Rune 9
Heartwood 7
Manganese 15
Rekuta 3
Enchanting
Praxis
Yes
400
Orcish Hutch, Storage
Legerdemain, Drops
Hearth
Cabinetry
Epic
Potency Improvement 4
Solvent Proficiency 3
Woodworking 7
Heartwood 11
Mundane Rune 8
Alchemical Resin 7
Manganese 15
Mastic 3
Woodworking
Blueprint
Yes
400
Orcish Knife, Kitchen
Legerdemain, Drops
Hearth
Utensils
Epic
Metalworking 7
Solvent Proficiency 2
Woodworking 5
Regulus 11
Heartwood 9
Manganese 15
Alchemical Resin 6
Grain Solvent 3
Blacksmithing
Diagram
Yes
400
Orcish Lantern, Hanging
Legerdemain, Drops
Lighting
Lanterns
Superior
Metalworking 5
Potency Improvement 2
Recipe Improvement 2
Regulus 8
Mundane Rune 5
Decorative Wax 5
Manganese 10
Rakeipa 10
Dwarven Oil 6
Blacksmithing
Diagram
Yes
150
Orcish Lantern, Hooded
Legerdemain, Drops
Lighting
Lanterns
Fine
Metalworking 4
Solvent Proficiency 2
Regulus 6
Alchemical Resin 4
Manganese 5
Honing Stone 9
Blacksmithing
Diagram
Yes
50
Orcish Mask, Ceremonial
Undercroft
Sacred Pieces
Legendary
No
0
Orcish Mask, Decorative
Undercroft
Sacred Pieces
Legendary
0
Orcish Mask, Decorative
Undercroft
Sacred Pieces
Epic
No
0
Orcish Mask, Gilded Ritual
Undercroft
Sacred Pieces
Epic
No
0
Orcish Mask, Gilded Shield
Undercroft
Sacred Pieces
Epic
No
0
Orcish Mask, Shield
Undercroft
Sacred Pieces
Legendary
No
0
Orcish Mirror, Peaked
Legerdemain, Drops
Suite
Mirrors
Epic
Metalworking 3
Solvent Proficiency 7
Woodworking 4
Alchemical Resin 11
Regulus 7
Heartwood 8
Manganese 15
Alchemy
Formula
No
0
Orcish Mug, Horn
Legerdemain, Drops
Hearth
Dishes
Epic
Recipe Improvement 3
Woodworking 6
Heartwood 10
Decorative Wax 7
Manganese 15
Mastic 3
Woodworking
Blueprint
Yes
400
Orcish Mug, Rugged
Legerdemain, Drops
Hearth
Dishes
Fine
Metalworking 3
Regulus 5
Manganese 5
Honing Stone 9
Blacksmithing
Diagram
Yes
50
Orcish Nightstand, Engraved
Legerdemain, Drops
Suite
Wardrobes
Epic
Metalworking 4
Potency Improvement 2
Woodworking 6
Heartwood 10
Regulus 8
Mundane Rune 6
Manganese 15
Mastic 3
Woodworking
Blueprint
Yes
400
Orcish Nightstand, Open
Legerdemain, Drops
Suite
Wardrobes
Superior
Potency Improvement 4
Mundane Rune 7
Manganese 10
Denata 6
Enchanting
Praxis
Yes
150
Orcish Pedestal, Stone
Undercroft
Sacred Pieces
Legendary
No
0
Orcish Pew, Peaked
Legerdemain, Drops
Dining
Benches
Superior
Metalworking 2
Woodworking 5
Heartwood 8
Regulus 5
Manganese 10
Turpen 6
Woodworking
Blueprint
Yes
150
Orcish Plate, Stone
Legerdemain, Drops
Hearth
Dishes
Superior
Metalworking 3
Potency Improvement 6
Regulus 6
Manganese 10
Mundane Rune 9
Dwarven Oil 6
Blacksmithing
Diagram
Yes
150
Orcish Platform, Block
Legerdemain, Drops
Structures
Platforms
Fine
Metalworking 2
Solvent Proficiency 1
Woodworking 5
Heartwood 7
Regulus 4
Alchemical Resin 3
Manganese 5
Pitch 9
Woodworking
Blueprint
Yes
50
Orcish Platform, Stage
Legerdemain, Drops
Structures
Platforms
Superior
Metalworking 2
Solvent Proficiency 2
Woodworking 4
Heartwood 7
Regulus 5
Alchemical Resin 5
Manganese 10
Turpen 6
Woodworking
Blueprint
Yes
150
Orcish Platter, Serving
Legerdemain, Drops
Hearth
Dishes
Epic
Metalworking 2
Recipe Improvement 4
Decorative Wax 8
Regulus 6
Manganese 15
Frost Mirriam 3
Provisioning
Design
Yes
400
Orcish Sack, Bean
Legerdemain, Drops
Hearth
Baskets and Bags
Superior
Tailoring 6
Recipe Improvement 3
Bast 9
Decorative Wax 6
Manganese 10
Embroidery 6
Clothing
Pattern
Yes
150
Orcish Sack, Flour
Legerdemain, Drops
Hearth
Baskets and Bags
Superior
Tailoring 6
Recipe Improvement 3
Clean Pelt 9
Decorative Wax 6
Manganese 10
Embroidery 6
Clothing
Pattern
Yes
150
Orcish Sack, Grain
Legerdemain, Drops
Hearth
Baskets and Bags
Superior
Tailoring 7
Recipe Improvement 3
Clean Pelt 10
Decorative Wax 6
Manganese 10
Embroidery 6
Clothing
Pattern
Yes
150
Orcish Saucer, Stone
Legerdemain, Drops
Hearth
Dishes
Superior
Metalworking 3
Potency Improvement 6
Regulus 6
Manganese 10
Mundane Rune 9
Dwarven Oil 6
Blacksmithing
Diagram
Yes
150
Orcish Sconce, Bordered
Legerdemain, Drops
Lighting
Sconces
Epic
Metalworking 7
Potency Improvement 5
Solvent Proficiency 2
Regulus 11
Mundane Rune 9
Alchemical Resin 6
Manganese 15
Rakeipa 14
Grain Solvent 3
Blacksmithing
Diagram
Yes
400
Orcish Sconce, Caged
Legerdemain, Drops
Lighting
Sconces
Superior
Metalworking 6
Potency Improvement 4
Woodworking 2
Regulus 9
Mundane Rune 7
Heartwood 5
Manganese 10
Rakeipa 12
Dwarven Oil 6
Blacksmithing
Diagram
Yes
150
Orcish Sconce, Scrolled
Legerdemain, Drops
Lighting
Sconces
Epic
Metalworking 6
Potency Improvement 3
Solvent Proficiency 3
Regulus 10
Mundane Rune 7
Alchemical Resin 7
Manganese 15
Grain Solvent 3
Blacksmithing
Diagram
Yes
400
Orcish Shelf, Long
Legerdemain, Drops
Library
Shelves
Fine
Woodworking 3
Heartwood 5
Manganese 5
Pitch 9
Woodworking
Blueprint
Yes
50
Orcish Shelf, Short
Legerdemain, Drops
Library
Shelves
Fine
Metalworking 2
Woodworking 4
Heartwood 6
Regulus 4
Manganese 5
Pitch 9
Woodworking
Blueprint
Yes
50
Orcish Shelter, Shingled
Legerdemain, Drops
Structures
Tents
Superior
Metalworking 1
Tailoring 7
Woodworking 3
Clean Pelt 10
Regulus 4
Heartwood 6
Manganese 10
Embroidery 6
Clothing
Pattern
Yes
150
Orcish Shelves, Braced
Legerdemain, Drops
Library
Shelves
Fine
Metalworking 2
Woodworking 5
Heartwood 7
Regulus 4
Manganese 5
Pitch 9
Woodworking
Blueprint
Yes
50
Orcish Shelves, Storage
Legerdemain, Drops
Library
Shelves
Epic
Metalworking 2
Woodworking 5
Heartwood 9
Regulus 6
Manganese 15
Mastic 3
Woodworking
Blueprint
Yes
400
Orcish Shrine, Malacath
Undercroft
Sacred Pieces
Legendary
No
0
Orcish Sideboard, Engraved
Legerdemain, Drops
Hearth
Cabinetry
Epic
Metalworking 2
Potency Improvement 7
Woodworking 5
Mundane Rune 11
Regulus 6
Heartwood 9
Manganese 15
Rekuta 3
Enchanting
Praxis
Yes
400
Orcish Skull Goblet, Empty
Legerdemain, Drops
Hearth
Drinkware
Legendary
Metalworking 10
Potency Improvement 6
Solvent Proficiency 6
Recipe Improvement 6
Regulus 15
Mundane Rune 11
Alchemical Resin 11
Decorative Wax 11
Manganese 20
Tempering Alloy 1
Blacksmithing
Diagram
No
0
Orcish Skull Goblet, Full
Purchase: Mastercraft Mediator
Hearth
Drinkware
Legendary
Metalworking 10
Potency Improvement 6
Solvent Proficiency 6
Recipe Improvement 6
Decorative Wax 11
Regulus 15
Mundane Rune 11
Alchemical Resin 11
Manganese 20
Perfect Roe 1
Provisioning
Design
No
0
Orcish Stein, Horn
Legerdemain, Drops
Parlor
Knick-Knacks
Epic
Recipe Improvement 3
Woodworking 5
Heartwood 9
Decorative Wax 7
Manganese 15
Mastic 3
Woodworking
Blueprint
Yes
400
Orcish Stool, Cabled
Legerdemain, Drops
Workshop
Stools
Fine
Metalworking 1
Woodworking 4
Heartwood 6
Regulus 3
Manganese 5
Pitch 9
Woodworking
Blueprint
Yes
50
Orcish Strongbox, Buckled
Legerdemain, Drops
Suite
Trunks
Epic
Metalworking 7
Potency Improvement 3
Woodworking 4
Regulus 11
Mundane Rune 7
Heartwood 8
Manganese 15
Grain Solvent 3
Blacksmithing
Diagram
Yes
400
Orcish Table with Furs
Legerdemain, Drops
Dining
Tables
Legendary
Tailoring 10
Potency Improvement 10
Woodworking 8
Mundane Rune 15
Clean Pelt 15
Heartwood 13
Manganese 20
Kuta 1
Enchanting
Praxis
No
0
Orcish Table, Block
Legerdemain, Drops
Dining
Tables
Fine
Metalworking 2
Woodworking 5
Heartwood 7
Regulus 4
Manganese 5
Pitch 9
Woodworking
Blueprint
Yes
50
Orcish Table, Engraved
Legerdemain, Drops
Dining
Tables
Superior
Potency Improvement 4
Woodworking 1
Mundane Rune 7
Heartwood 4
Manganese 10
Denata 6
Enchanting
Praxis
Yes
150
Orcish Table, Formal
Dining
Tables
Fine
50
Orcish Table, Formal
Legerdemain, Drops
Dining
Tables
Superior
Metalworking 2
Potency Improvement 5
Woodworking 2
Mundane Rune 8
Regulus 5
Heartwood 5
Manganese 10
Denata 6
Enchanting
Praxis
Yes
50
Orcish Table, Game
Legerdemain, Drops
Dining
Tables
Epic
Metalworking 4
Potency Improvement 8
Woodworking 4
Mundane Rune 12
Heartwood 8
Manganese 15
Rekuta 3
Regulus 8
Enchanting
Praxis
Yes
400
Orcish Table, Grand
Legerdemain, Drops
Dining
Tables
Epic
Metalworking 4
Potency Improvement 8
Woodworking 4
Mundane Rune 12
Regulus 8
Heartwood 8
Manganese 15
Rekuta 3
Enchanting
Praxis
Yes
400
Orcish Table, Kitchen
Dining
Tables
Fine
50
Orcish Table, Kitchen
Legerdemain, Drops
Dining
Tables
Superior
Metalworking 3
Woodworking 5
Heartwood 7
Regulus 5
Manganese 5
Pitch 9
Woodworking
Blueprint
Yes
50
Orcish Tapestry, Axe
Legerdemain, Drops
Parlor
Tapestries
Epic
Tailoring 8
Potency Improvement 4
Solvent Proficiency 4
Clean Pelt 12
Mundane Rune 8
Alchemical Resin 8
Manganese 15
Elegant Lining 3
Clothing
Pattern
Yes
400
Orcish Tapestry, Heroes
Purchase: Mastercraft Mediator
Parlor
Tapestries
Legendary
Tailoring 10
Potency Improvement 6
Solvent Proficiency 6
Recipe Improvement 6
Bast 15
Mundane Rune 11
Alchemical Resin 11
Decorative Wax 11
Manganese 20 dreugh wax 1
Clothing
Pattern
No
0
Orcish Tapestry, Hunt
Parlor
Tapestries
Epic
No
0
Orcish Tapestry, Spear
Legerdemain, Drops
Parlor
Tapestries
Epic
Tailoring 9
Potency Improvement 5
Solvent Proficiency 4
Clean Pelt 13
Mundane Rune 9
Alchemical Resin 8
Manganese 15
Elegant Lining 3
Clothing
Pattern
Yes
400
Orcish Tapestry, Sword
Legerdemain, Drops
Parlor
Tapestries
Epic
Tailoring 8
Potency Improvement 4
Solvent Proficiency 4
Clean Pelt 12
Mundane Rune 8
Alchemical Resin 8
Manganese 15
Elegant Lining 3
Clothing
Pattern
Yes
400
Orcish Tapestry, War
Legerdemain, Drops
Parlor
Tapestries
Epic
Tailoring 9
Potency Improvement 4
Solvent Proficiency 3
Recipe Improvement 2
Clean Pelt 13
Mundane Rune 8
Alchemical Resin 7
Decorative Wax 6
Manganese 15
Elegant Lining 3
Clothing
Pattern
No
0
Orcish Tent, Shingled
Legerdemain, Drops
Structures
Tents
Fine
Tailoring 1
Woodworking 5
Heartwood 7
Clean Pelt 3
Manganese 5
Pitch 9
Woodworking
Blueprint
Yes
50
Orcish Throne, Engraved
Legerdemain, Drops
Gallery
Thrones
Legendary
Metalworking 4
Potency Improvement 9
Woodworking 5
Mundane Rune 13
Regulus 8
Heartwood 9
Manganese 15
Rekuta 3
Enchanting
Praxis
Yes
400
Orcish Throne, Peaked
Legerdemain, Drops
Gallery
Thrones
Legendary
Metalworking 4
Potency Improvement 3
Woodworking 7
Heartwood 11
Regulus 8
Mundane Rune 7
Manganese 15
Mastic 3
Woodworking
Blueprint
Yes
400
Orcish Throne, Skull
Legerdemain, Drops
Gallery
Thrones
Legendary
Metalworking 6
Potency Improvement 10
Recipe Improvement 6
Woodworking 6
Mundane Rune 15
Regulus 11
Decorative Wax 11
Heartwood 11
Manganese 20
Kuta 1
Enchanting
Praxis
No
0
Orcish Throne, Stone
Legerdemain, Drops
Gallery
Thrones
Legendary
Metalworking 4
Potency Improvement 8
Woodworking 4
Mundane Rune 12
Regulus 8
Heartwood 8
Manganese 15
Rekuta 3
Enchanting
Praxis
Yes
400
Orcish Totem
Achievement Furnisher: Orsinium
10000
Undercroft
Sacred Pieces
Epic
Achievement: Wrothgar Grand Adventurer
No
0
Orcish Totem, Malacath
Undercroft
Sacred Pieces
Legendary
No
0
Orcish Trestle, Engraved
Legerdemain, Drops
Dining
Tables
Superior
Potency Improvement 3
Woodworking 1
Mundane Rune 6
Heartwood 4
Manganese 10
Denata 6
Enchanting
Praxis
Yes
150
Orcish Trunk, Braced
Legerdemain, Drops
Suite
Trunks
Fine
Metalworking 1
Woodworking 5
Heartwood 7
Regulus 3
Manganese 5
Pitch 9
Woodworking
Blueprint
Yes
50
Orcish Trunk, Buckled
Legerdemain, Drops
Suite
Trunks
Epic
Metalworking 7
Potency Improvement 4
Woodworking 3
Regulus 11
Mundane Rune 8
Heartwood 7
Manganese 15
Grain Solvent 3
Blacksmithing
Diagram
Yes
400
Orcish Trunk, Heavy
Legerdemain, Drops
Suite
Trunks
Superior
Metalworking 6
Woodworking 3
Regulus 9
Heartwood 6
Manganese 10
Dwarven Oil 6
Blacksmithing
Diagram
Yes
150
Orcish Urn, Ceramic
Legerdemain, Drops
Hearth
Pottery
Superior
Potency Improvement 1
Recipe Improvement 3
Decorative Wax 6
Mundane Rune 4
Manganese 10
Bervez Juice 6
Provisioning
Design
Yes
150
Orcish Urn, Honor's Rest
Hearth
Pottery
Legendary
No
0
Orcish Urn, Sealed
Legerdemain, Drops
Hearth
Pottery
Epic
Metalworking 7
Potency Improvement 4
Recipe Improvement 3
Decorative Wax 7
Manganese 15
Regulus 11
Mundane Rune 8
Frost Mirriam 3
Provisioning
Design
Yes
400
Orcish Vessel, Sealed
Legerdemain, Drops
Hearth
Pottery
Epic
Metalworking 6
Solvent Proficiency 2
Recipe Improvement 2
Regulus 10
Alchemical Resin 6
Decorative Wax 6
Manganese 15
Grain Solvent 3
Blacksmithing
Diagram
Yes
150
Orcish Vessel, Sealed Ceramic
#N/A
Undercroft
Urns
Superior
0
Orcish War Totem
Achievement Furnisher: Orsinium
5000
Undercroft
Sacred Pieces
Epic
Achievement: Wrothgar Trailblazer
No
0
Orcish Wash Tub
Legerdemain, Drops
Hearth
Laundry
Fine
Woodworking 2
Heartwood 4
Manganese 5
Pitch 9
Woodworking
Blueprint
Yes
50
Orcs of Skyrim
Purchase: Mystic
5000 / collection
Library
Literature
Fine
Complete Appropriate Lorebook Collection
No
0
Orcs: The Vermin Among Us
Purchase: Mystic
5000 / collection
Library
Literature
Fine
Complete Appropriate Lorebook Collection
No
0
Order of the Hour Banner
Achievement Furnisher: Kvatch
5000
Parlor
Banners
Epic
Achievement: Dark Discovery
No
0
Origin of the Mages Guild
Purchase: Mystic
5000 / collection
Library
Literature
Fine
Complete Appropriate Lorebook Collection
No
0
Orrery Control Pillar Replica
Achievement Furnisher: Redfur Trading Post
10000
Miscellaneous
Epic
Achievement: Iconoclast Achievement
No
0
Orsinium Cart
Achievement Furnisher: Orsinium
10000
Courtyard
Carts and Wagons
Epic
Achievement: Wrothgar Newcomer
No
0
Our Calling, Our Pledge
Purchase: Mystic
5000 / collection
Library
Literature
Fine
Complete Appropriate Lorebook Collection
No
0
Outlaw Banner
Purchase: Outlaw Refuge Merchant
5000
Parlor
Banners
Epic
Rank 20 Legerdemain
No
0
Outlaw's Standard
Epic
No
0
Pact Camp Banner
Achievement Furnisher: Cyrodiil
1,000AP and 607g
Gallery
Honors and Awards
Fine
Alliance Rank "Legionary"
No
0
Pact Hero Shield
Achievement Furnisher: Cyrodiil
10000
Parlor
Banners
Epic
Achievement: Hero of the Ebonheart Pact
No
0
Pact Keep Pennant
Achievement Furnisher: Cyrodiil
8,000AP
Gallery
Honors and Awards
Superior
Alliance Rank "Grand Warlord"
No
0
Pact Pennant, Small
Achievement Furnisher: Cyrodiil
200AP and 607g
Gallery
Honors and Awards
Fine
Alliance Rank "Volunteer"
No
0
Pact Wall Banner, Large
Achievement Furnisher: Cyrodiil
3,000AP
Gallery
Honors and Awards
Superior
Alliance Rank "Veteran"
No
0
Pact Wall Banner, Medium
Achievement Furnisher: Cyrodiil
600AP and 607g
Gallery
Honors and Awards
Fine
Alliance Rank "Tyro"
No
0
Pact Wall Banner, Small
Achievement Furnisher: Cyrodiil
400AP and 607g
Gallery
Honors and Awards
Fine
Alliance Rank "Recruit"
No
0
Painting Brush, Angled
Legerdemain, Drops
Parlor
Knick-Knacks
Superior
Solvent Proficiency 2
Woodworking 5
Heartwood 8
Alchemical Resin 5
Nickel 10
Turpen 6
Woodworking
Blueprint
No
0
Painting Brush, Detail
Legerdemain, Drops
Parlor
Knick-Knacks
Superior
Solvent Proficiency 2
Woodworking 5
Heartwood 8
Alchemical Resin 5
Nickel 10
Turpen 6
Woodworking
Blueprint
No
0
Painting Brush, Wide
Legerdemain, Drops
Parlor
Knick-Knacks
Superior
Solvent Proficiency 2
Woodworking 5
Heartwood 8
Alchemical Resin 5
Nickel 10
Turpen 6
Woodworking
Blueprint
No
0
Painting of a Desert, Refined
Rarely found in treasure chests???
Gallery
Paintings
Epic
Yes
400
Painting of a Forest, Refined
Rarely found in treasure chests???
Gallery
Paintings
Epic
Yes
400
Painting of a Waterfall, Refined
Rarely found in treasure chests???
Gallery
Paintings
Epic
Yes
400
Painting of Autumn, Bolted
Rarely found in treasure chests???
Gallery
Paintings
Epic
Yes
400
Painting of Bridge, Bolted
Rarely found in treasure chests???
Gallery
Paintings
Epic
Yes
400
Painting of Cottage, Refined
Rarely found in treasure chests???
Gallery
Paintings
Epic
Yes
400
Painting of Crags, Sturdy
Rarely found in treasure chests???
Gallery
Paintings
Epic
Yes
400
Painting of Creek, Sturdy
Rarely found in treasure chests???
Gallery
Paintings
Epic
Yes
400
Painting of Great Ruins, Bolted
Rarely found in treasure chests???
Gallery
Paintings
Epic
Yes
400
Painting of Jungle, Sturdy
Rarely found in treasure chests???
Gallery
Paintings
Epic
Yes
400
Painting of Lakes, Sturdy
Rarely found in treasure chests???
Gallery
Paintings
Epic
Yes
400
Painting of Mountains, Refined
Rarely found in treasure chests???
Gallery
Paintings
Epic
Yes
400
Painting of Palms, Sturdy
Rarely found in treasure chests???
Gallery
Paintings
Epic
Yes
400
Painting of Pasture, Sturdy
Rarely found in treasure chests???
Gallery
Paintings
Epic
Yes
400
Painting of Spring, Sturdy
Rarely found in treasure chests???
Gallery
Paintings
Epic
Yes
400
Painting of Summer, Sturdy
Rarely found in treasure chests???
Gallery
Paintings
Epic
Yes
400
Painting of Swamp, Refined
Rarely found in treasure chests???
Gallery
Paintings
Epic
Yes
400
Painting of Tree, Refined
Rarely found in treasure chests???
Gallery
Paintings
Epic
Yes
400
Painting of Valley, Refined
Rarely found in treasure chests???
Gallery
Paintings
Epic
Yes
400
Painting of Winter, Bolted
Rarely found in treasure chests???
Gallery
Paintings
Epic
Yes
400
Painting Palette
Legerdemain, Drops
Parlor
Knick-Knacks
Superior
Solvent Proficiency 7
Recipe Improvement 3
Woodworking 4
Alchemical Resin 11
Nickel 10
Decorative Wax 7
Heartwood 8
Alchemy
Formula
No
0
Pale Garden Flowers
Achievement Furnisher: Abah's Landing
500
Conservatory
Plants
Superior
Achievement: The Long Game
No
0
Palm Tree Cluster
Conservatory
Trees
Standard
No
0
Papers, Stack
Legerdemain, Drops
Library
Literature
Fine
Solvent Proficiency 4
Woodworking 2
Alchemical Resin 6
Heartwood 4
Nickel 5
Alchemy
Formula
Yes
50
Parcels, Wrapped
Workshop
Cargo
Fine
Yes
50
Pay Day
Epic
No
0
Peaches, Bunch
Legerdemain, Drops
Hearth
Produce
Superior
Solvent Proficiency 3
Recipe Improvement 5
Decorative Wax 8
Nickel 10
Apples 10
Alchemical Resin 6
Bervez Juice 6
Provisioning
Design
Yes
150
Pebble, Smooth Desert
Purchase: Home Goods Furnisher
90
Conservatory
Stones and Pebbles
Standard
Riften
Yes
10
Pebble, Smooth Grey
Purchase: Home Goods Furnisher
#N/A
Conservatory
Stones and Pebbles
Standard
Evermore
No
0
Pebble, Stacked Desert
Purchase: Home Goods Furnisher
#N/A
Conservatory
Stones and Pebbles
Standard
Mournhold
No
0
Pebble, Stacked Grey
90
Conservatory
Stones and Pebbles
Standard
10
Pebble, Stacked Lichen
Purchase: Home Goods Furnisher
#N/A
Conservatory
Stones and Pebbles
Standard
Alten Corimont
No
0
Pebble, Stacked Mossy
Purchase: Home Goods Furnisher
90
Conservatory
Stones and Pebbles
Standard
Mournhold
Yes
10
Pebble, Stacked Weathered
#N/A
Conservatory
Stones and Pebbles
Standard
0
Pebbles, Stacked Mossy
Purchase: Home Goods Furnisher
90
Conservatory
Stones and Pebbles
Standard
Alten Corimont
Yes
10
Pebbles, Stacked Weathered
#N/A
Conservatory
Stones and Pebbles
Standard
0
Pelt, Bear
Legerdemain, Drops
Gallery
Display
Superior
Tailoring 7
Solvent Proficiency 2
Recipe Improvement 2
Bast 10
Alchemical Resin 5
Decorative Wax 5
Nickel 10
Embroidery 6
Clothing
Pattern
No
0
Pelt, Hanging
Legerdemain, Drops
Gallery
Mounted Decor
Superior
Tailoring 6
Recipe Improvement 3
Bast 9
Decorative Wax 6
Nickel 10
Embroidery 6
Clothing
Pattern
No
0
Pelt, Ice Wolf
Legerdemain, Drops
Gallery
Display
Superior
Tailoring 7
Solvent Proficiency 2
Recipe Improvement 2
Bast 10
Alchemical Resin 5
Decorative Wax 5
Nickel 10
Embroidery 6
Clothing
Pattern
No
0
Pelt, Wolf
Legerdemain, Drops
Gallery
Display
Superior
Tailoring 6
Recipe Improvement 3
Bast 9
Decorative Wax 6
Nickel 10
Embroidery 6
Clothing
Pattern
No
0
Pennant, Undaunted
Parlor
Tapestries
Legendary
No
0
Pheasant, Hanging
Legerdemain, Drops
Gallery
Display
Legendary
Tailoring 6
Potency Improvement 6
Solvent Proficiency 6
Recipe Improvement 6
Decorative Wax 11
Bast 11
Mundane Rune 11
Alchemical Resin 11
Nickel 20
Perfect Roe 1
Provisioning
Design
No
0
Pie Dish, Display
Legerdemain, Drops
Epic
Metalworking 2
Solvent Proficiency 4
Recipe Improvement 6
Decorative Wax 10
Regulus 6
Alchemical Resin 8
Nickel 15
Frost Mirriam 3
Provisioning
Design
Yes
400
Pie Dish, Empty
Legerdemain, Drops
Hearth
Dishes
Superior
Metalworking 5
Recipe Improvement 2
Regulus 8
Decorative Wax 5
Nickel 10
Dwarven Oil 6
Blacksmithing
Diagram
Yes
150
Pie, Display
Legerdemain, Drops
Epic
Solvent Proficiency 2
Recipe Improvement 4
Decorative Wax 7
Alchemical Resin 5
Nickel 15
Frost Mirriam 3
Provisioning
Design
Yes
400
Pile of Coins
Purchase: Outlaw Refuge Merchant
2500
Miscellaneous
Epic
Achievement: Feloneous Recompense
No
0
Pillar, Stalactite
Courtyard
Posts and Pillars
Legendary
No
0
Pillar, Stalagmite
Courtyard
Posts and Pillars
Legendary
No
0
Pillow Roll, Faded Blue
Suite
Pillows
Superior
Yes
150
Pillow Roll, Faded Red
Suite
Pillows
Superior
Yes
150
Pillow Roll, Faded Yellow
Suite
Pillows
Superior
Yes
150
Pillow, Faded Blue
Suite
Pillows
Superior
Yes
150
Pillow, Faded Blue Floral
Suite
Pillows
Superior
Yes
150
Pillow, Faded Purple
Suite
Pillows
Superior
Yes
150
Pillow, Faded Purple Floral
Suite
Pillows
Superior
Yes
150
Pillow, Faded Red
Suite
Pillows
Superior
Yes
150
Pillow, Faded Red Floral
Suite
Pillows
Superior
Yes
150
Pillow, Faded Yellow
Suite
Pillows
Superior
Yes
150
Pillow, Faded Yellow Floral
Suite
Pillows
Superior
Yes
150
Pirate Banner
Achievement Furnisher: Stonetooth Fortress
10000
Parlor
Banners
Epic
Achievement: Famed Recruiter
No
0
Pirates of the Abecean
Purchase: Mystic
5000 / collection
Library
Literature
Fine
Complete Appropriate Lorebook Collection
No
0
Plant Cluster, Jungle Leaf
#N/A
Conservatory
Shrubs
Standard
0
Plant, Blooming White Hosta
Conservatory
Shrubs
Fine
Yes
50
Plant, Dry Spike
Purchase: Home Goods Furnisher
90
Conservatory
Plants
Standard
Alten Corimont
Yes
10
Plant, Forest Sprig
Conservatory
Trees
Standard
Yes
10
Plant, Goldenrod Cluster
#N/A
Conservatory
Plants
Standard
0
Plant, Green Water
Purchase: Home Goods Furnisher
90
Conservatory
Plants
Standard
Evermore
Yes
10
Plant, Healthy Sage
Purchase: Home Goods Furnisher
90
Conservatory
Plants
Standard
Belkarth
Yes
10
Plant, Healthy White Hosta
Conservatory
Shrubs
Fine
Yes
50
Plant, Hefty Sage
#N/A
Conservatory
Plants
Standard
0
Plant, Jungle Leaf
Purchase: Home Goods Furnisher
90
Conservatory
Trees
Standard
Rawl'kha
Yes
10
Plant, Leafy Sprouts
Purchase: Home Goods Furnisher
90
Conservatory
Plants
Standard
Rawl'kha
Yes
10
Plant, Paired Verdant Hosta
Conservatory
Shrubs
Fine
Yes
50
Plant, Paired White Hosta
Conservatory
Plants
Fine
Yes
50
Plant, palm Fronds
#N/A
Conservatory
Plants
Standard
0
Plant, Red Aloe
Purchase: Home Goods Furnisher
270
Conservatory
Plants
Fine
Dhalmora, Ebonheart
Yes
50
Plant, Red Aloe Succulent
Purchase: Home Goods Furnisher
270
Conservatory
Plants
Fine
Dhalmora, Ebonheart
Yes
50
Plant, Squat Jungle Leaf
Purchase: Home Goods Furnisher
90
Conservatory
Trees
Standard
Rawl'kha
Yes
10
Plant, Squat Yucca
#N/A
Conservatory
Plants
Standard
0
Plant, Strong Sage
#N/A
Conservatory
Plants
Standard
0
Plant, Summer Hosta
Conservatory
Shrubs
Fine
Yes
50
Plant, Tall Flowering Yucca
Purchase: Home Goods Furnisher
90
Conservatory
Plants
Standard
Evermore
Yes
10
Plant, Tall Mammoth Ear
Conservatory
Trees
Standard
Yes
10
Plant, Towering Jungle Leaf
Purchase: Home Goods Furnisher
90
Conservatory
Trees
Standard
Rawl'kha
Yes
10
Plant, Towering Mammoth Ear
Conservatory
Trees
Standard
Yes
10
Plant, Verdant Hosta
Conservatory
Shrubs
Fine
Yes
50
Plant, Young Summer Hosta
Conservatory
Shrubs
Standard
Yes
10
Plant, Young Verdant Hosta
Conservatory
Shrubs
Standard
Yes
10
Plants, Dense Underbrush
Conservatory
Shrubs
Standard
Yes
10
Plants, Dry Underbrush
Conservatory
Shrubs
Standard
Yes
10
Plants, Low Weeds
Purchase: Home Goods Furnisher
90
Conservatory
Shrubs
Standard
Markruk
Yes
10
Plants, Sparse Underbrush
Conservatory
Shrubs
Standard
Yes
10
Plaque, Large
Legerdemain, Drops
Gallery
Mounted Decor
Epic
Potency Improvement 2
Solvent Proficiency 2
Woodworking 7
Heartwood 10
Mundane Rune 5
Alchemical Resin 5
Nickel 15
Mastic 3
Woodworking
Blueprint
Yes
400
Plaque, Small
Legerdemain, Drops
Gallery
Mounted Decor
Epic
Solvent Proficiency 2
Woodworking 5
Heartwood 8
Alchemical Resin 5
Nickel 15
Mastic 3
Woodworking
Blueprint
Yes
400
Plaque, Standard
Legerdemain, Drops
Gallery
Mounted Decor
Epic
Solvent Proficiency 3
Woodworking 6
Heartwood 9
Alchemical Resin 6
Nickel 15
Mastic 3
Woodworking
Blueprint
Yes
400
Platform, Weathered Dock
Purchase: Home Goods Furnisher
270
Structures
Platforms
Fine
Rawl'kha
Yes
50
Plums, Bunch
Legerdemain, Drops
Hearth
Produce
Superior
Solvent Proficiency 3
Recipe Improvement 5
Decorative Wax 8
Nickel 10
Apples 8
Alchemical Resin 6
Bervez Juice 6
Provisioning
Design
Yes
150
Pocket Change
Purchase: Outlaw Refuge Merchant
500
Miscellaneous
Superior
Achievement: Purse Snatcher
No
0
Podium with Scroll, Stone
Library
Supplies
Legendary
No
0
Podium, Cracked
Library
Supplies
Legendary
No
0
Podium, Engraved
Legerdemain, Drops
Library
Supplies
Epic
Potency Improvement 3
Woodworking 6
Heartwood 9
Mundane Rune 6
Nickel 15
Mastic 3
Woodworking
Blueprint
Yes
400
Podium, Skinning
Purchase: Mastercraft Mediator
Workshop
Materials
Legendary
Tailoring 10
Solvent Proficiency 8
Woodworking 10
Heartwood 15
Clean Pelt 15
Alchemical Resin 13
Nickel 20
Rosin 1
Woodworking
Blueprint
No
0
Poison Satchel
Purchase: Alchemist
5000
Hearth
Baskets and Bags
Epic
Achievement: Toxicologist
No
0
Poisoned Blood
Undercroft
Grave Goods
Epic
No
0
Post, Barnacle Covered
Purchase: Home Goods Furnisher
90
Courtyard
Posts and Pillars
Standard
Rawl'kha
Yes
10
Post, Skull
Undercroft
Remains
Legendary
No
0
Post, Skulls
Undercroft
Remains
Legendary
No
0
Pot Pie, Display
Legerdemain, Drops
Hearth
Meals
Superior
Solvent Proficiency 2
Recipe Improvement 4
Decorative Wax 7
Alchemical Resin 5
Nickel 10
Bervez Juice 6
Provisioning
Design
Yes
150
Potato, Wax
Legerdemain, Drops
Hearth
Produce
Fine
Recipe Improvement 1
Decorative Wax 3
Nickel 5
Potato 2
Flour 20
Provisioning
Design
Yes
50
Preserved Sweetrolls
Achievement Furnisher: Kvatch
Superior
Achievement: Gold Coast Connections
No
0
Primal Altar to Hircine
Achievement Furnisher: Alliance Capitals
50000
Undercroft
Sacred Pieces
Legendary
Achievement: Lycanthropy Master
No
0
Proper-Life: Three Chants
Purchase: Mystic
5000 / collection
Library
Literature
Fine
Complete Appropriate Lorebook Collection
No
0
Proposal: Schools of Magic
Purchase: Mystic
5000 / collection
Library
Literature
Fine
Complete Appropriate Lorebook Collection
No
0
Protocols of the Court of Contempt
Purchase: Mystic
5000 / collection
Library
Literature
Fine
Complete Appropriate Lorebook Collection
No
0
Provisioner's Sign
Purchase: Chef
5000
Parlor
Banners
Epic
Achievement: Master Provisioner
No
0
Provisioning Station
Purchase: Mastercraft Mediator
35WV
Workshop
Cooking Stations
Legendary
No
0
Pumpkin, Display
Legerdemain, Drops
Hearth
Produce
Fine
Recipe Improvement 1
Decorative Wax 3
Nickel 5
Pumpkin 2
Flour 20
Provisioning
Design
Yes
50
Rabbit Carcass, Hanging
Legerdemain, Drops
Gallery
Display
Legendary
Tailoring 6
Potency Improvement 6
Solvent Proficiency 6
Recipe Improvement 6
Decorative Wax 11
Bast 11
Mundane Rune 11
Alchemical Resin 11
Nickel 20
Perfect Roe 1
Provisioning
Design
No
0
Radish, Wax
Legerdemain, Drops
Hearth
Produce
Fine
Recipe Improvement 1
Decorative Wax 3
Nickel 5 Radish 2
Flour 20
Provisioning
Design
Yes
50
Ragged Imperial Banner
Achievement Furnisher: Evermore
5000
Parlor
Banners
Epic
Achievement: End of Empire
No
0
Ram Horns, Mounted
Legerdemain, Drops
Gallery
Mounted Decor
Legendary
Potency Improvement 6
Solvent Proficiency 6
Recipe Improvement 6
Woodworking 6
Decorative Wax 11
Mundane Rune 11
Alchemical Resin 11
Heartwood 11
Nickel 20
Perfect Roe 1
Provisioning
Design
Yes
400
Reality and Other Falsehoods
Purchase: Mystic
5000 / collection
Library
Literature
Fine
Complete Appropriate Lorebook Collection
No
0
Reconstructed Necromantic Focus
Achievement Furnisher: Kozanset
5000
Undercroft
Grave Goods
Epic
Achievement: Alasan's Devestation
No
0
Redguard Amphora, Gilded
Hearth
Pottery
Epic
Yes
400
Redguard Amphora, Polished
Legerdemain, Drops
Hearth
Pottery
Superior
Metalworking 2
Solvent Proficiency 2
Recipe Improvement 4
Decorative Wax 7
Regulus 5
Alchemical Resin 5
Starmetal 10
Bervez Juice 6
Provisioning
Design
Yes
150
Redguard Armchair, Cushioned
Legerdemain, Drops
Dining
Chairs
Superior
Tailoring 7
Woodworking 4
Bast 10
Heartwood 7
Starmetal 10
Embroidery 6
Clothing
Pattern
Yes
150
Redguard Armchair, Lattice
Dining
Chairs
Epic
Yes
400
Redguard Armchair, Slatted
Legerdemain, Drops
Dining
Chairs
Fine
Woodworking 4
Heartwood 6
Starmetal 5
Pitch 9
Woodworking
Blueprint
Yes
50
Redguard Armchair, Starry
Legerdemain, Drops
Dining
Chairs
Epic
Tailoring 7
Potency Improvement 2
Woodworking 5
Bast 11
Mundane Rune 6
Heartwood 9
Starmetal 15
Elegant Lining 3
Clothing
Pattern
Yes
400
Redguard Awning, Desert Flame
Legerdemain, Drops
Structures
Tents
Superior
Tailoring 5
Woodworking 2
Bast 8
Heartwood 5
Starmetal 10
Ruby 10
Embroidery 6
Clothing
Pattern
Yes
150
Redguard Awning, Oasis
Legerdemain, Drops
Structures
Tents
Superior
Tailoring 8
Solvent Proficiency 4
Woodworking 4
Bast 12
Alchemical Resin 8
Heartwood 8
Starmetal 10
Sapphire 16
Embroidery 6
Clothing
Pattern
Yes
150
Redguard Banner, Post
Legerdemain, Drops
Parlor
Banners
Fine
Woodworking 3
Heartwood 5
Starmetal 5
Pitch 9
Woodworking
Blueprint
Yes
50
Redguard Barrel, Corded
#N/A
Workshop
Cargo
Fine
0
Redguard Basket, Closed
Legerdemain, Drops
Hearth
Baskets and Bags
Superior
Tailoring 4
Solvent Proficiency 2
Bast 7
Alchemical Resin 5
Starmetal 10
Embroidery 6
Clothing
Pattern
No
0
Redguard Bed, Full
Legerdemain, Drops
Suite
Bedding
Fine
Tailoring 2
Woodworking 4
Heartwood 6
Bast 4
Starmetal 5
Pitch 9
Woodworking
Blueprint
Yes
50
Redguard Bed, Full Arched
Legerdemain, Drops
Suite
Bedding
Superior
Tailoring 4
Woodworking 2
Bast 7
Heartwood 5
Starmetal 10
Embroidery 6
Clothing
Pattern
Yes
150
Redguard Bed, Full Lattice
Suite
Bedding
Epic
No
0
Redguard Bed, Wide
Legerdemain, Drops
Suite
Bedding
Fine
Tailoring 2
Woodworking 4
Heartwood 6
Bast 4
Starmetal 5
Pitch 9
Woodworking
Blueprint
Yes
50
Redguard Bed, Wide Canopy
Legerdemain, Drops
Suite
Bedding
Epic
Metalworking 4
Tailoring 8
Woodworking 4
Bast 12
Regulus 8
Heartwood 8
Starmetal 15
Elegant Lining 3
Clothing
Pattern
Yes
400
Redguard Bed, Wide Grand
Legerdemain, Drops
Suite
Bedding
Superior
Tailoring 6
Woodworking 3
Bast 9
Heartwood 6
Starmetal 10
Embroidery 6
Clothing
Pattern
Yes
150
Redguard Bed, Wide Lattice
Suite
Bedding
Epic
No
0
Redguard Bench, Arc
Legerdemain, Drops
Dining
Benches
Epic
Metalworking 2
Potency Improvement 8
Solvent Proficiency 2
Recipe Improvement 2
Woodworking 2
Mundane Rune 12
Regulus 6
Alchemical Resin 6
Decorative Wax 6
Starmetal 15
Rekuta 3
Enchanting
Praxis
Yes
400
Redguard Bench, Padded
Legerdemain, Drops
Dining
Benches
Epic
Metalworking 2
Tailoring 6
Woodworking 4
Bast 10
Regulus 6
Heartwood 8
Starmetal 15
Ruby 12
Elegant Lining 3
Clothing
Pattern
Yes
400
Redguard Bench, Slatted
Legerdemain, Drops
Dining
Benches
Fine
Woodworking 3
Heartwood 5
Starmetal 5
Pitch 9
Woodworking
Blueprint
Yes
50
Redguard Bin, Roped
Legerdemain, Drops
Workshop
Cargo
Fine
Tailoring 1
Woodworking 3
Heartwood 5
Bast 3
Starmetal 5
Pitch 9
Woodworking
Blueprint
Yes
50
Redguard Bin, Sealed
Legerdemain, Drops
Workshop
Cargo
Fine
Woodworking 3
Heartwood 5
Starmetal 5
Pitch 9
Woodworking
Blueprint
Yes
50
Redguard Bookcase, Arched
Legerdemain, Drops
Library
Shelves
Superior
Potency Improvement 4
Solvent Proficiency 2
Woodworking 6
Heartwood 10
Mundane Rune 8
Alchemical Resin 6
Starmetal 10
Turpen 6
Woodworking
Blueprint
Yes
150
Redguard Bookcase, Full
Legerdemain, Drops
Library
Shelves
Epic
Potency Improvement 5
Solvent Proficiency 4
Woodworking 9
Heartwood 13
Mundane Rune 9
Alchemical Resin 8
Starmetal 15
Mastic 3
Woodworking
Blueprint
Yes
400
Redguard Bookcase, Piled
Legerdemain, Drops
Library
Shelves
Epic
Potency Improvement 4
Solvent Proficiency 4
Woodworking 8
Heartwood 12
Mundane Rune 8
Alchemical Resin 8
Starmetal 15
Mastic 3
Woodworking
Blueprint
Yes
400
Redguard Bottle, Delicate
Legerdemain, Drops
Hearth
Dishes
Epic
Metalworking 4
Potency Improvement 3
Solvent Proficiency 7
Alchemical Resin 11
Regulus 8
Mundane Rune 7
Starmetal 15
Alchemy
Formula
Yes
400
Redguard Bottle, Stained Glass
Legerdemain, Drops
Hearth
Dishes
Epic
Metalworking 3
Solvent Proficiency 6
Recipe Improvement 3
Alchemical Resin 10
Regulus 7
Decorative Wax 7
Starmetal 15
Alchemy
Formula
No
0
Redguard Bowl, Gilded
Legerdemain, Drops
Hearth
Dishes
Epic
Metalworking 4
Potency Improvement 7
Recipe Improvement 3
Mundane Rune 10
Regulus 7
Decorative Wax 6
Starmetal 15
Rekuta 3
Enchanting
Praxis
Yes
400
Redguard Bowl, Hanging Star
Legerdemain, Drops
Hearth
Pottery
Superior
Metalworking 7
Solvent Proficiency 3
Recipe Improvement 2
Regulus 10
Alchemical Resin 6
Decorative Wax 5
Starmetal 10
Dwarven Oil 6
Blacksmithing
Diagram
Yes
150
Redguard Brazier, Enchanted
Legerdemain, Drops
Lighting
Braziers
Epic
Metalworking 8
Potency Improvement 3
Solvent Proficiency 5
Regulus 12
Mundane Rune 7
Alchemical Resin 9
Starmetal 15
Rakeipa 16
Grain Solvent 3
Blacksmithing
Diagram
Yes
400
Redguard Brazier, Garish
Legerdemain, Drops
Lighting
Braziers
Epic
Metalworking 8
Potency Improvement 4
Solvent Proficiency 4
Regulus 12
Mundane Rune 8
Alchemical Resin 8
Starmetal 15
Grain Solvent 3
Blacksmithing
Diagram
Yes
400
Redguard Brazier, Robust
Legerdemain, Drops
Lighting
Braziers
Superior
Metalworking 6
Potency Improvement 3
Woodworking 1
Regulus 9
Mundane Rune 6
Heartwood 4
Starmetal 10
Rakeipa 12
Dwarven Oil 6
Blacksmithing
Diagram
Yes
150
Redguard Cabinet, Bar
Legerdemain, Drops
Dining
Counters
Fine
Woodworking 4
Heartwood 6
Starmetal 5
Pitch 9
Woodworking
Blueprint
Yes
50
Redguard Cabinet, Inlaid
Legerdemain, Drops
Library
Shelves
Superior
Metalworking 2
Potency Improvement 2
Woodworking 7
Heartwood 10
Regulus 5
Mundane Rune 5
Starmetal 10
Turpen 6
Woodworking
Blueprint
Yes
150
Redguard Candelabra, Polished
Legerdemain, Drops
Lighting
Candles
Epic
Metalworking 7
Solvent Proficiency 4
Recipe Improvement 3
Regulus 11
Alchemical Resin 8
Decorative Wax 7
Starmetal 15
Grain Solvent 3
Blacksmithing
Diagram
Yes
400
Redguard Candelabra, Practical
Legerdemain, Drops
Lighting
Candles
Fine
Recipe Improvement 1
Woodworking 4
Heartwood 6
Decorative Wax 3
Starmetal 5
Pitch 9
Woodworking
Blueprint
Yes
50
Redguard Candelabra, Twisted
Legerdemain, Drops
Lighting
Candles
Epic
Metalworking 6
Potency Improvement 3
Solvent Proficiency 3
Regulus 10
Alchemical Resin 7
Mundane Rune 7
Starmetal 15
Rakeipa 12
Grain Solvent 3
Blacksmithing
Diagram
Yes
400
Redguard Candleholder, Polished
Legerdemain, Drops
Lighting
Candles
Superior
Metalworking 4
Recipe Improvement 2
Woodworking 6
Heartwood 9
Regulus 7
Decorative Wax 5
Starmetal 10
Turpen 6
Woodworking
Blueprint
Yes
150
Redguard Candleholder, Practical
Legerdemain, Drops
Lighting
Candles
Fine
Metalworking 5
Recipe Improvement 2
Regulus 7
Decorative Wax 4
Starmetal 5
Honing Stone 9
Blacksmithing
Diagram
Yes
50
Redguard Candlestick, Polished
Legerdemain, Drops
Lighting
Candles
Superior
Solvent Proficiency 4
Recipe Improvement 3
Woodworking 7
Heartwood 10
Alchemical Resin 7
Decorative Wax 6
Starmetal 10
Turpen 6
Woodworking
Blueprint
Yes
150
Redguard Candlestick, Practical
Legerdemain, Drops
Lighting
Candles
Fine
Woodworking 2
Heartwood 4
Starmetal 5
Pitch 9
Woodworking
Blueprint
Yes
50
Redguard Candlestick, Twisted
Lighting
Candles
Epic
No
0
Redguard Canopy, Dawn
Legerdemain, Drops
Structures
Tents
Superior
Tailoring 6
Woodworking 3
Bast 9
Heartwood 6
Starmetal 10
Ruby 12
Embroidery 6
Clothing
Pattern
Yes
150
Redguard Canopy, Dusk
Legerdemain, Drops
Structures
Tents
Epic
Tailoring 8
Solvent Proficiency 4
Recipe Improvement 4
Bast 12
Alchemical Resin 8
Decorative Wax 8
Starmetal 15
Elegant Lining 3
Clothing
Pattern
No
0
Redguard Canopy, Stars
Legerdemain, Drops
Structures
Tents
Epic
Tailoring 7
Solvent Proficiency 4
Woodworking 3
Bast 11
Alchemical Resin 8
Heartwood 7
Starmetal 15
Sapphire 14
Elegant Lining 3
Clothing
Pattern
Yes
400
Redguard Caravan, Cargo
Legerdemain, Drops
Courtyard
Carts and Wagons
Epic
Metalworking 4
Tailoring 4
Woodworking 8
Heartwood 12
Regulus 8
Bast 8
Starmetal 15
Mastic 3
Woodworking
Blueprint
Yes
400
Redguard Caravan, Merchant
Legerdemain, Drops
Courtyard
Carts and Wagons
Epic
Metalworking 2
Tailoring 3
Woodworking 7
Heartwood 11
Regulus 6
Bast 7
Starmetal 15
Mastic 3
Woodworking
Blueprint
Yes
400
Redguard Caravan, Practical
Legerdemain, Drops
Courtyard
Carts and Wagons
Superior
Metalworking 2
Tailoring 2
Woodworking 6
Heartwood 9
Regulus 5
Bast 5
Starmetal 10
Turpen 6
Woodworking
Blueprint
Yes
150
Redguard Carpet, Dawn
Parlor
Rugs and Carpets
Epic
No
0
Redguard Carpet, Dunes
Legerdemain, Drops
Parlor
Rugs and Carpets
Superior
Tailoring 7
Solvent Proficiency 3
Bast 10
Alchemical Resin 6
Starmetal 10
Ruby 14
Embroidery 6
Clothing
Pattern
Yes
150
Redguard Carpet, Mirage
Legerdemain, Drops
Parlor
Rugs and Carpets
Epic
Tailoring 8
Potency Improvement 3
Solvent Proficiency 5
Bast 12
Mundane Rune 7
Alchemical Resin 9
Starmetal 15
Elegant Lining 3
Clothing
Pattern
Yes
400
Redguard Carpet, Oasis
Legerdemain, Drops
Parlor
Rugs and Carpets
Epic
Tailoring 8
Potency Improvement 3
Solvent Proficiency 5
Bast 12
Mundane Rune 7
Alchemical Resin 9
Starmetal 15
Elegant Lining 3
Clothing
Pattern
Yes
400
Redguard Carriage, Merchant
Legerdemain, Drops
Courtyard
Carts and Wagons
Superior
Metalworking 5
Solvent Proficiency 2
Woodworking 7
Heartwood 10
Regulus 8
Alchemical Resin 5
Starmetal 10
Turpen 6
Woodworking
Blueprint
Yes
150
Redguard Carriage, Practical
Legerdemain, Drops
Courtyard
Carts and Wagons
Fine
Metalworking 2
Woodworking 4
Heartwood 6
Regulus 4
Starmetal 5
Pitch 9
Woodworking
Blueprint
Yes
50
Redguard Cart, Practical
Legerdemain, Drops
Courtyard
Carts and Wagons
Fine
Metalworking 2
Woodworking 5
Heartwood 7
Regulus 4
Starmetal 5
Pitch 9
Woodworking
Blueprint
Yes
50
Redguard Cart, Work
Legerdemain, Drops
Courtyard
Carts and Wagons
Fine
Metalworking 2
Woodworking 4
Heartwood 6
Regulus 4
Starmetal 5
Pitch 9
Woodworking
Blueprint
Yes
50
Redguard Cask, Sealed
Legerdemain, Drops
Workshop
Cargo
Superior
Solvent Proficiency 2
Recipe Improvement 2
Woodworking 4
Heartwood 7
Alchemical Resin 5
Decorative Wax 5
Starmetal 10
Turpen 6
Woodworking
Blueprint
Yes
150
Redguard Cauldron, Clawfoot
Legerdemain, Drops
Undercroft
Basins
Superior
Metalworking 5
Recipe Improvement 2
Regulus 8
Decorative Wax 5
Starmetal 10
Dwarven Oil 6
Blacksmithing
Diagram
Yes
150
Redguard Censer, Hanging Bell
Legerdemain, Drops
Undercroft
Incense
Epic
Metalworking 8
Potency Improvement 4
Solvent Proficiency 4
Regulus 12
Starmetal 15
Grain Solvent 3
Mundane Rune 8
Alchemical Resin 8
Blacksmithing
Diagram
Yes
400
Redguard Censer, Hanging Bulb
Undercroft
Incense
Epic
Yes
150
Redguard Censer, Hanging Disc
Undercroft
Incense
Epic
Yes
150
Redguard Censer, Hanging Horn
Legerdemain, Drops
Undercroft
Incense
Epic
Metalworking 8
Potency Improvement 4
Recipe Improvement 4
Regulus 12
Starmetal 15
Grain Solvent 3
Mundane Rune 8
Decorative Wax 8
Blacksmithing
Diagram
Yes
400
Redguard Chair, Backless
Legerdemain, Drops
Dining
Chairs
Fine
Woodworking 3
Heartwood 5
Starmetal 5
Pitch 9
Woodworking
Blueprint
Yes
50
Redguard Chair, Lattice
Dining
Chairs
Epic
Yes
400
Redguard Chair, Slatted
Legerdemain, Drops
Dining
Chairs
Fine
Woodworking 2
Heartwood 4
Starmetal 5
Pitch 9
Woodworking
Blueprint
Yes
50
Redguard Chair, Starry
Legerdemain, Drops
Dining
Chairs
Epic
Tailoring 7
Potency Improvement 2
Woodworking 5
Bast 11
Mundane Rune 6
Heartwood 9
Starmetal 15
Ruby 14
Elegant Lining 3
Clothing
Pattern
Yes
400
Redguard Chalice, Empty
Legerdemain, Drops
Hearth
Dishes
Epic
Metalworking 8
Potency Improvement 4
Solvent Proficiency 4
Regulus 12
Mundane Rune 8
Alchemical Resin 8
Starmetal 15
Grain Solvent 3
Blacksmithing
Diagram
Yes
400
Redguard Chalice, Full
Legerdemain, Drops
Hearth
Dishes
Epic
Metalworking 8
Potency Improvement 4
Recipe Improvement 4
Regulus 12
Mundane Rune 8
Decorative Wax 8
Starmetal 15
Grain Solvent 3
Blacksmithing
Diagram
Yes
400
Redguard Chandelier, Dark
Legerdemain, Drops
Lighting
Chandeliers
Epic
No
0
Redguard Chandelier, Grated
Legerdemain, Drops
Lighting
Chandeliers
Epic
Metalworking 8
Potency Improvement 4
Recipe Improvement 4
Regulus 12
Mundane Rune 8
Decorative Wax 8
Starmetal 15
Grain Solvent 3
Blacksmithing
Diagram
No
0
Redguard Chandelier, Polished
Legerdemain, Drops
Lighting
Chandeliers
Epic
Metalworking 9
Potency Improvement 5
Solvent Proficiency 4
Regulus 13
Mundane Rune 9
Alchemical Resin 8
Starmetal 15
Rakeipa 18
Grain Solvent 3
Blacksmithing
Diagram
Yes
400
Redguard Chandelier, Polished Grated
Legerdemain, Drops
Lighting
Chandeliers
Epic
Metalworking 8
Potency Improvement 4
Solvent Proficiency 4
Regulus 12
Mundane Rune 8
Alchemical Resin 8
Starmetal 15
Grain Solvent 3
Blacksmithing
Diagram
Yes
400
Redguard Couch, Bolted
Legerdemain, Drops
Parlor
Sofas and Couches
Fine
Woodworking 4
Heartwood 6
Starmetal 5
Pitch 9
Woodworking
Blueprint
Yes
50
Redguard Couch, Padded
Legerdemain, Drops
Parlor
Sofas and Couches
Superior
Tailoring 5
Woodworking 3
Bast 8
Heartwood 6
Starmetal 10
Embroidery 6
Clothing
Pattern
Yes
150
Redguard Couch, Slatted
Legerdemain, Drops
Parlor
Sofas and Couches
Epic
Metalworking 2
Tailoring 7
Woodworking 5
Bast 11
Regulus 6
Heartwood 9
Starmetal 15
Ruby 14
Elegant Lining 3
Clothing
Pattern
Yes
400
Redguard Counter, Bar
Legerdemain, Drops
Dining
Counters
Epic
Potency Improvement 3
Solvent Proficiency 2
Recipe Improvement 3
Woodworking 8
Heartwood 12
Mundane Rune 7
Alchemical Resin 6
Decorative Wax 7
Starmetal 15
Mastic 3
Woodworking
Blueprint
Yes
400
Redguard Counter, Block
Legerdemain, Drops
Dining
Counters
Epic
Potency Improvement 3
Solvent Proficiency 2
Recipe Improvement 3
Woodworking 8
Heartwood 12
Mundane Rune 7
Alchemical Resin 6
Decorative Wax 7
Starmetal 15
Mastic 3
Woodworking
Blueprint
Yes
400
Redguard Counter, Cabinet
Legerdemain, Drops
Dining
Counters
Superior
Metalworking 2
Woodworking 5
Heartwood 8
Regulus 5
Starmetal 10
Turpen 6
Woodworking
Blueprint
Yes
150
Redguard Counter, Corner
Legerdemain, Drops
Dining
Counters
Superior
Metalworking 2
Woodworking 5
Heartwood 8
Regulus 5
Starmetal 10
Turpen 6
Woodworking
Blueprint
Yes
150
Redguard Counter, Grill
Legerdemain, Drops
Dining
Counters
Epic
Metalworking 3
Potency Improvement 3
Recipe Improvement 3
Woodworking 9
Heartwood 13
Regulus 7
Mundane Rune 7
Decorative Wax 7
Starmetal 15
Mastic 3
Woodworking
Blueprint
Yes
400
Redguard Cup, Empty
Legerdemain, Drops
Hearth
Dishes
Fine
Metalworking 2
Regulus 4
Starmetal 5
Honing Stone 9
Blacksmithing
Diagram
Yes
50
Redguard Cup, Full
Legerdemain, Drops
Hearth
Dishes