Character: Titus Aeralius Maximus of EU
Submitted by: Altairaquila
Glass heavy armor

First dye is Transliminal violet, which comes of as, well, violet t times but it's really a golden color. And probably the best looking gold color in the game.

Second is Moonstone white.

Third is Coldharbor Ash black.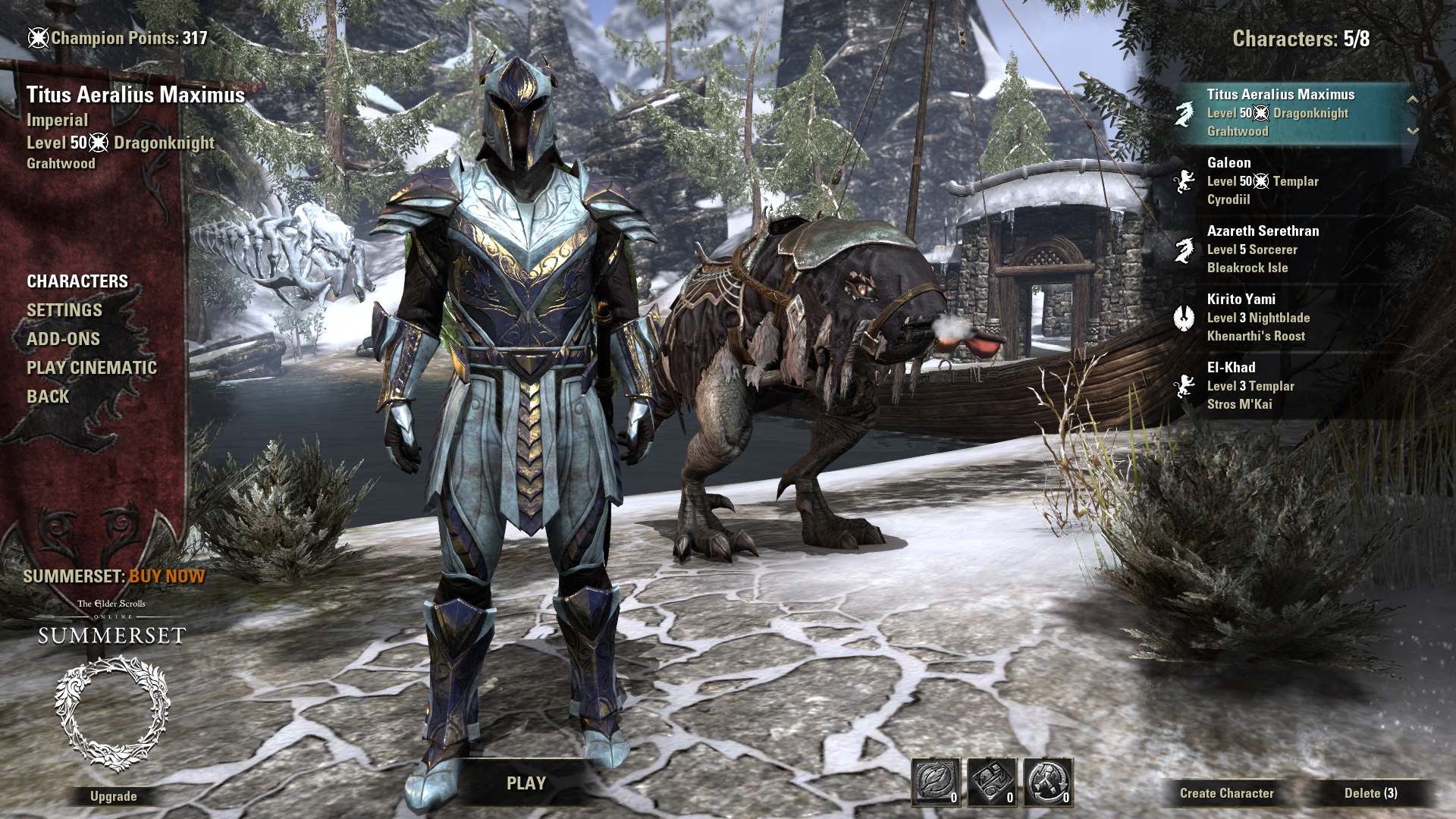 | | | | | | | |
| --- | --- | --- | --- | --- | --- | --- |
| Piece | Name | Quality | Source | Prim Dye | Sec Dye | Tert Dye |
| Head | Glass Rubedite | Epic (Purple) | Crafted, bought through Crow Store. | Transliminal Violet | Moonstone White | Coldharbour Ash Black |
| Shoulders | Glass Rubedite | Epic (Purple) | | Transliminal Violet | Moonstone White | Coldharbour Ash Black |
| Chest | Glass Rubedite | Epic (Purple) | | Transliminal Violet | Moonstone White | Coldharbour Ash Black |
| Hands | Glass Rubedite | Epic (Purple) | | Transliminal Violet | Moonstone White | Coldharbour Ash Black |
| Waist | Glass Rubedite | Epic (Purple) | | Transliminal Violet | Moonstone White | |
| Legs | Glass Rubedite | Epic (Purple) | | Transliminal Violet | Moonstone White | Coldharbour Ash Black |
| Feet | Glass Rubedite | Epic (Purple) | Crafted | Transliminal Violet | Moonstone White | Coldharbour Ash Black |
| Weapon | Glass Rubedite | Epic (Purple) | | Coldharbour Ash Black | Transliminal Violet | Rank 10 Materials |
| Offhand | Glass Rubedite | Epic (Purple) | Crafted | Moonstone White | Transliminal Violet | Covenant Blue |