Character: Serana Andrethi of PlayStation
Submitted by: B33RF4IRY
This is my Dunmer Stamblade. I tried to make an Indoril themed armor that still got some Assassin/Nightblade Vibes to it. I chose the Dremora chestpiece because I can't stand the leg guards on the original Ordinator Armor. Hope you like it!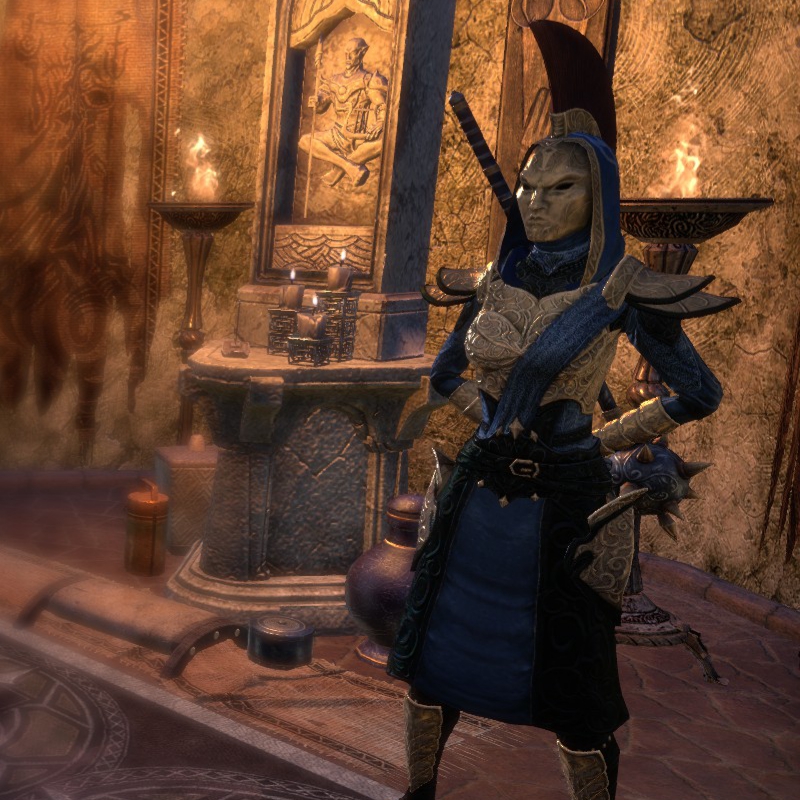 Gear:
| | | | | | | |
| --- | --- | --- | --- | --- | --- | --- |
| Piece | Name | Quality | Source | Prim Dye | Sec Dye | Tert Dye |
| Head | Militant Ordinator (Light) | | | | | |
| Shoulders | Militant Ordinator (Light) | | | | | |
| Chest | Dremora (Light) | | | | | |
| Hands | Militant Ordinator (Medium) | | | | | |
| Waist | Ancient Elves (Light, not visible through Chest) | | | | | |
| Legs | Silken Ring (Medium) | | | | | |
| Feet | Militant Ordinator (Medium) | | | | | |
| Weapon | Order of the Hour Maul | | | | | |
| Offhand | Ebony Bow | | | | | |
Appearance and Companions:
| | |
| --- | --- |
| Slot | Name |
| Hair Style | |
| Head Marking | |
| Facial Hair | |
| Major Adornment | |
| Minor Adornment | |
| Body Marking | |
| Skin | |
| Personality | |
| Polymorph | |
| Mount | |
| Non-Combat Pet | |