Character: Meridian's Huntsman of NA
Submitted by: Peryite2
This outfit was inspired by a combination of the Meridian weapons and the Skinchanger helm. The idea is a holy warrior that hunts down undead, daedra, werewolves, and other abominations. He wields Meridian's greatsword and aedric spear abilities to smite his enemies and adorns himself in silver armor lined with the fur of his fallen foes.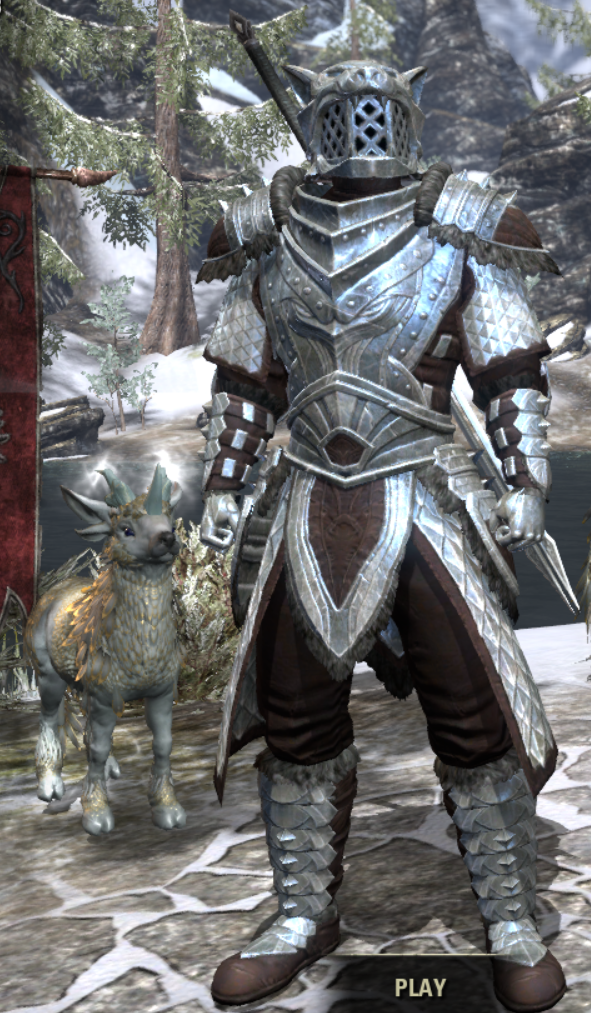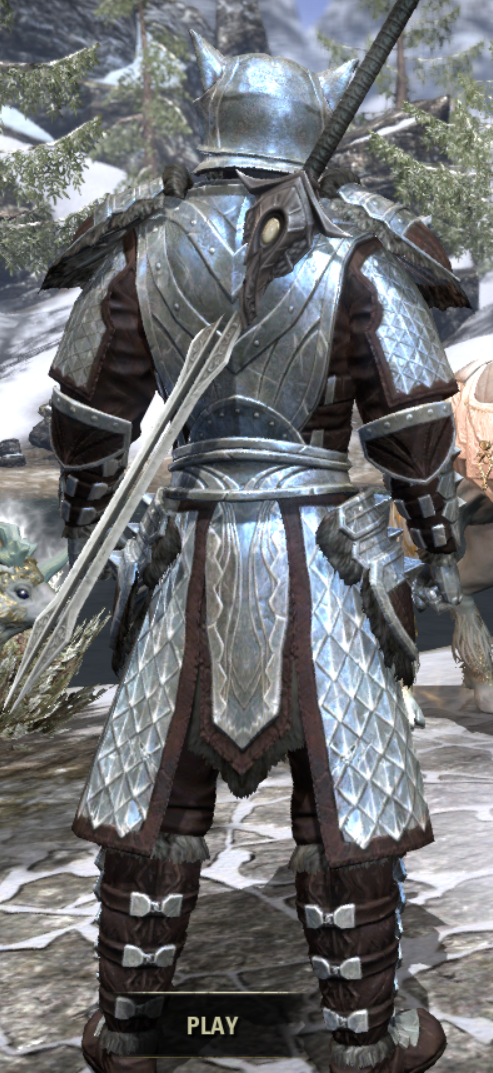 Gear:
| | | | | | | |
| --- | --- | --- | --- | --- | --- | --- |
| Piece | Name | Quality | Source | Prim Dye | Sec Dye | Tert Dye |
| Head | Skinchanger Heavy | | New Life Festival | Lamae's White | Wolf's Fur Brown | |
| Shoulders | Skinchanger Heavy | | New Life Festival | Lamae's White | Wolf's Fur Brown | Lyncanthrope Gray |
| Chest | Skinchanger Heavy | | New Life Festival | Lamae's White | Wolf's Fur Brown | Lyncanthrope Gray |
| Hands | Skinchanger Heavy | | New Life Festival | Lamae's White | Wolf's Fur Brown | Lyncanthrope Gray |
| Waist | Skinchanger Heavy | | New Life Festival | Lamae's White | Wolf's Fur Brown | |
| Legs | Skinchanger Heavy | | New Life Festival | Lamae's White | Wolf's Fur Brown | Lyncanthrope Gray |
| Feet | Skinchanger Heavy | | New Life Festival | Lamae's White | Wolf's Fur Brown | Lyncanthrope Gray |
| Weapon | Meridian Greatsword | | Depths of Malatar | Lamae's White | Wolf's Fur Brown | Lyncanthrope Gray |
| Offhand | | | | | | |
Appearance and Companions:
| | |
| --- | --- |
| Slot | Name |
| Hair Style | |
| Head Marking | |
| Facial Hair | |
| Major Adornment | |
| Minor Adornment | |
| Body Marking | |
| Skin | |
| Personality | Heroic |
| Polymorph | |
| Mount | |
| Non-Combat Pet | |