Few adeptoriums can match the hallowed majesty of Jode's Embrace. Rumor has it that the temple's worthiest occupants can peer into the sacred realm of Jode iteself. Just keep an eye out for Dragons overhead!
Default Name: Jode's Embrace
Cost: 14,000 / 17,500 Crowns
Size: Manor
Race: Khajiit
Max # of Furnishings: 350 / 700 (ESO+)
Trophy Collectibles: 40 / 80 (ESO+)
Other Collectibles: 5 / 10 (ESO+)
Max # of Characters: 24
Location: Riverhold, Northern Elsweyr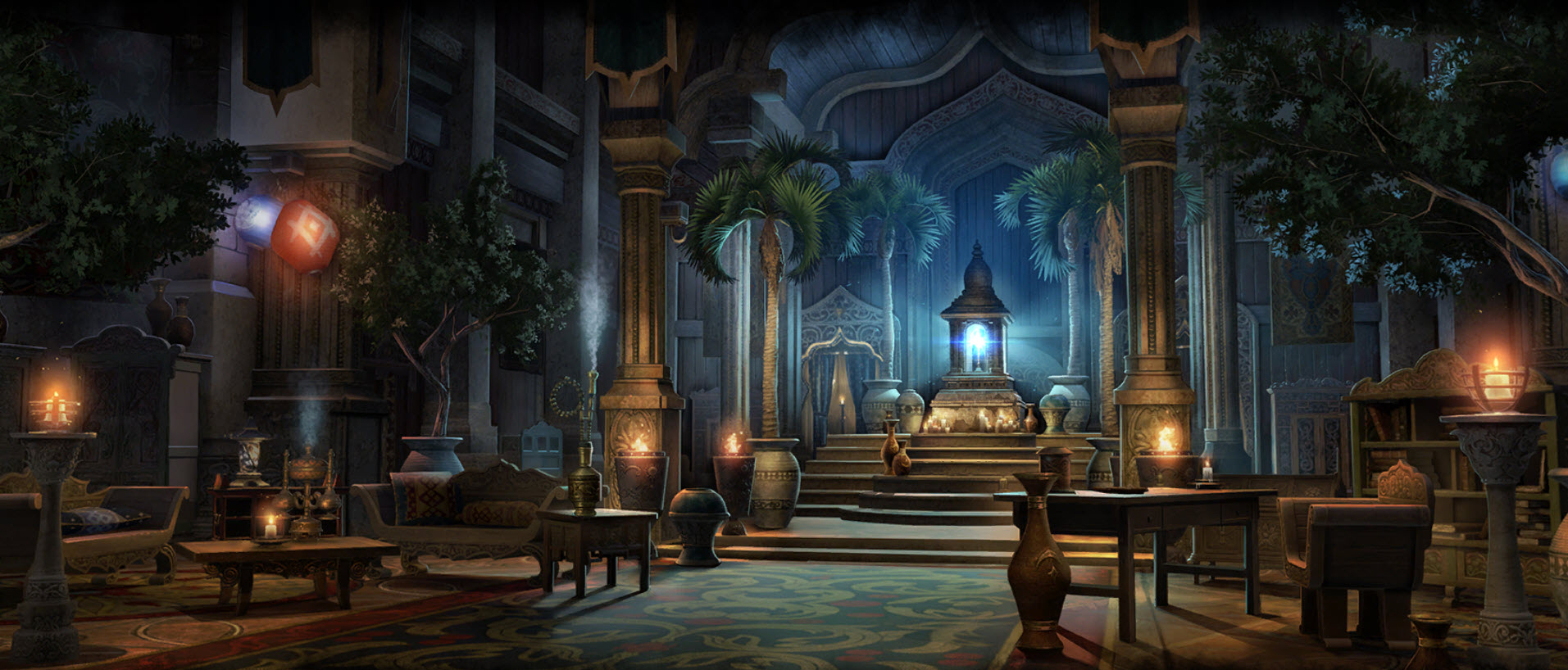 Video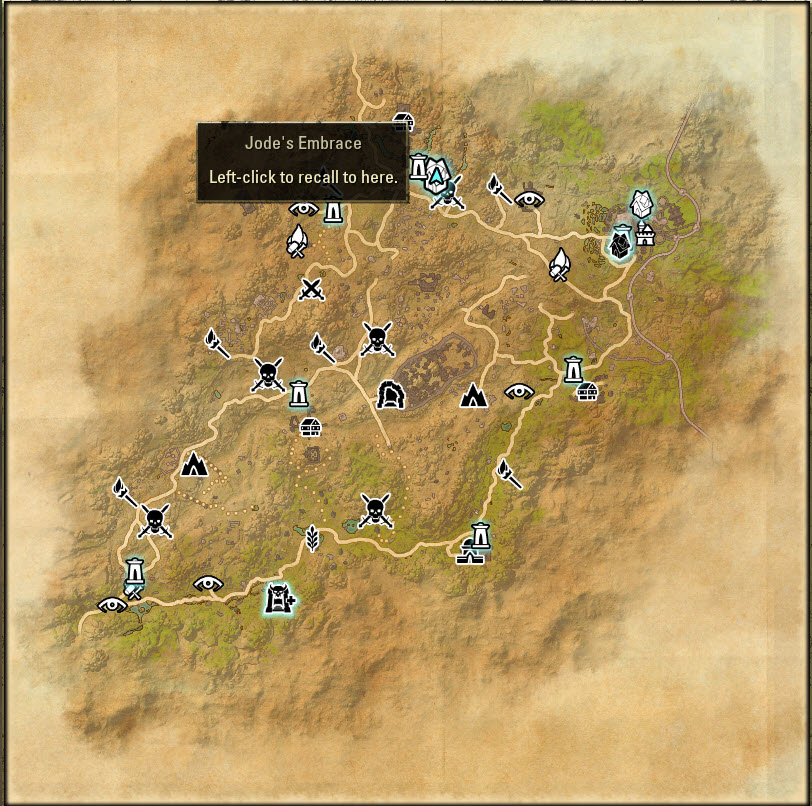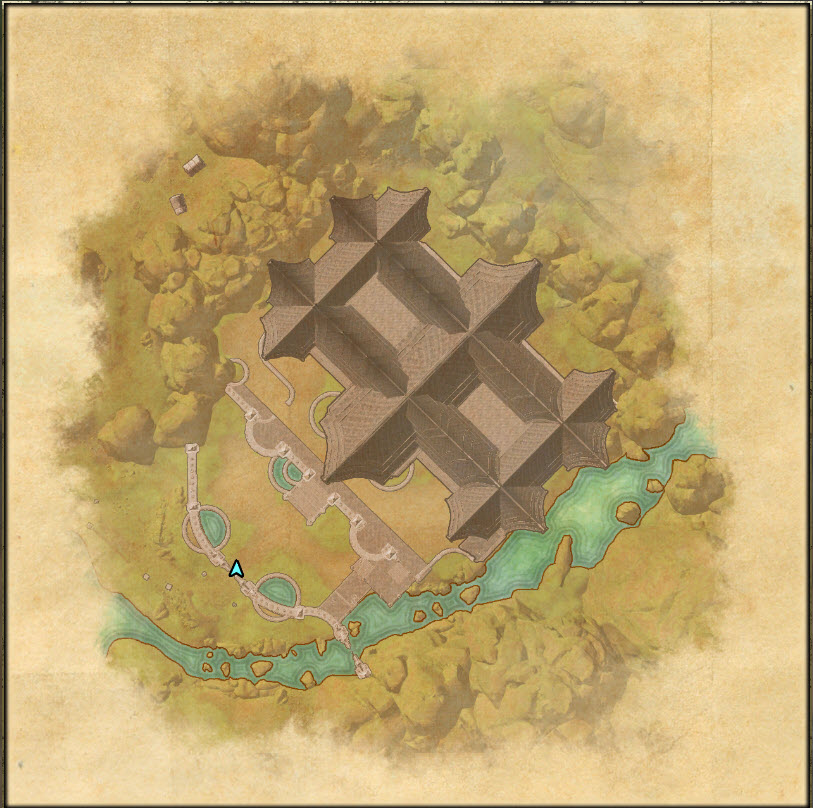 These are the furnishings that come with the Crown Store Furnished version.
| Item | Quanity | Quality |
| --- | --- | --- |
| Cactus, Banded Lunar Violet Trio | 4 | Epic |
| Cactus, Lunar Branching | 7 | Epic |
| Cactus, Lunar Branching Tall | 3 | Epic |
| Cactus, Lunar Tendrils | 5 | Epic |
| Common Cargo, Sealed | 1 | Fine |
| Elsweyr Armchair, Low-Backed Elegant Wooden | 6 | Epic |
| Elsweyr Armchair, Low-Backed Wooden | 2 | Superior |
| Elsweyr Barstool, Elegant Wooden | 1 | Epic |
| Elsweyr Barstool, Wooden | 2 | Superior |
| Elsweyr Bed, Blue Four-Poster | 1 | Epic |
| Elsweyr Bench, Wooden | 1 | Fine |
| Elsweyr Bookshelf, Elegant Wooden | 1 | Superior |
| Elsweyr Bookshelf, Short Elegant | 1 | Superior |
| Elsweyr Bookshelf, Short Elegant Full | 1 | Epic |
| Elsweyr Bookshelf, Wooden | 2 | Superior |
| Elsweyr Brazier, Embellished | 6 | Superior |
| Elsweyr Brazier, Massive | 12 | Epic |
| Elsweyr Brazier, Tall | 10 | Epic |
| Elsweyr Cabinet, Wall | 3 | Superior |
| Elsweyr Cabinet, Wide Elegant Wooden | 3 | Epic |
| Elsweyr Candle, Column | 12 | Epic |
| Elsweyr Candle, Saucer | 3 | Fine |
| Elsweyr Caqbinet, Elegant Wooden | 4 | Superior |
| Elsweyr Carpet, Blossoms on Blue | 1 | Epic |
| Elsweyr Carpet, Botanical Grand | 1 | Epic |
| Elsweyr Carpet, Chaotic Symmetry | 2 | Superior |
| Elsweyr Carpet, Gold-Emerald | 2 | Fine |
| Elsweyr Carpet, Gold-Ruby | 5 | Fine |
| Elsweyr Carpet, Sandflowers | 4 | Epic |
| Elsweyr Chest, Red Gilded | 1 | Epic |
| Elsweyr Couch, Elegant Wooden | 6 | Epic |
| Elsweyr Couch, Wooden | 1 | Superior |
| Elsweyr Cupboard, Elegant Wooden | 2 | Epic |
| Elsweyr Curtains, Tied-Back Blue | 3 | Superior |
| Elsweyr Curtains, Wide Maroon | 1 | Epic |
| Elsweyr Desk, Elegant Wooden | 1 | Epic |
| Elsweyr Desk, Wooden | 1 | Superior |
| Elsweyr Divider, Elegant Wooden | 4 | Epic |
| Elsweyr Fountain, Four Lions | 2 | Epic |
| Elsweyr Half-Rug, Sandflowers | 2 | Superior |
| Elsweyr Lantern, Twist | 3 | Superior |
| Elsweyr Lightpost, Ancient Tall | 5 | Epic |
| Elsweyr Mirror, Carved Wall | 1 | Superior |
| Elsweyr Nightstand, Elegant Wooden | 5 | Epic |
| Elsweyr Nightstand, Octagonal Wooden | 1 | Epic |
| Elsweyr Pillow, Night Blues Wide | 1 | Fine |
| Elsweyr Pot, Cerulean | 2 | Superior |
| Elsweyr Pot, Floral | 2 | Superior |
| Elsweyr Pot, Tall | 1 | Epic |
| Elsweyr Potted Plant, Cask Palm | 8 | Fine |
| Elsweyr Room-Divider, Elegant | 1 | Epic |
| Elsweyr Rug, Sandflowers | 3 | Epic |
| Elsweyr Runner, Autumn Vines | 2 | Superior |
| Elsweyr Runner, Lavish Floral | 1 | Superior |
| Elsweyr Sand Meditation Ring, Large | 2 | Superior |
| Elsweyr Sand Meditation Ring, Small | 5 | Fine |
| Elsweyr Sconce, Candle Carved | 4 | Superior |
| Elsweyr Sconce, Candle Elegant | 8 | Superior |
| Elsweyr Shelf, Elegant Wall | 3 | Superior |
| Elsweyr Shrine, Ancient Stone | 1 | Superior |
| Elsweyr Streetlight, Inlaid Stone | 6 | Superior |
| Elsweyr Table, Elegant Wooden | 2 | Epic |
| Elsweyr Table, Long Elegant Wooden | 1 | Epic |
| Elsweyr Table, Low | 1 | Superior |
| Elsweyr Table, Square | 1 | Superior |
| Elsweyr Table, Wide Elegant Wooden | 1 | Epic |
| Elsweyr Tapestry, Amber Vines | 4 | Superior |
| Elsweyr Tapestry, Ruby-Maroon | 2 | Superior |
| Elsweyr Tapestry, Verdant Blossom | 1 | Superior |
| Elsweyr Tapestry, Water Flowers | 2 | Superior |
| Elsweyr Throne, Elegant Wooden | 2 | Epic |
| Elsweyr Trunk, Peaked Embellished | 1 | Epic |
| Elsweyr Trunk, Peaked Floral | 2 | Epic |
| Elsweyr Wardrobe, Wide Elegant Wooden | 4 | Epic |
| Elsweyr Winerack, Cane Mead | 2 | Epic |
| Elsweyr Writing Desk, Elegant Wooden | 1 | Epic |
| Elswyer Table, Wide | 1 | Superior |
| Glowgrass, Patch | 9 | Epic |
| Hakoshae Banner, Triple Insignia | 1 | Fine |
| Hakoshae Hook, Block | 1 | Superior |
| Parcels, Wrapped | 1 | Fine |
| Redguard Barrel, Corded | 2 | Fine |
| Redguard Bin, Roped | 1 | Fine |
| Rock, Flat Slate | 2 | Standard |
| Rock, Slate | 4 | Standard |
| Rock, Wide Flate Slate | 1 | Standard |
| Rough Crate, Bolted | 1 | Standard |
| Rough Crate, Cracked | 1 | Standard |
| Stepping Stones, Slate | 1 | Standard |
| Tree, Desert Acacia | 2 | Fine |
| Tree, Desert Acacia Shade | 2 | Superior |
| Trees, Fan Plam Cluster | 7 | Fine |
| Total | 259 | |
Personalized