Character: Elyna Silver of NA
Submitted by: Sarah Lynn
The pale bluish glass is just full heavy glass with engine guardian shoulder and helm. The colours on the glass are necromancer blue, lycanthrope grey, and windhelm steel in that order. For the engine guardian pieces it's entoloma blue, lycanthrope grey, and abyssal beryl. Swords vr160 glass. The glass motif is obtained from guild traders or crafting writs, engine guardian is a monster set from vet Darkshade Caverns II.

The black and silver one is light Daedric head, shoulders, waist, hands and feet, with heavy Redguard chest and heavy Dunmer legs. The chest and legs need to be above level 36. All the same colours, cold harbour ash black, lycanthrope grey, and cold harbour ash black again.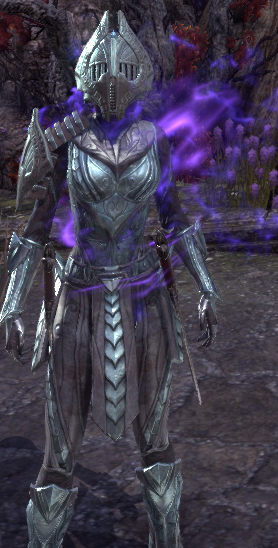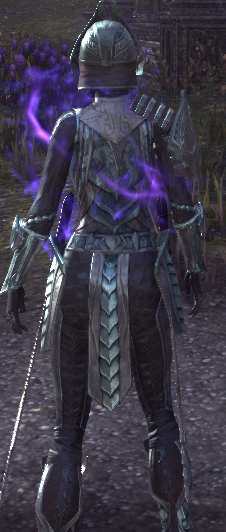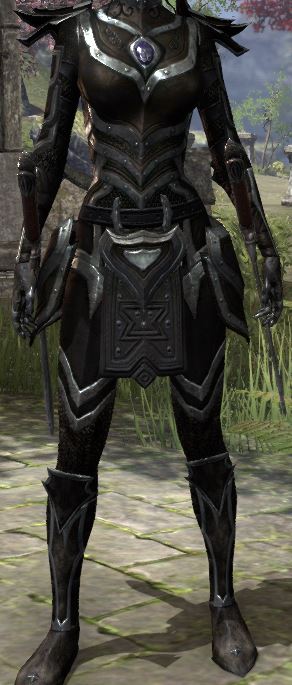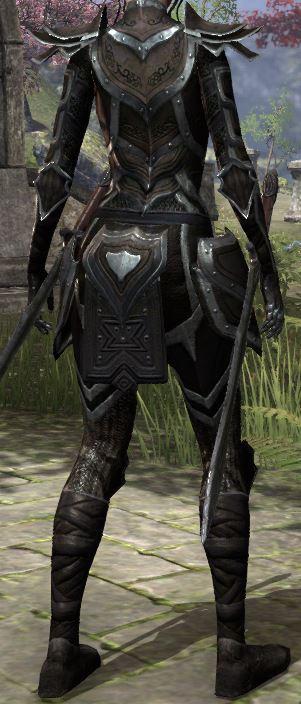 | | | | | | | |
| --- | --- | --- | --- | --- | --- | --- |
| Piece | Name | Quality | Source | Prim Dye | Sec Dye | Tert Dye |
| Head | Daedric Light | Superior (Blue) | Crafted, motif found from stealing or loot furniture and packs. | Coldharbour Ash Black | Lyncanthrope Gray | Coldharbour Ash Black |
| Shoulders | Daedric Light | Superior (Blue) | | Coldharbour Ash Black | Lyncanthrope Gray | Coldharbour Ash Black |
| Chest | Redguard heavy, level 36 | Superior (Blue) | | Coldharbour Ash Black | Lyncanthrope Gray | Coldharbour Ash Black |
| Hands | Daedric Light | Superior (Blue) | | Coldharbour Ash Black | Lyncanthrope Gray | Coldharbour Ash Black |
| Waist | Daedric Light | Superior (Blue) | | Coldharbour Ash Black | Lyncanthrope Gray | Coldharbour Ash Black |
| Legs | Dunmer heavy level 36 | Superior (Blue) | | Coldharbour Ash Black | Lyncanthrope Gray | Coldharbour Ash Black |
| Feet | Daedric Light | Superior (Blue) | | Coldharbour Ash Black | Lyncanthrope Gray | Coldharbour Ash Black |
| Weapon | | | | | | |
| Offhand | | | | | | |
Other Sets by Sarah Lynn: