Character: Cyrus Necar of PlayStation
Submitted by: Sianic
Race, class and outfit style may surprise at first, but let me explain. Cyrus is a Breton Battlemage who lived his entire life in the Imperial City and was about to join Varen's Dragonguard when Mannimarco kidnapped him. Sorcerer seemed to be the class that's closest to a Battlemage so I chose that, and the outfit style is heavily influenced by his patriotism for the Empire of Cyrodiil. I made him a member of the Covenant, mainly because they are the only faction that wants to restore the Reman Empire (instead of destroying every last bit of it), but that's mostly a technicality – I roleplay him as a typical hero-type figure, who travels all parts of Tamriel and offers his help to everyone who needs it… no matter the alliance. From his point of view, all of Tamriel is one Empire anyway (or at least it's supposed to be) so borders don't matter to him.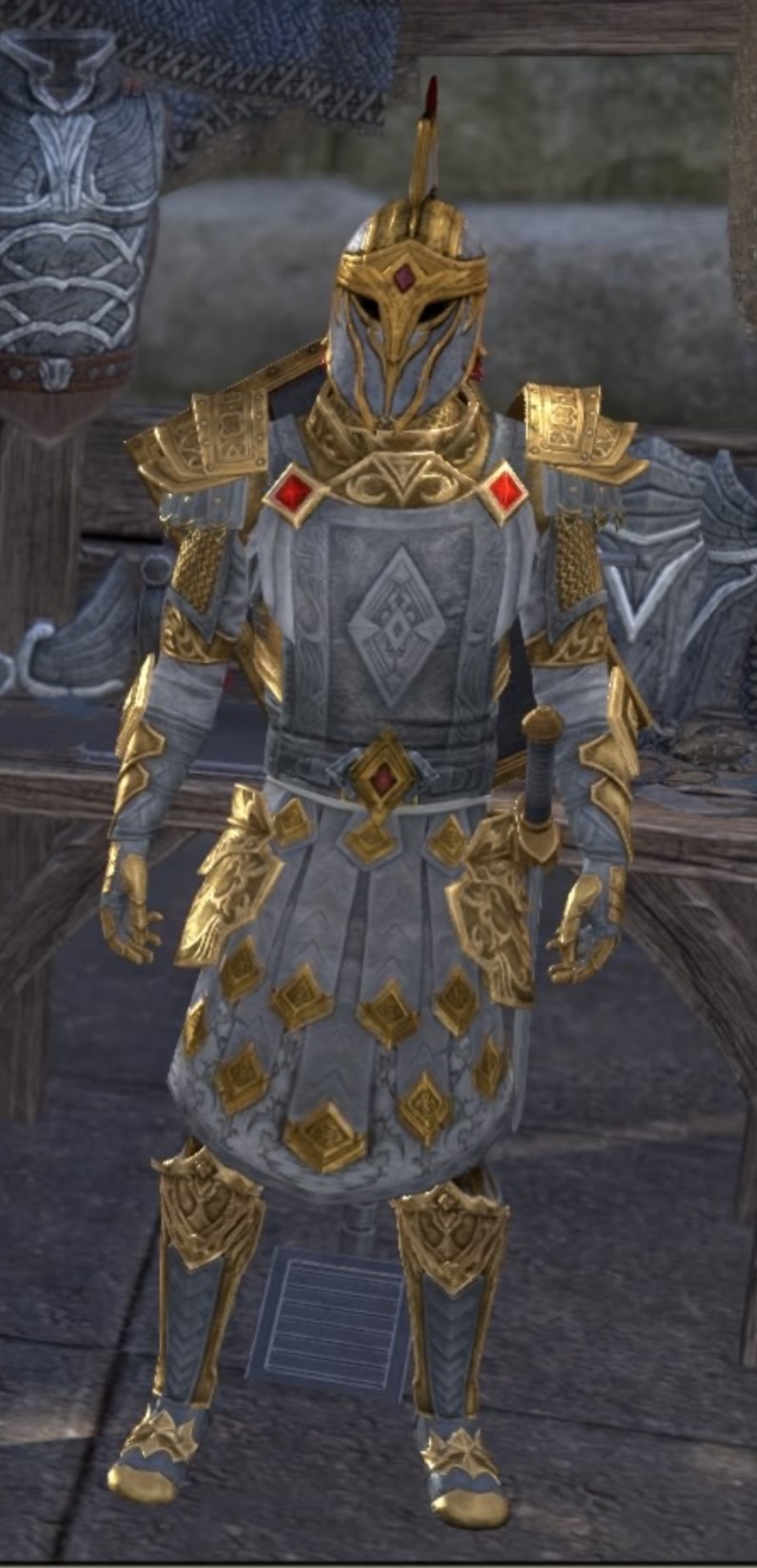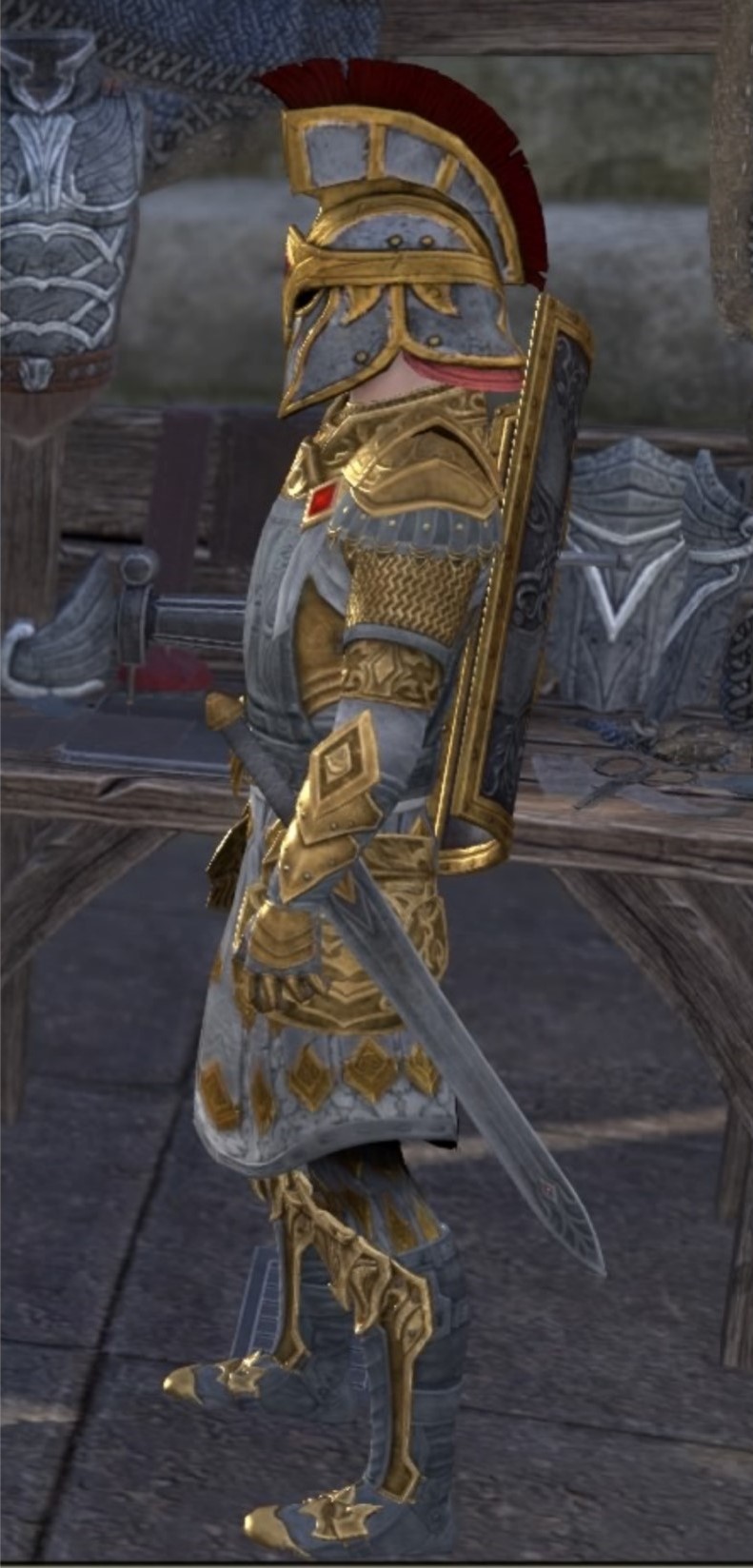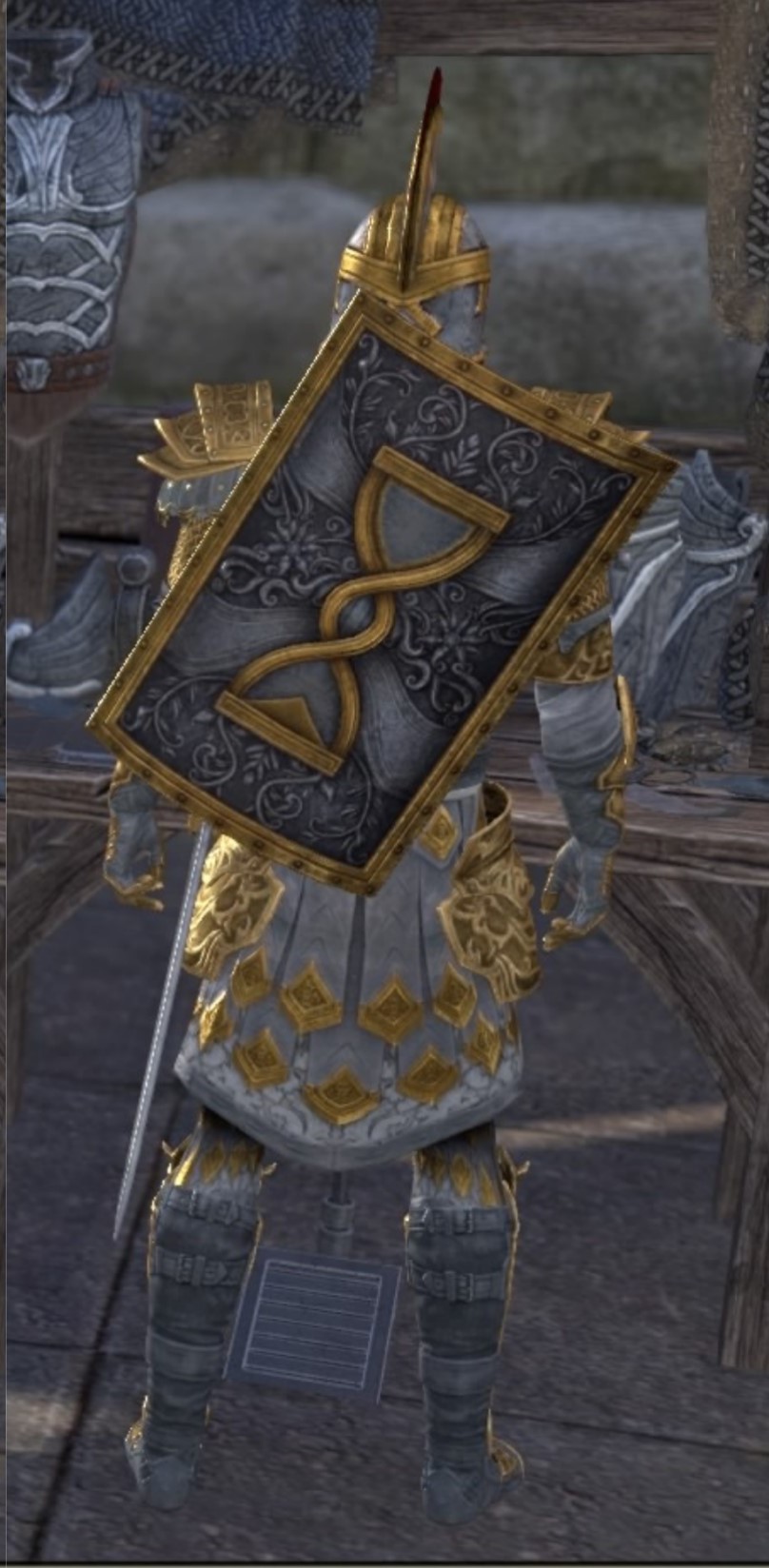 Gear:
| | | | | | | |
| --- | --- | --- | --- | --- | --- | --- |
| Piece | Name | Quality | Source | Prim Dye | Sec Dye | Tert Dye |
| Head | Imperial III, heavy | Legendary (Gold) | | Tower White-Gold | Divine Gold | Pellitine Coral |
| Shoulders | Shields of Senchal, heavy | | | Divine Gold | Tower White-Gold | |
| Chest | Imperial Champion | | | Divine Gold | Tower White-Gold | Tower White-Gold |
| Hands | Shields of Senchal, heavy | | | Divine Gold | Tower White-Gold | |
| Waist | Imperial IV, heavy | | | Tower White-Gold | Divine Gold | Pellitine Coral |
| Legs | Order of the Hour, heavy | | | Divine Gold | Tower White-Gold | Tower White-Gold |
| Feet | Legion Zero | | | Divine Gold | Tower White-Gold | Tower White-Gold |
| Weapon | Imperial Champion, Sword | | | Tower White-Gold | Divine Gold | Tower White-Gold |
| Offhand | Order of the Hour, Shield | | | Tower White-Gold | Divine Gold | Tower White-Gold |
Appearance and Companions:
| | |
| --- | --- |
| Slot | Name |
| Hair Style | |
| Head Marking | |
| Facial Hair | |
| Major Adornment | |
| Minor Adornment | |
| Body Marking | |
| Skin | |
| Personality | |
| Polymorph | |
| Mount | |
| Non-Combat Pet | |