Set in an idyllic location between Khajiiti and Imperial lands, this tranquil villa draws upon the Anequina Aqueduct for its dancing fountains and deep cisterns. After relaxing outside, retreat indoors to enjoy healthy nourishment and restful sleep.
Default Name: Sweetwater Cascades
Cost (Unfurnished/Furnished): 
Size: Manor
Race: Nibenese
Traditional Furnishings: 350 / 700 (ESO+)
Special Furnishings: 5 / 10 (ESO+)
Collectible Furnishings: 55 / 110 (ESO+)
Population: 24
Location: Borderwatch, Blackwood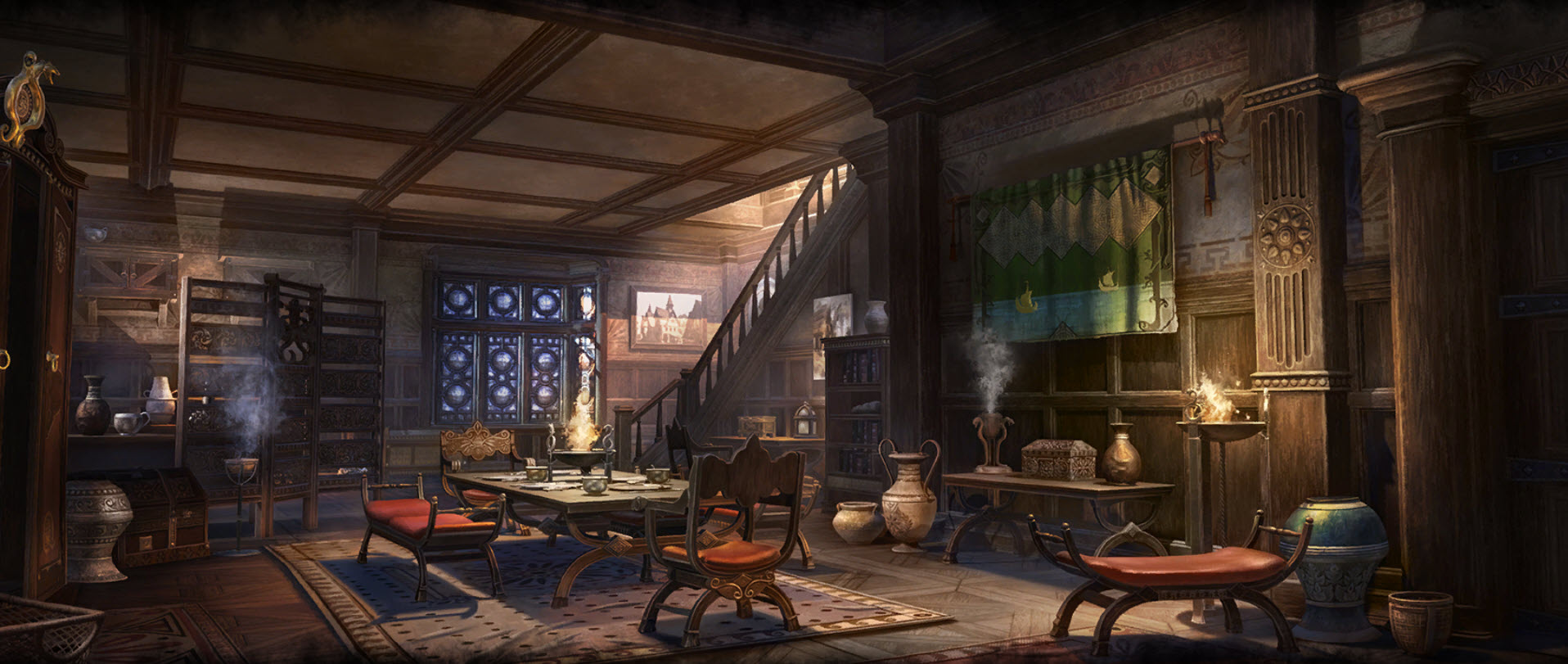 Unfurnished
Forecourt
Villa
Basement
Balconies
Courtyard
Tower
Furnished
Villa
Basement
Balconies
Tower
These are the furnishings that come with the Crown Store Furnished version.
| Item | Quanity | Quality |
| --- | --- | --- |
| A Study in Structure Painting, Wood | 1 | Epic |
| Book Stack, Decorative | 1 | Fine |
| Breton Chamberstick, Tall | 1 | Superior |
| Cheeses of Tamriel | 1 | Fine |
| Common Basket, Closed | 1 | Fine |
| Common Basket, Tall | 1 | Fine |
| Common Cargo, Sealed | 1 | Fine |
| Common Inkwell, Practical | 1 | Fine |
| Elsweyr Armchair, Elegant Wooden | 1 | Epic |
| Elsweyr Barstool, Wooden | 1 | Superior |
| Elsweyr Bed, Rumpled Elegant Double | 1 | Epic |
| Elsweyr Chest, Red Gilded | 1 | Epic |
| Elsweyr Couch, Elegant Wooden | 1 | Epic |
| Elsweyr Divider, Elegant Wooden | 1 | Epic |
| Elsweyr Dome Architecture Painting, Gold | 1 | Epic |
| Elsweyr Fan, Handheld | 1 | Fine |
| Elsweyr Incense Burner, Branched Brass | 1 | Epic |
| Elsweyr Mirror, Carved Wall | 1 | Superior |
| Elsweyr Potted Plant, Cask Palm | 3 | Fine |
| Elsweyr Trunk, Peaked Embellished | 1 | Epic |
| Elsweyr Trunk, Peaked Floral | 1 | Epic |
| Elsweyr Wardrobe, Wide Elegant Wooden | 1 | Epic |
| Fields of Plenty Painting, Wood | 1 | Superior |
| Flower Patch, Violets | 11 | Superior |
| From Old Life to Now | 1 | Superior |
| Hourglass, Common | 1 | Epic |
| Idylls of Giedoen Painting, Wood | 1 | Epic |
| Khajiit Vial, Amber | 1 | Epic |
| Leyawiin Amphora, Elegant | 2 | Epic |
| Leyawiin Armchair, Backless | 11 | Superior |
| Leyawiin Armchair, Cushioned | 11 | Epic |
| Leyawiin Armoire, Formal | 2 | Epic |
| Leyawiin at Night Painting, Wood | 1 | Epic |
| Leyawiin Banner, Abstract | 2 | Fine |
| Leyawiin Basket, Hamper Wide | 1 | Superior |
| Leyawiin Bed, Formal Double | 1 | Epic |
| Leyawiin Bed, Formal Single | 3 | Epic |
| Leyawiin Bench, Cushioned | 4 | Epic |
| Leyawiin Bench, Cushioned Wide | 4 | Epic |
| Leyawiin Bench, Formal Wide | 7 | Superior |
| Leyawiin Bench, Sturdy | 2 | Fine |
| Leyawiin Bookcase, Grand Filled | 1 | Epic |
| Leyawiin Bookcase, Narrow Filled | 8 | Epic |
| Leyawiin Bookcase, Short | 7 | Superior |
| Leyawiin Bookcase, Tall Filled | 11 | Epic |
| Leyawiin Brazier, Iron | 9 | Superior |
| Leyawiin Brazier, Tall Copper Serpent | 2 | Epic |
| Leyawiin Carpet, Grand Carmine Octad | 4 | Epic |
| Leyawiin Carpet, Large Carmine Octad | 2 | Superior |
| Leyawiin Carpet, Large Misty Octad | 6 | Superior |
| Leyawiin Carpet, Misty Octad | 4 | Fine |
| Leyawiin Censer, Iron Stand | 1 | Epic |
| Leyawiin Censer, Serpents | 1 | Epic |
| Leyawiin Chandelier, Brass | 2 | Epic |
| Leyawiin Chandelier, Twin Lanterns | 1 | Superior |
| Leyawiin Counter, Corner | 1 | Superior |
| Leyawiin Counter, Long | 1 | Superior |
| Leyawiin Cupboard, Formal | 5 | Epic |
| Leyawiin Cupboard, Formal Display | 3 | Epic |
| Leyawiin Desk, Formal | 2 | Epic |
| Leyawiin Divider, Octopus | 1 | Epic |
| Leyawiin End Table, Formal Round | 5 | Superior |
| Leyawiin Fountain Round Grand | 2 | Legendary |
| Leyawiin Fountain, Round | 5 | Legendary |
| Leyawiin Fountain, Tall | 6 | Superior |
| Leyawiin Hand Mirror, Lacquered | 1 | Superior |
| Leyawiin Jewelry Box, Gilded | 1 | Epic |
| Leyawiin Jewelry Box, Iron Octopus | 1 | Epic |
| Leyawiin Lamp, Oil | 1 | Epic |
| Leyawiin Lamp, Stationary | 5 | Superior |
| Leyawiin Lamppost, Floral Gilded | 10 | Epic |
| Leyawiin Lantern, Stationary | 7 | Fine |
| Leyawiin Nightstand, Formal | 2 | Superior |
| Leyawiin Pot, Waves | 2 | Superior |
| Leyawiin Pot, Wide | 1 | Fine |
| Leyawiin Rug, Carmine Octad | 4 | Superior |
| Leyawiin Sconce, Gilded Lantern | 12 | Epic |
| Leyawiin Sconce, Lantern | 6 | Superior |
| Leyawiin Table, Formal | 3 | Superior |
| Leyawiin Table, Formal Grand | 3 | Epic |
| Leyawiin Table, Formal Square Low | 4 | Superior |
| Leyawiin Tapestry, Divines Horizontal | 1 | Epic |
| Leyawiin Tapestry, Lone Vessel | 2 | Superior |
| Leyawiin Trunk, Carved Octad | 2 | Superior |
| Leyawiin Trunk, Floral Gilded | 2 | Epic |
| Leyawiin Trunk, Ornate | 1 | Epic |
| Leyawiin Wall Mirror, Lacquered Frame | 1 | Superior |
| Leyawiin Wall Mirror, Silver | 1 | Epic |
| Leyawiin Wall Shelf, Carved | 2 | Superior |
| Leyawiin Wardrobe, Formal | 4 | Epic |
| Leyawiin Windowbox, Irises | 1 | Superior |
| Life in Repose Painting, Wood | 1 | Epic |
| Painting of Khajiiti Arch, Gold | 1 | Epic |
| Path of Eternity Painting, Wood | 1 | Epic |
| Redguard Barrel, Corded | 3 | Fine |
| Redguard Bin, Sealed | 1 | Fine |
| Reduard Keg, Hefty | 1 | Superior |
| Rock, Gabbro Boulder | 4 | Standard |
| Rock, Gabbro Boulder Cluster | 2 | Fine |
| Rock, Gabbro Set | 4 | Standard |
| Rock, Wide Gabbro Slab | 2 | Fine |
| Rough Container, Cargo | 1 | Standard |
| Rough Container, Shipping | 1 | Standard |
| Rough Crate, Bolted | 1 | Standard |
| Rough Crate, Cracked | 1 | Standard |
| Rough Crate, Empty | 1 | Standard |
| The Legacy of Kaladas Painting, Wood | 1 | Epic |
| Tree, Bent Blackwood Elm | 1 | Fine |
| Tree, Blackwood Beech | 1 | Fine |
| Tree, Blackwood Beech Cluster | 2 | Fine |
| Tree, Elder Blackwood Beech | 1 | Superior |
| Tree, Forked Blackwood Elm | 2 | Fine |
| Undying Light Painting, Silver | 1 | Epic |
| Vines, Snow Lilies Climber | 6 | Fine |
| Vines, Snow Lilies Swatch | 3 | Superior |
| Total | 304 | |